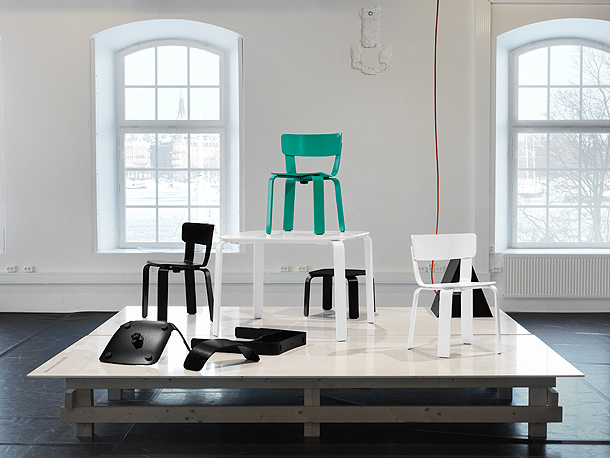 Fotografías: Jonas Lindström
Por tercer año consecutivo y coincidiendo con la Stockholm Design Week 2012, el estudio de diseño sueco Form Us With Love organizó la exposición "Form Us With Friends". En esta ocasión, la reunión de amigos tuvo lugar en la pintoresca isla de Skeppholmen, en el centro de Estocolmo, y contó con la colaboración del Museo Sueco de Arquitectura. En ella, Jonas Pettersson, John Löfgren y Petrus Palmér presentaron sus cinco nuevos proyectos, fruto de un año de trabajo y desarrollados en tres diferentes dimensiones: iluminación, mobiliario y objetos.
Form Us With Love expusieron los paneles textiles Plaid para Abstracta (Suecia), la lámpara Plug para la firma sueca Ateljé Lyktan, la lámpara de techo Form para Design House Stockholm, la silla y la mesa Bento para One Nordic Furniture Company (una nueva marca con sede en Finlandia), así como los jarrones Slab Vases para la firma española Cosentino/Silestone, especializada en superficies de cuarzo y mármoles.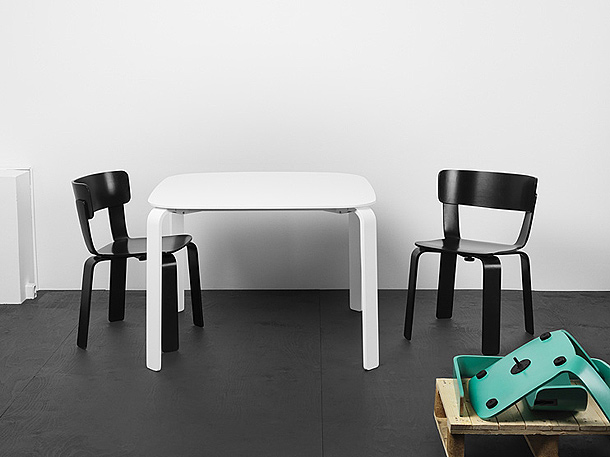 Silla y mesa Bento, para One Nordic Furniture Company

Un conjunto de silla y mesa, fabricados en contrachapado de madera de abedul que permite las curvas de su diseño (las patas son un guiño a la tradición de la madera curvada). La mesa estará disponible en tres tamaños (mesa de comedor, de cocina y de café). Ambas piezas se presentan en  cuatro partes, que pueden ser ensambladas sin necesidad de manuales o herramientas. Además, la colección Bento se envía en cajas semi-planas para facilitar el transporte y el almacenamiento.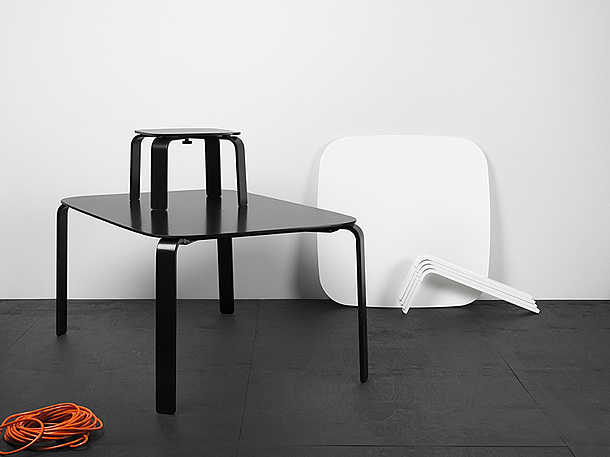 Lámpara Plug, para Ateljé Lyktan
Una pequeña lámpara que da respuesta a una necesidad tan actual como buscar una toma de corriente donde cargar el portátil, el iPad, el móvil… Plug la incorpora en su base de manera agradable, convirtiéndose en un detalle decorativo. Estéticamente, la luminaria tiene forma bulbosa y la base está realizada en aluminio en diferentes colores. La fuente de luz está oculta por una pantalla de vidrio esmerilado y es regulable.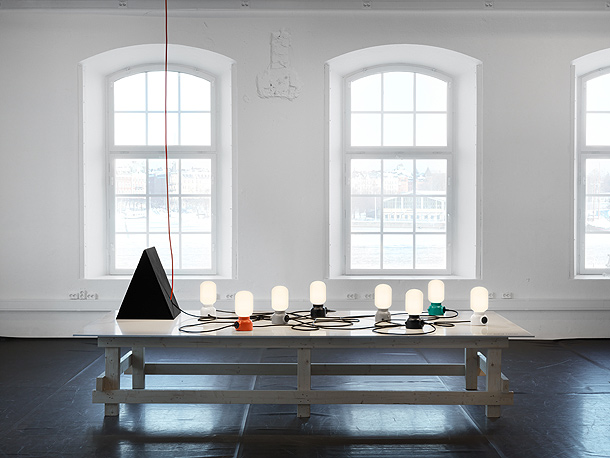 Paneles Plaid, para Abstracta
El punto de partida de Plaid hay que buscarlo en las cortinas industriales que se utilizan para amortiguar el ruido de las máquinas. A partir de aquí, Form Us With Love ha diseñado estos paneles fono-absorventes que pueden plegarse (son dobles) sobre un soporte de metal entre las mesas de trabajo o ser supendidos de cables desde el techo. Incluso, permiten  crear una estructura cerrada, como una pequeña casa, formada  por soportes de metal y varios Plaid colocados sobre ellos a modo de techo. Están fabricados con espuma revestida de fieltro industrial.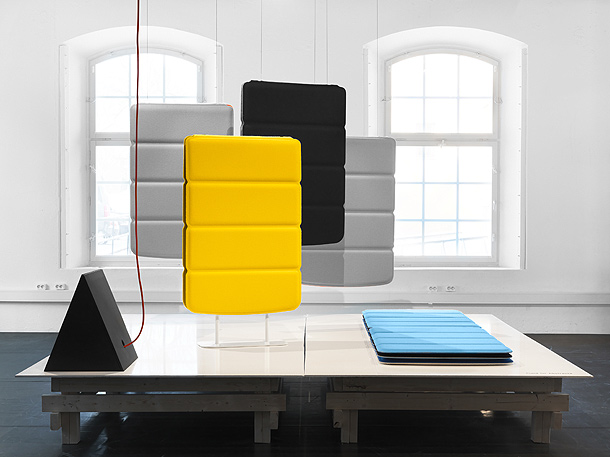 Form, para Design House Stockholm
Una familia de  lámparas de cristal diseñadas para ser colgadas en grupo, como una instalación, animando a los consumidores a explorar la interacción entre sus formas (círculo, rectángulo y triángulo). La idea  es que los consumidores se involucren en el proceso de diseño: Form Us With Love puede diseñar las lámparas, pero es el usuario quien diseña la instalación.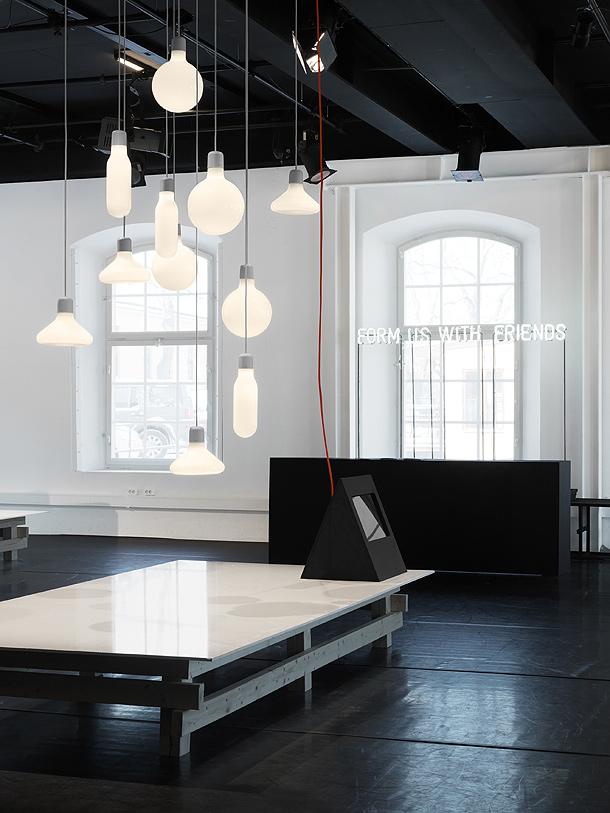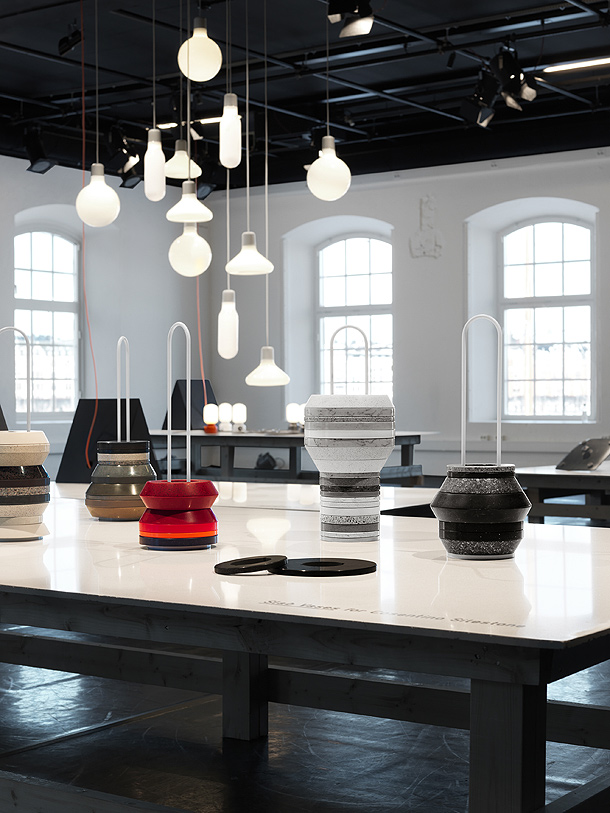 Slab Vases, para Cosentino/Silestone
Las piezas más poéticas de la serie son estos jarrones para la empresa española Cosentino/Silestone. El proyecto "Slab Vases" busca romper la forma y el concepto tradicional de una plancha de Silestone, explorando las posibilidades táctiles del material. Slab Vases es el resultado de montar diferentes anillos de Silestone sobre una estructura de metal de unos 40 centímetros de altura, dando lugar a una vasija en la que se puede verter agua y que ofrece diferentes composiciones. El trío de diseñadores ha trabajado con diferentes tonos de gris, así como con vivos colores como el rojo o el naranja.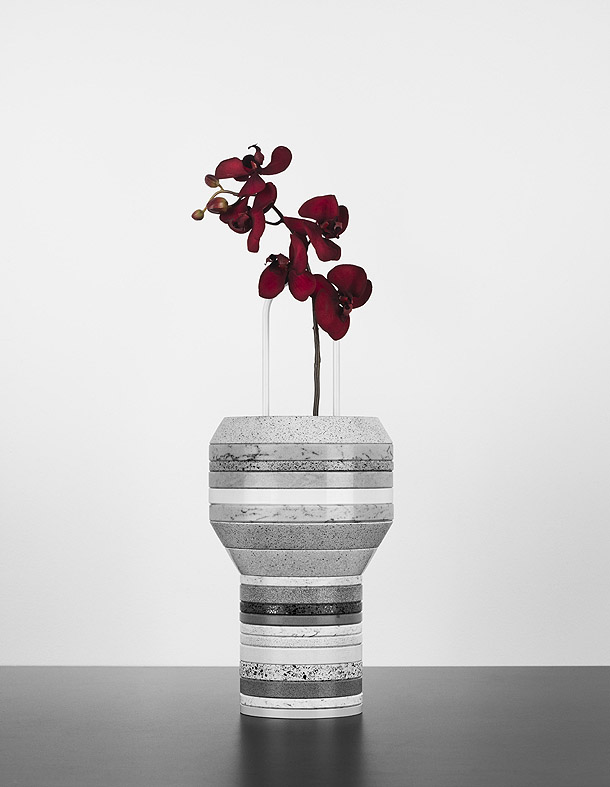 Sobre Form Us With Love:
Form Us With Love es un conocido estudio de diseño, con base en Estocolmo, que inició su trayectoria en el año 2005. Sus tres integrantes (Jonas Pettersson, John Löfgren y Petrus Palmér) se conocieron estudiando Diseño de Producto en la Universidad de Kalmar, en Småland, una zona en el sureste de Suecia, conocida por ser el corazón de la fabricación de muebles en Suecia y la cuna de Ikea.  A lo largo de estos años, FUWL ha trabajado para importantes empresas de ámbito nacional e internacional como Cosentino/Silestone, Materia, Mitab, Muuto, Philips, Cruz Roja, Santa & Cole, Stockholm Furniture Fair, Voice, Westal o Zero.
Información e imágenes facilitadas por Form Us With Love
You might also like