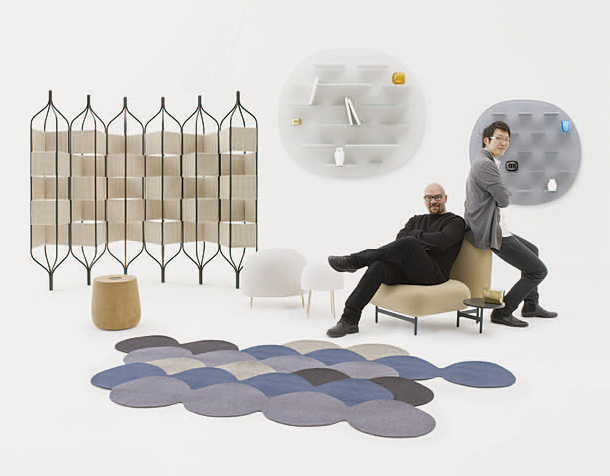 Fotografías: Hiroshi Iwasaki
En una colaboración atípica, el diseñador italiano Luca Nichetto y el japonés Oki Sato (Nendo) han unido sus reconocidos talentos creativos para dar a luz a una colección de siete objetos, que podrán verse durante la Milan Design Week, que comienza mañana y se prolongará hasta el día 14. El proyecto empezó a gestarse el pasado mes de diciembre, en Estocolmo, cuando Nichetto y Nendo se reunieron en un café , donde hablaron sobre el diseño y las colaboraciones que mantuvieron otros diseñadores como Ettore Sottsass y Shiro Kuramata.
Entre bromas, decidieron que había llegado su momento. Durante las vacaciones de invierno, Oki Sato ideó un sistema para trabajar juntos basándose en un proceso creativo propio de la cultura japonesa, donde una persona compone las tres primeras líneas de un poema corto (kami no ku), conocido como tanka, y lo envía a una segunda persona que compone las dos frases finales (shimo no ku). En este caso, no fueron versos los que viajaron entre ambos sino ideas sobre papel que darían lugar a una colección de siete diseños: Nichetto = Nendo.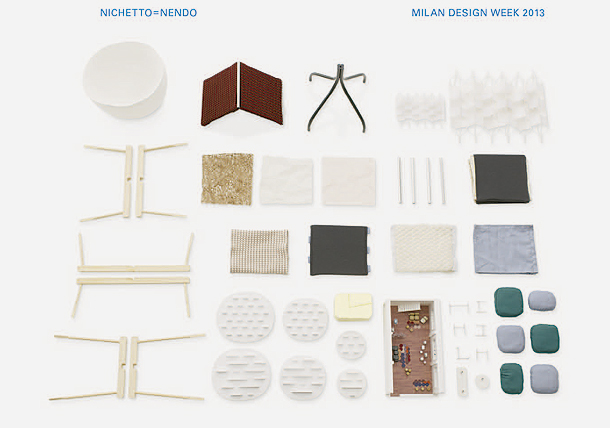 La colección:
N=N/01: Shelves in a comic (Glass Italia)
Pequeños estantes de vidrio sobre un fondo también en vidrio satinado al que se le ha querido dar forma de globo o burbuja. La medida y disposición de los distintos estantes hace que también ejerzan de sujetalibros.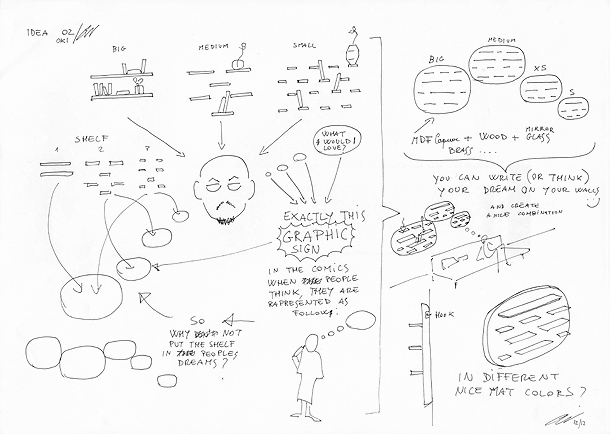 N=N/02: Wedge of matter (Ochiai-Seisakusho y Kadowaki Coating / Testi Fratelli)
Un candelabro concebido como una caja que se se abre lateralmente para poder acomodar velas de todos los tamaños y formas. Cuando está cerrado, sus autores lo definen como "un trozo de materia". La versión en latón revestida de vidrio está fabricada por Ochiai-Seisakusho y Kadowaki Coating, mientras que la de mármol, acabado mate, está realizada por Testi Fratelli.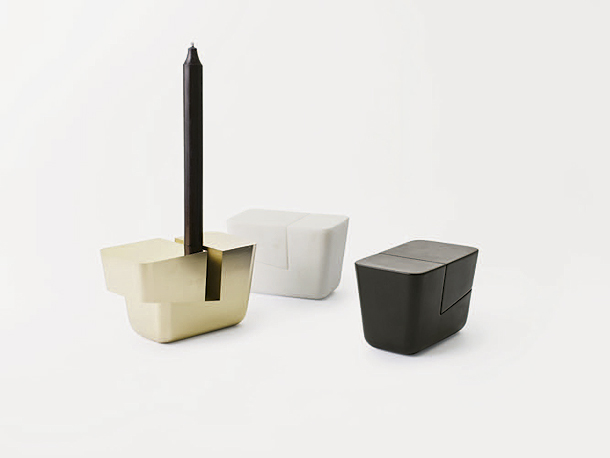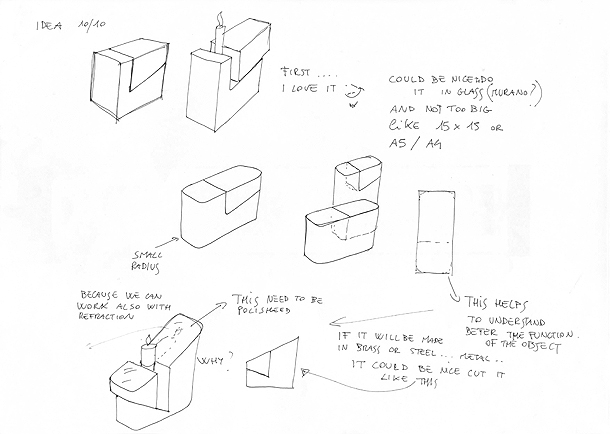 N=N/03: Paper ice cream (Foscarini and Taniguchi /Aoya Washi)
Polos de hielo iluminados. Esta es la fuente de inspiración que llevó a Luca Nichetto y Nendo a crear estas simpáticas lámparitas de suelo o sobremesa. Para la pantalla desarrollaron un material original, tiñendo el papel tradicional japonés. Cuandon están encendidas, la suave luz hace que las fibras del papel destaquen y que cada color aporte un carácter sutilmente diferente.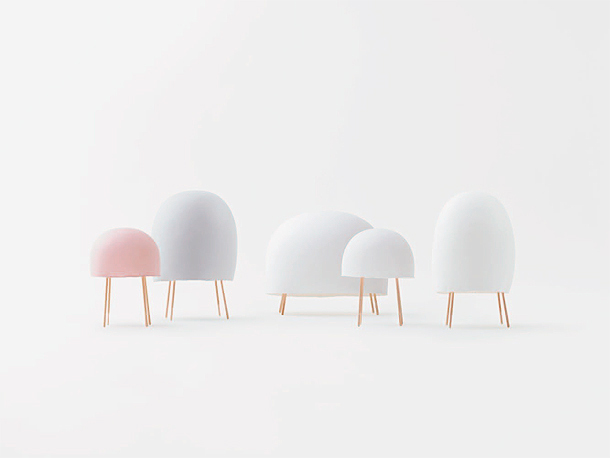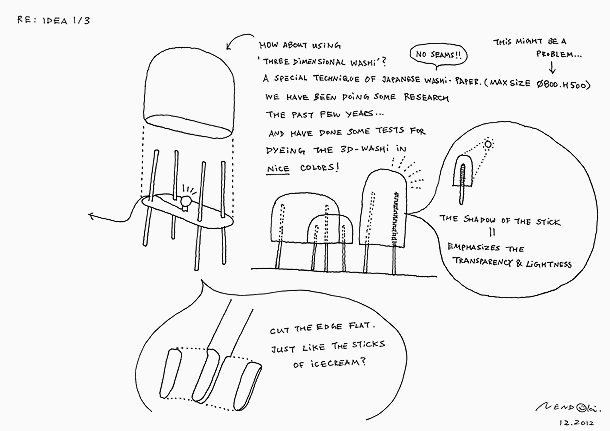 N=N/04:  Trellis bandaged (Innofa y Vertigo Metals)
El tradicional sistema eléctrico que impide que se empañe el cristal trasero de los coches convertido, bajo formas tridimensionales, en una mampara divisoria que juega con el lleno y el vacío. Para conseguir la privacidad necesaria, se utiliza un tejido elástico que, además, puede montarse de distintas maneras.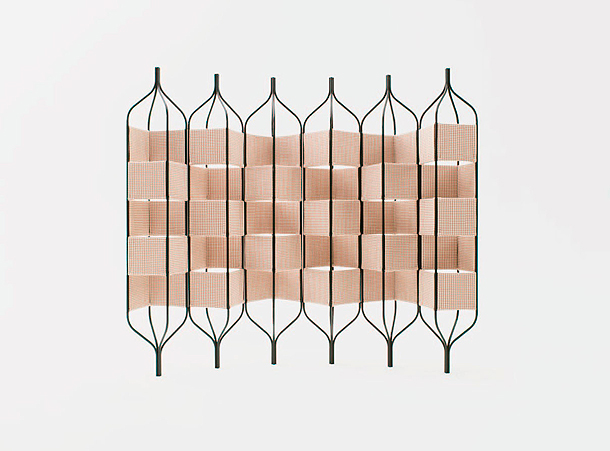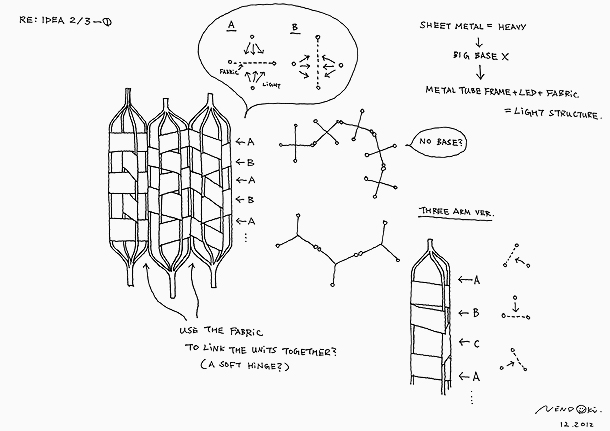 N=N/05: Bridges for islands (Casamania e Innofa)
Un sofá que, a semejanza de un archipiélago, está formado por pequeñas partes en lugar de una gran masa. Tomando como ejemplo que muchas islas en Venecia están conectadas por estrechos puentes, Nichetto y Sato diseñaron unas delgadas patas que parecen "flotar sobre la superficie del agua" y conectan los cojines. También desarrollaron dos mesas laterales con diferentes formas. La posibilidad de organizar libremente los componentes del sofá le da una sensación flotante y lo hace ideal para uso doméstico y para contract.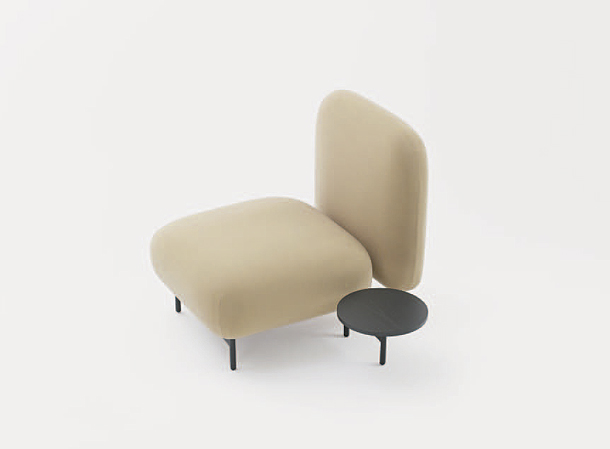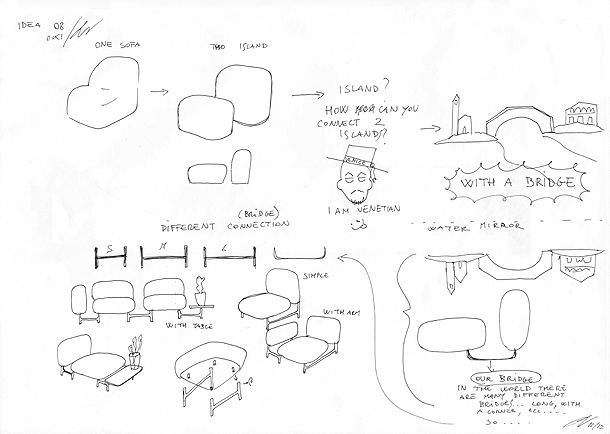 N=N/06: Fisch skin on the roof  (Ogeborg)
Una alfombra cuya forma, color y tamaño pueden cambiar gracias su composición: pequeñas piezas superpuestas como escamas de pescado o tejas. Como hacer la alfombra a base de piezas individuales hubiera dificultado el montaje, se crearon piezas de dos, tres y cuatro círculos que resultan más fáciles de montar y permiten variar el color.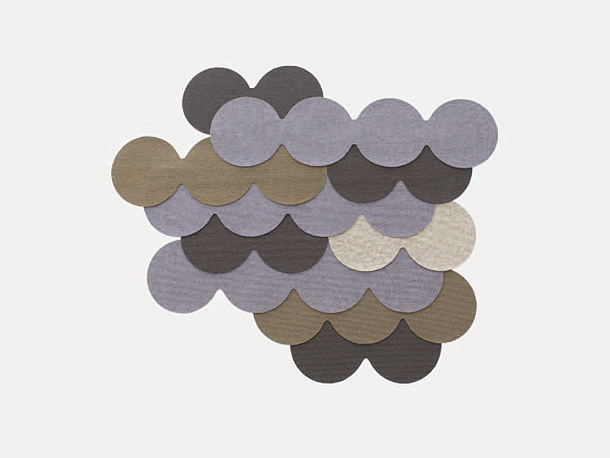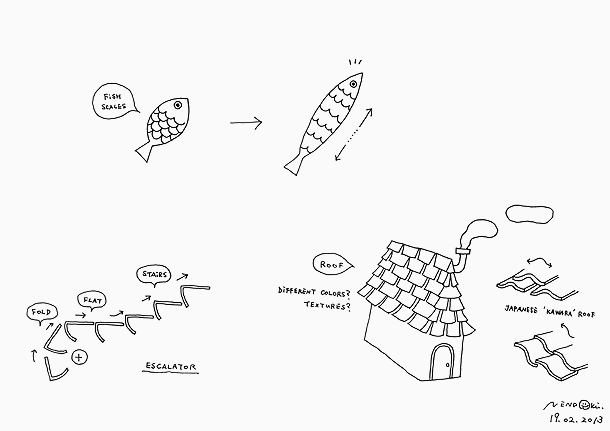 N=N/07: Portable pot (Discipline)
Un taburete que se coge y transporta fácilmente gracias a su forma redonda y a un asidero como el de la tapa de una olla. Teniendo en cuenta que un asa de este tipo en el centro del asiento no sería cómodo a la hora de sentarse, Nichetto y Nendo crearon un mecanismo que sube y baja como el de las maletas. El tamaño del asiento también permite que se utilice como una mesita auxiliar.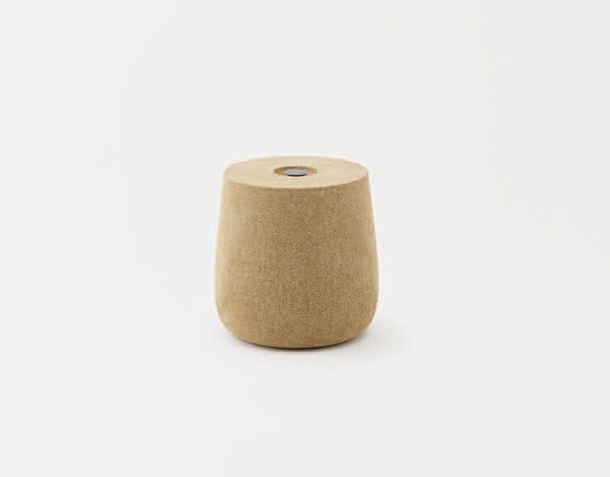 Nichetto = Nendo
Del 9 al 14 de abril.
Horario: 10.00 a 19.00 horas.
Foro Buonaparte 48
20121 Milan (Italia).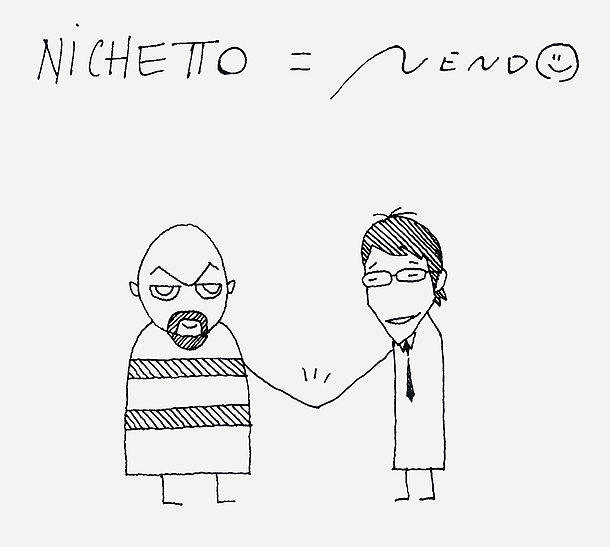 Sobre Luca Nichetto:
Luca Nichetto nace en la ciudad italiana de Venecia, donde se licenció en Diseño Industrial. En 1999, inicia su actividad profesional diseñando sus primeros productos en cristal de Murano para Salvati. Ese mismo año inició su colaboración con Foscarini, en la que además de diseñar asume el papel de consultor para la búsqueda de nuevos materiales y desarrollo de producto (2001-2003). En el año 2006, fundó su estudio, Nichetto&Partners, que se ocupa tanto de Diseño Industrial como de Asesoría de diseño. En 2011, abrió una nueva oficina en Estocolmo.
Entre sus clientes figuran Bosa, Casamania, Cassina, David Design, De Padova, Discipline, Established & Sons, Fornasarig, Foscarini, Fratelli Guzzini, Gallotti & Radice, Glass, Globo, Italesse, La Chance, King's, Kristalia, Mabeo, MG Lab, Moroso, Offecct, Ogeborg, Petite Friture, Salviati, Skitsch, Skultuna, Tacchini y Venini.
Durante su carrera, Nichetto ha recibido importantes premios internacionales, incluyendo el Design Award 2008, el Good Design Award  del Chicago Athenaeum Museum of Architecture 2008, el iF Product Design Award 2008 y Elle Decoration Design Awards 2009 (EDIDA) como Diseñador del Año en la categoría de Jóvenes Talentos. Además, ha organizado "workshops" en diversas universidades, tanto nacionales como internacionales, y ha participado en muestras en Europa, Estados Unidos y Japón.
Sobre Studio Nendo:
Nendo es un estudio de diseño fundado, en el año 2002, por el arquitecto Oki Sato (Toronto, 1977).  La principal filosofía del estudio es sorprender a las personas con pequeños gestos, a través de creaciones que pertenecen a distintos campos: arquitectura, decoración, diseño industrial y arte gráfico. Nendo abrió, en 2005, su segunda oficina en Milán (la principal está en Tokio) y ha obtenido numerosos reconocimientos internacionales por sus proyectos. En el año 2006, la revista Newsweek lo identificó como uno de los 100 japoneses más respetados a nivel mundial y, un año después, aparecía en el listado de las 100 principales pequeñas empresas japonesas.
Las ferias de diseño y museos más respetados de todo el mundo han exhibido el trabajo y las instalaciones de Sato, incluyendo el Museo de Arte Moderno y el Museo de Arte y Diseño en Nueva York, el Museo de las Artes Decorativas y el Centro Pompidou de París, el Victoria & Albert Museum en Londres, el Instituto de Arte de Chicago, y mucho más. En su larga lista de clientes figuran importantes firmas como Cappellini, De Padova, Kartell, Foscarini, Boffi, Driade, Cartier, Gandía Blasco, Issey Miyake, Moroso, NEC, Puma y Thonet Vienna, entre otras.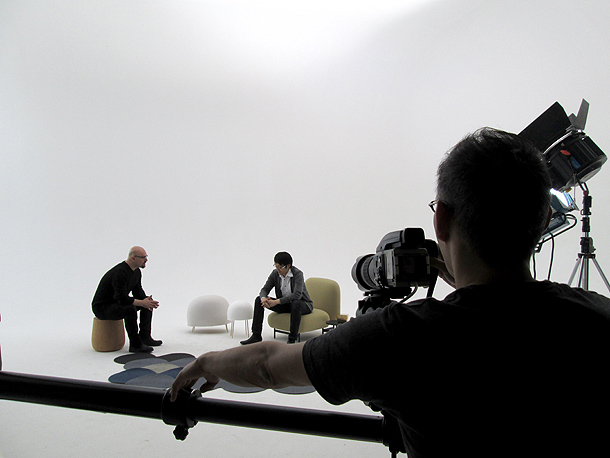 Información e imágenes facilitadas por Luca Nichetto Studio
You might also like