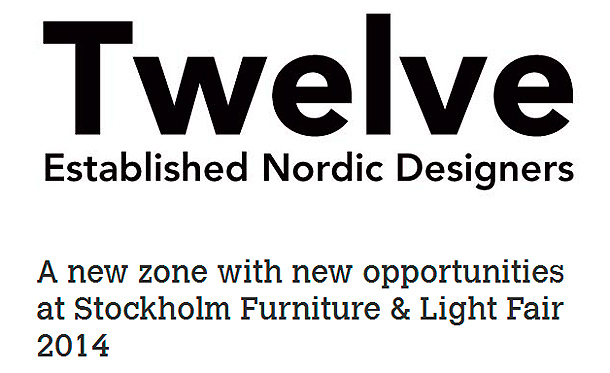 Twelve es una nueva sección de la Stockholm Furniture & Light Fair que hará su debut en 2014,  un espacio en el que doce diseñadores escandinavos establecidos mostrarán sus productos y su filosofía de diseño en un espacio común, que contará con un programa propio de actividades.
"Twelve, el nuevo espacio de la Stockholm Furniture Fair, responde a una demanda histórica que nos venían reclamando desde varias asociaciones de diseño. Si bien GreenHouse es una sección que ha catapultado al éxito a muchas jóvenes promesas del diseño, facilitando su tránsito desde el ámbito académico al empresarial, lo cierto es que se hacía necesario el disponer de una plataforma para apoyar a estudios y diseñadores industriales noveles de reciente creación, con piezas en el mercado, pero todavía jóvenes como para medirse en igualdad de condiciones a las principales marcas escandinavas del diseño. Esta es la filosofía que se esconde detrás de Twelve", indica Cecilia Nyberg, directora de la Stockholm Furniture & Light Fair.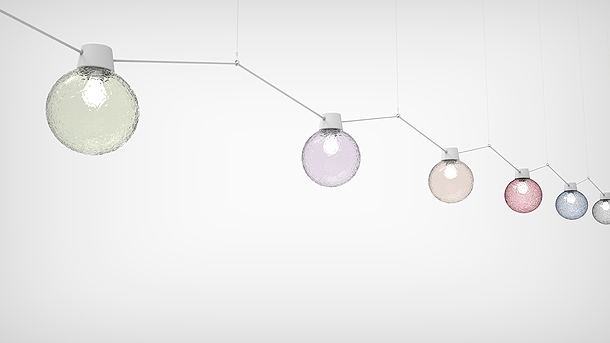 Johanna Agerman Ross, editora de la revista Disegno, es la responsable de esta sección en la edición de 2014. Según Johanna, ha sido un duro proceso de selección, ya que todos los diseñadores que querían participar, tenían un conocimiento técnico, experiencia y talento fuera de toda duda. Esta sección mostrará toda una variedad de diseño, desde producto a mobiliario, pasando por textiles o iluminación. El espacio expositivo de Twelve ha sido concebido y diseñado por TAF Arkitekter, quienes también forman parte del grupo de expositores.
El listado de expositores de Twelve 2014 estará compuesto por:
TAF Arkitekter, Suecia.
Lukas Dahlén, Suecia.
Peter Opsvik, Noruega.
Lisa Hilland, Suecia.
Mika Tolvanen, Finlandia.
Jonas Wagell, Suecia.
Harri Koskinen, Finlandia.
Thomas Bernstrand, Suecia.
Färg & Blanche, Suecia.
Louise Hederströms, Suecia.
Folkform, Suecia.
Katja Pettersson, Suecia.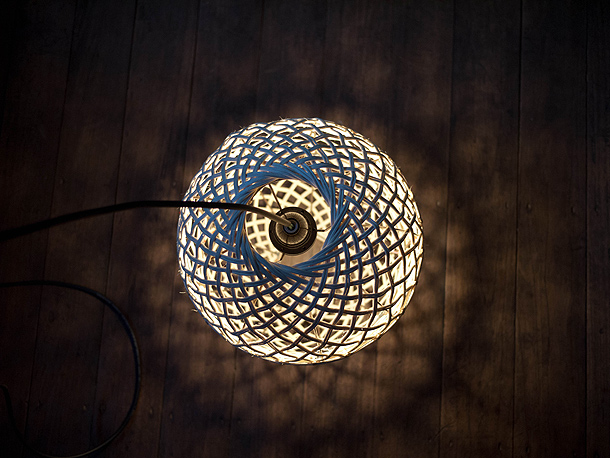 Twelve no será únicamente un espacio expositivo, sino también formará parte de un programa de actividades que bajo el título "Show and Tell" permitirá a los diseñadores dar a conocer a modo de seminario su filosofía de producto a los casi 40.000 visitantes que cada año visitan la Stockholm Furniture & Light Fair. Estas sesiones se celebrarán en la entrada principal del salón, junto a la instalación del Guest of Honour, que este año tiene en el estudio italo-danés GamFratesi a su principal protagonista.
La Stockholm Furniture & Light Fair es la mayor muestra mundial de diseño nórdico y escandinavo para el contract y el hábitat. Cada año reúne a más de 800 expositores directos, 1.200 firmas representadas, 40.000 visitantes profesionales y cerca de 1.300 periodistas.
La Stockholm Furniture & Light Fair se celebra durante la Stockholm Design Week, un evento que reúne en la capital sueca a un sinfín de eventos, presentaciones, seminarios, actividades, lanzamientos y celebraciones en torno al diseño en la capital del diseño del norte de Europa.
Vía: Lightecture
You might also like