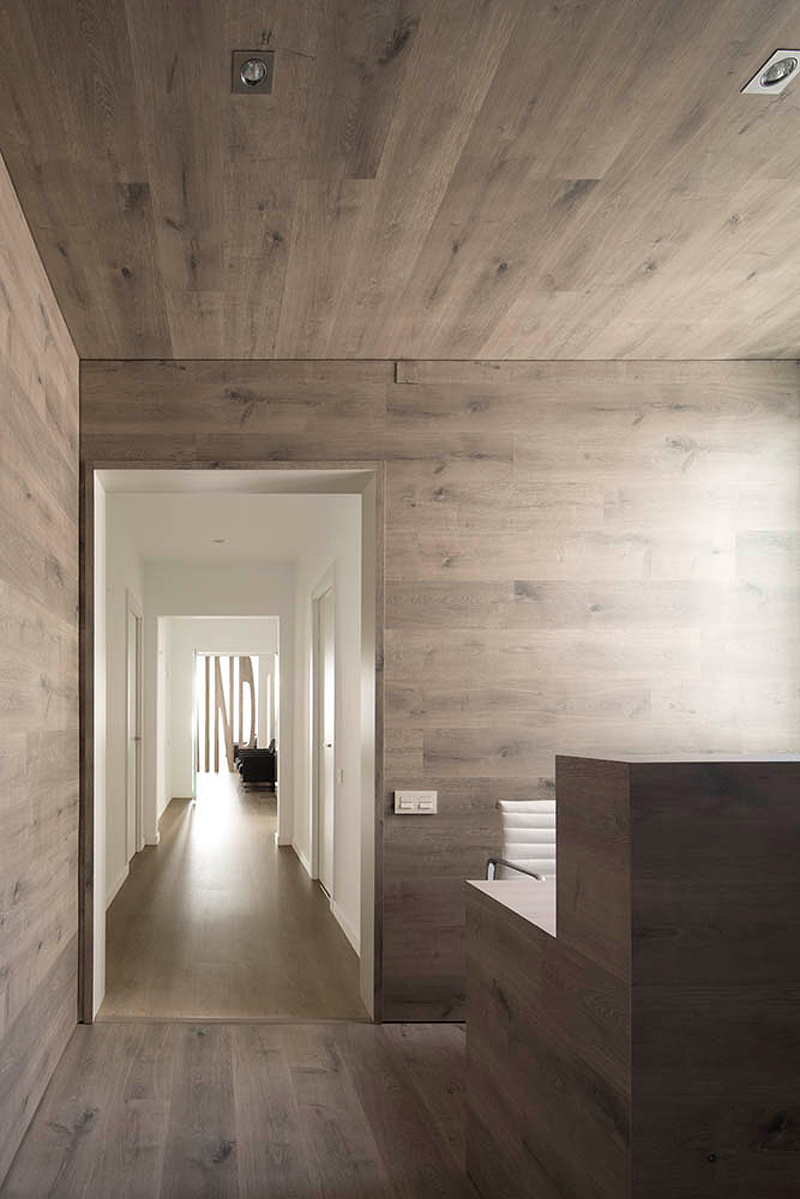 Art of Mind:
La calidez y la sensación de protección son dos conceptos clave que definen el interiorismo de esta consulta psiquiátrica, realizado por Susanna Cots. La diseñadora e interiorista catalana ha trabajado "con especial delicadeza la distribución de los espacios, la iluminación y la armonía visual con el objetivo de transmitir a los pacientes la 'sensación de estar en el lugar adecuado'".
La madera -y su simbolismo- se ha convertido en la principal aliada a la hora de conseguir una atmósfera sosegada y de recogimiento. Para ello, la diseñadora ha creado dos grandes cubos de madera que se han ubicado de manera estratégica en dos de las estancias de la consulta.
El primero, situado en la entrada, da la bienvenida a las visitas y las acompaña hacia el segundo, en el despacho central, donde se centra toda la comunicación y que cruza la pared de la sala de espera.
Este despacho central cumple las funciones de sala de reunión y de visitas médicas colectivas. Un pequeño jardín vertical sirve para aligerar la carga emocional de este espacio, mientras ejerce de pequeño pulmón verde dentro del despacho. El pavimento bajo la forma de un mosaico hidráulico en dos colores también ayuda a romper con la rigidez formal, dando lugar a una estancia completamente diferente a las restantes.
Por otra parte, la palabra Mind (mente) se ha materializado en una escultórica pieza de madera, que sirve para separar pero permite la comunicación visual en el espacio. Además, en combinación con el sol ofrece un mágico juego de luces y sombras.
El recorrido a través de la consulta busca reforzar las emociones a través del blanco y la limpieza visual que, como afirma la diseñadora, aportan "oxígeno, calma y serenidad" al proyecto.
_______________________________________________________________________________________
Las imágenes:
_______________________________________________________________________________________
Ficha técnica:
Proyecto:

Art of mind.

Año:

2014.

Localización:

Barcelona (España).

Diseño:

Susanna Cots.

Superficie:

120 m2.

Iluminación:

Artemide, Nexia y Lamp.

Mobiliario:

diseño Susanna Cots Interior Design.

Parquet:

Quick-Step.

Revestimientos de pared:

melamina de Gamela.

Silla dirección:

Arper.

Butaca sala de espera:

Ikea.

Silla:

Eames blanca.

Mesa de escritorio blanca:

Vital Plus de Actiu.

Fotografías:

Mauricio Fuertes (www.mauriciofuertes.com)
_______________________________________________________________________________________
Planimetría: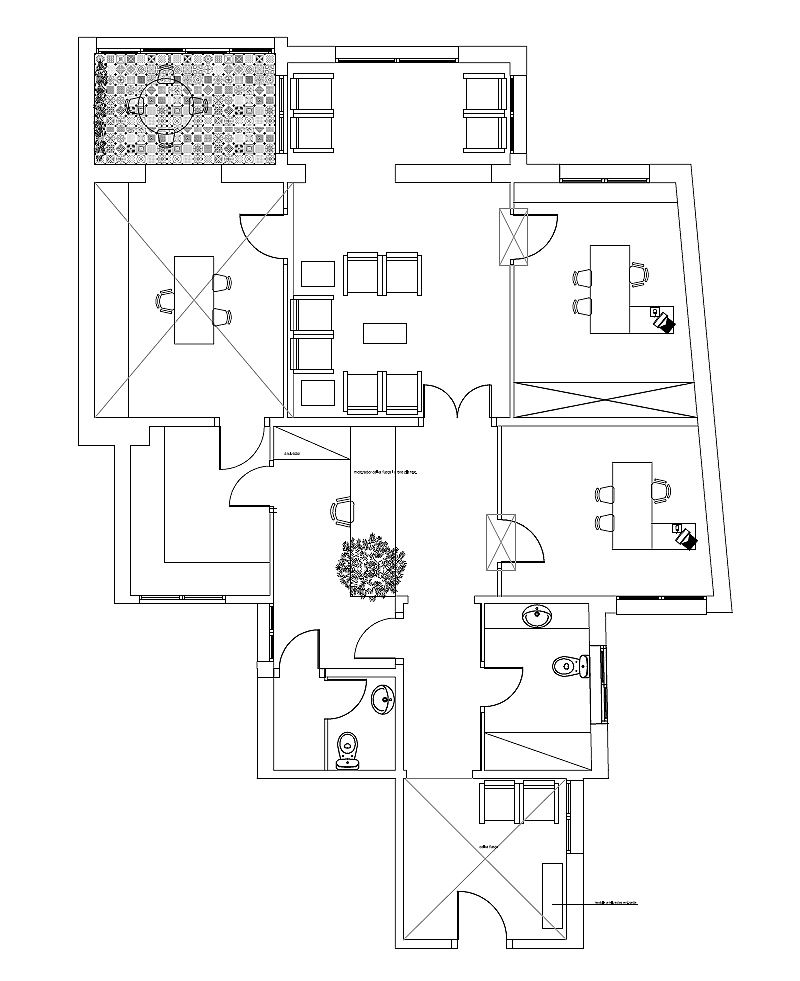 Planta
_______________________________________________________________________________________
Sobre Susanna Cots Interior Design: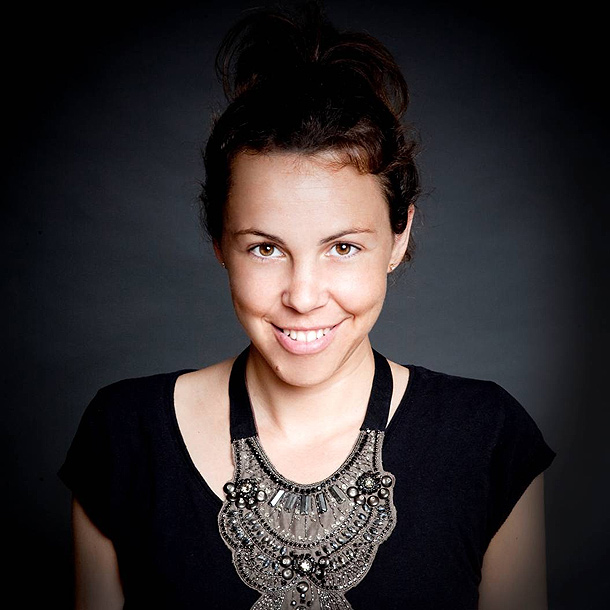 La interiorista  
Susanna Cots
(Solsona, 1977) acaba sus estudios de Proyectista de Edificios y Obras, en 1998, y empieza los estudios de Diseño de Interiores, en Barcelona. Durante su formación académica trabaja en diferentes estudios de arquitectura y empresas relacionadas con el mundo del diseño para complementar su formación.
En el año 2003, realiza un Máster en Escaparatismo, en Madrid, y un año después, uno Diseño de Interiores para la producción audiovisual, en Barcelona. Después de varios años de experiencia, en el 2001 funda su propio estudio de diseño Susanna Cots Estudi de Disseny.
En estos ya más de quince años de carrera profesional, la interiorista ha diseñado espacios de todo tipo y como ella misma dice "todo aquello que sea susceptible de ser diseñado". El trabajo de Susanna Cots converge en un punto intermedio entre funcionalidad y estética, atemporalidad y comodidad. Su búsqueda incesante a través del blanco, las líneas estilizadas y el orden visual consiguen que sus proyectos transmitan una personalidad cada vez más consolidada.
Sus proyectos han sido reconocido en publicaciones de ámbito nacional como "Diseño Interior", "Casa Viva", "Mi Casa", "La Vanguardia" o "El País", entre otros. Ha participado en diferentes concursos y premios a nivel nacional e internacional como el ICFF New York (International Contemporary Furniture Fair), los Premios FAD de Barcelona, Porcelanosa Interiores, los Andrew Martin's Interior Design Awards de Londres y los SBID Awards, de The Society of British Interior Design, donde quedó finalista en dos categorías.
Además, es Miembro Honorífico de The Society of British Interior Design y del Colegio de Decoradores de Colombia. En 2014, Susanna Cots ha abierto su primer estudio internacional en Hong Kong.
_______________________________________________________________________________________
Información e imágenes facilitadas por Susanna Cots Interior Design
You might also like