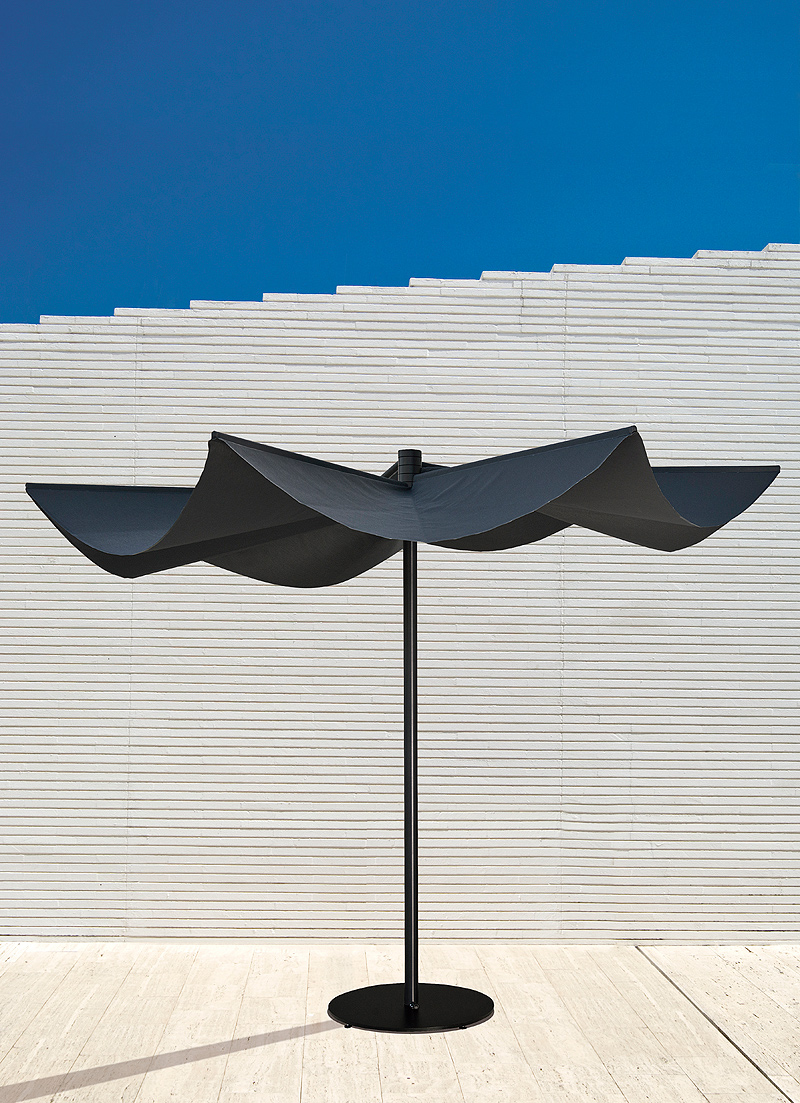 Om:
Om es una colección de parasoles, diseñada por Andreu Carulla para la empresa Calma, que aporta una nueva visión a los conocidos toldos y sombrillas del Mediterráneo.
La originalidad de este nuevo producto recae en su innovador mecanismo de abertura formado por un conjunto de anillas de aluminio que permite la apertura circular de las varillas y un elemento de bloqueo. Esta combinación permite que el parasol se adapte a las necesidades del momento ya sea totalmente abierto pero también medio o casi abierto.
Visualmente, estas posiciones ofrecen configuraciones estéticas diferentes: la tensada, que ofrece la imagen más tradicional, y la ondulada, de aspecto más original, imitando los toldos o marquesinas ibicencas. Además, Om permite otras configuraciones montado directamente sobre el suelo o sobre otros montantes verticales (ver imágenes).
Por otro lado, cuando el toldo está cerrado y sopla el viento, un simple sistema de desbloqueo del mástil respecto a la base permite un efecto veleta, impidiendo así la caída del parasol. La corona superior, una vez desbloqueada, posibilita la apertura circular de las varillas en 360º (ver vídeo).
El pasado mes de mayo, Om recibía el prestigioso premio Red Dot Best of the Best, Product Design 2015, siendo elegido entre un total de 4.928 productos.
Medidas: 158 x 158 cm (casi abierto),  300 x 158 cm (semi abierto) y ø 300 cm (abierto).
Colores: plata o negro (estructura) y negro o vanilla/gris (cobertura).
---
Las imágenes:
---
El vídeo:
---
Sobre Andreu Carulla: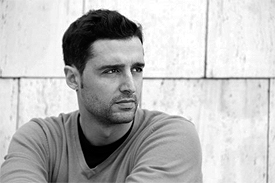 Andreu Carulla es diseñador y fundador del estudio de diseño de producto que lleva su nombre. Combinando arte y tecnología, entienden esta disciplina como un reflejo del estilo de vida mediterráneo, creando productos animados y luminosos, que tratan de poner una sonrisa en la cara del usuario.
El estudio se encuentra en medio de un paraje natural, a pocos pasos de un idílico lago y a una hora de Barcelona, un ambiente especial para un proceso de creación y una filosofía que mantiene una visión amplia del diseño de producto, trabajando desde su vertiente conceptural y experimental con nuevos materiales y procesos.
A pesar de su corta trayectoria, la variedad de los proyectos realizados es notable: muebles y artículos para el hogar, joyas, diseño de alimentos, productos tecnológicos e industriales y diseño gráfico. Una gama de productos con una notoria carga estética, en busca de un vínculo emocional con el consumidor, con la funcionalidad y la sostenibilidad como meta.
---
Sobre Calma:
Calma es una empresa especializada en mobiliario de diseño para exteriores. Con sede en la provincia de Girona (España), fue creada por un grupo de profesionales del sector cuya experiencia y trayectoria les ha motivado a llevar a cabo este proyecto.
---
Información en la web de Calma y de Andreu Carulla. Imágenes en la web de Calma
You might also like