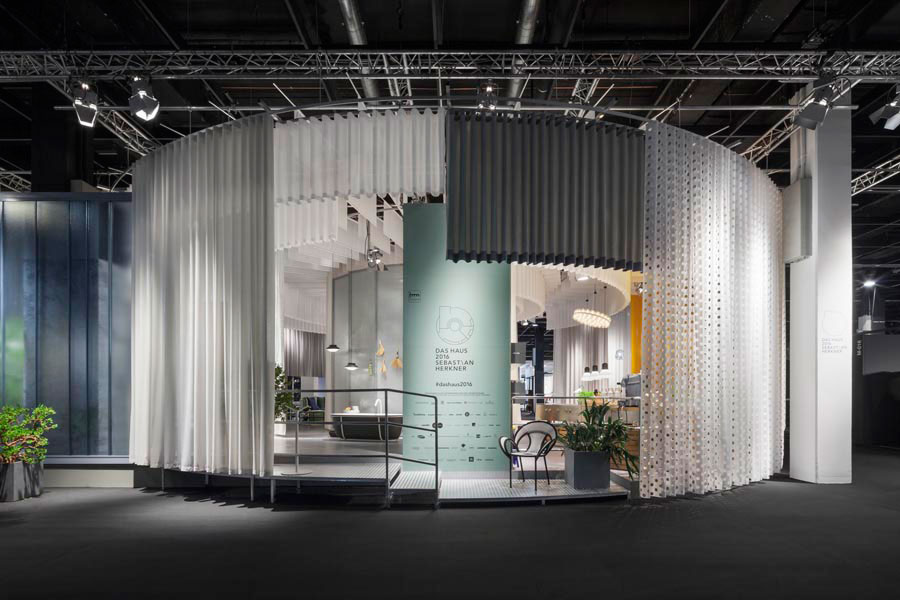 DAS HAUS:
Nya Nordiska, la editora textil alemana, dio a conocer durante imm Colonia 24 nuevas colecciones, parte de las cuales formaron parte de la Das Haus, un espacio dentro de la feria donde se muestra cómo será la casa del futuro y que cada año es encargado a un estudio o diseñador. En esta edición, el responsable de crear esta casa experimental fue Sebastian Herkner.
El diseñador alemán colabora habitualmente con Nya Nordiska como asesor en la creación de sus colecciones textiles, diseñando los stands de las ferias en las que toma parte y el nuevo showroom de la editora en la capital parisina también lleva su firma.
Para su Das Haus, Herkner utilizó cuatro de las nuevas telas de la colección 2016: Onno, Gloss, Ray CS y Lou, y otras cuatro de anteriores colecciones (Solo CS, Linum CS, Casa CS y Calma CS), tejidos que destacan por su ingeniosa transparencia, un tacto interesante o por su idoneidad para el proyecto. En total, más de 1.000 m de tejido que sirvieron al diseñador para dar forma a su concepto: una estructura circular que es, a la vez, transparente y abierta, donde las paredes tradicionales dejan paso a muros móviles realizados con telas y PVC.
La capa exterior de este proyecto con 'estructura de cebolla' iba del interior al exterior y estaba formada por un pasillo que rodeaba la casa completamente. El exterior estaba formado por una fachada decorativa que consistía en cortinas desarrolladas especialmente en la colección de Nya Nordiska.
El espacio interior también estaba dominado por los textiles, su disposición y la iluminación. Las cortinas poseían diferentes grados de transparencia y podían superponerse mediante un sistema de raíles, creando diferentes perspectivas que invitaban a interactuar y dialogar con la casa. Además de crear esta "experiencia sensorial", el diseñador alemán quería que su obra abogara por una "mayor apertura y libertad dentro de los espacios residenciales". "Nosotros estábamos buscando materiales especiales y atractivos que aportasen una calidad táctil a Das Haus. Queríamos que fuese una casa que despertase los sentidos de la gente", comentaba Sebastián Herkner.
---
LOS TEJIDOS: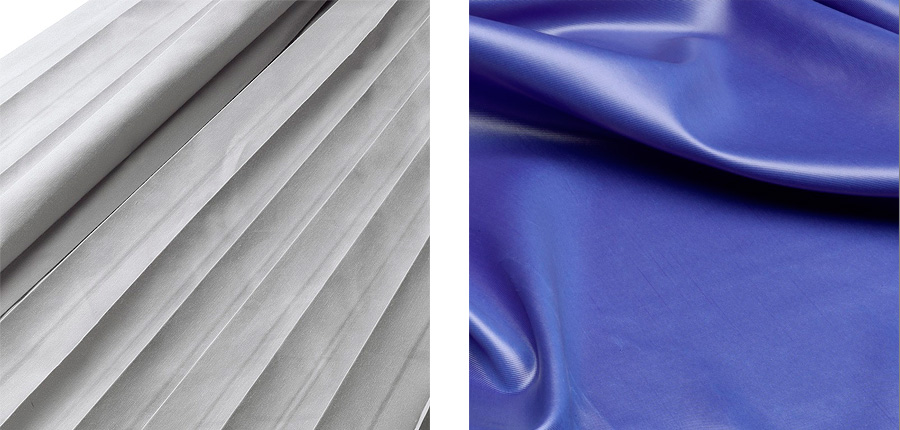 ONNO (izquierda): el tejido plisado Onno resulta moderno, desenfadado y sin complicaciones cuando se usa en caídas. La tela básica es doblada alternativamente cada 2 cm y 4 cm creando aristas que le confieren una apariencia irregular. La composición de poliéster asegura que los pliegues estén fijados de forma permanente. Disponible en colores marfil, plata, negro y azul.
GLOSS (derecha): Esta tela de aspecto juvenil enamora por su aire técnico y por su suave caída. El acabado chintz le aporta un efecto de alto brillo que resalta cuando la tela es plisada gracias a su doble ancho. Gloss está hecha de 100% Trevira CS, es lavable y adecuada para uso público. Disponible en cinco colores (rosa, gris, blanco, azul eléctrico y antracita).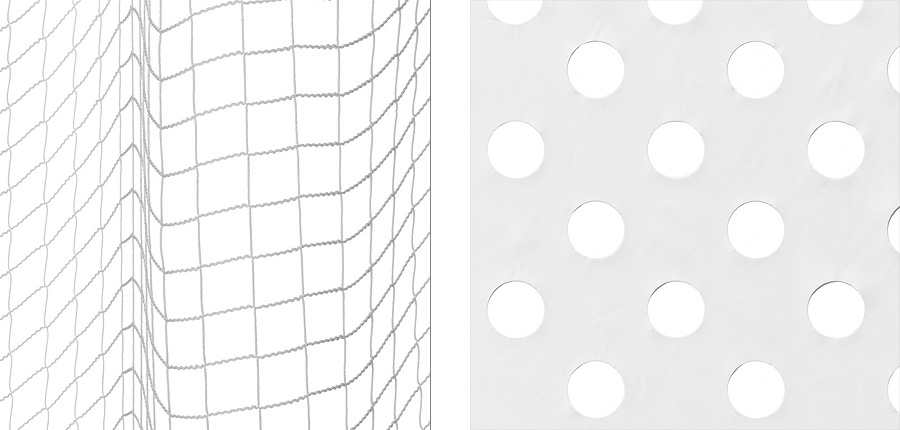 RAY CS (izquierda): malla textil de calidad adecuada para usar en locales públicos. La superposición de la tela crea sorprendentes patrones gráficos y sombras de efecto tridimensional. Disponible en colores como blanco, azul o antracita. Este tejido se puede usar también a modo de capas en combinación con otras telas. Su doble ancho permite usarlo en grandes alturas.
LOU (derecha): como una moderna versión de la tela de lunares, Lou juega con el efecto de transparencia y opacidad. El espacio del lunar es recortado con tecnología laser sobre una ligera tela de poliamida. Un recubrimiento de poliuretano fija los bordes de forma permanente. Cuando se cuelga, Lou proporciona privacidad sin dejar de ser permeable a la luz.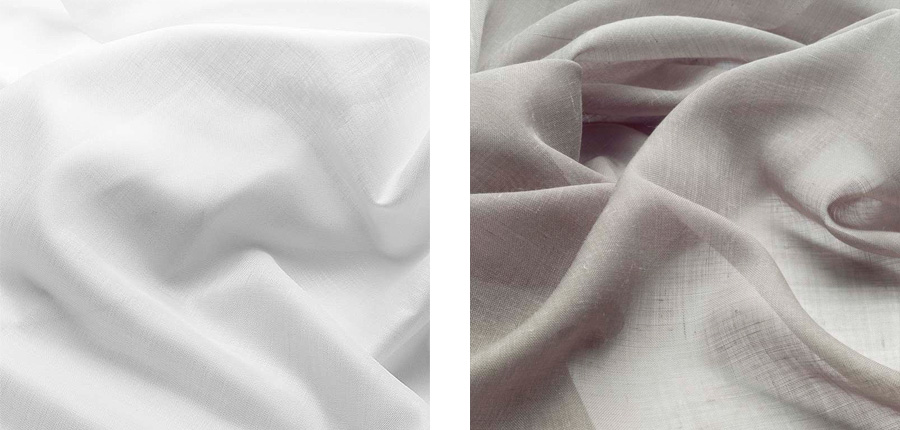 SOLO CS (izquierda): un tejido semitransparente en Trevira CS con apariencia de un chintz de algodón que resiste perfectamente el lavado. Gracias a su doble ancho y a que cumple todos los requisitos de la industria hostelera, este tela, disponible en ocho tonos naturales, es perfecta para uso contract.
LINUM (derecha): es un básico versátil que combina el atractivo de la textura y la apariencia del lino con la funcionalidad de un tejido Trevira CS. Está disponible en las tonalidades básicas del lino natural.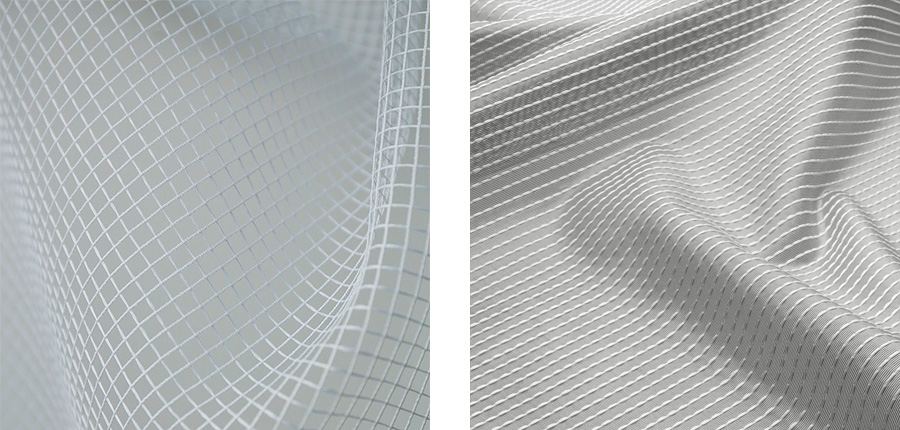 CASA (izquierda): malla de Trevira CS 100% predecesora, en tamaño pequeño, de la malla creada este año Ray CS.
CALMA (derecha): tejido funcional que combina transparencia y absorción acústica de acuerdo con la normativa UNI EN ISO 11654. También tiene propiedades ignífugas según normativa DIN 4102-B1 lo que la hace ideal para su uso en locales públicos.
---
DAS HAUS 2016:
---
LA MAQUETA: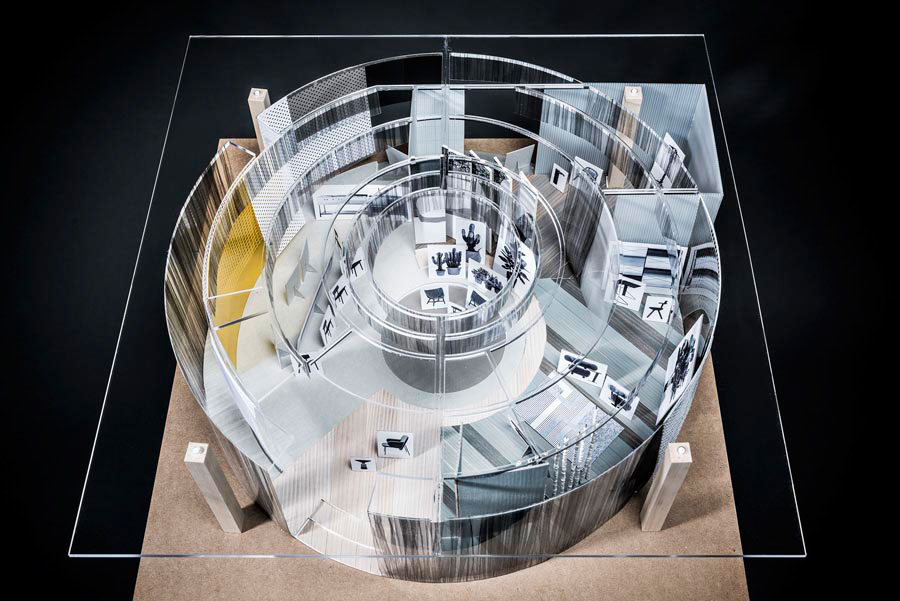 ---
SOBRE SEBASTIAN HERKNER: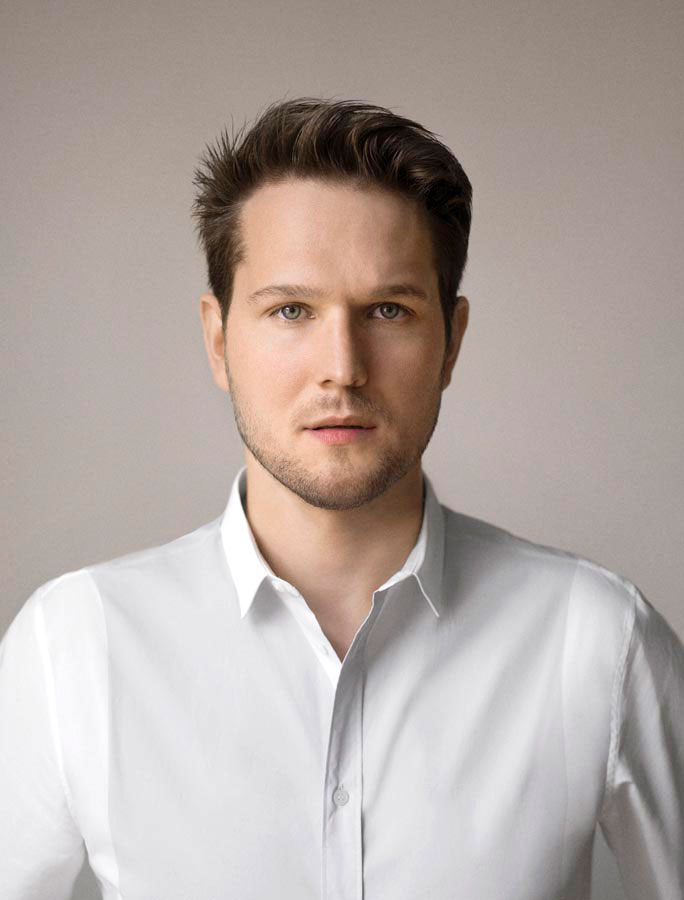 Nacido en Bad Mergentheim, Sebastian Herkner estudió Arte y Diseño en la Universidad de Offenbach y fundó su propio estudio en esta ciudad alemana en 2009. Ya durante sus estudios, se centró en el diseño de objetos y mobiliario, fusionando varios contextos culturales.
Considerado un mediador entre la artesanía tradicional y la alta tecnología, sus proyectos dan voz a los materiales y añaden al diseño moderno un toque sensual y, a veces, humorístico.
Es esta naturaleza sensual, su especial paleta de color y una intención creativa, que no siempre se fija en un propósito concreto, lo que le han permitido a sus 34 años de edad dar una nueva cara al diseño alemán. Sus éxitos internacionales quedan reflejados en sus trabajos para firmas como Moroso, Fontana Arte, Sizfeldt, Very Wood, Sancal, Böwer, Gubi, Le Amsterdam, Carl Mertens, Pulpo, La Chance, De Vorm, Verreum, Rosenthal y Nya Nordiska.
A lo largo de su carrera ha recibido diversos premios como el Designpreiss Deustchland 2011, el Red Dot Design Award 2010, el Wallpaper Design Awards 2014, el Design Plus y el Interior Design Best of the Year 2014. En 2016, ha sido el Invitado de Honor y el encargado de diseñar la vivienda del futuro en la sección Das Haus de la feria imm Colonia.
---
SOBRE NYA NORDISKA:
Desde 1964, año en la que fue fundada en Dusseldorf (Alemania), la empresa familiar Nya Nordiska ha estado diseñando y produciendo con gran éxito telas de gran calidad para decoración y tapicería, vistiendo espacios de uso privado y contract. Su gama de productos se completa con los sistemas de decoración Nya Artline y los paneles textiles o las creaciones en tela y cristal de diamante Nya Walls.
Por la calidad de sus diseños textiles y su sofisticada puesta en escena, la firma ha sido galardonada en numerosas ocasiones con más de 312 premios y se ha convertido en uno de los fabricantes más importantes a nivel internacional. Nya Nordiska cuenta con filiales en París, Londres, Como y Tokio. En España, se distribuye a través de Macarena Saiz Textiles.
---
Información e imágenes facilitadas por Nya Nordiska
You might also like