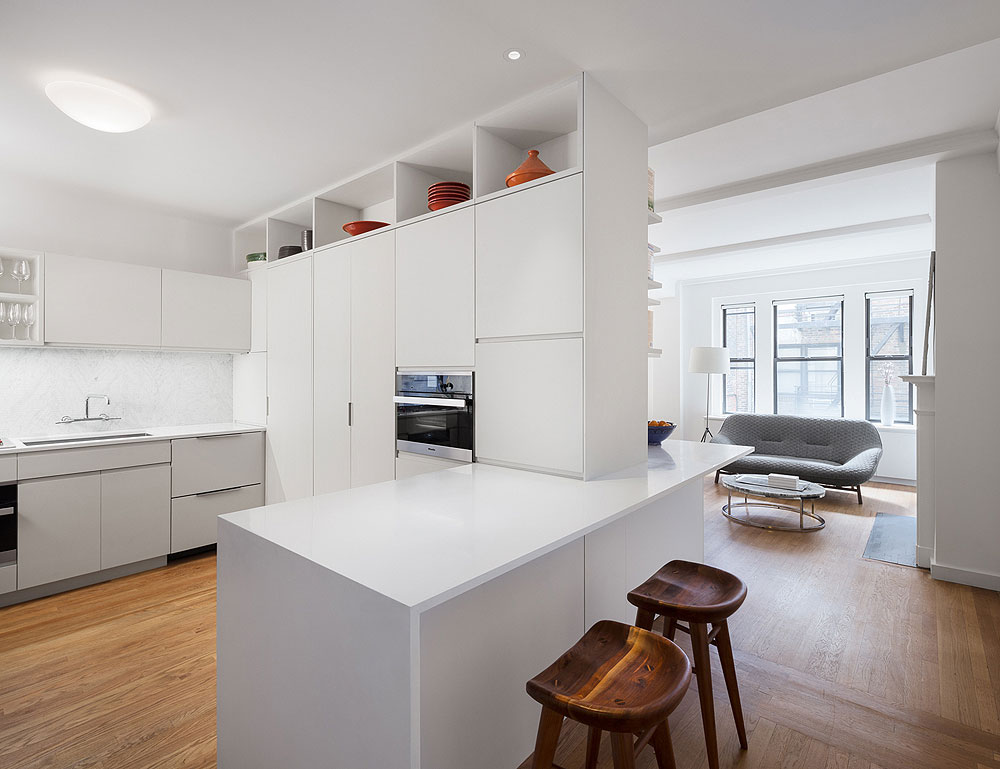 APARTAMENTO EN MANHATTAN:
Ubicado en el Upper East Side de Manhattan, uno de los barrios con más prestigio de la ciudad de Nueva York, donde se encuentran la famosa Quinta Avenida y Park Avenue, este luminoso apartamento ha sido objeto de una reciente reforma realizada por Kane Architecture and Urban Design (Kane A|UD).
Antes de la renovación, el apartamento era un espacio triste y oscuro, que no había sido puesto al día en los últimos 50 años, por lo que fue necesaria una completa reforma de la cocina y los dos baños. El nuevo proyecto sirvió para crear una vivienda moderna dentro de un edificio histórico, sin que el estilo más antiguo empañara el diseño actual o viceversa, e integrando aquellos elementos originales que pudieron recuperarse. Además, el mobiliario diseñado a medida ha servido para aumentar la funcionalidad de cada una de las habitaciones.
En la nueva vivienda, se eliminó la pared del pasillo de entrada para abrir la cocina y disponer de espacio para crear una pequeña barra de desayunos. Aunque esta estancia se ha mantenido en su ubicación original, se ganó espacio de almacenamiento al cerrar una segunda entrada y sustituirla por una despensa de suelo a techo. Desde el vestíbulo, este mueble a dos caras sirve como separación entre la cocina y la sala de estar.
En el salón, el nuevo mueble con estanterías en la parte superior mantiene ordenado visualmente el espacio, ya que permite que la mayor parte de la pared esté disponible para guardar cosas de pequeño tamaño. En él se guardan también la televisión y el equipo audiovisual que quedan ocultos tras puertas cuando no se utilizan.
En esta misma estancia, la chimenea, convertida en un bello punto de atención, se ha restaurado y pintado de blanco al igual que las molduras del techo. Asimismo, los suelos originales se han barnizado con selladora mate clara para ayudar a dar luz a la estancia.
Bajo las ventanas, muebles bajos ocultan los radiadores y proporcionan espacio de almacenaje. Además, la zona de comedor se completa con un discreto aparador suspendido en el mismo color blanco elegido para toda la casa y una zona de exposición enfatizada con iluminación focal encastrada en el techo.
En el dormitorio principal, los armarios empotrados ocultan el aire acondicionado y la lámpara suspendida crea un punto focal que destaca los altos techos, cuyos detalles originales han sido restaurados con nuevos detalles de yeso. Junto a él, el baño principal se ha equipado con un lavamanos y un mueble suspendido de forma estrecha y alargada para hacer parecer más grande el espacio.
Por último, en la habitación infantil, armarios empotrados a medida y una sencilla luz colgante ayuda a iluminar el techo y alegra el interior de este dormitorio.
En todo el apartamento y mediante el uso de una paleta de materiales naturales y colores claros, Ted Kane ha creado espacios luminosos y funcionales para hacer más fácil el día a día.
---
LAS IMÁGENES:
---
FICHA TÉCNICA:
Proyecto: Reforma de un apartamento.

Ubicación:

Nueva York (Estados Unidos).

Completado:

2016.

Arquitectura/Diseño interior:

Kane Architecture and Urban Design (Kane A|UD).

Superficie:

130 m2.

Fotografía:

Devon Banks.
---
PLANIMETRÍA: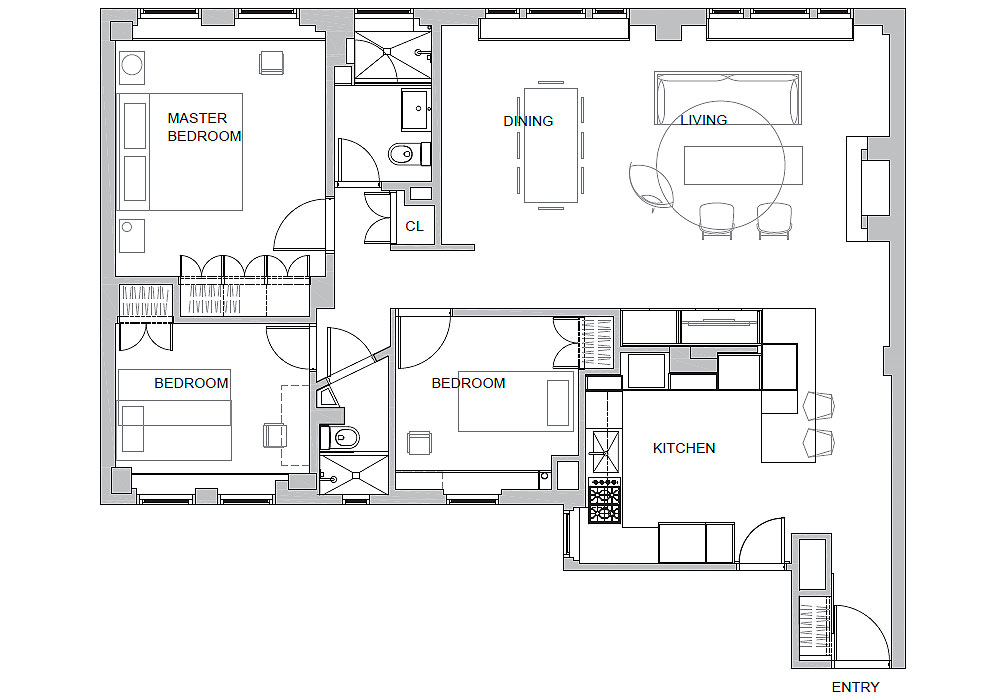 Planta
---
SOBRE KANE ARCHITECTURE AND URBAN DESIGN (KANE A|UD):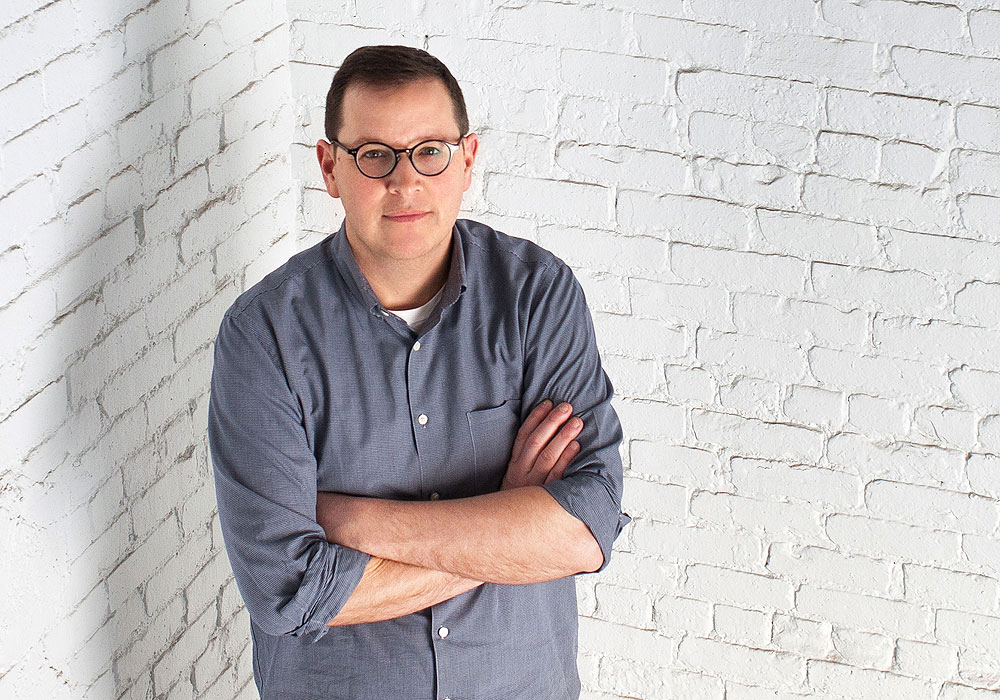 Kane Architecture and Urban Design (Kane A|UD) es un estudio de diseño con sede en Nueva York, fundado por Ted Kane, que crea modernas soluciones adaptadas a las necesidades particulares de cada programa y espacio. Trabaja en estrecha colaboración con sus clientes y contratistas para asegurar un alto nivel de calidad desde el diseño hasta la finalización del proyecto.
Su experiencia incluye proyectos de obra nueva, reformas y ampliaciones. Proyectos recientes y en curso incluyen el desarrollo de un edificio de viviendas, la reforma de dos casas y la ampliación de un edificio de uso mixto en Brooklyn (Nueva York).
---
Información e imágenes facilitadas por Kane A|UD