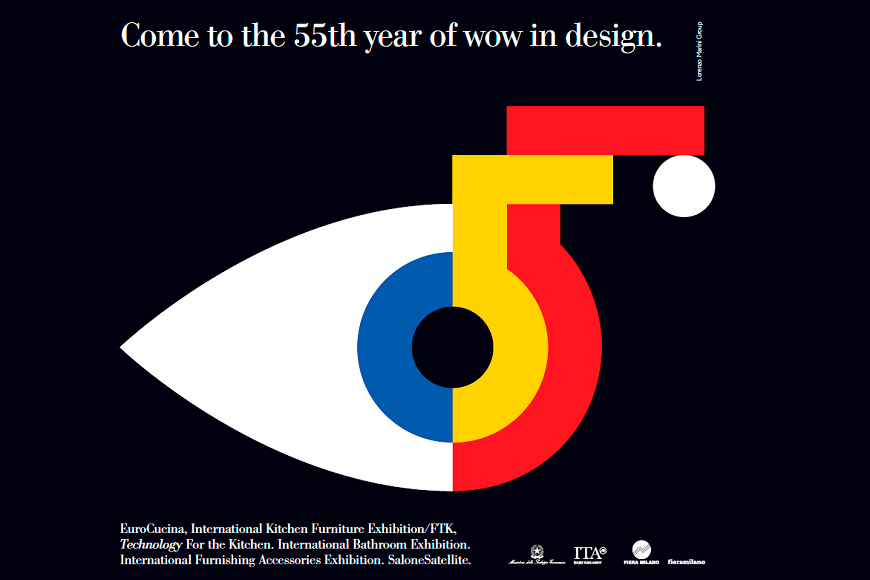 SALÓN INTERNACIONAL DEL MUEBLE DE MILÁN:
El próximo martes regresa la cita europea más importante en el campo del diseño, la innovación, la decoración y la creatividad, en la que se esperan más de 300.000 visitantes de 165 diferentes países del 12 al 17 de abril: el Salón Internacional del Mueble de Milán será el escenario perfecto para miles de productos que hacen su debut en el mercado.
Con todo vendido, 207.000 m2 de exposición neta y 2.310 expositores (30% de ellos empresas extranjeras), 650 de ellos diseñadores del Salón Satélite, el Salón reafirma su posición como principal fórum para las ideas, la creatividad, la innovación y la tecnología para empresas, operadores y visitantes, mostrando los últimos estilos de vida en el hogar a través de las tendencias del diseño.
El recinto ferial también acogerá la Exposición Internacional de Accesorios de Mobiliario y las bienales Salón Internacional del Baño y EuroCucina. Además, a lo que ocurre dentro de la feria, hay que sumar los cientos de eventos que tienen lugar en toda la ciudad (Fuorisalone) que, estos días, también celebra la Milan Design Week, convertida en la capital del diseño a nivel mundial.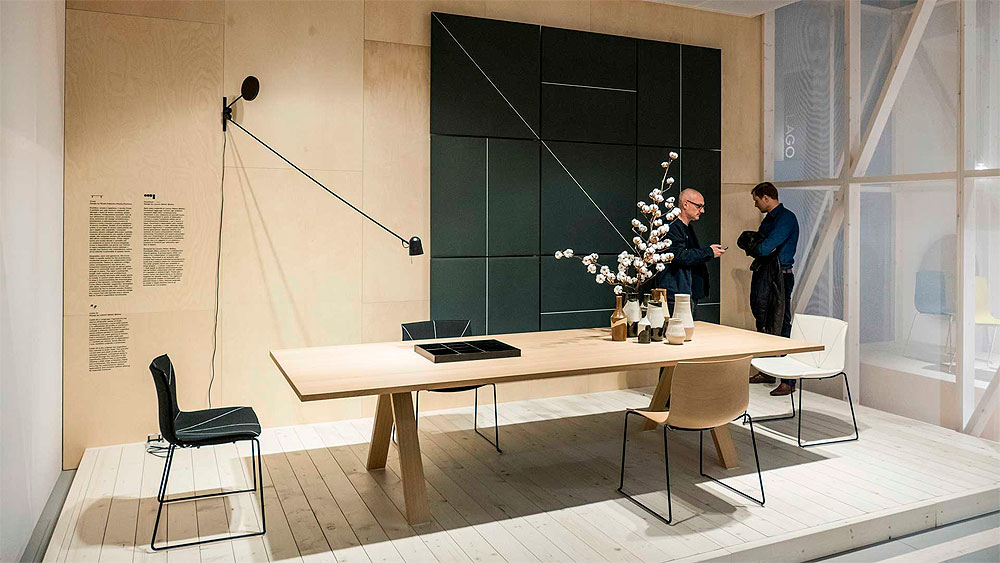 ---
EUROCUCINA (PABELLONES 9-11 Y 13-15):
Éste es el año de las bienales EuroCucina y de la muestra FTK (Tecnología para la cocina) y del Salón Internacional del baño (pabellones 22-24). La primera de ellas, con 120 firmas y 120.000 m2, será el escaparate de las últimas tendencias en el ámbito de las cocinas de alta calidad, mientras que FTK, con 40 expositores en 12.000 m2, ofrecerá lo mejor en electrodomésticos integrados y campanas extractoras, presentando la última tecnología en este espacio.
El estilo perfecto y la practicidad son los dos ingredientes que marcan la edición de 2016. El renacimiento de la cocina como un lugar de convivencia, que incorpora una amplia variedad de materiales y acabados para crear un espacio que refleje un abanico lo más amplio posible de gustos y estilos de vida, aumentando la elegancia y la funcionalidad. La elección de los materiales es particularmente exigente: desde las más cálidas maderas a los materiales más innovadores (fibra de carbono, resina de cemento, Fenix -un material creado usando nanotecnología- o una combinación de los mismos (madera y acero, melamina y vidrio grabado).
Otro tema central será la unificación de la cocina y la sala de estar a través de líneas limpias y elegantes para ofrecer un espacio más sofisticado y mejor integrado.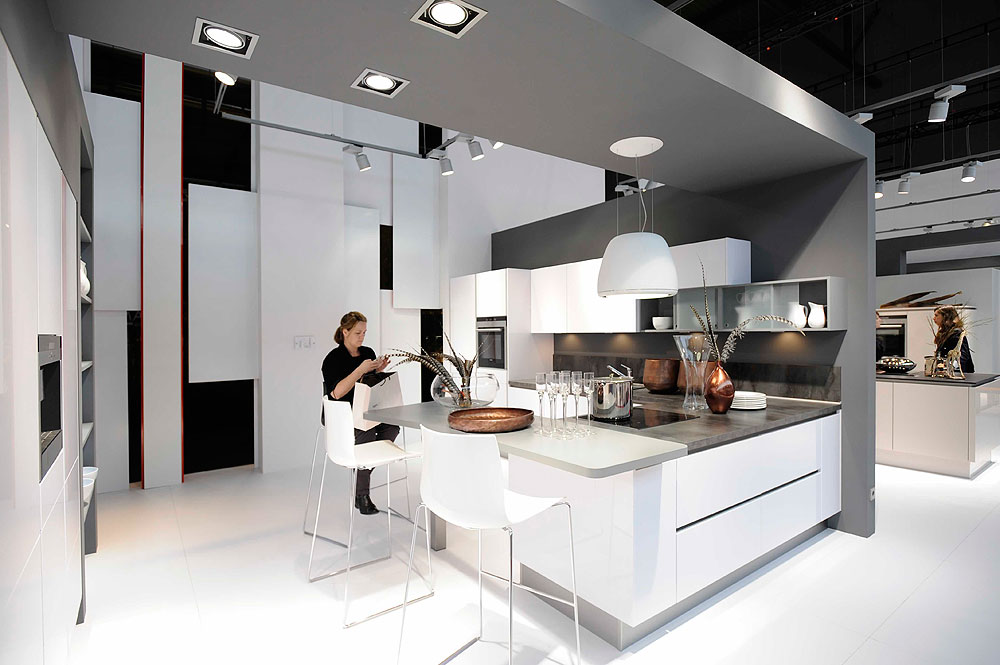 ---
BAÑO (PABELLONES 22-24):
El foco de atención del Salón Internacional del Baño estará puesto en las últimas tendencias en mobiliario y accesorios para baño, cabinas de ducha y saunas, radiadores y revestimientos, griferías para baño y cocina, y bañeras de hidromasaje. Doscientos expositores repartidos en 19.000 m2 ofrecerán un escaparate de innovadoras soluciones para la personalización del espacio doméstico con una especial atención al bienestar y al cuidado personal.
El bienestar y el diseño se combinan cada vez más con el ahorro de energía: se ha producido una demanda fuerte y generalizada de productos ecológicos, incluso en el sector del baño, donde se están desarrollando nuevas soluciones y productos dirigidos a la máxima optimización del consumo de agua y electricidad. El empuje  innovador de este sector se corresponde cada vez más con la evolución tecnológica, dando lugar a soluciones más sostenibles y a la incorporación de conceptos de audio y vídeo.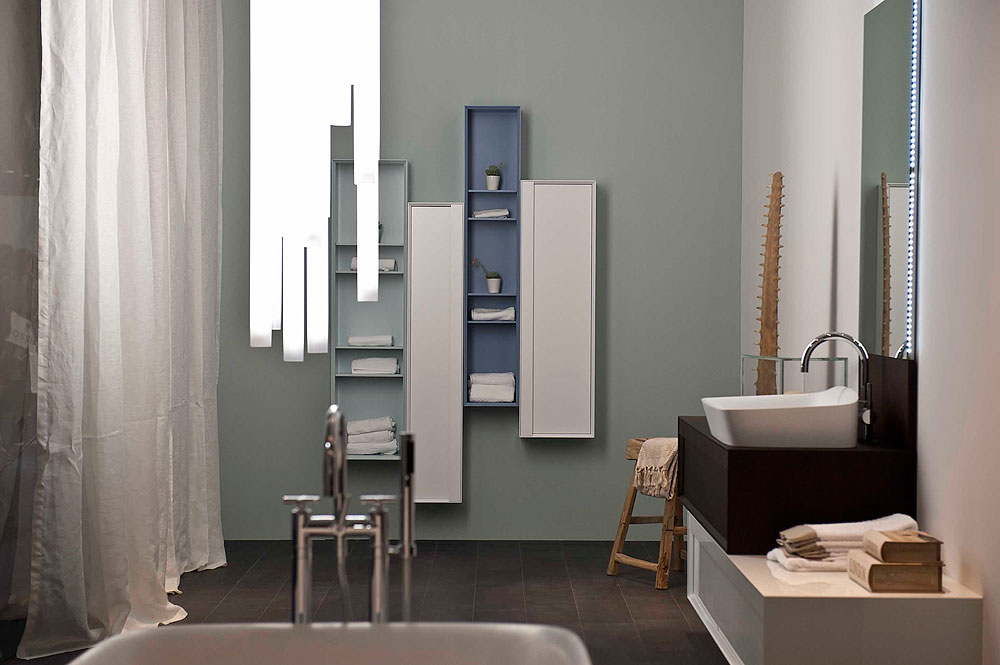 ---
SALÓN SATÉLITE (PABELLONES 13 Y 15):
La décimo novena edición del Salón Satélite, dedicado a los diseñadores con menos de 35 años, celebrará la séptima edición del Premio Salón Satélite, con galardones para los tres mejores prototipos en exposición que se adecúen a las categorías de los productos del Salón del Baño y EuroCucina.
Este salón actúa como una plataforma para que estos jóvenes creativos puedan compartir sus trabajos con el público y potenciales fabricantes. El tema de este año es "Nuevos materiales, nuevo diseño" y subraya los medios y las técnicas de producción que emplean en su trabajo.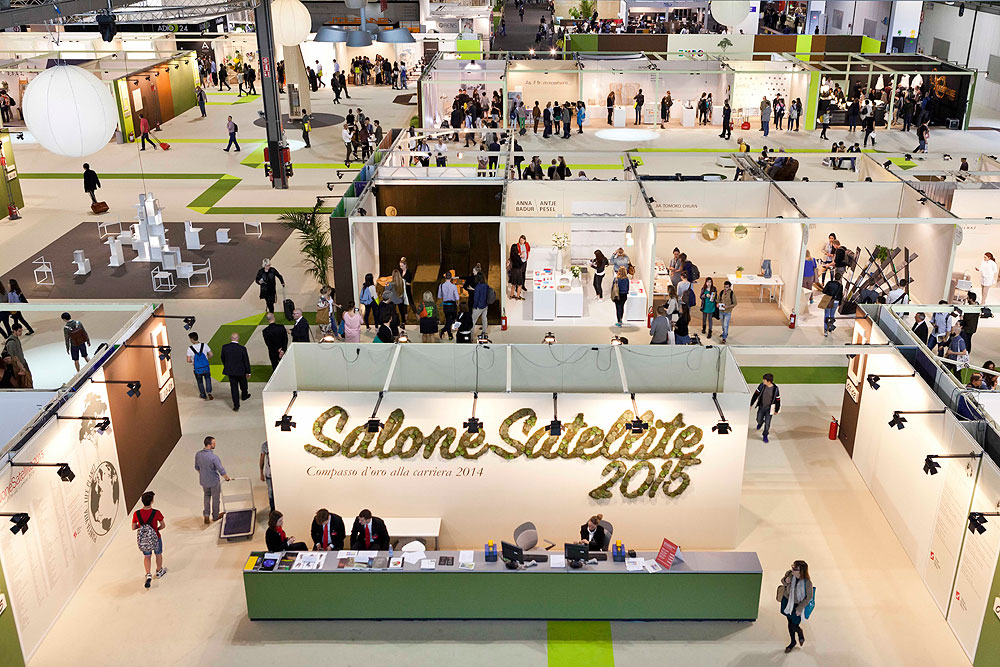 ---
MATERFAD EN EL SALÓN SATÉLITE:
Materfad: el centro de materiales de Barcelona expondrá en el Salón Satélite una selección de innovadores materiales y el próxima día 14, a las 15.00 horas, en el Arena del (pabellón 15) ofrecerá la sesión de charlas "New materials > New Design" sobre la importancia que tienen los nuevos materiales a la hora de producir mejores productos que contribuyan a disminuir el impacto de nuestro consumo sobre el planeta.
La sesión, con la colaboración del Het Nieuwe Instituut de Rotterdam y de Happy Materials de Praga, contará con la presencia de ocho expertos procedentes de centros de materiales y/o universidades europeos de ocho diferentes países. Los participantes en la charla serán: Valérie Bergeron (Materfad Barcelona / ES), Christine Vroom (Het Nieuwe Instituut / NL), Lucie Havlova (Happy Materials / CZ), Elodie Ternaux (matériO / FR), Christina Tubito (Material Connexion / IT), Mette Bak Andersen (Material Design Lab / DK), Efrat Friedland (materialscout / DE) y Carole Collet (Central Saint Martins – University of Arts of London / UK).
Además y aprovechando este encuentro, un grupo de expertos pondrá en marcha la Plataforma Europea de los Nuevos Materiales, y con el fin de promocionar la importancia de los nuevos materiales entre los diseñadores y las empresas, se está creando el European New Material Award, con la participación de numerosos países de la Unión Europea.


De izquierda a derecha y de arriba a abajo: XT-CF20, Preserved Moss, Flexible Stone y Spiber™silk
---
REDMEMBERS EN MILÁN:
Veinte empresas adscritas a RED (Reunión de Empresas de Diseño Español) mostrarán sus más recientes propuestas durante la próxima semana en la capital italiana del diseño,  tanto dentro como fuera del recinto ferial de Rho. Andreu World, BD barcelona design, Cosentino, Enea, Expormim, GANDIABLASCO, Inclass, Mobles 114, nanimarquina, Ondarreta, Sancal, Treku, Viccarbe y Vondom expondrán sus novedades en el Salón Internacional del Mueble, mientras que Cosentino, Fitnice, Kriskadekor, Lladró, Marset y Vibia lo harán en diferentes showrooms repartidos por la ciudad, dentro circuito conocido como FuoriSalone.
Puedes seguir la participación de RED en: TW @redaede, FB redtalks and INSTG red_aede.
Hashtag: #REDmilan16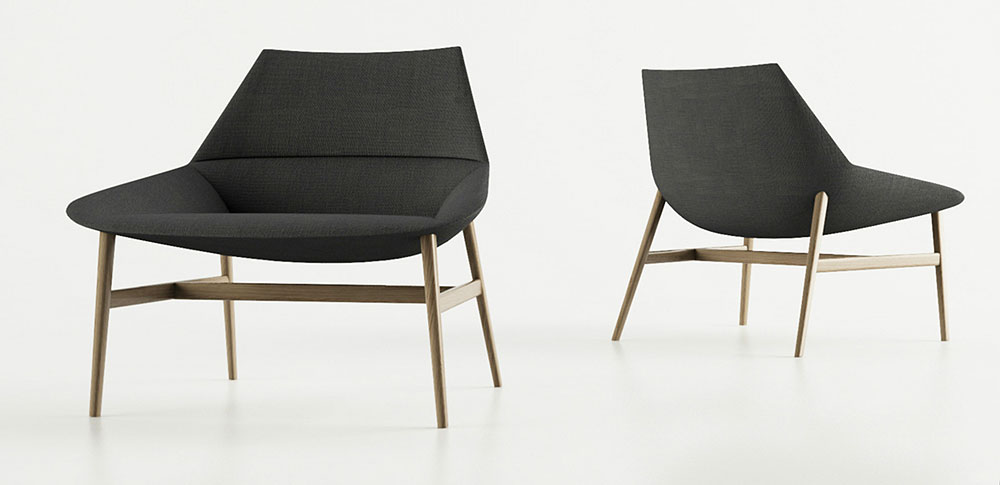 Colección Dunas de Christophe Pillet para Inclass
Silla Bair de Ander Lizaso para Ondarreta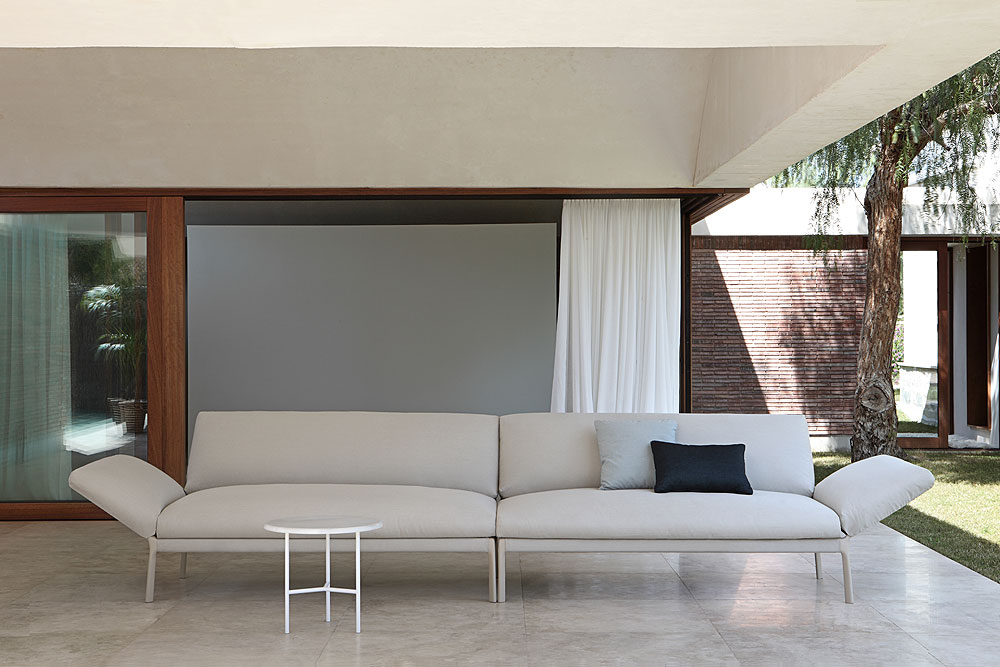 Sofá Livit de Lievore Altherr Molina para Expormim
---
"BEFORE DESIGN: CLASSIC":
Desde la propia feria, esta exposición-evento quiere reflejar el alma clásica de la vida contemporánea a través de una exposición y un cortometraje. Comisariada por el estudio con sede en Milán Ciarmoli Queda, que desarrolla su trabajo en los campos de la arquitectura, el diseño y el arte, la exposición se desarrolla como un viaje multisensorial a través de un espacio de 800 m2 dentro del recinto ferial inspirado por una villa clásica de Palladio. Los visitantes serán guiados a través de varias habitaciones, descubriendo diferentes caracteres y temas del mobiliario clásico, que coexisten con instalaciones multimedia para crear diferentes estados de ánimo.
La visita termina en un teatro inspirado por el Teatro All'Antica, un teatro del siglo XVI constuido en Sabbioneta, en el norte de Italia. Es aquí donde se proyecta el cortometraje realizado para la exposición por el realizador Matteo Garrone (director de la película "Gomorra"), quien aceptó el reto de hablar de mobiliario a través del medio cinematográfico.
---
FUORISALONE:
La gran actividad que tiene lugar dentro de la feria se extiende a toda la ciudad, donde se celebran cientos de eventos agrupados bajo el nombre de FuoriSalone y dentro de la Milan Design Week. El FuoriSalone se inició de forma espontánea a principios de la década de los 80, a través de empresas que trabajaban en los sectores de la decoración y el diseño industrial. Actualmente, se está expandiendo a muchos sectores relacionados, incluyendo la automoción, la tecnología, las telecomunicaciones, el arte, la moda y la gastronomía.
Los eventos del FuoriSalone se reparten por toda Milán, aunque se concentran en tres zonas principales, cuatro áreas estratégicas y proyectos concretos, que se traducen en diferentes itinerarios y alrededor de 1000 eventos: Brera Design District, Tortona Design Week, Ventura Lambrate, Durini-Monforte-Quadrilatero (San Babila), 5 VIE art+design (5Vie), Porta Venezia in Design, San Gregorio DOCET, Zona Sant'Ambrogio y Sarpi Bridge-Oriental Design Week.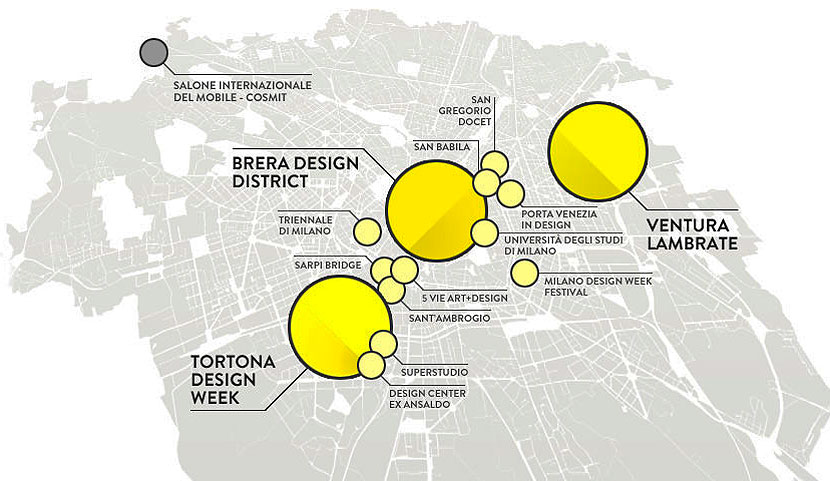 ---
BASQUE DESIGN INDUSTRIES. MILAN 2016:
El diseño vasco estará representado en la próxima edición de la Milan Design Week auspiciado por la Asociación de Diseñadores de Euskadi (EIDE), que reúne a profesionales y empresas de diseño industrial, diseño gráfico, diseño expositivo y diseño de servicios. La presencia de EIDE en el mayor evento en torno al diseño que se celebra en Europa tiene un doble objetivo: por una parte, "liderar la representación de los casi 65 socios de la organización, promoviendo el valor del diseño en la innovación, así como el compromiso con la sostenibilidad, la competitividad y la transformación social que persigue la asociación.
En segundo lugar, EIDE quiere coordinar y dar visibilidad al trabajo conjunto de las 12 empresas vascas (industrias del diseño) que acuden a esta cita juntas por primera vez, entre las que se encuentran fabricantes de textiles inteligentes, de mobiliario y de impresión fotográfica, diseñadores industriales y gráficos, y nuevos talentos que representan al diseño vasco.
Para ello EIDE, que este año celebra su 30 aniversario, se apoyará en un nuevo concepto desarrollado para la ocasión: "Basque Design Industries. Milan 2016". Este lema forma parte de la nueva estrategia internacional de la organización, que EIDE pretende impulsar para posteriores citas internacionales.
Las empresas vascas, que exhibirán sus productos en el Materials Village de Superstudio Più, en el Distrito Tortona, son: ABAD Design, dr.Minsky, MADEINBI, Muka Design Lab, Estudios Durero, Textia, Nueva Línea, ADN DESIGN, AGV Estudio, ITEMdesignworks, SMOTION y TXB Design.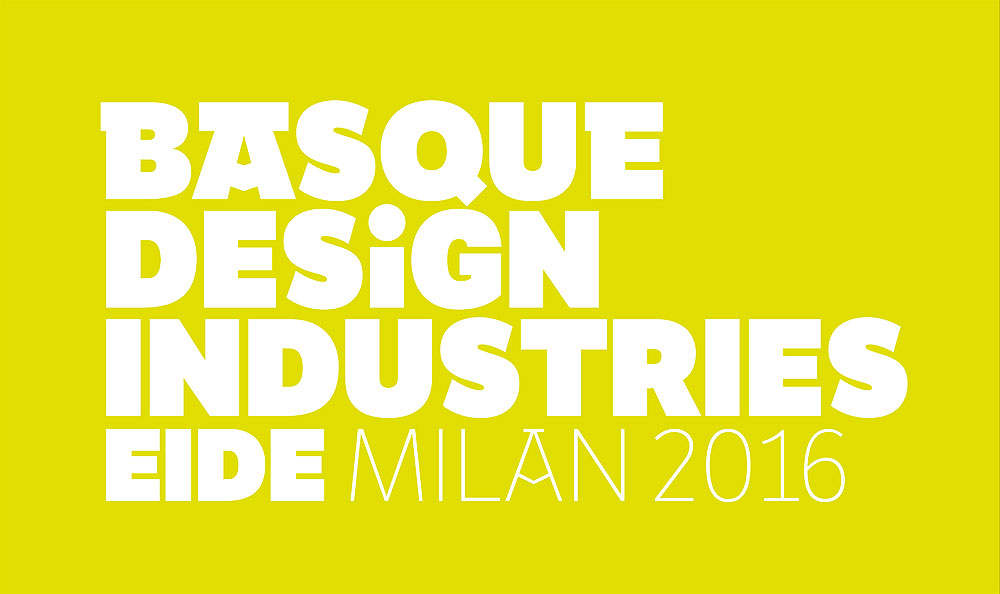 ---
"ROOMS. NOVEL LIVINGS CONCEPTS":
Acompañando al programa principal de la feria, en toda Milán tendrán lugar multitud de actos que giran en torno a esta gran celebración del diseño del hábitat.
El Salón del Mueble, un lugar para la experimentación, los negocios, la innovación y la cultura, presenta esta exposición (del 2 de abril al 16 de septiembre) en el marco de la XXI Triennale, comisariada por Beppe Finessi. "Habitaciones. Novel Living Concepts" muestra la arquitectura de interior a través de once destacados diseñadores de diferentes generaciones a los que se ha invitado a concebir un ambiente como un espacio de vida para el presente y el futuro. Cada uno de los autores formula su propio concepto de espacio, mientras que el filósofo Francesco Cataluccio se ha encargado de seleccionar textos de referencias literarias y filosóficas para cada proyecto.
Umberto Riva, Alessandro Mendini, Manolo De Giorgi, Lazzarini and Pickering, Mara Laudani and Marco Romanelli, Andrea Anastasio, Fabio Novembre, Duilio Forte, Elisabetta Terragni, Carlo Ratti y Francesco Librizzi han creado 11 habitaciones con diferentes usos y funciones.
Esta muestra se complementa con un espacio introductorio con fotografías, dibujos y quince proyectos ejemplares de la historia de la arquitectura interior italiana realizados entre 1920 y nuestros días.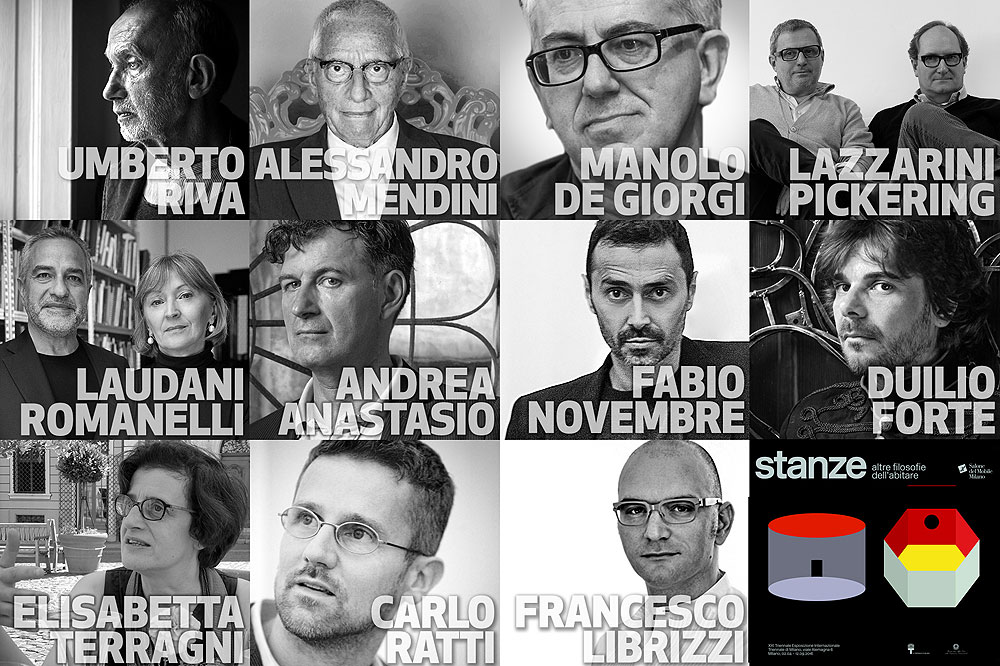 ---
SPACE&INTERIORS:
"Space&interiors" es un nuevo evento dentro de los actos de la Milan Design Week ligado directamente con el Salón Internacional del Mueble. La muestra está dedicada a la excelencia de los acabados arquitectónicos, haciendo protagonistas a las empresas expositoras. Organizado por MADE expo, la feria líder de la arquitectura y la industria de la construcción, también ofrece una oportunidad de hablar sobre los más recientes temas del diseño contemporáneo con Ferruccio Laviani, Migliore+Servetto Architects, Tiziano Vudafieri y Cino Zucchi durante los Archicocktails, y también a través de las citas organizadas por las empresas con reconocidos arquitectos y diseñadores.
Revestimientos, pavimentos, puertas y acabados interiores se darán a conocer en el Mall Porta Nueva, en el distrito de Brera, en una muestra comisariada por Migliore+Servetto Architects.
---
Información e imágenes facilitada por el Salone del Mobile, Red (Reunión de Empresas de Diseño) y Asociación de Diseñadores de Euskadi (EIDE)