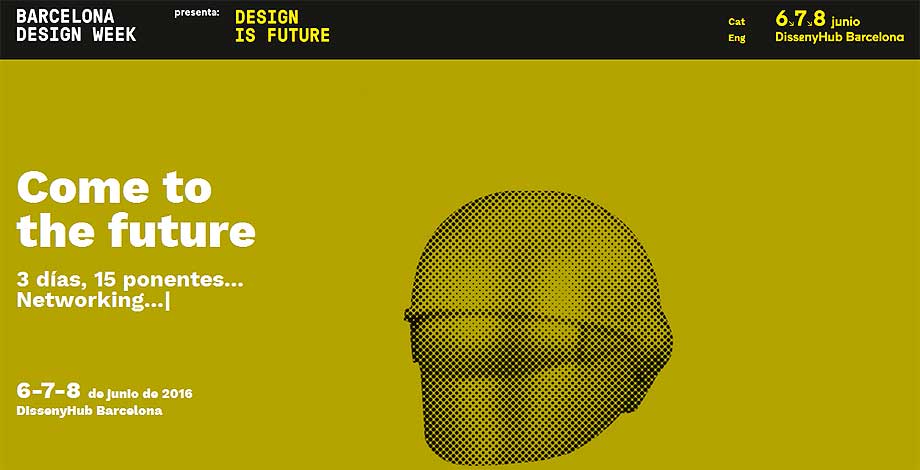 DESIGN IS FUTURE:
---
Conferencias, workshops, jornadas de puertas abiertas, presentaciones… En total, serán más de 70 actividades las que tengan lugar durante la Barcelona Design Week 2016, que se celebrará del 2 al 12 de junio. Uno de los platos fuertes será, sin duda, la segunda edición del Design is Future Congresstival, un evento en el que durante tres días y de la mano de 15 destacados ponentes se abordarán cuestiones como ¿Cuáles son las funciones de los diseñadores? ¿Cómo ayuda el diseño a construir un mundo mejor? o ¿Cuál es el impacto del diseño en las empresas?
Del 6 al 8 de junio, organizaciones, empresas y profesionales de ámbito nacional e internacional compartirán casos de éxito, experiencia sobre innovación a través del diseño y metodologías de trabajo que marcarán el futuro del sector en este Congresstival creado y organizado por  BCD Barcelona Centre de Disseny y el estudio toormix.
Los ponentes guiarán a los asistentes a través de tres bloques temáticos (Profesión: lunes, Empresa y Sociedad: martes y Workshops: miércoles). La primera parte se centrará en el profesional del diseño y el futuro rol de diseñador desde el punto de vista de nuevas disciplinas y perfiles, así como generador de contenido activo y emprendedor.
El segundo día y dentro del bloque empresa, mostrará la importancia del diseño en las empresas como potenciador de innovación, mientras que, en el bloque Sociedad, se centrará en mostrar como el diseño puede hacer la vida más fácil a las personas a través de la innovación.
Por último y durante la mañana del miércoles, se organizarán talleres liderados por expertos y profesionales de diversos ámbitos, en los que se tratarán temáticas relacionadas con las tres áreas principales del congreso.
---
LOS 15 PONENTES POR BLOQUES:
PROFESIÓN:  Chris Moody, chieff design officer en Wolff Olins; Sam Baron, director del Área de Diseño en Fabrica; Carmen Bustos, socia fundadora de Soulsight; Andrés Ortiz, arquitecto socio y fundador de Bestiario y Jonathan Duckworth, artista de medios digitales, diseñador y director del CiART Lab (Creative Interventions, Art and Rehabilitative Technology).
EMPRESA: Laszlito Kovacs, director creativo de WeTransfer; Luis Baldez, 3D Printing Solutions & Market Development Lead en HP; Doug Powell, director de Diseño y del programa Education & Activation en IBM Design; Silvia Calvet, Experience Strategy & Innovation Consultant en GFT; y Andreas Enslin, jefe del Centro de Diseño de Miele.
SOCIEDAD: Ed Gillespie, cofundador de Futerra, una agencia especializada en la transformación de negocios y en campañas y comunicaciones creativas; Cristina Bustillo, Customer Experience Officer en el Hospital Sant Joan de Déu de Barcelona; Luis Villa, Strategy Director en Fjord, empresa de Diseño e Innovación; Miquel Ballester, responsable de Product Management e Innovación y cofundador de Fairphone; y Alice Holmberg, emprendedora comprometida, House of Holmberg.
Toda la información en la web de Design is Future
---
Información e imagen en la web de la BDW
You might also like