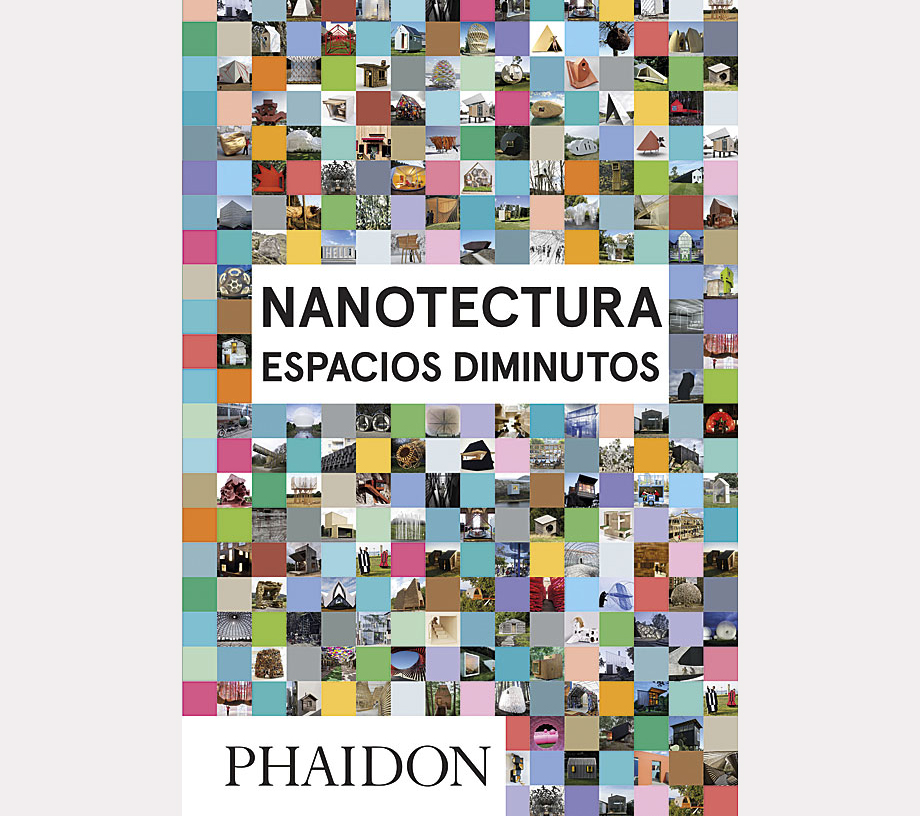 NANOTECTURA: ESPACIOS DIMINUTOS:
Lejos de las obras arquitectónicas de vastas dimensiones, pero no por ello menos interesante, existe un mundo de pequeñas construcciones que también forman parte de nuestra vida cotidiana. La experta en arquitectura Rebecca Roke se ha encargado de recoger en el que es su primer libro 300 ejemplos de estas "nanotecturas" que apelan a la sorpresa, la sonrisa o la conciencia social y ecológica pero que, en ningún caso, dejan indiferentes.
Editado por Phaidon, "Nanotectura: espacios diminutos" ofrece un amplio muestrario de obras a pequeña escala (pabellones, instalaciones, cobertizos, cabañas, casas construidas en árboles, casitas para perros, gatos y abejas…) realizadas en esta última década y aborda no sólo la ocupación de estos espacios, sino también los materiales utilizados y la conciencia ecológica o social que entrañan. Por ejemplo, en el libro pueden verse las habitaciones arboladas creadas para el Treehotel, un complejo de ecoturismo ubicado en la Laponia sueca.
Por otra parte, los proyectos que abordan desafíos sociales incluyen las Instant Housing de Winfried Baumann para indigentes y situaciones de emergencia, y el sistema de viviendas GRID de Carter Williamson Architects, ideado tras el tsunami de Banda Aceh. Este diseño plegable puede ser transportado y erigido en sólo cuatro horas. Otras son estructuras transportables como Wheelly, desarrollada por el estudio de arquitectura y diseño de producto ZO loft Architecture and Design, e I- Gloobox, del diseñador y escultor búlgaro Georgi Djongarski, que ofrece ayuda a los indigentes urbanos, haciendo frente a la necesidad humana de cobijo y seguridad.
También hay espacio para las obras "menos serias" como el cobertizo que Paul Smith realizó para el London Design Festival de 2014 y la parada de autobús Bränden de Sou Fujimoto; y la experimentación con materiales y conceptos de diseños como The Roof that Goes Up In Smoke (Overtreders W), un toldo de aire caliente iluminado que se alimenta con una caldera de madera que hace las veces de cocina para los excursionistas que se cobijan debajo de ella.
Además de estas asociaciones temáticas y como, con frecuencia, en obras a pequeña escala se presta más atención a los materiales, cada proyecto que figura en el libro está codificado de acuerdo a 66 materiales de construcción predominantes, desde contrachapado hasta compuestos desarrollados recientemente, como el cemento impreso y los bioplásticos, pasando por hula hops y otros objetos reconvertidos.
---
NANOTECTURA:
Autora: Rebecca Roke.
Editorial Phaidon.
Tapa dura.
300 ilustraciones a color.
336 páginas.
18,4 x 12,4 cm.
ISBN: 9780714870601.
PVP: 19,95 €.
---
LAS IMÁGENES:
---
SOBRE REBECCA ROKE:
Rebecca Roke ha colaborado en más de 350 obras publicadas sobre arquitectura y diseño, inspirándose en sus conocimientos arquitectónicos y su amplia experiencia en materia de escritura, edición, investigación y enseñanza. Ha escrito abundantes obras sobre el trabajo de algunos profesionales de renombre como los hermanos Ronan y Erwan Bouroullec, Thomas Heatherwick, Rem Koolhaas y Hella Jongerius. Rebecca fue directora de la revista australiana Monument y de Foster + Partners, una publicación londinense, y fue corresponsal de Inside Interior Review en la capital inglesa. Roke vive en Londres y Nanotectura es su primer libro.
---
SOBRE PHAIDON:
Phaidon es líder editorial global de las artes creativas con más de 1.500 títulos en catálogo. Trabaja con los artistas, chefs, escritores y pensadores más influyentes del mundo para producir libros innovadores sobre arte, fotografía, diseño, arquitectura, moda, comida y viajes, además de libros ilustrados para niños. Phaidon tiene sus sedes en las ciudades de Londres y Nueva York.
---
Información e imágenes facilitadas por Phaidon
You might also like