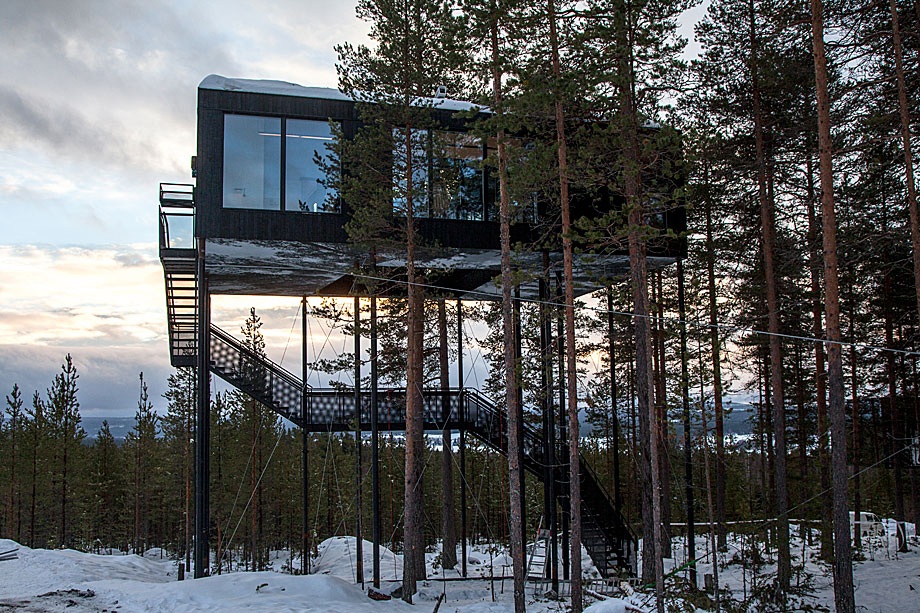 THE 7th ROOM:
El Treehotel es un peculiar establecimiento hotelero situado a 60 Km al sur del Círculo Polar Ártico, en el pueblecito de Harads, en plena Laponia sueca. Inmerso en un bello pero accesible paraje natural, el hotel, que tiene como pilares básicos los valores ecológicos y la sostenibilidad, dispone actualmente de siete habitaciones y una sauna, pero no sobre el suelo sino entre las copas de los árboles, sin que su construcción haya significado talar o destruir ningún árbol.
No es sólo la ubicación de estas cabañas la que resulta sorprendente sino también sus formas que responden a un platillo volante, a un cubo espejado o a un nido de pájaros. La séptima de las habitaciones de este mediático proyecto, que se remonta a 2010, ha sido diseñada por el estudio de arquitectura noruego Snøhetta, autor de obras como el Museo de Arte Moderno de San Francisco, la Ópera de Oslo o la Biblioteca de Alejandría, además de otros muchos trabajos enmarcados en el diseño de interiores y el paisajismo.
Esta nueva cabaña se levanta, apoyada en 12 postes, a 10 m del suelo, lo que reduce la carga que reciben los árboles y el bosque circundante. Construida como una tradicional cabaña nórdica, las paredes exteriores están revestidas de tablas de pino cuya superficie ha sido quemada para crear una fachada libre de mantenimiento. Además, la parte inferior está cubierta con una gran impresión en blanco y negro de árboles que llegan hasta el cielo. Desde el suelo, una escalera conduce a los huéspedes hasta la cabaña, junto con un pequeño ascensor para el transporte del equipaje.
La 7ª Habitación mide 55 m2 y está diseñada con todo lo necesario para que hasta cinco personas puedan disfrutar de una corta o larga estancia. Con dos dormitorios, una sala de estar, un baño y una amplia terraza, los diferentes nieveles interiores crean un diseño interior dinámico y eficiente. La sala de estar se encuentra en la planta baja, mientras los dormitorios se ubican en un nivel superior con las camas empotradas en el suelo. Al entrar en la cabaña, se llega al salón, equipado con una sencilla estufa central de pellets y con mobiliario característico de diseño nórdico como las sillas Scandia del diseñador noruego de mobiliario Hans Brattud. El suelo del interior está hecho de madera de fresno, mientras para las paredes se utiliza contrachapado de abedul.
En su deseo de acercar las personas a la naturaleza, los espacios sociales se extienden hacia el exterior y una gran puerta de cristal conduce desde el salón a la terraza de red, que se extiende entre los dos dormitorios con un pino atavesándola en su parte central. Desde esta atalaya, es posible ver la espectacular Aurora Boreal en un día despejado con el río Lule como telón de fondo. Los huéspedes también pueden mirar el cielo nocturno a través de las amplias claraboyas de los dos dormitorios, situados en los lados opuestos de la cabaña y también con grandes puertas correderas para "caer" en la red.
Los grandes ventanales permiten que la luz natural sea la principal fuente de luz en la cabaña. Snøhetta ha colaborado con la empresa de iluminación Ateljé Lyktan, diseñando dos lámparas personalizadas para la 7th Room: una lámpara de noche montada en las paredes del dormitorio y una lámpara suspendida para la sala de estar. Las luminarias están hechas de chapa de abedul, cuyo interior sirve para reflejar una cálida luz, mientras que la superficie exterior se ha tratado en color negro, reproduciendo a pequeña escala el mismo contraste que tiene lugar entre el interior y el exterior de la cabaña. Las bisagras de piano en las pantallas facilitan la regulación de la intensidad de la luz, convirtiéndose en una flexible solución a las grandes variaciones en la luz diurna de los parajes nórdicos.
---
LAS IMÁGENES:
---
FICHA TÉCNICA:
Proyecto:

The 7th Room (Treehotel).

Ubicación:

Harads (Suecia).

Completado:

2016.

Diseño:

Snøhetta.

Superficie:

55 m2.

Fotografías:

Johan Jansson.
---
CONCEPTO:
---
PLANIMETRÍA: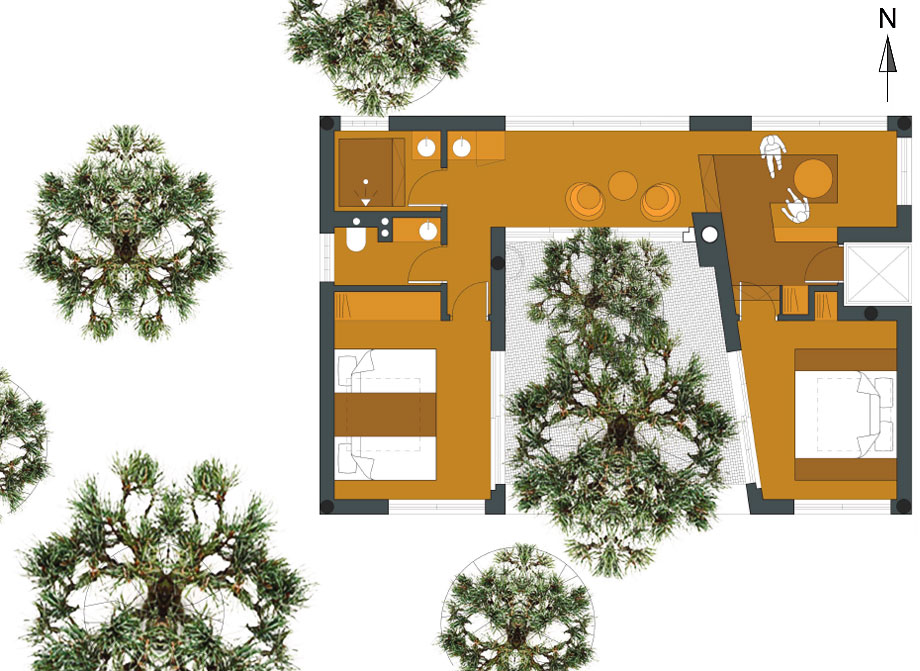 Planta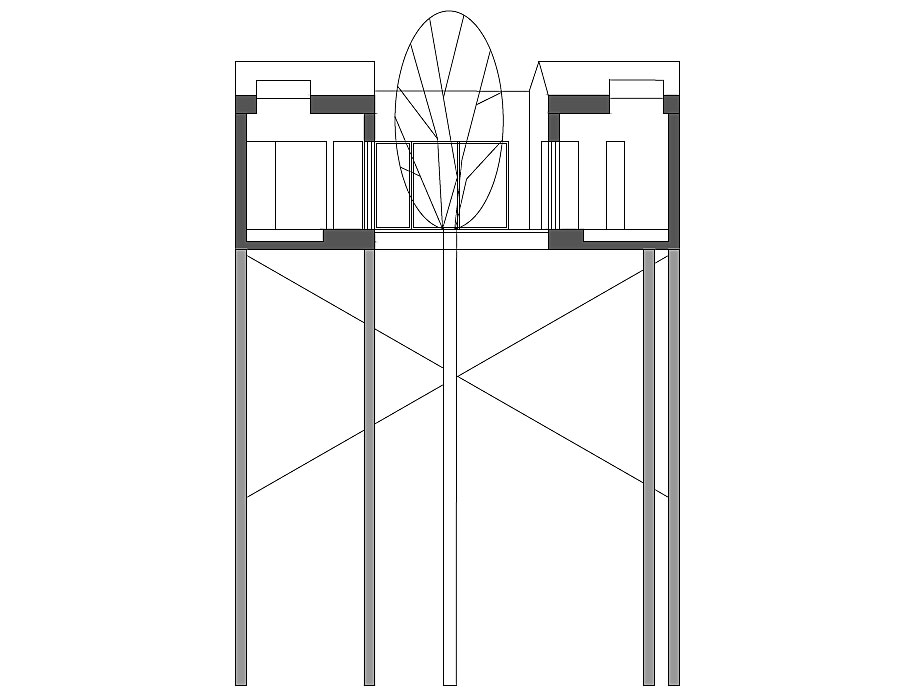 Sección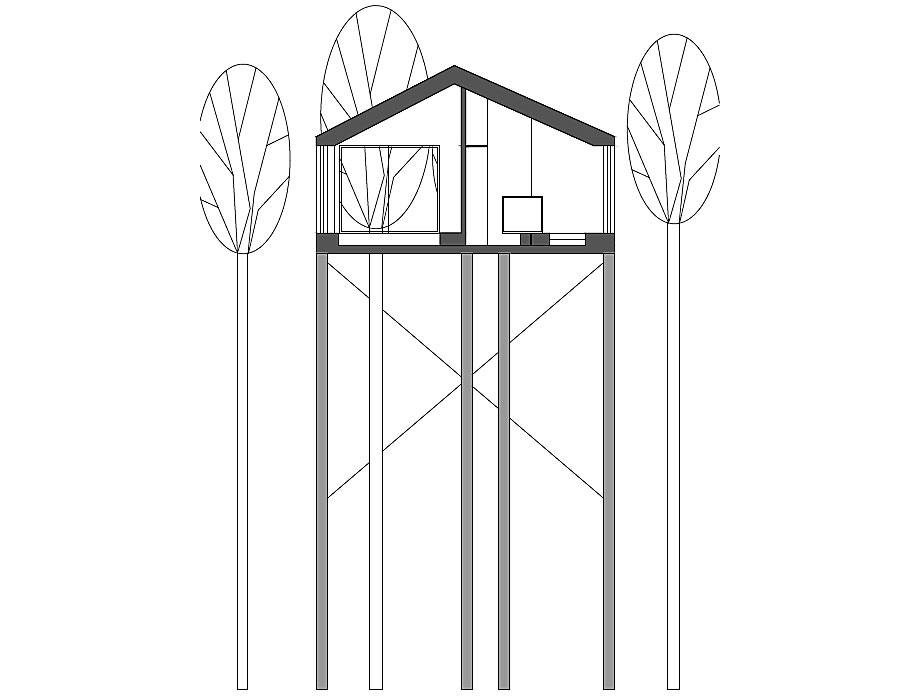 Sección
---
LA CONSTRUCCIÓN PASO A PASO: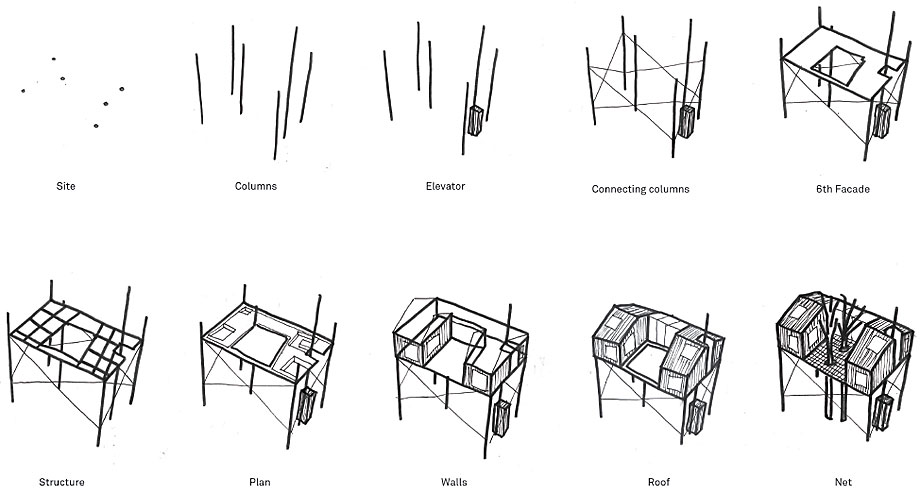 ---
SOBRE SNØHETTA:
Snøhetta es un estudio de arquitectura noruego que comenzó, en 1989, como un taller de arquitectura y paisajismo. Fue fundado por Inge Dahlman, Berit Hartveit, Johan Johan Østengen, Alf Haukeland,Vanko Varbanov Øyvind Mo y Kjetil Trædal Thorsen. Actualmente, está dirigido por Craig Dykers y Kjetil Trædal Thorsen.
Hoy en día, el estudio ha crecido hasta convertirse en un despacho internacionalmente reconocido en el campo de la arquitectura, el paisajismo, la arquitectura interior y el diseño corporativo, con más de 180 personas de 30 países diferentes.
En 1989, Snøhetta recibió su primer encargo para volver a concebir la gran Biblioteca de Alejandría, en Egipto, después de ganar un concurso internacional. A este proyecto le siguió, una década más tarde, la Ópera y el Ballet Nacional de Noruega. En 2004, fue el encargado de construir el único edificio cultural en la plaza conmemorativa del World Trade Center Memorial, lo que llevó a abrir una oficina en Nueva York. En 2013, tras recibir el encargo de realizar la ampliación del Museo de Arte Moderno de San Francisco, abrió un nuevo estudio en esta ciudad californiana. Posteriormente, abrió nuevas delegaciones en Innsbruck, Estocolmo y Adelaida.
Snøhetta está actualmente involucrado en numerosos proyectos en Europa, Asia, África, Oceanía y América.
---
Información e imágenes facilitadas por el estudio
You might also like