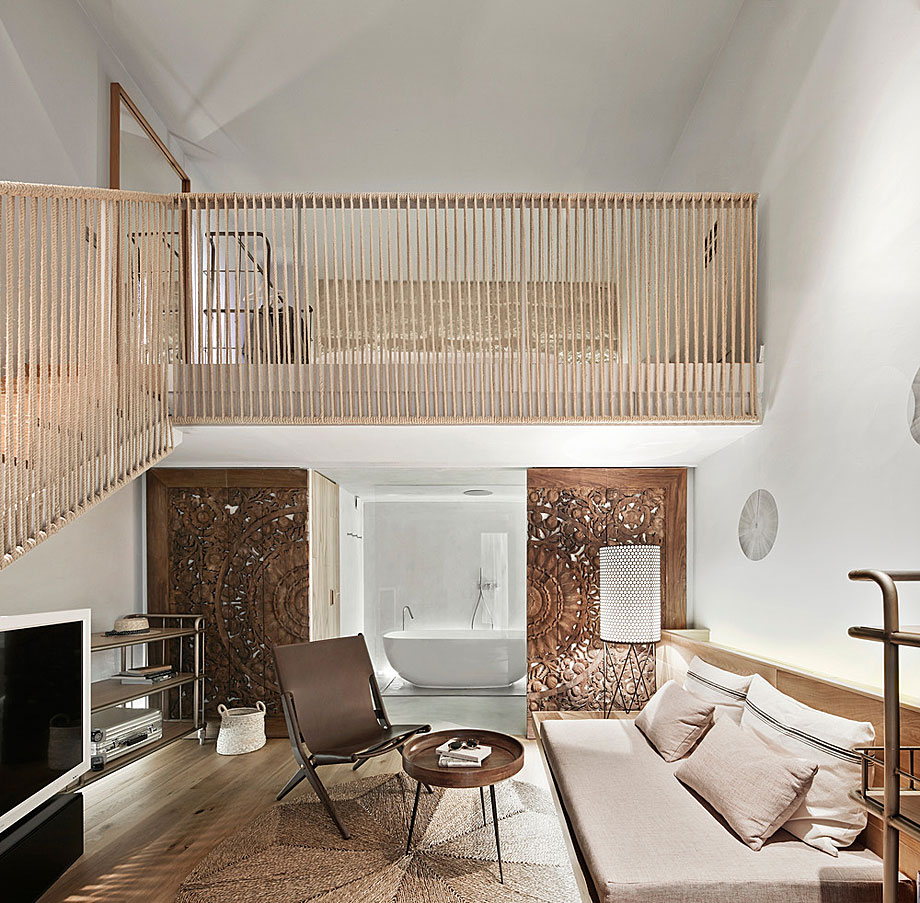 PURO HOTEL PALMA:
Situado en el barrio de La Lonja, en el corazón del casco antiguo de Palma de Mallorca, el Puro Hotel es un personal hotel boutique de tan solo 51 habitaciones de las cuales 22 han sido ya reformadas por el despacho mallorquín OHLAB (en fases posteriores se hará lo mismo con las zonas comunes: recepción, restaurante y bar, y el resto de habitaciones). El estudio, dirigido por los arquitectos Paloma Hernaiz y Jaime Oliver, ha enfatizado en sus interiores la esencia mediterránea de la isla, utilizando materiales naturales, piezas de mobiliario a medida y convirtiendo cada uno de sus rincones en un espacio único.
El proyecto ha aprovechado la configuración irregular del establecimiento, ubicado en un palacio del siglo XVIII, para generar espacios inesperados e únicos como sus habitaciones. Cada una de ellas es diferentes, con una distribución y unas soluciones de diseño individuales. Los amplios baños han sido proyectados como auténticos espacios de relax que se integran en los dormitorios, con escultóricas bañeras que se convierten en un elemento más del cuidado interiorismo.
Én el, cobra un especial protagonismo el mobiliario diseñado a medida por el estudio: camas, cabeceros, descalzadores… de líneas puras y sencillas que contribuyen a crear una relajada atmósfera. Explican los arquitectos que entre estas piezas destacan una serie de carritos auxiliares de bronce envejecido que se inspiran en "los carros de maletas que usan tradicionalmente los botones y sustituyen a los antiguos armarios, mesas, minibares y muebles de apoyo".
Este oasis confortable y cosmopolita se define también por la paleta de materiales elegida. La madera de roble, el marés (piedra calcárea tradicional en la arquitectura mallorquina) de los antiguos muros recuperados, la cuerda de cáñamo natural, el cuero envejecido, el lino y el algodón conviven con los interruptores y griferías de acero inoxidable, y el hormigón utilizado en los lavamanos y revestimientos de los baños.
La atención a los detalles se evidencia también en las telas, que han sido diseñadas por el estudio y producidas en antiguos telares mallorquines para las tapicerías, cojines y plaids, alfombras de rafia y cestas de mimbre producidas localmente. También se han recuperado las puertas mandala de madera maciza, sello de identidad del hotel desde sus orígenes.
Además, OHLAB ha contado con la colaboración del pintor conceptual Pedro Oliver quien ha personalizado cada una de las habitaciones con pinturas murales a medida que, a modo de frescos, se han dispuesto estratégicamente en cada una de ellas embelleciendo las paredes.
---
LAS IMÁGENES:
---
FICHA TÉCNICA:
Proyecto:

Hotel Puro.

Ubicación:

Palma de Mallorca (Mallorca / España).

Completado:

2016.

Arquitectura y diseño interior:

OHLAB (Paloma Hernaiz y Jaime Oliver).

Equipo OHLAB:

Paloma Hernaiz y Jaime Oliver con Rebeca Lavín, José Allona, Amaia Barazar, Rosa Fuentes, Silvia Morais y Manuela Sánchez.

Dirección de obra:

Paloma Hernaiz y Jaime Oliver (arquitectos), Jorge Ramón (aparejador).

Intervención pictórica:

Pedro Oliver.

Premios:

ganadores de los Premios Inside Awards 2016 y finalistas de los Premios Win Awards 2016.

Fotografías:

José Hevia.
---
PLANIMETRÍA: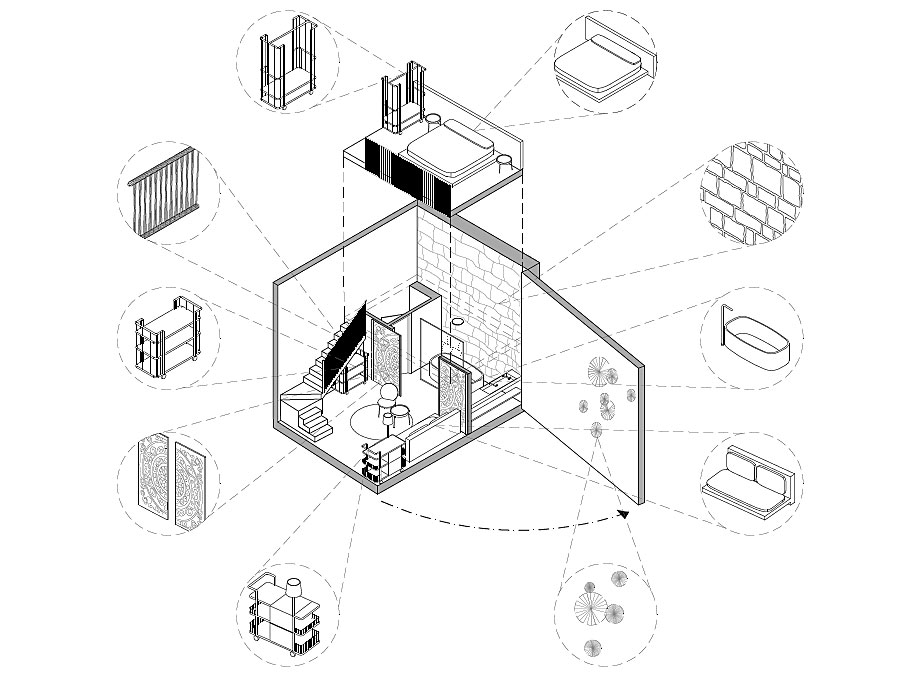 Habitación 10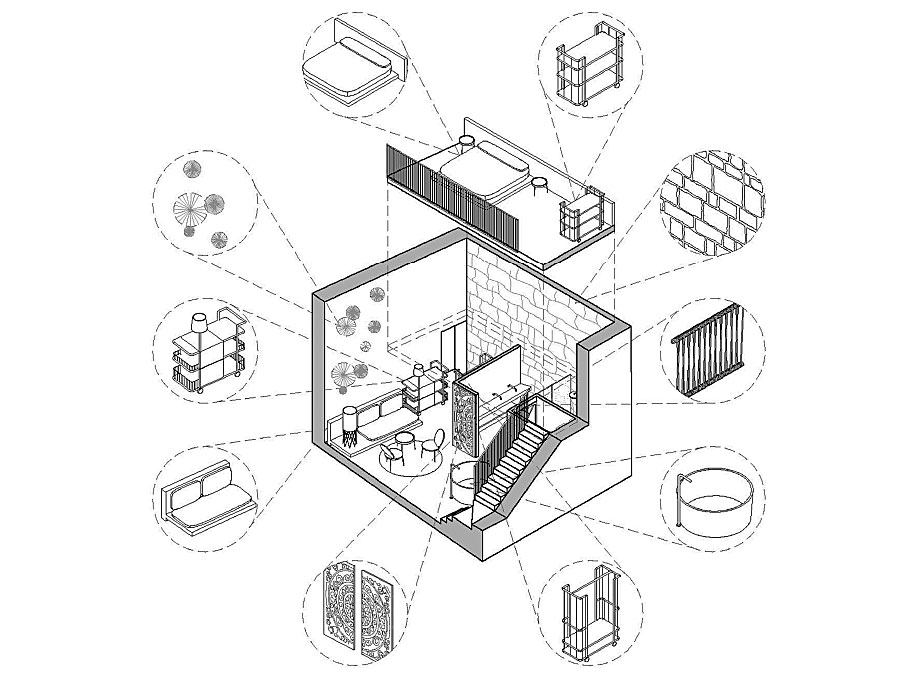 Habitación 11
---
SOBRE OHLAB: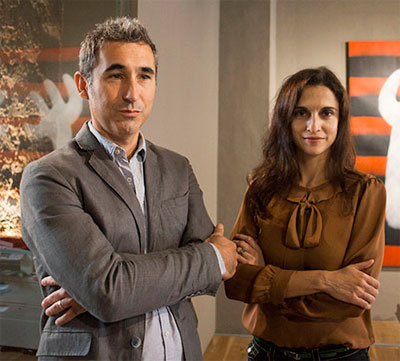 OHLAB es una oficina dedicada al análisis urbano y la investigación cultural de la sociedad contemporánea a través de la práctica de diseño, arquitectura y estrategia urbana. La oficina, dirigida por los arquitectos Paloma Hernaiz y Jaime Oliver, se estableció originalmente en Shanghai, se mudó a Madrid y actualmente tiene su sede principal en Palma de Mallorca donde un equipo de doce arquitectos e interioristas trabajan en proyectos en Mallorca, Madrid, Nueva York, Los Ángeles y Miami.
En 2014, el estudio seleccionado como uno de los "Europe 40 under 40" jóvenes arquitectos y diseñadores emergentes por el European Centre for Architecture Art Design and Urban Studies y el Chicago Athenaeum Museum of Architecture and Design. Además, sido ganador, entre otros premios, del Best of the Year Awards de Nueva York 2014, del WIN Awards 2014 de Londres, del premio para jóvenes arquitectos AJAC 2014-2013 de Barcelona, del Great Indoors Award 2013 y del WAN Awards 2012.
Paloma Hernaiz y Jaime Oliver son actualmente profesores de proyectos en el Master in Design for Work, Retail and Learning environments del IE School of Architecture en Londres y Madrid, han sido profesores de proyectos y coordinadores del IED de Madrid del 2011 al 2014, fueron profesores en el Máster de "La Gran Escala" de la UPC de Barcelona y críticos invitados en diferentes jurados de las universidades de Princeton y Columbia de Nueva York y de la Universidad Europea de Madrid.
Además, han impartido conferencias sobre su trabajo en diferentes centros como la Universidad Politécnica de Cataluña, la Universidad Europea de Madrid o el museo Guggenheim de Bilbao. Su obra ha sido publicada ampliamente en todo el mundo en medios de comunicación especializados y generales, como Architectural Record, Interior Design, Arquitectura Viva, FRAME, AD, Diseño Interior, Vogue, Elle, El País Semanal o The New York Times, entre otros.
---
Información e imágenes facilitadas por v2com. Planos facilitado por Ohlab
You might also like