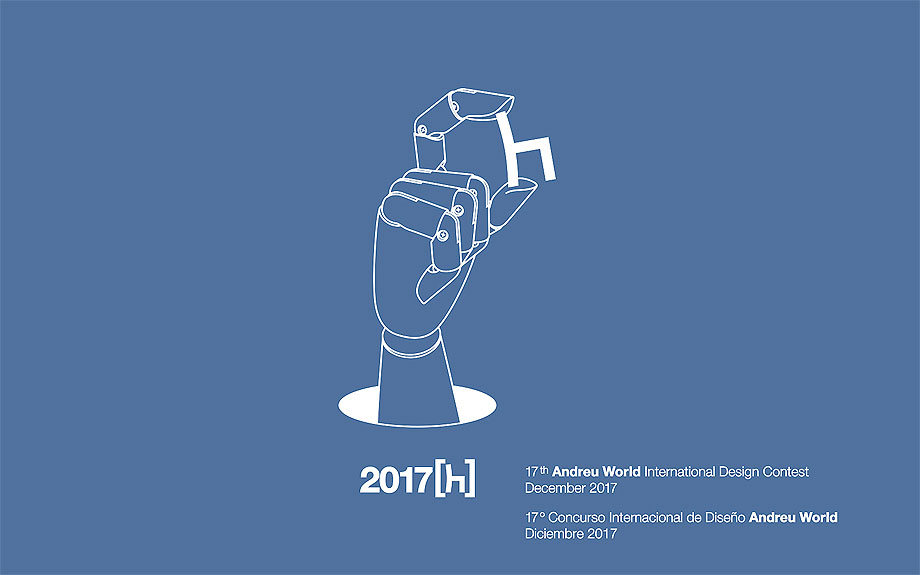 CONCURSO:
Andreu World ha puesto en marcha la que es ya la XVII edición de su concurso Concurso Internacional de Diseño Andreu World. En esta nueva convocatoria, la empresa de mobiliario reta a los partipantes a diseñar una mesa o un asiento, que responda a todas las especificaciones indicadas en el briefing, resolviendo tanto cuestiones técnicas como formales.
En el certamen, cuya fecha máxima de recepción de proyectos es el 24 de noviembre de este año, pueden tomar parte tanto estudiantes como profesionales del mundo del diseño. En cada una de las piezas se valorarán "las aportaciones innovadoras, realizadas en ámbitos como la sostenibilidad, el ecodiseño o la eficiencia en los procesos de fabricación".
El concurso entregará un primer premio de 3.000 € y un segundo de 1.000 €, que otorgará un jurado constituido por Mariela Buendía, directora de diseño en el estudio de arquitectura Gensler; el arquitecto Fran Silvestre, fundador de Fran Silvestre Arquitectos; el chef Ricard Camarena; la periodista Ana Ramírez; y el diseñador Jasper Morrison. Asimismo se otorgarán hasta cuatro menciones especiales a las mejores creaciones.
Los partipantes pueden encontrar las bases de participación y el briefing con las especificaciones que debe cumplir la maqueta presentada en la web del concurso. También disponen de consejos para participar y pueden dar respuesta a  sus dudas a través del apartado de preguntas frecuentes (FAQ). La inscripción, totalmente gratuita, se puede realizar a través del menú de Acceso de la web. Todos los participantes pueden solicitar tantos "números de participante" como proyectos quiera presentar. Además también se pueden presentar candidaturas por grupos.
---
LOS GANADORES DE 2016:
---
MENCIONES ESPECIALES DE 2016:
---
SOBRE ANDREU WORLD:
Andreu World es una empresa familiar de mobiliario para interior y exterior que tiene su origen en 1955, gracias a la inquietud de su fundador Francisco Andreu Martí. Fundada como un pequeño taller de ebanistería en la localidad de Alaquàs, muy próxima a Valencia (España), actualmente, reúne a un equipo de profesionales altamente cualificado con una clara vocación internacional a partir de una premisa muy clara: diseño y calidad.
Esta premisa va ligada a la categoría de los profesionales que firman sus diseños: Patricia Urquiola, Piergiorgio Cazzaniga, Joan Lao, Mario Bellini, Lievore Altherr Molina, Josep Lluscà, Javier Mariscal y Nancy Robins, entre otros.
Actualmente, dedica un 60% de su producción a la exportación y su red comercial abarca los cinco continentes. Países como Nueva Zelanda, Emiratos Árabes Unidos, Singapur, Japón, México, Argentina y Estados Unidos son sólo algunos ejemplos en los que la marca está presente.
La firma dispone de un showroom de más de 2.000 m2 en Valencia, donde están ubicadas sus oficinas centrales, y de tres centros de producción: dos localizados en la misma provincia de Valencia y el tercero en Navarra. Además, cuenta con espacios expositivos en otras ciudades como Chicago, Nueva York, Pune, New Delhi y San Francisco, así como las oficinas de la delegación americana en el emblemático edificio Merchandise Mart.
La madera proviene de sus bosques, controlados mediante un protocolo de custodia que incluye la plantación, la tala, el secado –durante más de un año desde la tala, para evitar que la madera se quiebre en el futuro– y todas las fases de manipulado. Este proceso cuenta con la certificación FSC® (Forest Stewardship Council) que garantiza madera con origen en bosques reforestados y controlados.
Entre los numerosos premios recibidos a lo largo de su trayectoria figuran, entre otros: Red Dot Design Award 2013, Best of Year Honoree 2012, ADI Design Index 2012, Best of Neocon 2012, Red Dot Design Award 2012 y Best of NeoCon People choice 2011 o el Premio Nacional de Diseño 2007.
---
Información e imágenes en la web de la empresa
You might also like