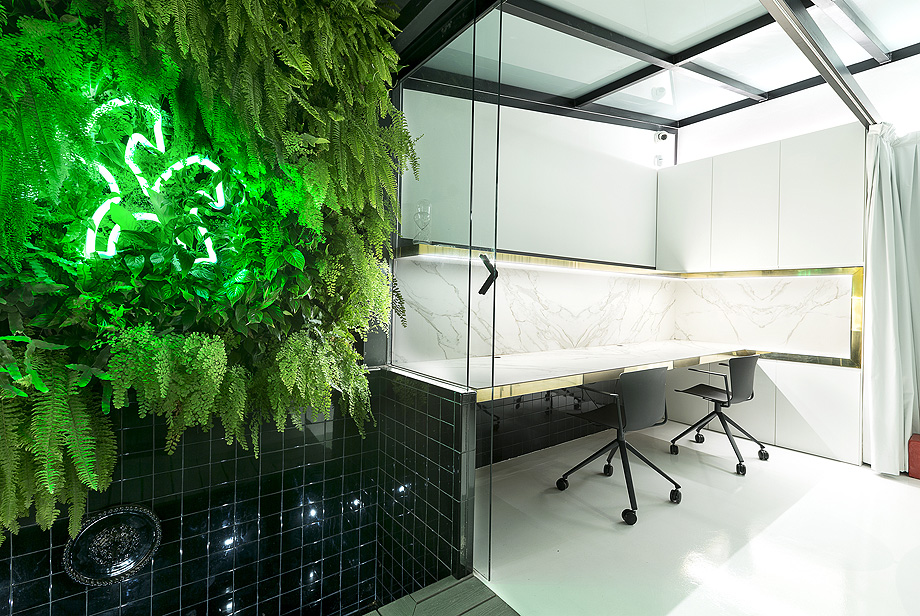 TIOVIVO CREATIVO:
El estudio de arquitectura interior y diseño Tiovivo Creativo ha estrenado, recientemente, sus nuevas oficinas en el popular barrio de Russafa, en Valencia. El estudio ha creado un espacio funcional y polivalente, maximizado al máximo, ya que, además de ser su lugar habitual de trabajo, se ofrece como un moderno y colaborativo espacio de coworking. Explican desde el estudio que "las característicass del local han permitido diseñar un ecosistema de trabajo con una conexión especial con la naturaleza, donde la división de las diferentes zonas de trabajo se proyecta de manera dinámica, confluyendo en un patio interior que aporta serenidad y la sensación de estar trabajando al aire libre".
Como columna vertebral del espacio, una larga y funcional mesa, en la que destacan detalles dorados y mármol de Calacatta, atraviesa de extremo a extremo el local. Tanto esta pieza como el resto del mobiliario, a excepción de las sillas, ha sido diseñado por el estudio. Gran parte de él está inspirado en el Movimiento Memphis, con sus inagotables combinaciones gráficas de blanco y negro, figuras geométricas, colores intensos y algunas piezas a medio camino entre el objeto útil y la obra de arte.
Una armariada con detalles decorativos en el mismo tipo de mármol, que representan el vaivén de los caballitos de los tiovivos, oculta el aseo. Dotado de un fuerte diseño conceptual, un rótulo luminoso con el lema "caca culo pedo pis" quiere hacer referencia a "las bondades de scar el niño que llevamos dentro, con su inmensa creatividad y su sencilla visión de las cosas".
Como epicentro del espacio se encuentra el patio interior que, pese a su reducido tamaño, alberga un jardín vertical, un estanque y un naranjo sobre el que gira la distribución de la oficina. Detallan los diseñadores que "la luz natural de los puestos de trabajo, la frescura y aromas del jardín vertical, junto al relajante sonido del agua de la fuente, hacen de este patio descubierto el mejor aliado para transportarte al mundo exterior".
Y es que la iluminación era un aspecto fundamental del proyecto: de día, la luz natural baña todos los rincones potenciada por el color blanco del pavimento continuo y las paredes, mientras que de noche, las tiras de LED, integradas en el mobiliario, iluminan las zonas de trabajo. Ambas se complementan con la luz indirecta.
Por último, al final del estudio se encuentran la sala de reuniones y el office para los que se creó una estructura metálica con cerramientos de vidrio ya que se encuentran en el exterior. Dicho cerramiento, consistente en puertas correderas, permite abrir completamente al jardín ambas zonas. La sala de reuniones cuenta con un versátil cerramiento, unas cortinas acústicas que, además de dotar al espacio de un carácter más teatral, dan la posibilidad de aislar totalmente la mesa de reuniones para conseguir una mayor intimidad y, a su vez, esconder o descubrir una pizarra de grandes dimensiones. Por otra parte, la cocina se ha proyectado como si de una prolongación del jardín se tratara, con continuas referencias vegetales como el papel o el aplique de Tommaso Barbi, adquirido en un anticuario de Madrid.
---
LAS IMÁGENES:
---
FICHA TÉCNICA:
Proyecto:

Oficinas (estudio interiorismo y coworking) de Tiovivo Creativo.

Ubicación:

Valencia (España).

Completado:

2016.

Diseño interior:

Tiovivo Creativo.

Superficie:

90 m2.

Mobiliario y equipamientos:

Sillas y cajones:

Sellex.

Sillas reuniones:

Stellar Works.

Mármol:

Neolith.

Acero puerta:

Indenox.

Vinilos, metacrilato y neón:

Nemo Publicidad.

Seno lavabo:

Krion Porcelanosa Group.

Cortinas:

Bandalux.

Papel pintado:

House of Hackney.

Figura gnomo:

Kartell.

Interruptores y mecanismos:

Hager.

Molduras:

Prefaes.

Estructura sofá:

Gavion Compact.

Grifería:

Zucchetti.

Jardín vertical:

Greenarea.

Iluminación:

Viabizzuno.

Sanitario:

Disegno Ceramica.

Alicatado:

Altair Ceramics.

Puerta entrada vidrio:

Manusa.

Fotografías:

Fran Obrer.
---
PLANIMETRÍA:

Planta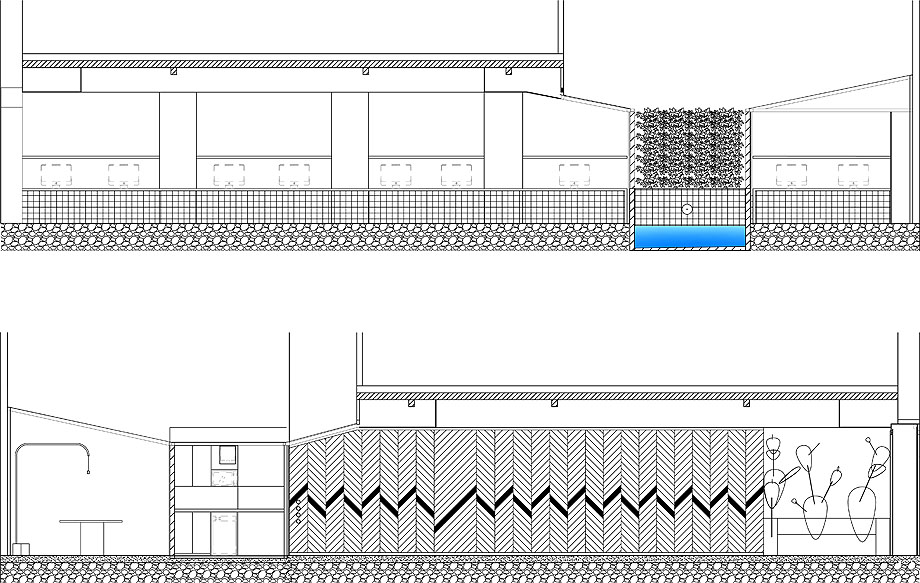 Secciones
---
SOBRE TIOVIVO CREATIVO:
Tiovivo Creativo es un estudio de arquitectura interior, diseño y coworking con sede en Valencia (España). El despacho está formado por un "carrusel de profesionales que giran al mismo ritmo para satisfacer un amplio abanico de necesidades: interiorismo, arquitectura, paisajismo, diseño de producto, diseño gráfico y web, etc".
Su filosofía es que cada cliente disfrute del proceso creativo del proyecto, tanto como lo hacen ellos cada vez que ponen en marcha la "plataforma rotatoria". Hacer que se sienta como un niño, partícipe del juego que supone llevar a cabo un diseño.
Tiovivo Creativo ha dejado su sello en proyectos muy diferentes tanto en espacios contract, donde destacan las nuevas oficinas Inside the Machine para Novatec Group, el rediseño del emblemático restaurante Zacarías en Valencia o la peluquería Peina Penita Peina, como en residencial donde el concepto de su Casa Árbol logró transmitir a los propietarios la sensación de vivir en un bosque nórdico.
---
Información e imágenes facilitadas por el estudio