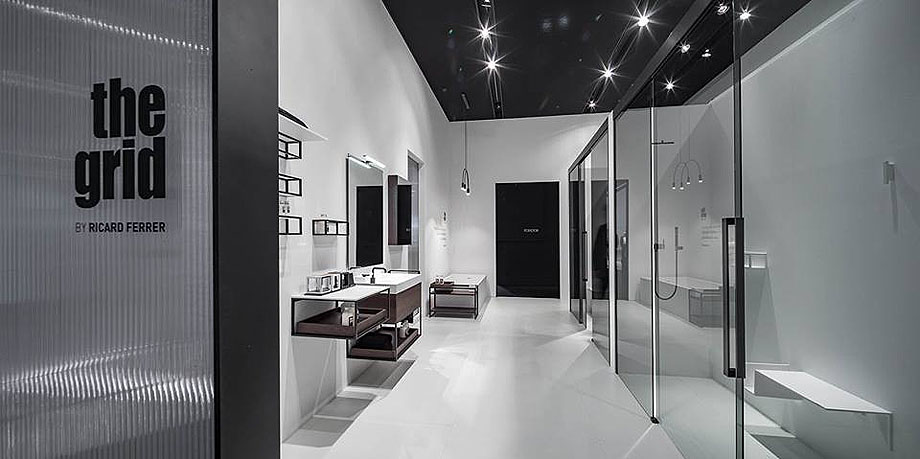 THE GRID:
The Grid es una colección de lavabos, mobiliario y acessorios para baño que lleva la firma del diseñador barcelonés Ricard Ferrer y de la empresa Cosmic, que ya colaboraron en otros productos como el mueble auxiliar Hiro, las colecciones de complementos Saku, Drop y Organics, entre otros. La inspiración arquitectónica de esta reciente serie se refleja en el diseño de líneas rectas de todos los elementos del programa que, además, resulta visualmente equilibrado y liviano.
Todas las piezas de la colección parten del prisma y van dibujando un discurso. Como explica el propio Ferrer "es una propuesta formal donde las estructuras se convierten en objetos, en micro arquitecturas que van configurando una red de usos". The Grid es como un puzzle donde todas las piezas encajan, aportando las máximas prestaciones.
LAVABOS:
Disponibles en tres medidas (60, 80 y 100 cm), incorporan un novedoso sistema de contenedor de agua que permite retener el agua mientras se realizan tareas de higiene personal como el afeitado. Una vez el agua ya no es necesaria, solamente hay que levantar el contenedor, de Cristalplant© como el lavabo, para que el agua desagüe. Este material, como otros pertenecientes a la categoría de las solid surfaces, son muy adecuados para utilizar en zonas como los baños o la cocina, ya que no son porosos y son fáciles de limpiar y mantener. Por otro lado, los lavamanos de The Grid pueden ir con o sin mueble.
MOBILIARIO:
Sin romper la línea recta, el mobiliario adopta diferentes configuraciones. Por ejemplo, el mueble de un cajón destaca por ofrecer soluciones tecnológicas como iluminación LED que se encuende cuando se abre el cajón y enchufe y altavoz estéreo con conexión Bluetooth. El conjunto se puede completar con un módulo inferior, disponible con estante fijo o bandeja deslizante, muy apropiado para el almacenaje visto.
Completan la colección un módulo auxiliar y un mueble. El primero, con estante fijo o bandeja deslizante, se puede instalar en cualquier lugar del baño así como a uno o ambos lados del lavabo. Por otra parte, el mueble auxiliar (80 cm de ancho) cuenta con una bandeja superior y dos estantes inferiores, y puede combinarse con las bañeras Upgrade de Cosmic.
Por último, The Grid también cuenta con estilizados armarios/espejo diseñados para combinar con los toalleros de 35 o 55 cm de la colección. Los espejos son de doble cara, con puerta reversible y con tres baldas interiores regulables de vidrio fumado.
ACCESORIOS:
La colección de Ricard Ferrer y Cosmic se completa con una serie de piezas auxiliares, algunas de las cuales ofrecen una doble función. Por ejemplo, el container puede convertirse en toallero-estante y el dosificador+portacepillos puede transformarse en un portacepillos con doble capacidad. Un segundo ejemplo es el portátil que incluye un portarrollos, un escobillero y una papelera además de tener una capacidad de almacenaje extra en la parte superior.
Los accesorios combinan el acabado cromado, blanco mate o negro mate con el cristal acrílico blanco. El taburete y el toallero de pie pueden escogerse con el asiento y las baldas, además de en cristal acrílico, en madera chapada de roble, la misma que se utiliza para los muebles de la colección. Esta madera está certificada PEFC/FSC.
BANQUETA / ASIENTO:
The Grid presta especial atención a la zona de ducha e integra una banqueta/asiento realizada en solid surface. La banqueta-asiento es una pieza muy original que incorpora un apartado de almacenaje en el lateral. Sus dimensiones son de 65 x 29 x 18 cm y tiene una resistencia probada de hasta 150 kilos.
---
LAS IMÁGENES:
---
---
---
SOBRE RICARD FERRER: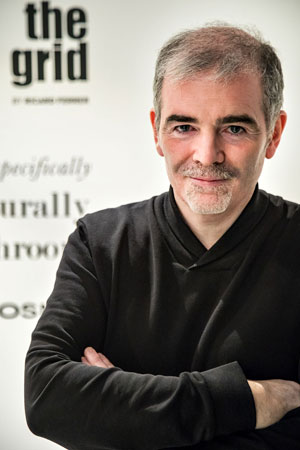 El diseñador barcelonés Ricard Ferrer está especializado en el desarollo de proyectos de mobiliario, iluminación, sanitarios y complementos para el baño. Ferrer estudió diseño industrial en la Escuela de Artes y Oficios de Barcelona y, posteriormente, en la escuela ELISAVA, donde se graduó en 1992. Su aproximación al diseño está basada en la curiosidad, la simplicidad y la interacción con el usuario.
El diseñador, que se inició en la profesión de la mano de Carlos Riart, diseña "productos a medida con un criterio diferenciado, donde la coherencia, simplicidad, memoria y oficio son las herramientas para establecer nuevas relaciones con los objetos. Defendemos una cierta desaceleración para recuperar una cultura del objeto que fomente un consumo reflexivo y crítico", explica en su web.
A lo largo de su trayectoria, ha trabajado para empresas de mobiliario (Amat, Matias Guarro), de iluminación (Almerich, Metalarte) y del sector baño (Cosmic, Roca). Algunos de sus productos han sido seleccionados para los Premios de Delta de Diseño Industrial, que organiza el ADI-FAD. También ha participado en exposiciones como "Tapas. Spanish design for food", "Foodjects, diseño y nueva gastronomia en España", "Offjectes, conceptos y diseños para  un cambio de siglo" y "Objetar, memòria i creació".
---
SOBRE COSMIC:
Cosmic nació en Barcelona, en el año 1985, como una empresa familiar que fabricaba accesorios de baño de calidad, apostando por la creación de complementos que se distinguieran por sus prestaciones de los ya existentes en el mercado. En 1990, tras conseguir el respaldo y el reconocimiento de los distribuidores españoles, comenzó su expansión internacional, con lo que se propuso nuevos objetivos empresariales basados en un diseño contemporáneo y en la innovación como factor diferencial de los productos.
Con la llegada del nuevo milenio, Cosmic se convirtió en una marca de referencia y el éxito llevó a la compañía a exportar más del 50% de su producción y a estar presente en los cinco continentes. En 2008, se firmó una alianza estratégica con el Grupo Roca con la finalidad de ser líderes en el negocio europeo de accesorios, complementos y mobiliario de baño. En 2009, Cosmic asumió pomd'or, con el objetivo de posicionarla como marca referente de lujo y elegancia.
La evolución siguió y un año después se produjo la integración de la división de mamparas de baño con la adquisición de la prestigiosa marca española Stildux. Y en 2012, se dio un paso más con el lanzamiento de Bath+ by Cosmic, una nueva línea de productos más asequible para aquellos que buscan muebles y accesorios de baño funcionales sin renunciar a un buen diseño.
---
Información e imágenes facilitadas por la empresa
You might also like