LOS GANADORES:
El auditorio exterior del Disseny Hub Barcelona, diseñado por el estudio CODA (Computational Design Affairs) especialmente para el FADfest (27 de junio al 2 de julio), el Festival de las Artes y del Diseño que organiza el FAD, acogió ayer la entrega de los Premios FAD de Arquitectura e Interiorismo. El Museo de las Colecciones Reales de Madrid de Mansilla y Tuñón Arquitectos y la vivienta Pontejos 9 del estudio aceboXalonso fueron los ganadores, respectivamente, de los Premios FAD de Arquitectura e Interiorismo 2017, que organiza el Arquinfad y que este año han celebrado su 59 edición. Asimismo, el Premio de Ciudad y Paisaje fue para la rehabilitación del Parque de Joan Oliver en Badia del Vallés de Data Arquitectura e Enginyeria SLP y el de Intervenciones Efímeras para Luis Martínez Santa-María y Roger Sauquet Llonch por las columnas conmemorativas de los 30 años de la reconstrucción del pabellón en Barcelona.
Este año, se han presentado un total de 463 obras entre todas las categorías. La arquitecta Belén Moneo ha presidido el jurado de los Premios FAD de Arquitectura e Interiorismo, acompañada por los vocales Judit Bustos, Ricardo Devesa, Jorge Figueira, María Langarita y Joan Olona. Durante los meses previos, este jurado se ha desplazado por la geografía ibérica con el fin de visitar las obras susceptibles de ser premiadas ya que una de las características únicas de estos galardones es que el jurado visita todas las obras con posibilidades de ser premiadas.
Durante la ceremonia, también se entregó el Premio FAD Internacional que reconoce las propuestas arquitectónicas proyectadas desde España y Portugal para ser construidas en cualquier punto fuera de la Península Ibérica. En su cuarta edición, el jurado de estos galardones ha estado formado por Johan Celsing (presidente) y Eugeni Bach y  María González como vocales que eligieron el Jardín Niel, en Tolouse, de Michèle & Miquel.
PREMIO FAD DE ARQUITECTURA:
MUSEO DE LAS COLECCIONES REALES:
Autores: Emilio Tuñón Álvarez, Luis Moreno Mansilla (Mansilla y Tuñón Arquitectos).
Aparejador: Santiago Hernán, Luis Baena.
Ingeniero: Alfonso Gómez Gaite.
Fotógrafías: Luis Asín Lapique.
Valoración del jurado: "Por resolver con maestría una arquitectura atemporal y sobria, de factura precisa y emocionante".
"El proyecto resuelve con elegancia una condición múltiple: proveer un espacio dedicado a la muestra de obras de grandes dimensiones de las Colecciones Reales; involucrar al presente en la serie histórica de ampliaciones del Palacio Real; y construir un basamento de escala urbana bajo la ciudad de Madrid vista desde su acceso sur oeste. El resultado es una arquitectura monumental y sobria que, con ausencia de lirismo, ofrece una espacialidad rotunda, libre de pormenores, de factura precisa y emocionante. Esta gran arquitectura no puede ser evaluada exclusivamente en relación con su presente, sino que pertenece a una familia de obras que se encargan de conservar el flujo de la historia y fijar una imagen de su tiempo."
---
PREMIO FAD DE INTERIORISMO:
PONTEJOS 9:

Autores: Victoria Acebo, Angel Alonso, arquitectos (aceboXalonso).
Aparejador: Elena Elósegui, Javier Fernández.
Ingeniero: Alejandro Bernabéu.
Fotógrafìas: Rafael Trapiello.
Valoración del jurado: "Por integrar tanto el plano material como la memoria intangible de la ciudad en un proyecto de arqueología creativa".
"Pontejos 9 es una obra de rehabilitación integral que trabaja tanto en el plano material como en la dimensión intangible de la memoria de Madrid. Asume como proceso de diseño una suerte de 'arqueología creativa' que reasigna valor a objetos encontrados y los fija en el lugar, de tal modo que construye un soporte nuevo para una historia material del barrio recreada por los autores. Va más allá de la mera incorporación de un viejo edificio de viviendas en el mercado inmobiliario: ofrece una práctica alternativa que supera el imaginario de la pragmática presupuestaria y reivindica el valor de la cultura como intérprete de lo existente."
---
PREMIO FAD DE CIUDAD Y PAISAJE:
REHABILITACIÓN DEL PARQUE DE JOAN OLIVER EN BADIA DEL VALLÉS:
Autores: Claudi Aguiló i Aran, arquitecto,  Albert Domingo i Ollé, ingeniero industrial (Data Arquitectura i Enginyeria SLP).
Ingeniero: TDI Enginyers (proyecto).
Fotógrafías: Jordi Surroca.
Valoración del jurado: "Por resolver de manera ejemplar un parque que no impone jerarquías de uso y por apostar por una intervención invisible que potencia el ciclo ambiental".
"Se valora que la principal intervención sobre este parque existente está bajo tierra, es decir, no se ve, aunque soluciona las constantes inundaciones que sufría el espacio antes de su rehabilitación. De este modo, los árboles se preservan intactos y dispuestos naturalmente sobre la superficie continua de tierra, lo que permite disponer de un espacio multifuncional para los habitantes."
---
PREMIO FAD DE INTERVENCIONES EFÍMERAS:
COLUMNAS CONMEMORATIVAS DE LOS 30 AÑOS DE LA RECONSTRUCCIÓN DEL PABELLÓN ALEMÁN EN BARCELONA.
Autores: Luis Martínez Santa-María, Roger Sauquet Llonch, arquitectos.
Aparejador: Manuel Iglesias Velasco.
Ingeniero: Enrique Martínez Sierra, Robert Brufau Niubó, Joan-Ramon Blasco Casanovas.
Fotógrafía: Roland Halbe.
Valoración del jurado: "Por reconstruir y dignificar con materiales reciclados uno de los elementos básicos de la arquitectura, logrando un rico diálogo de opuestos".
"Los cien bidones de chapa de acero, recogidos en un cementerio de residuos químicos, adquieren una segunda vida, de mayor dignidad y belleza, al ser reciclados como tambores de estas nuevas columnas que rememoran a las que hubo en su día frente al icono de la arquitectura moderna. Los bidones, unidos en vertical por un simple cordón de soldadura, junto a su acabado colorido y a la vez despintado y oxidado, transforman su significado, situándose entre el arte conceptual y la instalación de arquitectura. De hecho, la referencia al elemento erguido, enfrentado a la horizontalidad del pabellón de Barcelona, reconecta con la esencia de estos elementos primordiales de la arquitectura: el podio y la columna; la losa y la pantalla; la materia noble y el material reciclado, todos en diálogo."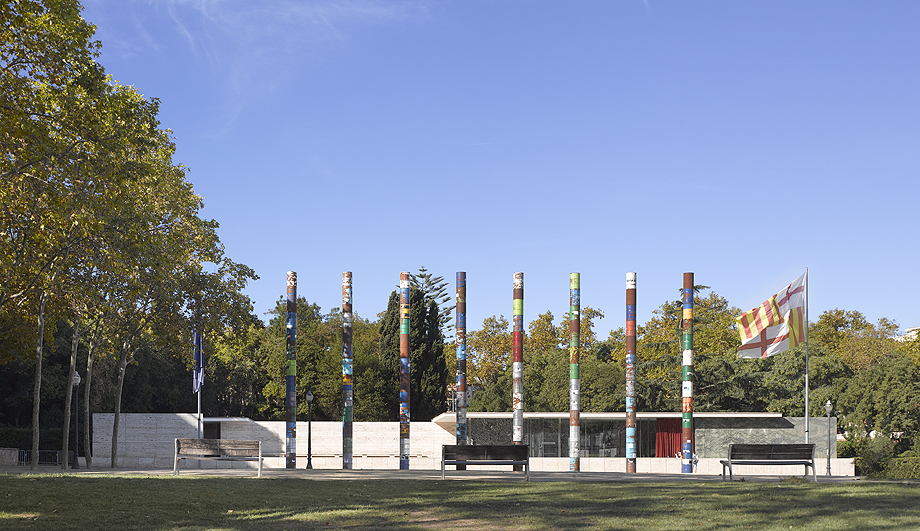 ---
PREMIO FAD INTERNACIONAL:
JARDÍN NIEL (TOLOUSE / FRANCIA):
Autores: Miquel Batlle, Michèle Orliac (Michèle & Miquel).
Ingeniero: Satec.
Valoración del jurado: "Este proyecto reúne una multiplicidad de virtudes en un resultado perfectamente equilibrado entre el trabajo y el tiempo, la utilización de sistemas industrializados acordes a la escala, y la incorporación del paisaje agrícola característico de la zona.
La topografía que define la estrategia de proyecto no solo consigue secuenciar distintas experiencias espaciales en un recinto de grandes dimensiones, sino que actúa como soporte de los distintos recorridos, como protección de los restos arqueológicos existentes y como base de los distintos tipos de vegetación.
Dos materiales articulan toda la intervención. El ladrillo, tan característico de la ciudad, es ingeniosamente utilizado con un sistema que aúna la eficacia constructiva con la capacidad para diluir los límites con la topografía. Y el acero, utilizado de manera puntual, ayuda a mantener una homogeneidad cromática que cede todo el protagonismo a los elementos naturales.
Un proyecto que hace parecer que todo es fácil y evidente, con una inteligente intervención donde topografía, vegetación, circulaciones, utilización del agua, mobiliario y materialidad se funden en una única intervención, tan simple como certera."
---
PREMIO FAD DE PENSAMIENTO Y CRÍTICA:
La 12ª edición de los Premios FAD de Pensamiento y Crítica aglutina los mejores textos dedicados a la arquitectura publicados durante el 2016. Un jurado de prestigio inernacional integrado por Anna Calvera (presidenta) y los vocales Jelena Prokopljevic y Pau de Solà-Morales, que sustituye al difunto Maurici Pla ha estado el encargado de elegir las obras ganadoras de entre los 64 proyectos presentados, que ha premiado dos obras ex aequo:
"TEORÍAS E HISTORIA DE LA CIUDAD CONTEMPORÁNEA":
Autor: Carlos García Vázquez.
Editor: Editorial Gustavo Gili.
Valoración del jurado:
"Por proponer una nueva sistematización historiográfica y transdisciplinaria de las concepciones, representaciones e interpretaciones de la ciudad entre los dos últimos fin-de-siècle."
"AFTER BELONGING: THE OBJECTS, SPACES AND TERRITORIES OF THE WAYS WE STAY IN TRANSIT":
Autores: Lluís Alexandre Casanovas Blanco, Ignacio González Galán, Carlos Mínguez Carrasco, Alejandra Navarrete Llopis y Marina Otero Verzier (After Belonging Agency).
Editor: Lars Múller Publishers / Oslo Architecture.
Valoración del jurado:
"Por ser un análisis contemporáneo de la cuestión de la 'pertenencia' como generadora de identidad en un mundo en movimiento permanente."
---
Información e imágenes facilitadas por el FAD
You might also like