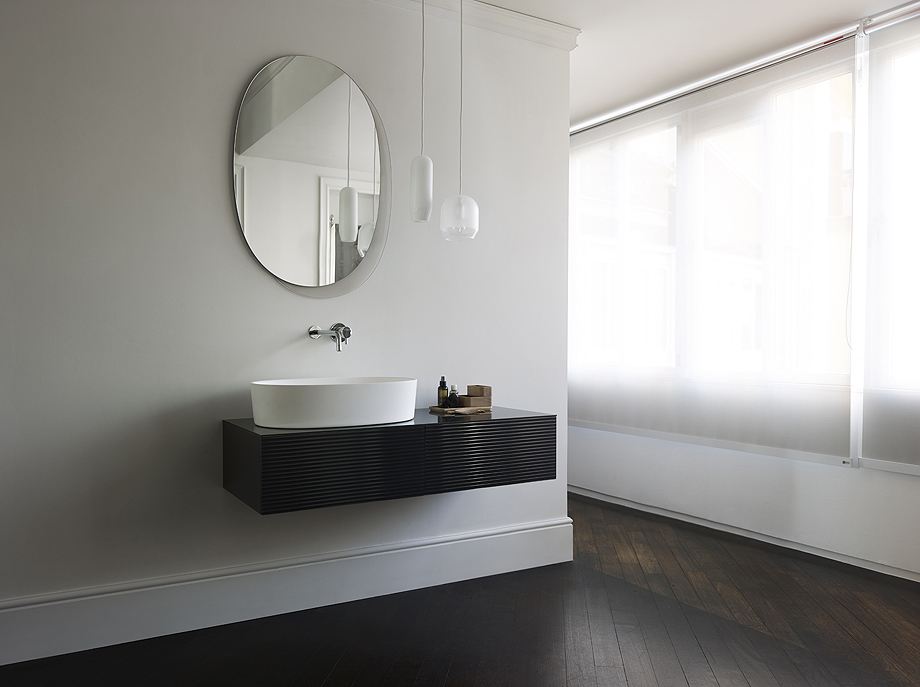 PLATEAU:
Elegante y funcional mueble de baño que completa la colección que Sebastian Herkner diseñó para ex.t y se presentó en el Salón Internacional del Mueble de Milán de 2016. La textura del vidrio coloreado se combina de forma armónica con la estructura interna de madera de fresno y la superficie sólida LivingTec® de los lavabos de la firma italiana, creando un interesante juego de materiales. Está disponible en diferentes medidas: 48 x 48 x h 25 cm y 114 x 48 h cm.
Plateau viene a enriquecer la bañera, los lavabos y los espejos redondos y ovales que también forman parte de esta minimalista serie, cuya fuente de inspiración se basa en la idea de jugar y experimentar con formas y colores para crear un conjunto de productos que sean útiles y versátiles pero también elegantes. Como su nombre indica, una plataforma-bandeja, concebida como una extensión natural del producto, es el motivo estilístico de la colección. Este detalle aparece en cada una de las piezas, desde la bañera y los lavamanos hasta los espejos.
---
LAS IMÁGENES:
---
SOBRE SEBASTIAN HERKNER:
Nacido en Bad Mergentheim, Seb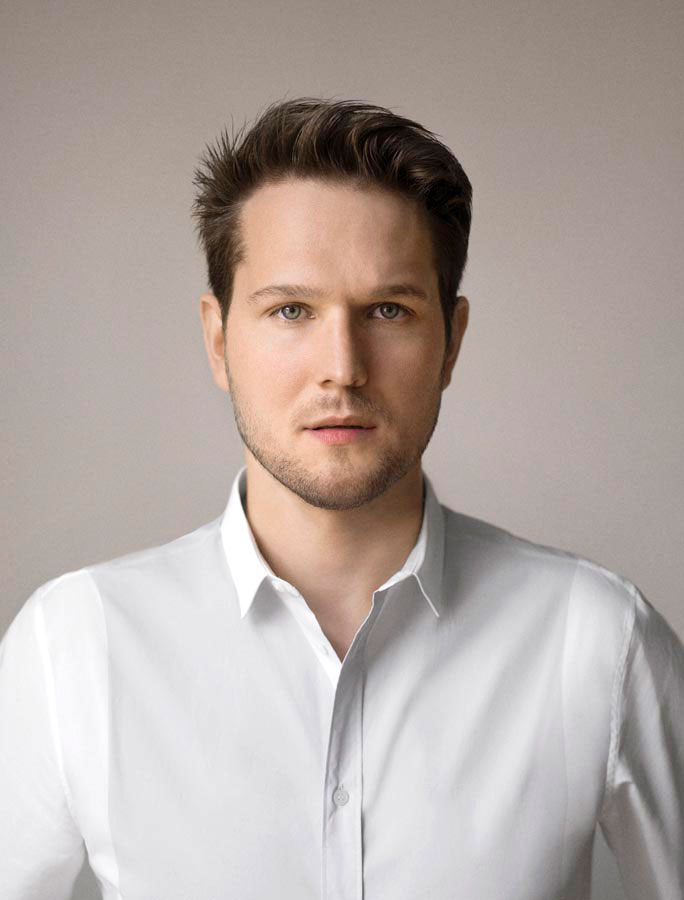 astian Herkner estudió Arte y Diseño en la Universidad de Offenbach y fundó su propio estudio en esta ciudad alemana en 2009. Ya durante sus estudios, se centró en el diseño de objetos y mobiliario, fusionando varios contextos culturales.
Considerado un mediador entre la artesanía tradicional y la alta tecnología, sus proyectos dan voz a los materiales y añaden al diseño moderno un toque sensual y, a veces, humorístico.
Es esta naturaleza sensual, su especial paleta de color y una intención creativa, que no siempre se fija en un propósito concreto, lo que le han permitido a sus 34 años de edad dar una nueva cara al diseño alemán. Sus éxitos internacionales quedan reflejados en sus trabajos para firmas como Moroso, Fontana Arte, Sizfeldt, Very Wood, Sancal, Böwer, Gubi, Le Amsterdam, Carl Mertens, Pulpo, La Chance, De Vorm, Verreum, Rosenthal y Nya Nordiska.
A lo largo de su carrera ha recibido diversos premios como el Designpreiss Deustchland 2011, el Red Dot Design Award 2010, el Wallpaper Design Awards 2014, el Design Plus y el Interior Design Best of the Year 2014. En 2016, ha sido el Invitado de Honor y el encargado de diseñar la vivienda del futuro en la sección Das Haus de la feria imm Colonia.
---
SOBRE EX.T:
Ex.t es una joven empresa italiana con colecciones de mobiliario, complementos y elementos sanitarios para baño, diseñados por jóvenes profesionales nacionales e internacionales. Sus productos independientes y versátiles se identifican perfectamente con la filosofía de la firma, inspirada por el diseño escandinava pero 100% made in Italy.
Su línea de productos se caracteriza por los colores de matices fríos, con prevalencia del blanco, con mucha madera pero también con formas audaces y  nuevos usos de los materiales propios de la tradición de la región de La Toscana: cerámica, mármol y textiles. Todos trabajados de forma rigurosamente artesanal en pequeños talleres familiares de esta zona italiana.
---
Información e imágenes facilitadas por la empresa
You might also like