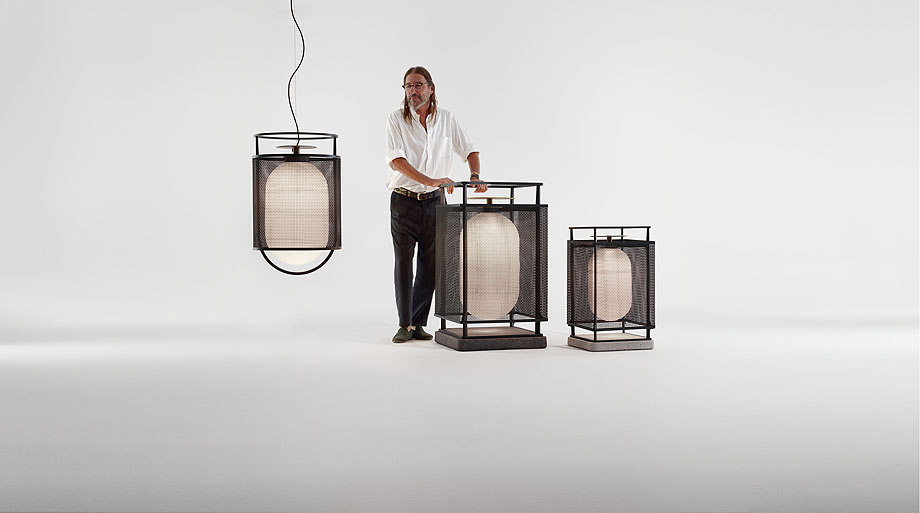 DENGLONG:
Hace dos años, la firma española de iluminación Parachilna encargó a Lyndon Neri y a su mujer Rossana Hu, fundadores del estudio Neri & Yu Design, su primera colección: Bai. En esta segunda colaboración, la propuesta no se queda en el diseño de una lámpara para espacios de interior sino que también debería salir al exterior. La respuesta de los diseñadores ha sido la nueva familia de lámparas Denglong, que ofrece una relectura en clave contemporánea de los tradicionales farolillos orientales, convertidos en bellas piezas de iluminación decorativa.
La serie Denglong la componen versiones de pie y de suspensión (cada una disponible en dos tamaños), que pueden iluminar salas de estar, pasillos, dormitorios pero también balcones, terrazas o jardines. La nueva gama de iluminación LED cuenta con una estructura en aluminio y malla de acero, ambas lacadas en color grafito, con el disco superior en lacado dorado. El difusor es de fibra de vidrio. Como contrapunto, los diseñadores han elegido una base en hormigón arquitectónico negro o gris.
---
LAS IMÁGENES:
---
SOBRE NERI & HU: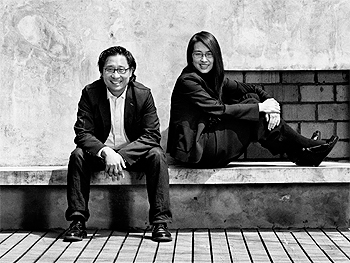 Fundado, en 2004, por Lyndon Neri y Rossana Hu, Neri & Yu Design and Research Office es un estudio internacional de diseño arquitectónico interdisciplinar ubicado en Shanghai, China. Neri & Hu trabaja a escala internacional proporcionando servicios en los sectores de la arquitectura, el diseño de interiores, la planificación maestra, el diseño gráfico y el de productos.
El despacho lo forma un equipo multicultural en el que se hablan más de 30 idiomas diferentes y que, actualmente, está trabajando en proyectos en numerosos países. La diversidad de su equipo refuerza una visión que es esencial para la firma: la de responder a una visión global del mundo que incorpore diferentes disciplinas de diseño para un nuevo paradigma en el campo de la arquitectura.
Neri & Yu Design cree firmemente en la investigación como herramienta de diseño, dado que cada proyecto conlleva un conjunto único de cuestiones contextuales. Un sondeo crítico de las especificidades del programa, de la ubicación, el emplazamiento, la función y la historia es esencial para crear un trabajo de diseño riguroso. Basándose en sus investigaciones, Neri & Hu desea anclar su trabajo en la interacción dinámica de la experiencia, el detalle, el material, la forma y la luz en lugar de ajustarse a un estilo formulista.
El trabajo del despacho ha recibido una amplia cobertura en medios impresos y online entre los que se incluyen Architectural Review, Wallpaper, Architectural Record, FRAME, MARK, Abitare, Diseño Interior, Interior Design, I.D., Travel+Leisure, MARU, Perspective Magazine, ELLE Décor Italia, ELLE Deco China, Vogue China, Red Dot Year Book, Dezeen y Archdaily.
Sus diseños han sido reconocidos por numerosos y prestigiosos organizaciones y premios de diseño tales como el AR House Awards, AR Awards for Emerging Architecture, World Architecture Festival, D&AD Awards, Design Vanguard, Interior Design Magazine Best of Year Awards, Gold Key Awards y Good Design awards, entre otros.
---
SOBRE PARACHILNA:
Además de ser uno de los últimos reductos civilizados antes de adentrarse en el desierto australiano, al norte de Adelaida, Parachilna es una firma de iluminación decorativa, fundada en 2013, que basa sus valores en la honestidad del diseño, el valor de los materiales nobles y la manufactura artesanal, recuperando el saber hacer de los pocos talleres metalistas, ceramistas y vidrieros que quedan en Europa.
La empresa, cuyo socio fundador y director artístico es Román Riera, busca rodearse de los mejores diseñadores, aquellos que, además, sepan entender su concepto de lujo artesanal llevado al diseño de lámparas. Ésta ha sido su apuesta desde el principio y su nueva visión en el sector ha sido compartida por nombres como Stephen Burks, Jaime Hayon, Neri&Hu o Jordi Veciana, y sigue adelante con más nombres del diseño para sus próximas colecciones.
---
Información e imágenes facilitadas por la empresa
You might also like