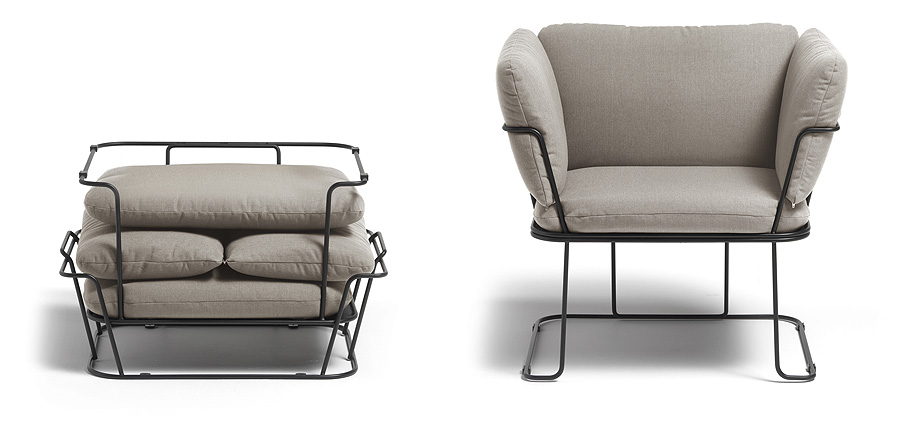 MERANO:
La diseñadora italiana Raffaella Mangiarotti y el diseñador finés Ilkka Suppanen trabajaron conjuntamente en el diseño de esta ligera butaca para la firma B-Line que, además de ser apta para zonas públicas y privadas, puede utilizarse como pieza de exterior gracias a sus cojines preparados para ello. De esta manera, Merano se convierte en el primer producto outdoor del catálogo de la firma de Padua.
Merano, que fue presentada el pasado año, combina las limpias líneas escandinavas y los detalles de Suppanen con la ergonomía y el toque de color de Mangiarotti. La estructura metálica, trazada delicadamente con varilla de acero galvanizado pintado (blanco, negro y arena), esta dividida en dos partes que pueden separarse, disminuyendo considerablemente el volumen. Además, los cojines pueden guardarse dentro de una de las mitades. Esta solución de diseño incide positivamente en el embalaje, que también se reduce, y en el transporte, facilitándolo.
Esta combinación de racionalidad, linealidad, armonía y ergonomía convenció al panel internacional de jueces del Good Design Award que se reunieron en Nueva York y San Francisco para seleccionar, entre miles de propuestas presentadas de más de 46 países, los proyectos que mejor expresan los valores representados por buen diseño.
El Good Design Award, creado, en 1950, por renombrados arquitectos como Eero Saarinen, Charles y Ray Eames y Edgar Kaufmann Jr., está considerado uno de los premios más prestigiosos a nivel internacional a la excelencia en el diseño. Organizado anualmente por el Museum of Architecture and Design Athenaeum de Chicago y por el Architecture Art Design and Urban Studies, alcanzó su 67ª edición en 2017.
Merano, junto con otros diseños ganadores, se incluirán en el Good Year Yearbook 2017-2018 y formarán parte de la colección permanente del Chicago Athenaeum Museum.
---
LAS IMÁGENES:
---
SOBRE RAFAELLA MANGIAROTTI: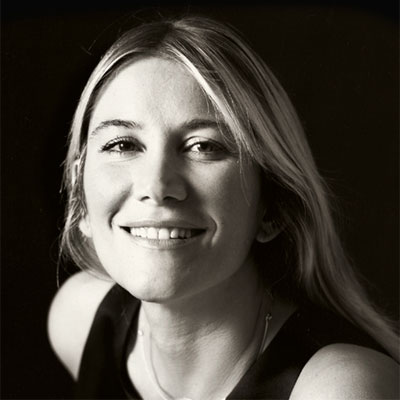 La italiana Raffaella Mangiarotti nació en Génova, pero vive y trabaja en Milán. La diseñadora se graduó con honores en el Politécnico de Milán, ciudad donde fundó el estudio Deepdesign con el diseñador Matteo Bazzicalupo.
Su trabajo se centra en el diseño industrial y sus clientes incluyen numerosas empresas como Barilla, Castelli Haworth, Coca-Cola, Daimler Chrysler, Fratelli Rossetti, Giorgetti Guzzini, JVC, Kimberley Clark, Kitchen Aids, Kraft, Imetec, Mandarina Duck, Matsushita, NEC, San Lorenzo, Serralunga, Skitsch, Smeg y Whirlpool Europe.
Raffaella ha recibido varios premios, en concreto el Young & Design Award (1996, 1997, 1999, 2000), Cosmopack (1995, 1996), Esaedro (1997), the ID Award (2004, 2008), the Selezione Compasso d'Oro (2005) y Green Dot Award (2009). Además, sus proyectos han aparecido en numerosas publicaciones y revistas. En diciembre de 2009, la Trienal de Milán le dedicó una exposición individual.
Actualmente, la diseñadora compagina su trabajo en Deepdesign con el de investigadora para el Politécnico de Milán. También trabaja de manera independiente en otros proyectos en el sector de los electrodomésticos, mobiliario industrial y ediciones limitadas.
---
SOBRE ILKKA SUPPANEN: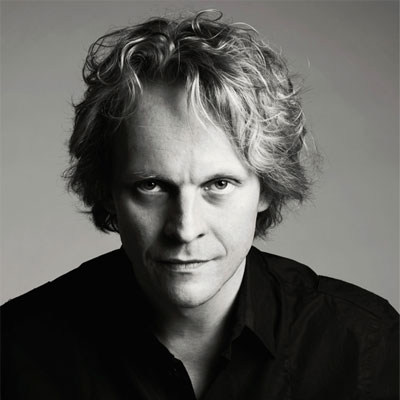 Ilkka Suppanen nació en Kotka (Finlandia) y estudió Arquitectura en la Universidad Politécnica de Helsinki y Diseño Interior y de Mobiliario en la Universidad de Arte y Diseño de la misma ciudad, donde es profesor desde 1996.
En 1995, fundó el Studio Suppanen en la capital finlandesa, donde lleva a cabo proyectos de diseño estratégico integrado en las áreas de diseño de interiores y productos, diseño conceptual y arquitectura. Suppanen ha diseñado para Artek, Camper, Cappellini, E&Y, Frag, Lucente, Marimekko, Muuto, Nemo, Nokia y Saab, entre otros.
El arquitecto también imparte cursos y conferencias en otras universidades, como Harvard, y es uno de los diseñadores finlandeses más reconocidos. Su trabajo ha recibido numeroso premios internacionales, incluido el premio Bruno Mathsson y el Best of the Best en los Red Dot.
Su trabajo ha sido expuesto en todo el mundo, incluyendo la Bienal de Arquitectura de Venecia y el MoMA de Nueva York. Además, ha sido cubierto ampliamente por la prensa internacionale y por numerosas publicaciones. También forma parte colecciones permanentes como la del Stedelijk Museum, en Amsterdam, el Museo de Artes Aplicadas, en Colonia, o el Centre George Pompidou, en París.
---
SOBRE B-LINE:
Desde su nacimiento en 1999, esta firma italiana, con sede en la ciudad de Padua, ha demostrado su interés por los clásicos del diseño con las reediciones de varios de ellos firmados por Joe Colombo, Rodolfo Bonetto y Kazuhide Takahama. Junto a ellos, B-Line trabaja con otros diseñadores como Karim Rashid, Neuland, IntheDetail, Alessandro Masturzo o Christophe Moinat.
B-Line es una empresa sensible a los temas relativos al impacto ambiental, derivados de la producción industrial, el transporte y el uso que se haga de los recursos. Es por eso que trata de diseñar de forma inteligente, fabricando mobilibiario "made in Italy" que sea realmente útil y vaya más allá de tendencias pasajeras y meras modas. Aunque esto no signifique renunciar a la estética o a la originalidad: sólo hace referencia al cuidado que tienen en la toma de sus decisiones, tratando de mejorar constantemente en términos de sostenibilidad.
---
Información
You might also like