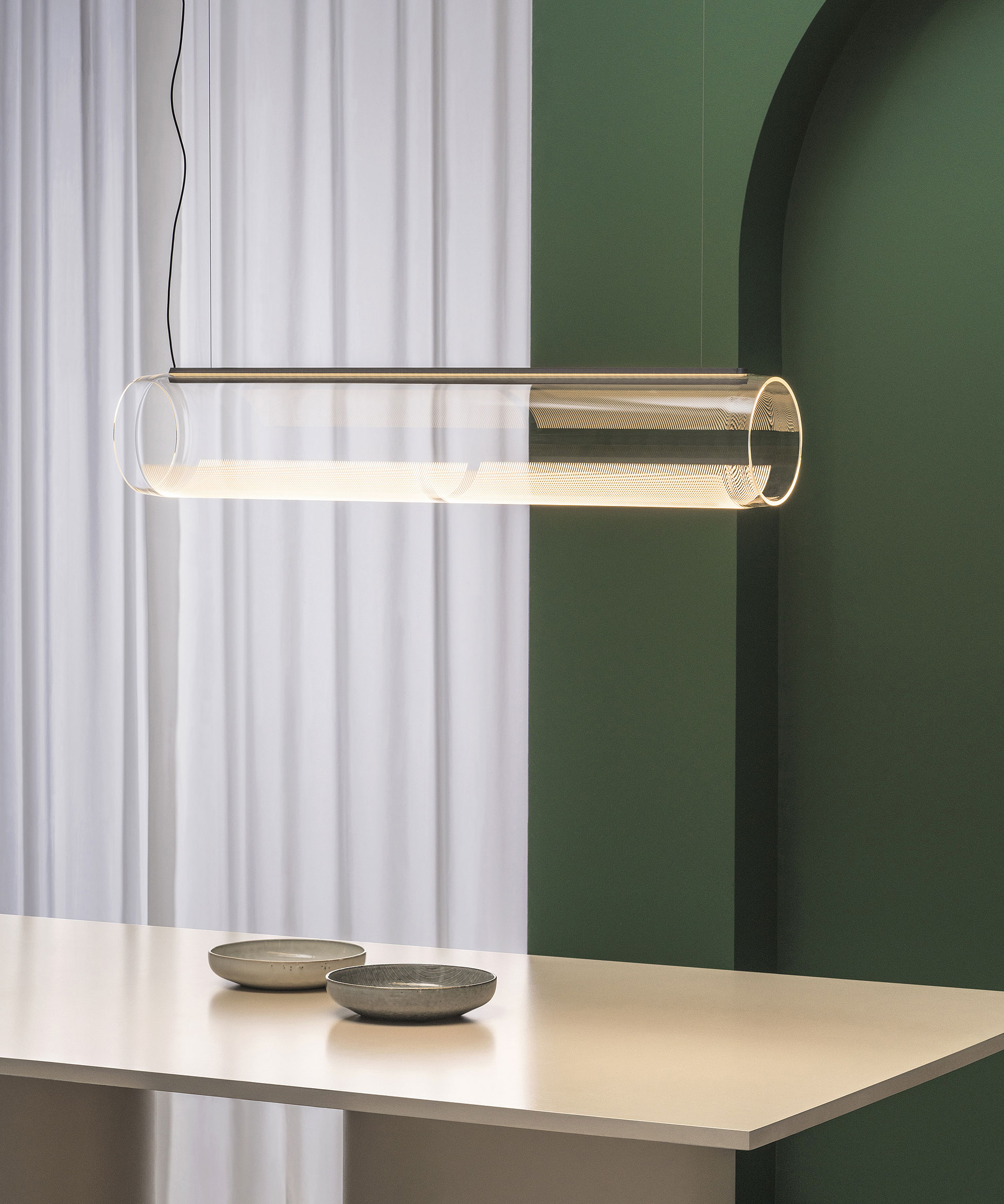 GUISE:
El diseñador alemán Stefan Diez es el autor de esta nueva familia de lámparas donde se fusionan luz, artesanía y nuevas tecnologías. Diez se ha inspirado para su diseño en diversas técnicas y tradiciones, la talla de vidrio de Bohemia y la cartelería luminosa popular, que se entrecruzan desde una visión contemporánea y singular.
Cada uno de los elementos que componen la colección Guise, que fabrica la empresa Vibia, ofrece tecnología LED combinada con vidrio borosilicatado. La luz emana de la propia pieza de vidrio, mientras que la fuente lumínica, situada longitudinalmente como si fuera una costura, permanece inviasible. De esta manera, la funcionalidad se viste de un efecto mágico. Además, cuando la lámpara está apagada casi desaparece gracias a la gran transparencia del vidrio.
Guise comprende modelos de suspensión, en horizontal y vertical, que facilitan su ubicación sobre mesas de comedor, despacho o en zonas de estar y de paso, con unidades aisladas o formando conjuntos. Las luminarias de suspensión y de sobremesa llevan un patrón de incisiones grabadas sobre el vidrio. Estas estrías están realizadas con un sistema robotizado de corte de una gran precisión. La versión aplique de pared, con fisonomía diferenciada, consiste en un disco de cristal con un borde luminoso continuo, con la fuente LED también oculta. Cuando está apagada se mimetiza con el fondo mural, encendida evoca un eclipse de sol.
La intensidad de la luz se regula mediante un sensor que funciona aproximando la mano a la luminaria, sin mediación de interruptor, ni contacto directo.
A pesar de su corta vida, Guise ya ha sido galardonada con el German Design Award 2018 y, en 2017, fue la ganadora en la categoría de Iluminación en los Archiproducts Design Awards que concede el portal online Archiproducts. La nueva colección de Stefan Diez y Vibia se presentará oficialmente en la próxima edición de la feria Light + Building, que se celebrará del 18 al 23 de marzo de 2018.
---
LAS IMÁGENES:
---
---
---
SOBRE STEFAN DIEZ:
Stefan Diez (Munich, 1971) nació en el seno de una familia de carpinteros. Este temprano vínculo con la artesanía moldeó profundamente su desarrollo como diseñador industrial. Siguiendo la tradición familiar e iniciándose como ebanista, pasó más tarde a estudiar Diseño Industrial con Richard Sapper, en la Academia Estatal de Bellas Artes de Stuttgart. Después de regresar a Munich y trabajar junto a Konstantin Gric, abrió su propio estudio en 2002, en su ciudad natal.
De 2007 a 2014, fue profesor de Diseño Industrial en la Universidad de Artes y Diseño de Karlsruhe (HFG), antes de unirse a la Escuela de Diseño Industrial de Lund, Suecia, en 2015.
En 2008, Diez estableció su estudio en una carpintería reformada, una plataforma ideal para su combinación de experimentación y conocimientos técnicos. Dirigido por la curiosidad y apoyado por una red de artesanos y especialistas locales, Diez Office se dedica a transformar ideas en productos reales con gran diligencia y competencia. Diez trabaja intensamente con los materiales y la tecnología, y es un apasionado en su búsqueda para entender sus limitaciones. En su estudio, se desarrollan productos sencillos y precisos, con el propósito de satisfacer las necesidades humanas.
Junto con su equipo, Stefan ha desarrollado su trabajo en varios campos, diseñando mobiliario, vajillas y accesorios para fabricantes de renombre internacional como e15, emu, Hay, Rosenthal, Thonet, Vibia, Wagner y Wilkhahn. Algunos de sus productos han recibido importantes premios internacionales de diseño, entre otros, el Designpreis der Bundesrepublik Deutschland, el iF Gold Award y el Red Dot Best of the Best.
STEFAN DIEZ EN INTERIORES MINIMALISTAS
---
SOBRE VIBIA:
Fundada en el año 1987 y con sede en Barcelona (España),
Vibia
es una empresa dedicada al mundo de la iluminación contemporánea con presencia en 80 países y una filial en New Jersey (Estados Unidos). Todos sus productos son diseños originales y están firmados por más de veinte equipos de profesionales especializados en diseño de producto e interiorismo de reconocido prestigio como Cul de Sac, Diego Fortunato, Lievore Altherr Molina, Víctor Carrasco, Oscar & Sergi Devesa, Antoni Arola, Ramon Benedito y Ramos & Bassols, entre otros.
VIBIA EN INTERIORES MINIMALISTAS
---
Información e imágenes
You might also like