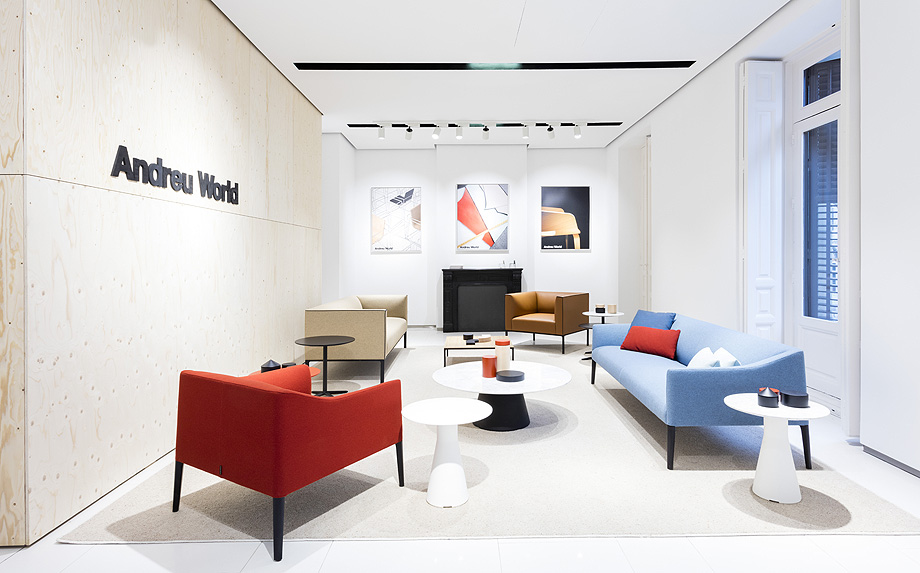 SHOWROOM MADRID:
La firma de mobiliario Andreu World sigue ampliando el número de sus espacios expositivos con el que recientemente ha abierto en la ciudad de Madrid, donde se celebra los valores de esta marca, la excelencia en el trabajo de la madera y el máximo respeto de la empresa hacia el medio ambiente. El nuevo showroom, ubicado en el número 26 de la calle Velázquez, cuenta con 300 m² y "aspira a convertirse en un punto de referencia del interiorismo y el diseño de mobiliario para espacios de trabajo, contract, outdoor y hogar".
El espacio está organizado en diferentes zonas donde se muestran los asientos, sillones, sofás, mesas de reunión y ocasionales diseñadas por profesionales como Patricia Urquiola, Jasper Morrison, Lievore Altherr Molina o Piergiorgio Cazzaniga. Además, el espacio exhibe una selección de diferentes sillas y banquetas que ofrecen soluciones de mobiliario para espacios públicos y privados, oficinas, restaurantes y hogar. Finalmente, una selección de muebles de exterior completa el espacio.
El lenguaje de la madera natural.
Utilizando como lenguaje y nexo común la madera natural, elemento esencial del espacio por su aspecto matérico y su reminiscencia a los orígenes de la firma, el nuevo showroom acoge diseños como Nuez Chair, una silla diseñada por Patricia Urquiola, sugestiva, cálida y a la vez tecnológica, que evoca los pliegues de una hoja de papel y resulta muy polivalente. La versatilidad de esta colección deja paso al confort, representado por el sofá Raglan, creando una zona lounge muy confortable o Capri Lounge, una butaca que aúna confort excepcional y una gran representatividad. El cuidado de los detalles de Andreu World también se hace visibles en el nuevo espacio de Madrid con colecciones de soft seating como la butaca Couvé o la colección Alya. Las banquetas Flex Stool, responden también a esta intención.
La cultura de trabajo artesanal de la madera aliada con la innovación en materiales y tecnologías se percibe en sillas como Duos, creada por Jasper Morrison y que se caracteriza por su síntesis formal y atemporalidad. En el showroom, también se muestran una serie de colecciones de mesas como Radial y Reverse Conference, que ahora se presentan con acabados y materiales innovadores (ultramate) y premium (mármoles, cerámicos) que proporcionan gran durabilidad.
Como explica la propia firma, en definitiva "una selección de diseños que buscan una mayor versatilidad y nuevas posibilidades estéticas, funcionales e innovadoras en el uso de nuevos materiales y usos adaptados a los nuevos entornos de trabajo, corporativos y públicos, pero a la vez válidos para espacios residenciales y de instalación".
Además y como espacio de trabajo abierto a los profesionales del interiorismo, el equipamiento y la decoración, el nuevo showroom ofrece una selección de acabados, texturas, colores, telas y materiales innovadores con los que la firma quiere extender su experiencia de marca en la capital, acercando a arquitectos, diseñadores, interioristas y amantes del diseño un nuevo espacio de exposición, trabajo e inspiración en pleno centro de Madrid.
Este espacio se une a los showrooms permanentes que la marca dispone a nivel internacional en ciudades como Chicago, Nueva York, San Francisco, Boston, Washington D.C., Denver, Dubai, Tokio, Moscú, Pune, Bangalore, Nueva Delhi, Estocolmo o Copenhague y espacios dentro de tienda en ciudades como Sidney, Toronto o Vancouver, entre otros.
---
INFORMACIÓN PRÁCTICA:
Velázquez, 26  1º izquierda.
28001 Madrid (España).
www.andreuworld.com
aworld@andreuworld.com
---
LAS IMÁGENES:
---
SOBRE ANDREU WORLD:
Andreu World es una empresa familiar de mobiliario para interior y exterior fundada, en 1955, gracias a la inquietud de Francisco Andreu Martí. Creada como un pequeño taller de ebanistería en Alaquàs, una localidad muy próxima a Valencia (España), actualmente, reúne a un equipo de profesionales altamente cualificado con una clara vocación internacional a partir de una premisa muy clara: diseño y calidad. Esta premisa va ligada a la categoría de los profesionales que firman sus diseños: Patricia Urquiola, Piergiorgio Cazzaniga, Joan Lao, Mario Bellini, Lievore Altherr Molina, Josep Lluscà, Javier Mariscal y Nancy Robins, entre otros.
Hoy en día, Andreu World dedica un 60% de su producción a la exportación y su red comercial abarca los cinco continentes. Países como Nueva Zelanda, Emiratos Árabes Unidos, Singapur, Japón, México, Argentina y EE.UU. son sólo algunos ejemplos en los que la marca está presente.
La firma dispone de un showroom de más de 2.000 m2 en Valencia, donde están ubicadas sus oficinas centrales, y de tres centros de producción: dos localizados en la misma provincia de Valencia y el tercero en Navarra. Además, también cuenta con espacios expositivos en otras ciudades como Chicago, Nueva York, Pune, New Delhi o San Francisco, así como las oficinas de la delegación americana en el emblemático edificio Merchandise Mart.
La madera proviene de sus bosques, controlados mediante un protocolo de custodia que incluye la plantación, la tala, el secado –durante más de un año desde la tala, para evitar que la madera se quiebre en el futuro– y todas las fases de manipulado. Este proceso cuenta con la certificación FSC® (Forest Stewardship Council), que garantiza madera con origen en bosques reforestados y controlados.
Entre los numerosos premios recibidos a lo largo de su trayectoria figuran: Red Dot Design Award 2013, Best of Year Honoree 2012, ADI Design Index 2012, Best of Neocon 2012, Red Dot Design Award 2012 y Best of NeoCon People choice 2011 o el Premio Nacional de Diseño 2007.
ANDREU WORLD EN INTERIORES MINIMALISTAS
---
Información e imágenes facilitadas por la firma
You might also like