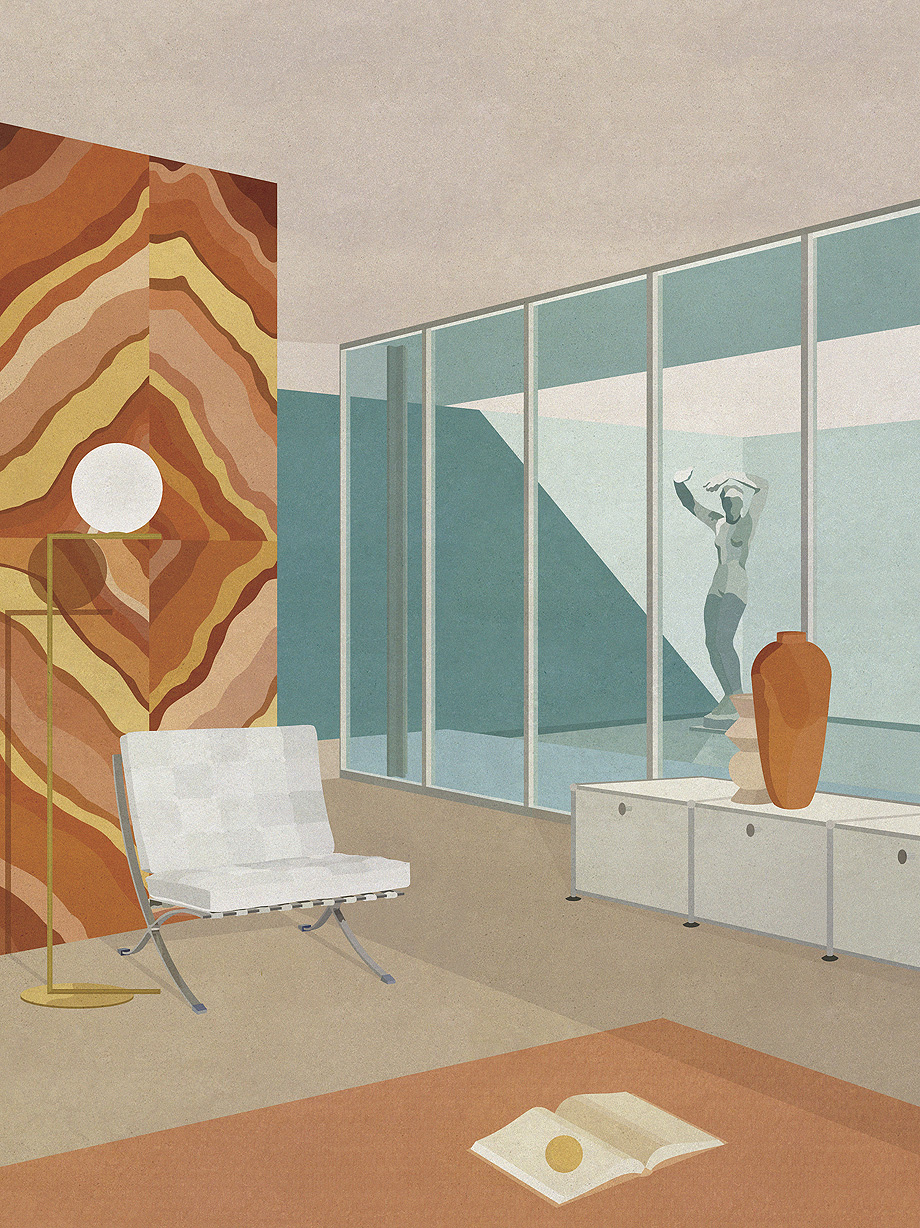 Ilustración: Charlotte Taylor
AT HOME WITH MIES:
El icónico Pabellón Mies van de Rohe de Barcelona ofrecerá hasta mañana sábado día 26 una imagen muy diferente a la que nos tiene acostumbrados. Bajo el título "At Home with Mies", Openhouse, el proyecto de la fotógrafa Mariluz Vidal y el diseñador Andrew Trotter,  en colaboración con la firma suiza de mobiliario modular USM, se han encargado de transformar esta obra, diseñada por Ludwig Mies van der Rohe y Lilly Reich para la Exposición Internacional de Barcelona, en un contemporáneo hogar de diseño.
Durante estos dos días, el evento se inauguró ayer jueves, el pabellón ofrecerá a los visitantes el aspecto de una casa, donde pueden sentarse, leer y pasar el tiempo como si de su propio hogar se tratase. Además de USM, en la transformación del pabellón han participado destacadas firmas nacionales e internacionales del hábitat como nanimarquina, Marset, Thonet, Expormim, Santa & Cole, Frama, Artek, Lobster's Day, Anglepoise, Carl Hansen & Son, Menu, Teixidors, Vibia y Flos, que se han encargado de amueblar, iluminar y equipar este efímero proyecto de diseño interior.
Por otra parte, el evento también sirve para celebrar el lanzamiento del número 9 de Openhouse Magazine con una cena privada para 50 personas y una serie de mesas redondas, que tendrán lugar mañana sábado. Estas charlas contarán con grandes nombres de la arquitectura, el arte y el diseño como Alberto Campo Baeza, Solo Houses, la familia Utzon, la familia Gomis, Side Gallery, Sabine Marcelis, USM y UNStudio, y estarán por moderadas por Liam Aldous de la revista Monocle, Miriam Giordano de Labóh e Inma Buendía de Openhouse.
---
VIERNES 25:
Cena Rooftop Smokehouse y música de Saphie Wells and Swing Cats. Entrada con invitación.
SÁBADO 26:
11.00-12.15: Mesa redonda: "LA ARQUITECTURA EN FAMILIA. CRECER EN CASAS ICÓNICAS". En inglés.
Invitados: Familia Gomis-Bertrand | Familia Utzon.
Moderador: Liam Aldous, corresponsal en España de Monocle magazine.
En este encuentro, la familia Gomis-Bertrand y la familia Utzon hablarán de los hogares en los que crecieron: La Ricarda (Barcelona), un ejemplo de arquitectura racionalista diseñada por el arquitecto Antonio Bonet Castellana, y Can Lis (Mallorca), proyectada teniendo en cuenta su enclave natural por Jørn Utzon, quien le puso el nombre de su esposa. Actualmente, ambas pueden visitarse.
12.30-14.00: Mesa redonda: "LOS LÍMITES ENTRE LA ARQUITECTURA Y EL ARTE".
Invitados: Alberto Campo Baeza, arquitecto | Eva Albarrán y Christian Bourdais de Solo Houses.
Moderadora: Inma Buendía, redactora de Openhouse magazine.
El arquitecto español Alberto Campo Baeza y los promotores de Solo Houses, Christian Bourdais y Eva Albarrán dialogarán acerca de los límites entre la arquitectura y el arte. Qué elementos debe tener una obra para ser considerada arte y qué lenguaje debe hablar un arquitecto para convertirse en artista.
16.00-17.15: Mesa redonda: "EL DIÁLOGO ENTRE LA VIDA PERSONAL Y PROFESIONAL". En inglés.
Invitados: Ren Yee de UNStudio | Thomas Dienes de USM.
Moderadora: Miriam Giordano, directora de Comunicación de Labóh.
Ren Yee, jefe de Estrategia de Innovación en UNStudio, el despacho de arquitectura fundado por Ben van Berkel y Caroline Bos, en 1988, y Thomas Dienes, director de Desarrollo de Producto de USM, dialogarán sobre como las líneas entre los espacios personales y los de trabajo se van difuminando día a día. Ejemplo de ello son los cafés que se asemejan a las salas de estar o los espacios de coworking que han reemplazado al trabajo en casa.
17.30-19.00: Mesa redonda: "EL DISEÑO COMO EXPRESIÓN ARTÍSTICA". En inglés.
Invitados: Luis Sendino de Side Gallery | Sabine Marcelis.
Moderador: Liam Aldous, corresponsal en España de Monocle magazine.
Hasta hace unos años, las galerías eran un espacio dedicado a piezas de arte pictórico, escultórico o fotográfico y el diseño era considerado objeto de consumo. Hoy, las galerías de diseño son una realidad que nos traslada a un nuevo contexto: el diseño como arte. Jacobo Valentí y Luis Sendino, dueños de Side Gallery en Barcelona, reflexionarán sobre este cambio de paradigma en la industria del arte junto a Sabine Marcellis, diseñadora holandesa cuyo trabajo representan en España.
---
LAS IMÁGENES:
Fotografías: Mariluz Vidal
---
SOBRE USM:

Más de 100 años de historia acompañan a esta empresa familiar que nació en 1885, cerca de la ciudad suiza de Berna, de la mano de Ulrich Schärer como ferretería y cerrajería. Alredededor de 1920, USM iniciaría la producción de cerraduras para ventanas y durante el auge económico posterior a la II Guerra Mundial dio comienzo la construcción metálica y el procesamiento de chapa.
En 1961, llegaría a la empresa el ingeniero Paul Schärer quien, junto al arquitecto Fritz Haller, crearían el sistema modular Haller de USM (Ulrich Schärer Münsingen). A partir de ese momento, daría comienzo una carrera de éxitos que traspasaría las fronteras europeas para llegar a Estados Unidos o Japón.
USM EN INTERIORES MINIMALISTAS
---
SOBRE OPENHOUSE MAGAZINE:
Openhouse Magazine es una revista semestral que expone las anécdotas y la creatividad de artistas de todo el mundo que abren las puertas de sus casas y espacios privados con el propósito de realizar distintas actividades en torno a la fotografia, al diseño y a la gastronomía. Detrás de esta idea, que se materializó en 2010, y de esta revista, que lo hizo en 2014, se encuentran la fotógrafa Mariluz Vidal y el diseñador de interiores Andrew Trotter, quienes un día decidieron abrir las puertas de sus propias casas.
---
Información e imágenes facilitadas por Openhouse Magazine y USM
You might also like