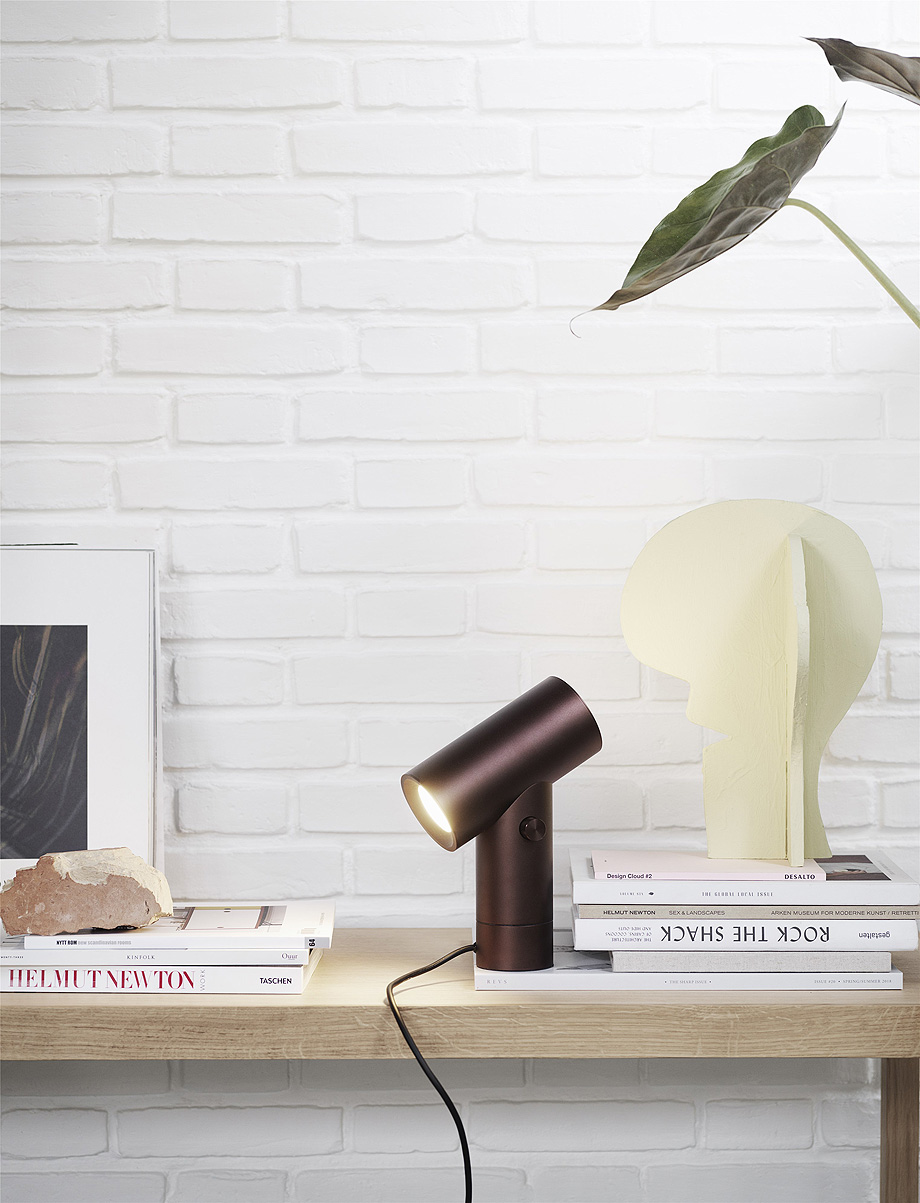 BEAM:
El primer producto del joven diseñador canadiense Tom Chung para la firma danesa Muuto es la luminaria Beam: una moderna lámpara de mesa que, como todo diseño, tiene su historia. En este caso, la idea de Beam "surgió al renovar el hogar de mi infancia -explica Tom-. Había hecho un estante para usar como separador entre el pasillo y la sala de estar, y necesitaba una lámpara que pudiera iluminar al mismo tiempo estos dos espacios. Beam emite un solo rayo de luz que viaja a través de un tubo redondo provisto de un dimmer, permitiendo al usuario controlar la luz emitida en cada extremo a través de tres niveles mediante un interruptor de regulación".
Esta luminaria orientable, que puede colocarse en cualquier estante, mesa o alféizar de una ventana, se fabrica en aluminio anodizado en acabado mate. Beam está disponible en cuatro colores (aluminio, negro, ocre oscuro y verde), que se combinan con la superficie de aluminio anodizado para un degradado lineal alrededor del cilindro, proporcionando a la luminaria un atractivo color. La luminaria dispone de dos fuentes de luz LED, una en cada extremo, que pueden utilizarse como iluminación directa y también ambiental.
Medidas: 18,7 x h 26,2 cm. ∅ 8,7 cm y 8,2 cm.
---
LAS IMÁGENES:
---
S
OBRE TOM CHUNG:
Nacido en 1990, en Vancouver (Canadá), Tom Chung es un diseñador industrial independiente que estableció el estudio que lleva su nombre en 2016. Con sede en Toronto, el estudio está especializado en diseño de productos y de espacios.
Al desarrollar un proceso de diseño único, que combina cultura contemporánea e industria local, la firma crea piezas de diseño industrial orientadas a entornos domésticos, institucionales y públicos.
Explica Tom Chung que "mi interés en el diseño está impulsado por la experiencia humana del espacio. Mi proceso se basa en la cultura contemporánea para crear un diseño industrial basado en el entorno, con un gran interés en el rendimiento. Aplico principios de movilidad, ligereza y durabilidad con un enfoque en mejorar los objetos que dan forma a nuestro entorno."
---
SOBRE MUUTO:
Muuto es una reconocida firma danesa especializada en mobiliario, iluminación y complementos de diseño nórdico contemporáneo. El objetivo de la empresa es expandir la tradición del diseño escandinavo con nuevas y originales perspectivas. De hecho, su nombre Muuto, inspirado en la palabra finlandesa muutos, significa "una nueva perspectiva". En su amplia lista de diseñadores figuran, entre otros, Anderssen and Voll, Cecilie Manz, Claesson Koivisto Rune, Form Us With Love, Karri Koskinen, Louise Campbell, Mattias Ståhlbom, Mika Tolvanen, Ole Jensen, Whatswhat, TAF Architects y Norway Says.
MUUTO EN INTERIORES MINIMALISTAS
---
Información facilitada por Muuto y en la web del diseñador. Imágenes facilitadas por Muuto

You might also like