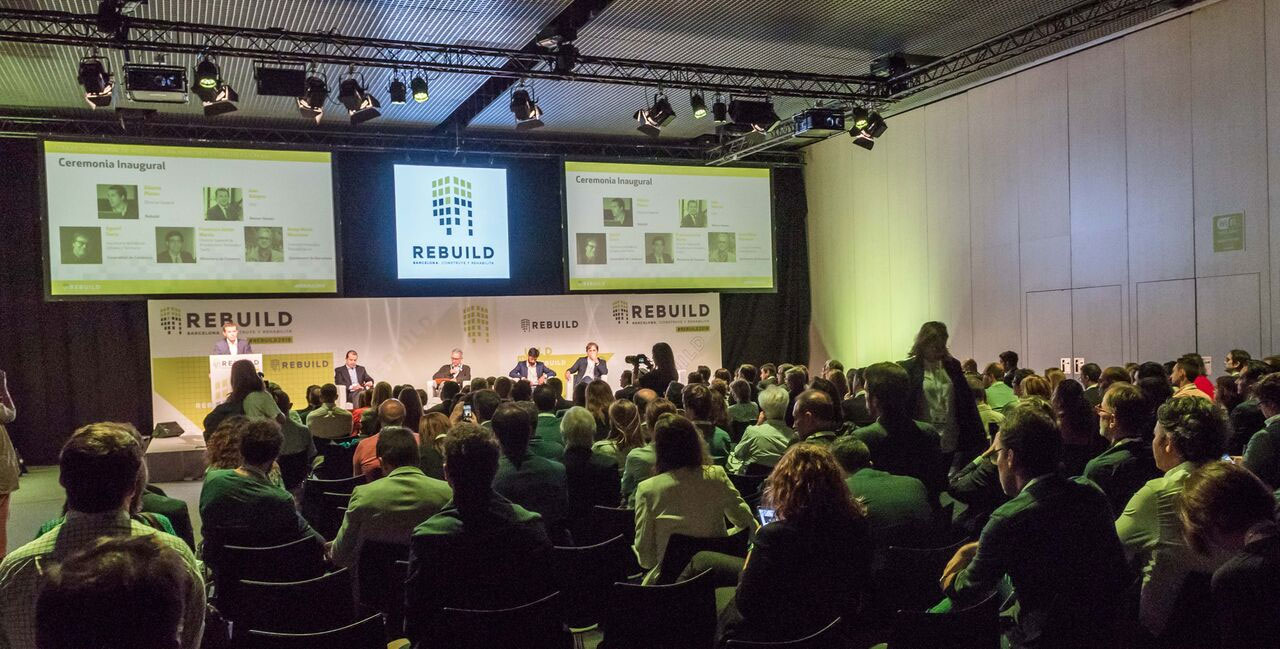 REBUILD 2018:
El pasado viernes, REBUILD cerró las puertas de su primera edición con la satisfacción de haber conseguido el objetivo marcado: convertirse en el encuentro de referencia que el sector estaba esperando para abordar una nueva forma de edificar. Desde el 26 al 28 de septiembre, 9.128 congresistas conocieron de primera mano todas las tendencias del sector asistiendo a las 121 conferencias impartidas por 293 expertos en el marco del Congreso Nacional de Arquitectura Avanzada y Construcción 4.0 y descubriendo en el showroom los nuevos materiales que marcarán el futuro de la edificación.
El encuentro reunió durante tres días a las empresas más innovadoras de todas las industrias que componen el sector de la edificación y el hábitat, que han aprovechado la plataforma para lanzar sus novedades y compartir su conocimiento con el sector. Ente ellas destacan Neinor Homes, AEDAS Homes, ROCA, Simon, Baxi, K·Line, Velux, Egoin, Eurecat, Presto, Porcelanosa, Rockwool, Knauf, Vaillant, Prinex, SAP, HP, Jacob Delafon o Würth.
Lo más destacado en arquitectura avanzada y diseño.
Expertos como Martha Thorne, directora ejecutiva del Pritzker y decana en el IE School of Architecture and Design; Anna Gener, presidenta/CEO de Savills Aguirre Newman Barcelona; Paula Torgal, presidenta del Conselho Diretivo Regional Sul Dóna Ordem Do Arquitetos de Portugal; algunos de los arquitectos más reconocidos de nuestro país como Javier Barba o Pepe Ballesteros, Santiago Cirugeda, Sylvia Felipe y Jordi Truco; y también internacionales como Emmanuel Pauwels, Gerardo Wadel y Eugenio Quintieri dieron cita en este encuentro.
Satisfacción generalizada por parte de las firmas expositoras.
La calidad del público congregado durante los tres días ha sido el aspecto más destacado por las firmas expositoras en REBUILD. Carlos Velázquez, director de Marketing de ROCA, considera que "REBUILD es una cita destacada para apoyar al sector de la edificación en un formato moderno, abierto, innovador y relacional, donde prima más la calidad que la cantidad".
Para Juan Velayos, presidente de REBUILD y CEO de Neinor Homes, el aspecto más notorio es que, por primera vez, todos los agentes que componen el ciclo de vida de una edificación, se sientan juntos para debatir sobre el futuro del sector. Apunta que "después de unos años de letargo, el sector renace con fuerza y aires de cambio. Debemos apostar por la tecnología, la industrialización y trabajar de la mano con conceptos como la economía circular o la sostenibilidad. Subirse al carro de la transformación es la única forma de sobrevivir al futuro".
REBUILD ha colaborado en situar la ocupación hotelera de Barcelona por encima del 80% y ha generado un impacto económico de más de 17 millones de euros. Se trata de un éxito que la organización trasladará a Madrid (IFEMA) en su próxima edición de 2019.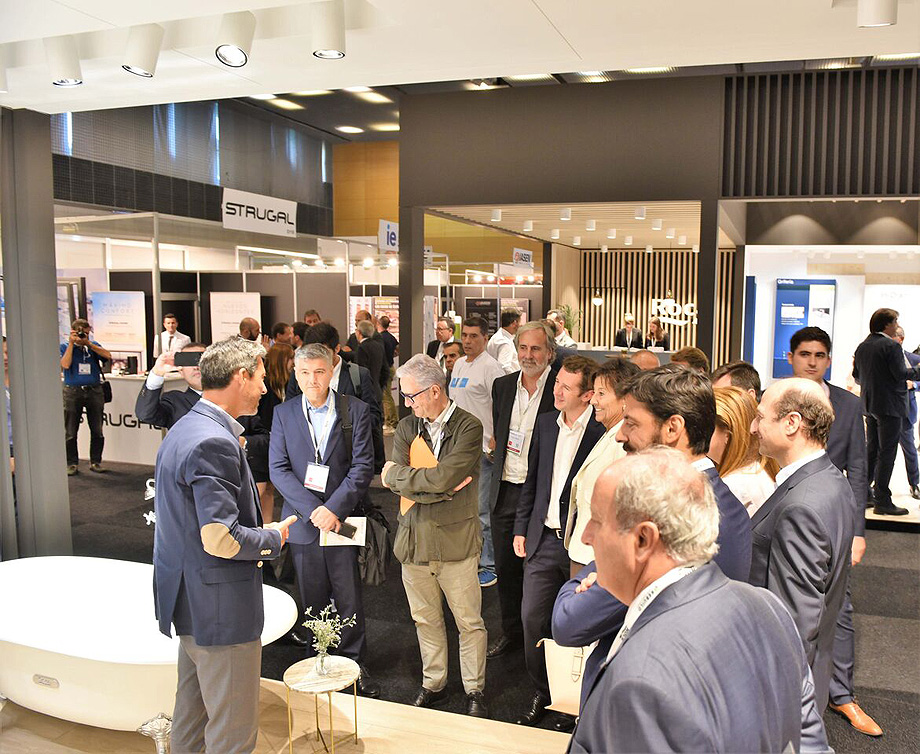 ---
THE ADVANCED ARCHITECTURE AWARDS 2018:
El Roca Barcelona Gallery acogió la ceremonia de entrega de la primera edición estos premios que reconocen las personas, empresas y proyectos más innovadores del sector de la edificación acorde con criterios de sostenibilidad, procesos operativos que deben ayudar a una industrialización de su producción, crear una experiencia nueva como cliente y usuario de los espacios propuestos, incluso, nuevos modelos de negocio en un ámbito tradicionalmente contrario a su desarrollo e innovación.
Premio De Innovación de Producto, Servicio y/o Material.
Este galardón recayó en la candidatura de Amador Menéndez de ITMA Materials Technology, por su aplicación de la nanotecnología para un desarrollo sostenible: ventanas fotoeléctricas altamente ecológicas. Unas pinturas especiales, depositadas sobre el vidrio, convierten las ventanas de nuestras casas en centrales fotoeléctricas, capaces de atrapar eficientemente la luz solar para, posteriormente, convertirla en electricidad. Se fabrican con nanomateriales orgánicos baratos y altamente ecológicos, sin impacto medioambiental alguno.
Los finalistas de esta categoría han sido: tejidos constructivos con resortes y plaquetas opcionales, presentado por Jaume Colom de Denvelops, y Diathonite Thermactive.037, el primer SATE proyectado como revolución del aislamiento térmico, presentado por DIASEN, SRL.
Premio De Mejor Experiencia de Usuario Gracias a Una Intervención Arquitectónica / Interiorista Disruptiva.
Este premio reconoció la candidatura de Plactherm por la calefacción inteligente desde el suelo. Su objetivo es, desde la pintura y decoración, resolver retos como la creación de diferentes áreas de confort dentro de una habitación, mejorar los sistemas heredados de climatización o aportar datos utilizables para mejorar los usos del cliente, disminuir el consumo de energía y controlar de forma remota el sistema.
Quedaron finalistas de la categoría WOOPRUGS: la personalización digital con la experiencia de compra física, presentado por Flow, the retail partner y Show Office prefabricado y responsable con el medio ambiente en la parcela T 4B del Cañaveral en Madrid, presentado por Xesta-Rasilla Arquitectos, Ayllón, Paradela.
Premio a la Transformación Digital y Nuevos Modelos de Negocio en el Sector de la Construcción.
El Premio a la Transformación Digital y Nuevos Modelos de Negocio en el Sector de la Construcción recayó en la candidatura de BILI_The Building Data Library, presentado por 5151 Fructuoso arquitecto. Se trata de una plataforma colaborativa de contenidos online para profesionales del sector AECO. Su actividad principal es analizar datos de edificios relevantes y visualizarlos con metodología BIM.
Asimismo, el jurado también reconoció muy positivamente la solución propuesta por MatMap: materiales de construcción procedentes de demolición, materiales sobrantes y partidas descatalogadas. Reutiliza, optimiza, ahorra!, presentado por MatMap y el dispositivo IoT alojado en las ventanas y puertas por el cual se agrupan servicios de sensores, alarmas y actuadores de persiana y apertura, presentado por Sisteplast PVC.
Premio al Proyecto y/u Obra de Arquitectura Digital Avanzada/Construcción 4.0.
Por su parte, el Premio al Proyecto y/u Obra de Arquitectura Digital Avanzada/Construcción 4.0  fue a parar de forma unánime en la candidatura de Bryden Wood por sus técnicas digitales avanzadas que conectan el diseño con la fabricación, automatizando procesos tradicionales y modelizando los assets para su optimización. Esta propuesta dirigida a la comunicación y conectividad de máquina a máquina, a través de un conjunto de herramientas digitales altamente utilizables -como aplicaciones y plataformas basadas en web- facilitan a los clientes comprender y utilizar sus propios datos en la construcción para crear eficiencias en tiempo y costo.
Los finalistas fueron Food Lab / Restaurant at the Masia Freixa, presentado por Jon Tugores + Architects, y Active Poem Pantheum, presentado por PrototipoLab.
Premio al Profesional 4.0 del Año.
Finalmente, el Premio al Profesional 4.0 del Año se otorgó a Eugenio Quintieri, secretario general de la EBC-European Builders Confederation por su pro-actividad en un sector que engloba tres millones de empresas en el sector, más de 18 millones de trabajadores y que representa el 9% del PIB en Europa.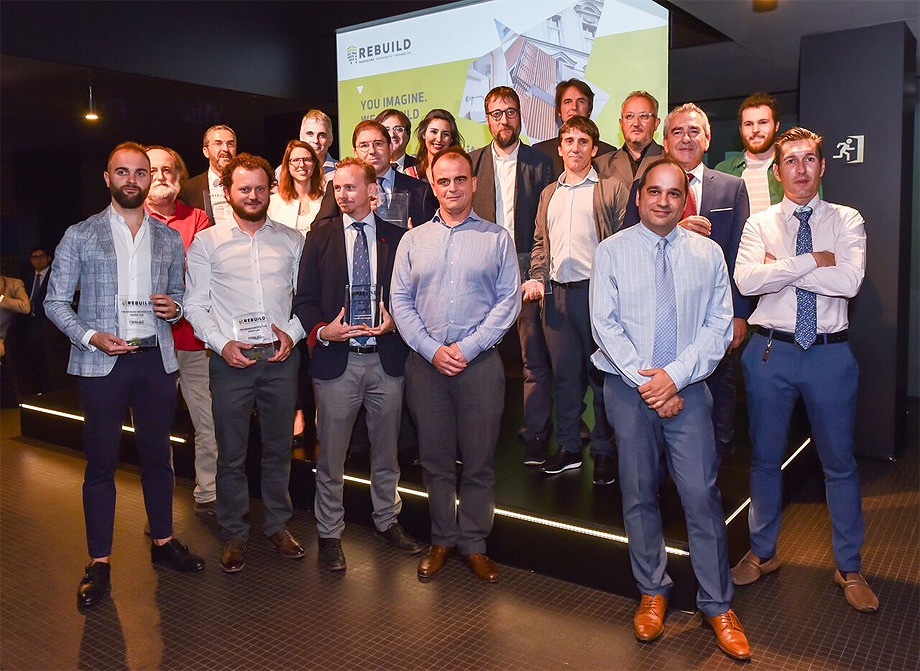 ---
SOBRE REBUILD:

REBUILD es el evento para los profesionales del sector de la edificación y hábitat que reúne toda la innovación y las últimas tendencias en construcción off-site, materiales, productos y soluciones en una zona expositiva showroom con primeras firmas. El evento también acoge un Congreso Nacional de Arquitectura Avanzada y Construcción 4.0 con expertos internacionales.
---
Información e imágenes facilitadas por la organización
You might also like