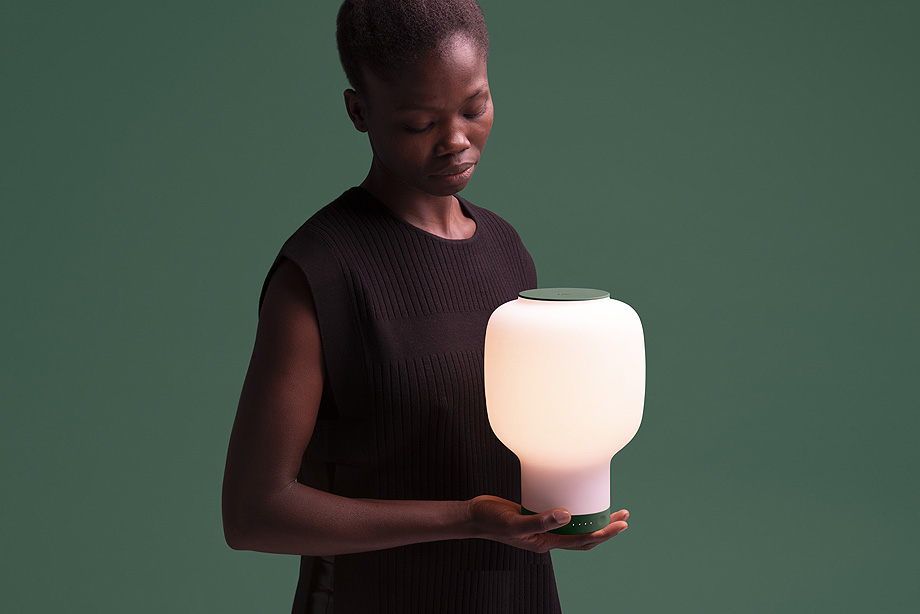 RISE:
Rise es una pequeña lámpara LED inalámbrica creada por el diseñador Benjamin Hubert (Layer) para Nolii, la firma que co-fundó hace un año junto al empresario Asad Hamir, especializada en accesorios tecnológicos para Apple y Android. Esta bella luminaria es el primer producto de la Colección 02 de la joven marca (aquí puedes ver la Colección 01), que estará formada por productos con tecnología inalámbrica y que se lanzará el próximo año.
Presentada en la feria de diseño contemporáneo designjunction como parte del London Design Festival (15-23 septiembre 2018), la lámpara puede transportarse fácilmente a cualquier lugar donde se necesite disponer de luz, incluso el baño o el jardín ya que es impermeable. Rise cuenta con una batería en su base, que ofrece hasta 12 horas de luz, y permite cargar un dispositivo de forma inalámbrica en la plataforma de carga por inducción integrada, que se encuentra en su parte superior, o hasta dos dispositivos con cable USB-C y USB-A conectado a la base. 
Amanecer digital.
Por otra parte, la aplicación Rise para tablets y teléfonos inteligentes tiene una interfaz intuitiva que permite a los usuarios regular la intensidad de la luz de forma remota o programar un "amanecer digital" en el que la luminaria actúa como una alarma al iluminar lentamente una habitación.

La nueva lámpara inalámbrica de Benjamin Hubert está hecha de vidrio soplado, ligeramente esmerilado, con detalles de plástico mate moteado y el lenguaje de diseño es minimalista y discreto. Un botón táctil en la base sirve para encender y apagar la lámpara, y para ajustar la intensidad. También en la base, se encuentran los indicadores LED que muestran el nivel de batería cuando la luminaria está desconectada de la red eléctrica.

Rise esta disponible en tres colores: cemento con detalles en índigo, musgo con detalles verde menta y ostra con detalles melocotón.
---
LAS IMÁGENES:
---
SOBRE BENJAMIN HUBERT (LAYER):
El diseñador Benjamin Hubert se graduó en Diseño Industrial y Tecnología en Loughborough University. Después de adquirir experiencia en varias consultorías de diseño de renombre como Seymour Powell, DCA y Tangerine, fundó el estudio que llevaba su nombre, en 2009,  en North East London.  Durante este periodo, trabajó con multinacionales como Nike, Samsung, LG, Mamas and Papas, Coca-Cola y Eurostar.
En septiembre de 2015, el diseñador relanzó su estudio con el nombre de Layer, centrado en el diseño de productos tanto físicos como digitales, incluyendo productos y software conectados. Este momento de su carrera significó un importante cambio en la dirección de
Actualmente, Benjamin Hubert lidera un equipo de diseñadores industriales que trabajan en una amplia gama de sectores, incluyendo mobiliario, iluminación, productos de consumo, instalaciones arquitectónicas y dirección de arte. Hubert trabaja a nivel internacional en una amplia variedad de mercados, incluyendo Europa, Asia, Australia, Brasil y Estados Unidos.

El estudio también ha recibido diversos y prestigiosos premios incluyendo: Diseño del Año (British Design awards 2010), Mejor Producto (100% design/Blueprint awards 2009) y EDIDA International Young Designer of the Year 2010, entre otros.
BENJAMIN HUBERT EN INTERIORES MINIMALISTAS
---
SOBRE NOLII:
Nolii es una nueva marca de accesorios tecnológicos para Apple y Android. Fue fundada, en 2017 en la Somerset House como parte del London Design Festival 2017, por el reconocido diseñador industrial Benjamin Hubert (Layer Studio), que ejerce como director creativo, y el empresario de tecnología Asad Hamir, unidos por una frustración común ante los desafíos tecnológicos diarios que se presentan en la vida moderna.
Actualmente, reciben el apoyo de un pequeño equipo de personas de diferentes ámbitos, con la misión de mejorar la relación del mundo con la tecnología e inspirar una mayor calidad de vida y de trabajo.
---
Información e imágenes facilitadas por el estudio
You might also like