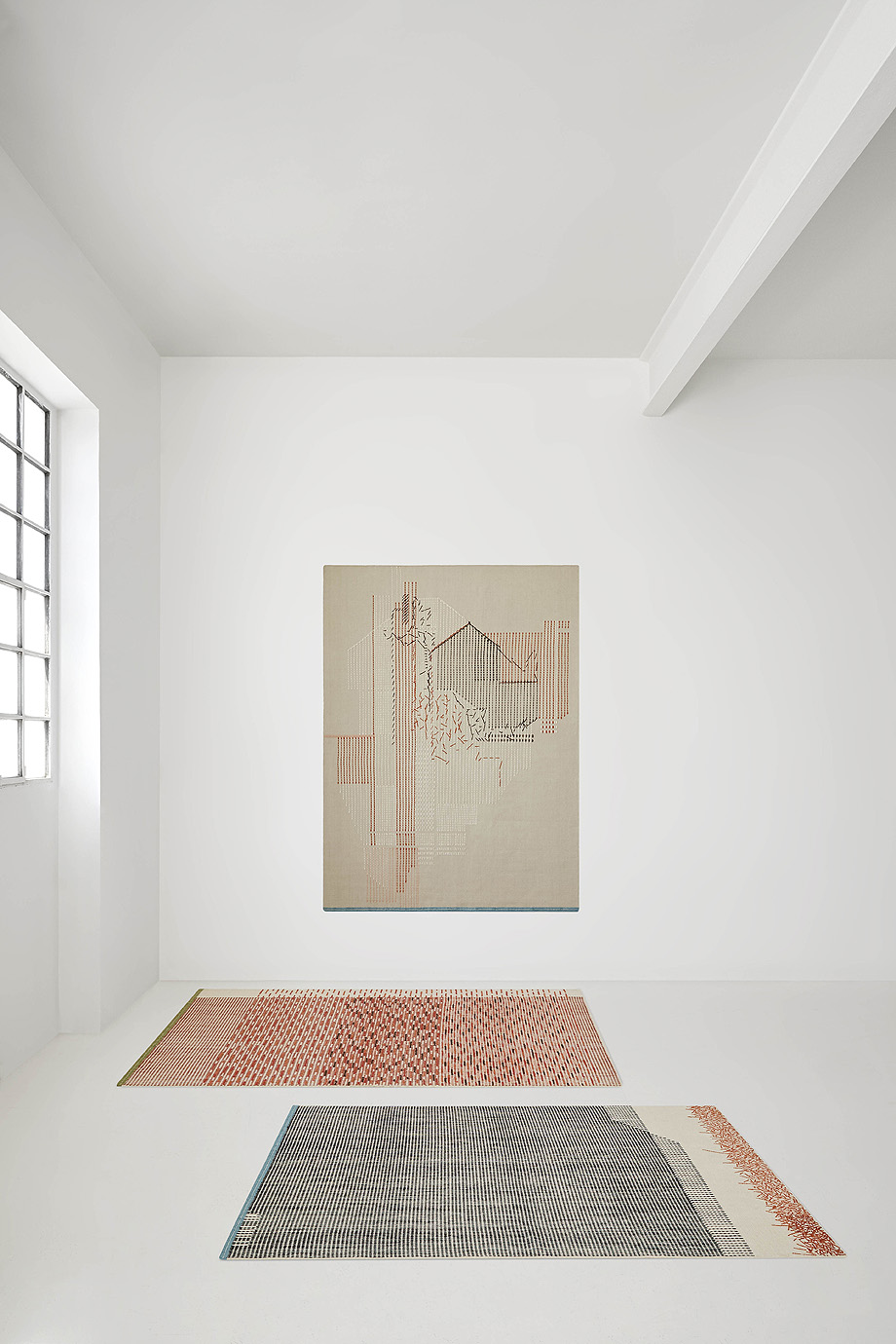 BACKSTITCH:
Fieles a su curiosidad y la voluntad de explorar el lado oculto de los objetos, los diseñadores Yael Mer y Shay Alkalay, del estudio londinense Raw-Edges, han creado para GAN la colección de alfombras Backstitch, que "da la vuelta" a los bordados tradicionales y revela la belleza de su, aparentemente desordenado, reverso. El diseño también revela la gran admiración que el dúo de diseñadores siente por la artesanía tradicional  y el estilo riguroso y metódico que les caracteriza se ha inspirado, en esta ocasión, en el delicado trabajo de los artesanos con los que trabaja GAN.
Tres diseños: Calm, Busy y Composition.
La colección se compone de tres diseños consecutivos, del primero surge el segundo y de éste el tercero. La familia de alfombras se inicia con Calm, un modelo casi liso y pautado con una zona colorida y dinámica, en uno de sus extremos, que introduce el tema de la colección. En la gama Busy, que densifica este patrón, la composición se enriquece con las múltiples puntadas que van añadiéndose. Al observar esta alfombra desde varias perspectivas se captan los matices de la misma. Por último, Composition produce una explosión que muestra la intención, la obra completa. Es casi una pieza de arte que puede utilizarse tanto de alfombra como de tapiz.
Las tres alfombras (170 x 240 cm) de pura lana virgen son durries, suaves y cálidas, producidas en telares manuales y bordadas a mano delicadamente por las artesanas de GAN Women's Unit. Cada uno de ellas está disponible en dos colores, Green y Brick.
---
CALM BRICK:
---
CALM GREEN:
---
BUSY BRICK:
---
BUSY GREEN:
---
COMPOSITION BRICK:
---
COMPOSITION GREEN:
---
RAW-EDGES: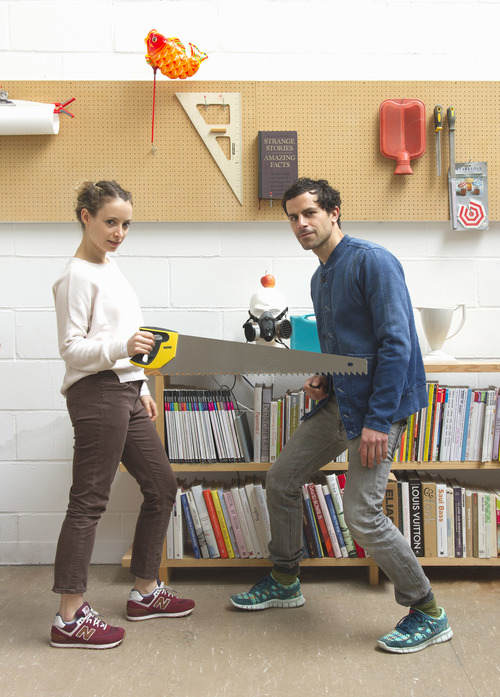 Fundado en 2007, Raw-Edges es un estudio de diseño e investigación con sede en Londres. Transformando objetos cotidianos, sus fundadores, Yael Mer y Shay Alkalay, desarrollan productos, muebles, interiores e instalaciones creativos y emocionalmente conscientes. El estudio, que se centra tanto en diseño industrial como en proyectos experimentales, está impulsado por la curiosidad y pone el juego en primer plano.
Yael y Shay se conocieron en Jerusalén y se trasladaron a Londres para estudiar en la RCA, donde Ron Arad era el director académico en ese momento. Guiados por sus tutores, Daniel Charney y Rober Feo, comenzaron a experimentar con la creación de nuevas tipologías, pensando cómo los entornos cotidianos pueden enriquecerse con los productos que usamos y los objetos que tenemos. En una muestra comisariada por Martino Gamper, justo después de graduarse, Yael y Shay presentaron Stack and Volume, que ayudó a  la creación del estudio.
Raw-Edges ha recibido múltiples galardones, incluidos los prestigiosos Designers of the Future de Design Miami/Basel, Wallpaper Design Award, Elle Deco Edida Award y Red Dot Design Award. Su trabajo ha sido adquirido por museos internacionales como MoMA y Vitra Design Museum. También han colaborado con marcas como Louis Vuitton, Vitra, Stella McCartney, Kvadrat y AirBnb.
---
SOBRE GAN:
GAN, la marca para interiores de GANDIABLASCO, nace a finales de 2008 para dar una identidad propia a la línea textil de esta empresa valenciana especializada en mobiliario de exterior.
En su catálogo figuran colecciones de alfombras y textiles para interiores realizados sólo con fibras naturales (algodón, lino, yute, seda y lana) y accesorios, que están diseñado por destacados profesionales como Patricia Urquiola, Studio Nendo, Jean-Marie Massaud, Francesc Rifé, Héctor Serrano, Mario Ruiz, Enblanc y Odosdesign.
Además, el trabajo continuo que realiza en la India permite el desarrollo de la economía local y el progreso de las comunidades que colaboran con ellos. GAN participa activamente en programas de protección a la infancia y promueve un proyecto de desarrollo de la mujer en el entorno rural.
GAN EN INTERIORES MINIMALISTAS
---
Información e imágenes facilitadas por la firma
You might also like