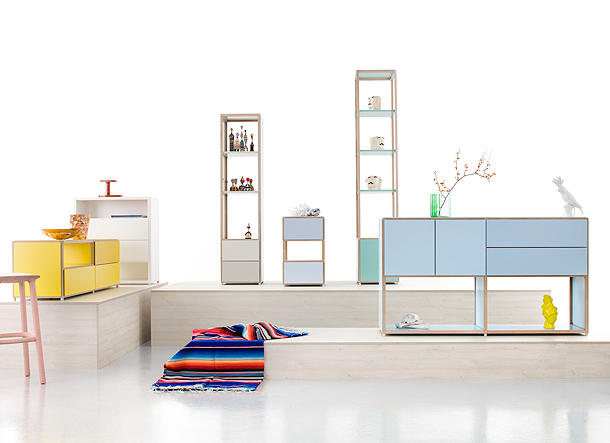 ADD es un programa de mobiliario modular desarrollado por el diseñador Werner Aisslinger junto a la empresa Flötotto. El nuevo sistema, que se presentó en imm cologne el pasado mes de enero, lo componen varias piezas que pueden combinarse, tanto en tipología como en número, hasta completar el mobiliario deseado. Puede decirse que funciona como un kit de construcción que proporciona opciones ilimitadas y que se monta y desmonta fácilmente.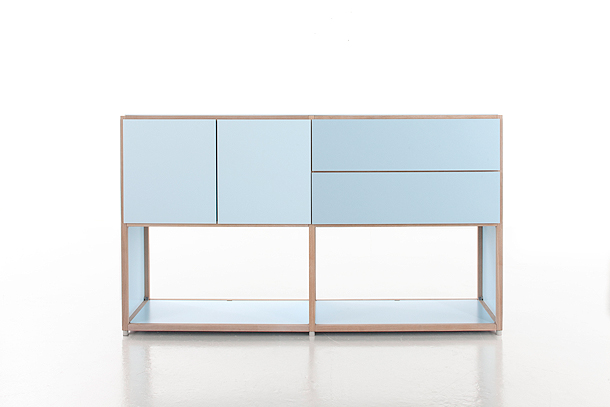 La facilidad de montaje y desmontaje se debe a un innovador sistema creado expresamente para esta colección. El sistema de unión consiste en una pieza de plástico que queda oculta y conecta, primero, los perfiles de madera para crear el marco de la estructura y después, mediante el tradicional sistema de clip metálico, los elementos frontales y los paneles laterales y posteriores. De esta manera, se componen estanterías abiertas y cerradas, aparadores, muebles altos y bajos, cajoneras y otras unidades de almacenamiento.

Con las longitudes, anchuras y profundidades de los diferentes módulos combinando perfectamente, los usuarios pueden elegir entre un amplio número de opciones individuales para crear un mueble que dé solución a sus necesidades.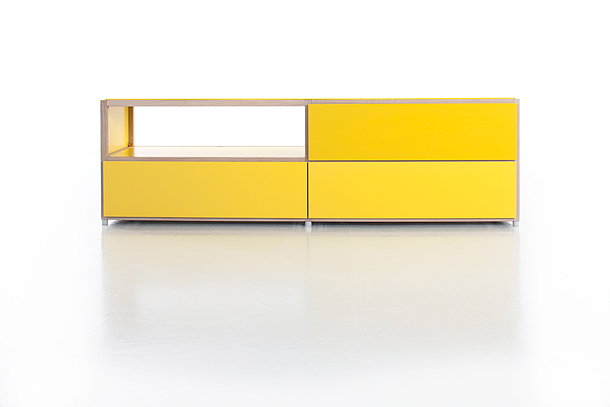 Estéticamente, ADD es una colección de líneas rectas y composiciones sencillas, que ofrece multitud de posibilidades para hogar y contract. La delgada estructura está hecha de madera maciza de roble, blanqueada y pintada, mientras que las puertas, frontales, laterales y traseras se fabrican con MDF pintado. Además de la variada oferta de elementos, ADD se presenta en ocho colores básicos a los que se suman ocho gradaciones más claras o más oscuras.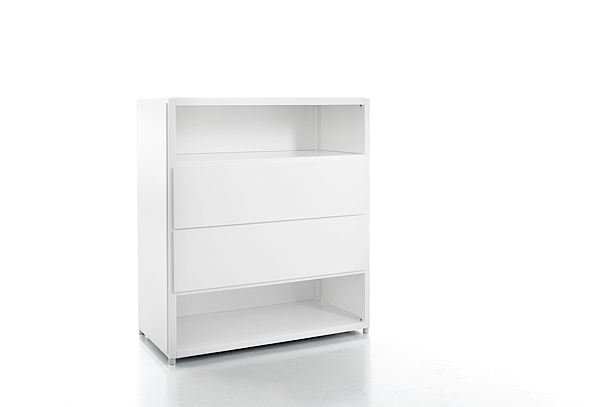 Sobre Werner Aisslinger:
Los trabajos del diseñador Werner Aisslinger, nacido en 1964, se han caracterizado por su interés en la investigación que ha llevado a los campos del diseño industrial y la arquitectura.  Le gusta el uso de las últimas tecnologías y ha contribuido a introducir nuevos materiales y técnicas en el mundo del diseño de producto como la colección Soft Cell para Zanotta, realizada en "tecnogel",  o la silla Juli para Capellini que fue la primera pieza de mobiliario en utilizar un nuevo tipo de espuma llamada "espuma integral de p
oliuretano".
Su trabajo ha sido recompensado con diversos premios -desde el Compasso d'Oro hasta el Design Prize of the Federal Republic of Germany, el Red Dot Award o el FX Award en Gran Bretaña-. Su conocido proyecto Loftcube se ha convertido en una de las casas modulares transportables sobre la que más se ha discutido en los últimos años.
Su obra se exhibe en las colecciones permanentes de museos internacionales como el Museo de Arte Moderno (MoMA) y el Metropolitan Museum de Nueva York, el French Fonds National d'Art Contemporain, el Museum Neue Sammlung de Munich y el Vitra Design Museum en Weil am Rhein (Alemania).
Werner Aisslinger, que vive y trabaja en Berlín, ha diseñado muebles para firmas como Cappellini, Zanotta, Magis, Porro y Vitra. Además, trabaja en el diseño de productos y proyectos arquitectónicos con marcas como Interlübke, Mercedes-Benz, Adidas, Berlín-IC, Polo Marc'o, Saphire Bombay, FSB, Thonet, Flötotto, Berker, Hugo Boss…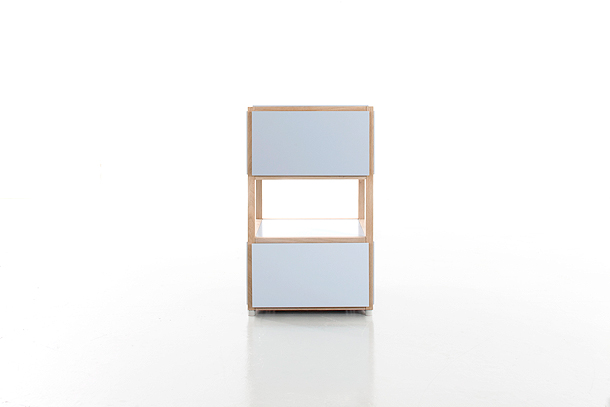 Sobre Flötotto:
Desde que Heinrich Flötotto fundó Flötotto en 1906, la firma con sede en Gütersloh (Alemania) ha vivido un desarrollo continuo hasta convertirse en una de las firmas de muebles más conocidas de Alemania. Hoy en día, más de  tercio de la población alemana conoce el nombre de esta empresa que, desde 2008, está dirigida por Frederik Flötotto, el bisnieto del fundador y representante de la cuarta generación de la familia que dirige la compañía.
En la década de los 40 y debido a su pronto desarrollo industrial, Flötotto pasó rápidamente de ser un taller de ebanistería a un importante productor de muebles. Los hijos de Heinrich -Franz y Fitz- se unieron entonces a la compañía. En los años 50, mientras Franz continuó produciendo mobiliario doméstico, Fritz comenzó a desarrollar mobiliario ergonómico para oficinas y mobiliario escolar. En 1952, patentó el innovador "Pagwood": un material compuesto a partir de chapas de madera de haya, empapadas en resinas fenólicas  y fundidas a alta presión y temperatura, que ofrecía las cualidades del plástico.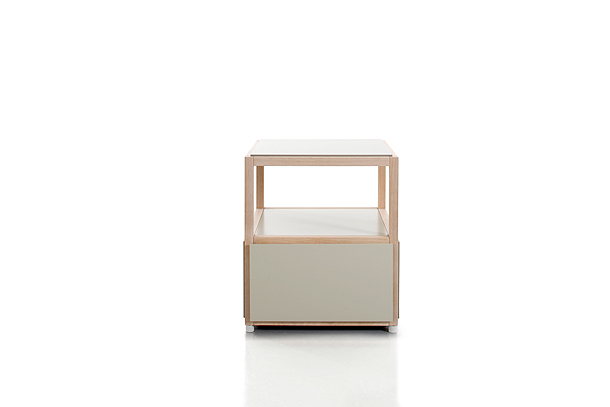 Entre 1969 y 1991, la tercera generación se hizo cargo de la compañía. En la década de los 70, se desarrolló un diseño pionero que todavía hoy ofrece una sólida imagen de la marca: Profilsystem. Después de un periodo de expansión durante los años 80, seguido por problemas financieros durante los 90, la compañía volvió a remontar hacia el final de 2007, cuando el holding Elmar Flötotto Holding adquirió los derechos de marca y la producción de la marca Flötotto.
Desde 2008, Flötotto Systemmöbel GmbH ha actuado bajo la dirección de la familia encabezada por la empresa Elmar Flötotto Holding. Como una institución establecida en el negocio del diseño internacional, el holding ha demostrado su capacidad empresarial y de diseño con sus marcas Flötotto, Authentics y Sitting Bull. En 2011, la empresa llevó a cabo una fuerte inversión en tecnología y, en 2012, con el desarrollo de la silla Pro ha vuelto a reencontrarse con la producción de muebles para escuelas.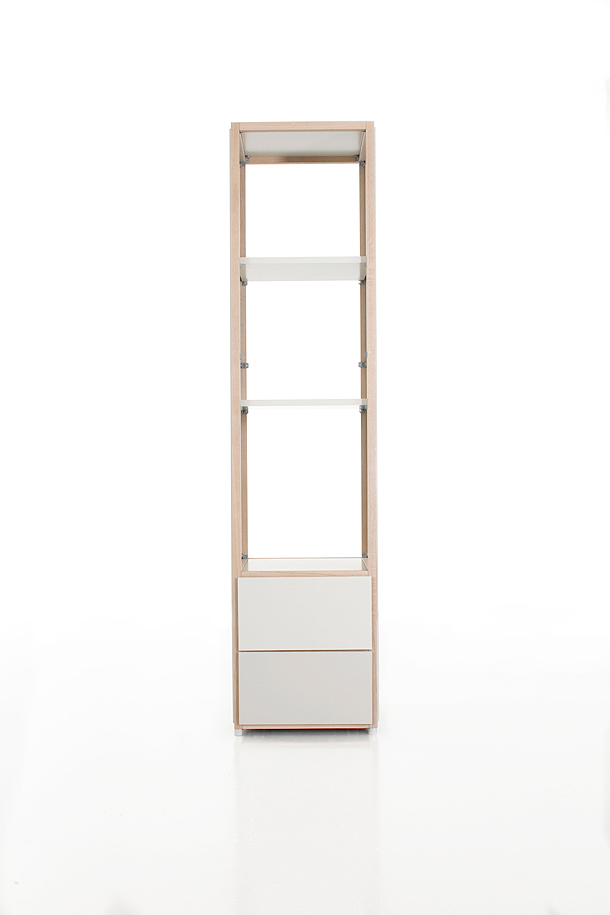 Información e imágenes facilitadas por Flötotto
You might also like