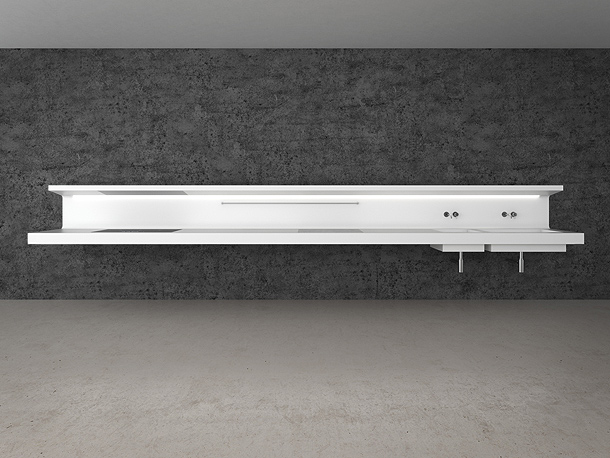 LaCucina:
antoniolupi, una de las firmas italianas de referencia cuando se habla de baños, transporta ahora su filosofía y forma de hacer a otra estancia de la casa: la cocina. Este nuevo proyecto, bautizado sencillamente como LaCucina, nace hace más un año de la colaboración entre el arquitecto Marco Casamonti y Andrea Lupi.
Minimalista y con un cierto aire futurista, esta nueva cocina se presenta como un "producto modular, a medida, personalizado y sin limitaciones". La principal prioridad se centra en la encimera de trabajo ya que integra en una única pieza las funciones propias de una cocina. Además, al instalarse suspendida (los armarios no llegan a tocar el suelo), el usuario puede instalarla a la altura deseada.
La superficie continua de Corian asegura una fácil limpieza y acoge un fregadero integrado, las placas de inducción, una tabla para cortar y todos los accesorios que un cocinero podría desear. La parte superior de esta pieza en forma de U, que también hace de estantería, oculta la campana extractora y una tira luminosa integrada que garantiza una adecuada iluminación para el área de trabajo.
En la pared frontal, está situado el grifo de acero inoxidable satinado de la colección Ayati, diseñada por Massimo Blogio para antoniolupi. La versatilidad del material permite que cualquier accesorio puede integrarse en esta superficie sin medidas preestablecidas.
_______________________________________________________________________________________
Las imágenes:
_______________________________________________________________________________________
Sobre Marco Casamonti / Archea:
Socio fundador de la firma Archea Associati, Marco Casamonti se graduó con honores en 1990, al ganar un concurso anunciado por la Facultad de Arquitectura de Génova. Cursó su doctorado en esta con un trabajo titulado "History and Design, a central issue in the architectural debate of the post-war years".
Antes de graduarse, ya había comenzado a cooperar con diferentes estudios, incluyendo el del profesor Paolo Portoghesi. En 1998, después de trabajar juntos en el concurso para la recuperación de las prisiones Murate, fundó la firma Archea con Laura Andreini y Giovanni Polazzi, comenzando una intensa actividad profesional.
_______________________________________________________________________________________
Sobre antoniolupi:
antoniolupi es una empresa toscana (Italia), fundada en 1950, que ha destacado en el diseño y la fabricación de mobiliario para baño, tanto en Italia como en el extranjero, durante los últimos 50 años. Aunque comenzó produciendo exclusivamente accesorios de baño y espejos, su línea de productos abarca ahora todo el espacio interior, gracias a la colaboración con destacados diseñadores como Carlo Colombo, Nevio Tellatin, Riccardo Fattori, Mauro Carlesi, Domenico de Palo y Armenise Paolo.
_______________________________________________________________________________________
Información e imágenes facilitadas por antoniolupi
You might also like