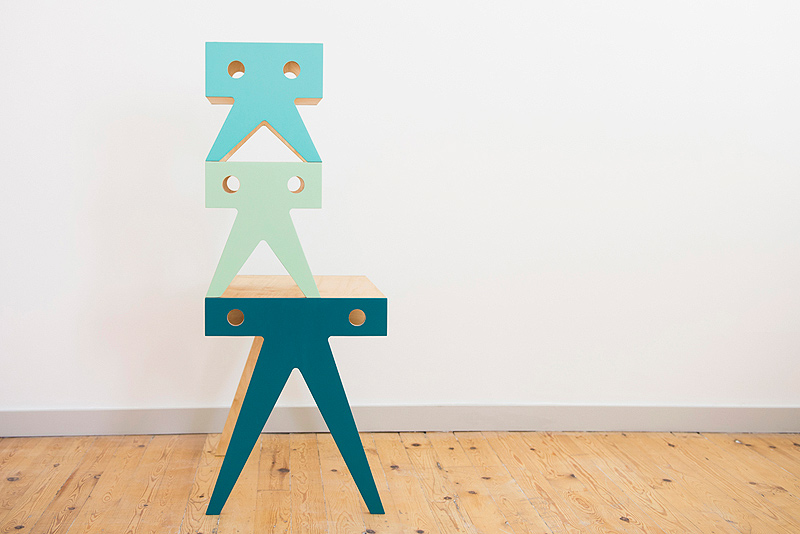 Walrus Family y Glücksstuhl:
The Walrus Family y Glücksstuhl son dos coleccionesde de mobiliario lúdico para niños, creadas por el diseñador italiano, afincado en Madrid, Francesco Monaco. Desde Nimio, el estudio que fundó en 2012, Monaco se ocupa del diseño y la fabricación de muebles de madera, manteniendo una «continua búsqueda de la sencillez y la esencia de las cosas», muy bien representada en estas dos colecciones.
Dos taburetes de diferentes tamaños y una mesa, fabricados artesanalmente con madera de abedul, conforman The Walrus Family (walrus significa morsa). Con este nombre y las formas compactas y abstractas, se quiere homenajear al curioso mamífero marino. Además, cada cara se ha pintado en un azul diferente en referencia a los cambios de color del mar.
Medidas y acabados:
Mini-taburete: 24 x 24 x 24 cm. Abedul natural + pintura azul agua y verde luminoso.
Taburete: 24 x 24 x 28 cm. Abedul natural + pintura verde luminoso y verde blanquecino.
Mesa: 48 x 38 x 46 cm.  Abedul natural + pintura azul agua y verde blanquecino.
Glücksstuhl es una silla pensada para niños y niñas a partir de un año, pero también un corre-pasillos o un andador con ruedas de madera. También es una pequeña pizarra para dibujar con tizas y tiene un cajón para secretos y dos ojitos para esconder cosas.
La colección, que está disponible en negro y azul, se realiza de forma completamente artesanal con tableros de madera de abedul de alta resistencia, en un pequeño taller de Madrid.
Curiosamente, esta silla-pizarra nace de la colaboración entre el estudio Nimio y la tienda de productos para bebés, niños y niñas ¡Glück! de Madrid. Francesco Monaco propuso a María, la dueña de ¡Glück!, realizar una pieza inspirada por y para la tienda, reflejando el espíritu y la filosofía de la tienda con los que se sentía cómplice.
Medidas: 27 x 25,5 x 45 cm. Peso: 2,5 kg.
_______________________________________________________________________________________
Las imágenes:
Fotografías: José Luis de Lara
_______________________________________________________________________________________
Sobre Nimio: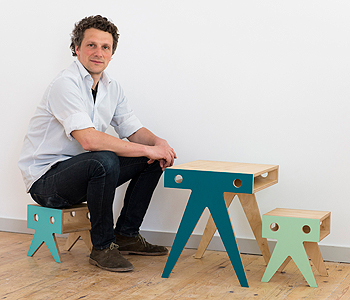 Nimio es un estudio con sede en Madrid, fundado por Francesco Monaco, quien lleva muchos años diseñando y realizando muebles y objetos únicos y artesanales. De la experiencia y la pasión por los muebles y los objetos capaces de contar historias surge Nimio, en 2012.
El estudio trabaja de forma completamente artesanal. Cada detalle está cuidado con mucha minuciosidad para conseguir objetos resistentes, duraderos, únicos. Todos los productos nacen siempre de la observación del entorno y como solución a una necesidad y se crean codo con codo en colaboración con los futuros usuarios. Por eso cada objeto tiene una historia especial.
Nimio lo completan Alejandro Tamayo y Raquel Rodríguez. Alejandro Tamayo, arquitecto madrileño, colabora con Nimioen el diseño de algunos productos. En el balcón de su casa nació la mesita Manuela.
Raquel Rodríguez del Álamo, es alicantina de nacimiento y vive en Madrid tras una estancia en Berlín. Su afición por las publicaciones de moda y diseño la han llevado a conectar con el mundo blogger. Colabora con Nimio contando en el blog cosas que hacen la vida más bonita.
_______________________________________________________________________________________
Información e imágenes facilitadas por Nimio
You might also like