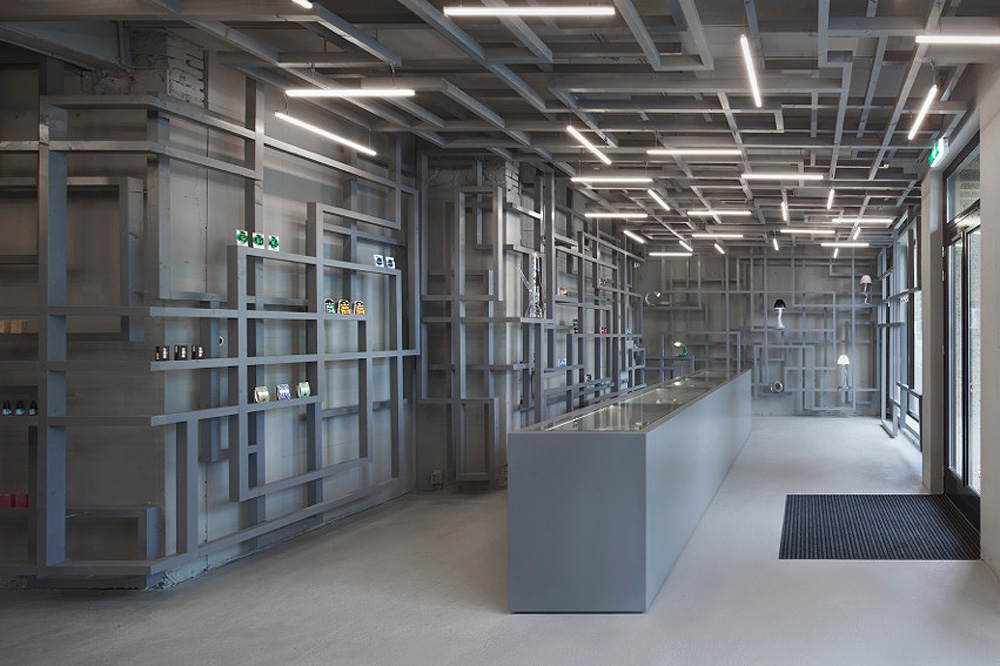 House of Smart:
House of Smart es una tienda especializada en la venta de sustancias estimulantes, algunos tipos de drogas y productos relacionados con su uso, ubicada en la ciudad holandesa de Eidhoven. El nuevo establecimiento, que abrió sus puertas el pasado 29 de septiembre, ha sido diseñado por Maurice Mentjens, quien ya había realizado con anterioridad este tipo de tiendas (Sirius en Maastricht, Roermond y Eindhoven son muy conocidas).
Para ambientar el interior de la House of Smart, que está ubicada en un edificio de principios de 1900, el diseñador se ha inspirado comprensiblemente en la forma del cerebro humano, utilizándola como una vitrina: las paredes y los techos se han revestido con un entramado de estructuras de madera que representan la corteza cerebral. Algunos de los productos se exponen sobre los listones de madera mientras que para la presentación de elementos más valiosos existe la opción de instalar vitrinas.
Además explica Mentjens que, en 2011, Eindhoven fue declarada "la región más inteligente del mundo" por el Foro de la Comunidad Inteligente (ICF). "Por eso me pareció interesante representar el cerebro con su ramificación del sistema nervioso de manera abstracta en este lugar en particular", explica Mentjens. "La ramificación es como un laberinto o un laberinto. Pero también se puede interpretar como el cableado de una plancha de impresión o chips informáticos, símbolos del pensamiento racional y la inteligencia artificial".
Sigue explicando Mentjens que ésta no es toda la historia. "Detrás de la primera impresión, superficial, emergen una gran cantidad de asociaciones espirituales que iluminan el concepto de diseño. En este caso, es la contradicción entre el pensamiento racional y las experiencias psicodélicas provocadas por sustancias que expanden la mente".
Para llevar a cabo el proyecto, se eliminaron las paredes, los falsos techos y la antiestética pintura blanca de la fachada. La puerta de entrada se adaptó a los ventanales renovados.
En el interior, los dos mostradores también sirven como expositores y su color gris permite que formen parte del espacio casi monocromo sin resultar demasiado evidentes a pesar de su tamaño.
La misma teoría de la discreción se aplica a la iluminación, proporcionada por minimalistas luminarias lineales LED que encajan perfectamente en la estructura. Por otra parte, las paredes exhiben las huellas de renovaciones que se dejaron vistas a propósito: "la historia del edificio está escrito en sus paredes. Es la mejor manera de conectar un nuevo diseño con el tiempo y el espacio."
---
Las imágenes:
---
Ficha técnica:
Proyecto:

House of Smart.

Ubicación:

Eindhoven (Holanda).

Completado:

2015.

Diseño interior:

Maurice Mentjens.

Fotografías:

Arjen Schmitz.
---
Sobre Maurice Mentjens:
Maurice Mentjens  (Sittard / Países Bajos, 1964) estudió Diseño de Producto en la Academia de Bellas Artes y Diseño de Maastrich y en la Academia de Diseño de Eindhoven. En 1990, abrió su propio estudio donde se lleva a cabo, principalmente, diseño de interiores, de producto y de mobiliario. La calidad y la creatividad son dos conceptos prioritarios en un trabajo que se desarrolla sobre todo en tiendas, restaurantes, bares, oficinas y museos.
En su apuesta por la atemporalidad, los proyectos nunca siguen las últimas tendencias y la elección de los materiales se centra en la calidad sostenible. Casi todos los elementos interiores están hechos a medida y se presta una gran atención a los detalles.
Entre otros galardones, el estudio ha recibido el Premio de Diseño de la República Federal de Alemania y es tres veces ganador del Premio de Diseño Holandés. Su lista de clientes incluye el Bonnefantenmuseum de Maastricht, el Museo Fran Hals de Haarlem, PostPanic Video Producers de Amsterdam, DSM Heerlen y el aeropuerto Schiphol de Amsterdam.
---
Información e imágenes facilitadas por Maurice Mentjens
You might also like