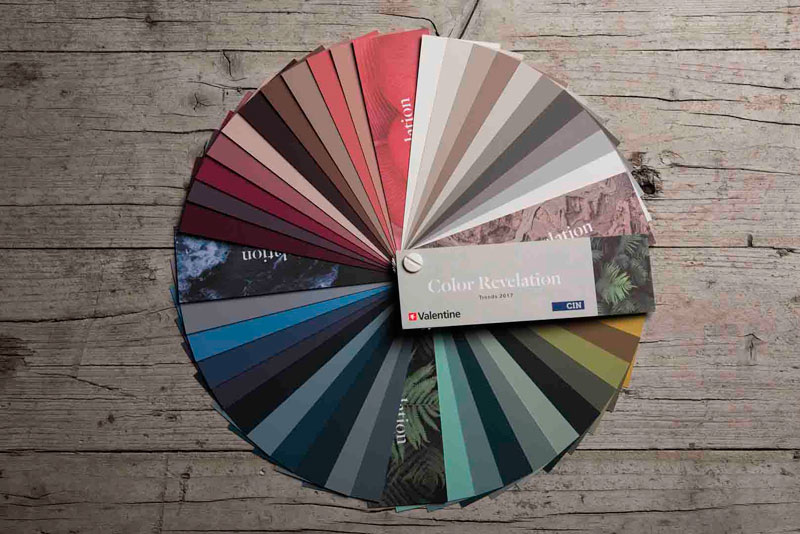 COLOR REVELATION TRENDS 2017:
Tras un año de intenso trabajo por parte de su equipo de color designers, CIN Valentine, empresa especializada en la creación y venta de pinturas, ha presentado su nuevo catálogo con aquellos tonos que marcarán tendencia durante 2017. "Color Revelations Trends 2017" ofrece 40 atractivos tonos marcados por los matices del agua, la atmósfera, los minerales y la tierra. Los colores seleccionados se presentan agrupados en cuatro gamas cromáticas (Neutral Revelation, Red Revelation, Blue Revelation y Green Revelation), a los que se suma el llamado "color de la temporada" que, en esta ocasión, es el Verdigris. 
La creación de "Color Revelation Trends 2017" ha sido fruto del duro trabajo del equipo que dirige Céline de Azevedo, la color designer de Valentine. Para desarrollar el catálogo, el equipo participa en workshops, asiste a pasarelas de moda, ferias de diseño, de automóviles…, donde los expertos eligen los tonos y los agrupan bajo diferentes conceptos. "Con esta versátil colección compuesta por cuatro grupos cromáticos queremos que cada persona pueda crear su propia combinación de colores", explica de Azevedo.
Para poder seleccionar el color más adecuado a las necesidades de cada usuario, CIN Valentine cuenta con el tradicional catálogo de papel pero, además, ha creado una web específica para "Color Revelation Trends 2017" (www.colorrevelation.com) y en su página web general (www.valentine.es) es posible simular un ambiente con el color escogido.
---
NEUTRAL REVELATION:
Diez tonos neutros, suaves, atemporales y contemporáneos, inspirados en el mármol, la tierra y la piedra, que desprenden una sensación de luminosidad y bienestar. Colores, materias y texturas que transmiten pureza en busca del equilibrio y la serenidad.
LOS 10 TONOS:
CARRARA WHITE: la elegancia natural del famoso mármol de Carrara inspira a este exquisito blanco, ligeramente grisáceo.
SIMPLY GREY: simplemente neutro… Un gris medio con el toque de sofisticación ideal para equilibrar la decoración.
STROMBOLI: es un gris cálido, ligeramente violáceo, inspirado en la roca del volcán italiano que lleva su nombre.
METEORITE: un gris ahumado, un tono sutil que entra en la casa de manera inesperada pero totalmente vanguardista.
TAUPE: con presencia incondicional en la moda y la decoración, Taupe es un color que está entre marrón y gris. La palabra deriva del significado francés "topo".
ALPACA GREY: alpaca, una lana de ensueño en 22 colores naturales… El gris claro inspira a este tono capaz de vestir la casa de forma natural y refinada.
TOBACCO: este castaño ahumado, con un toque dorado, evoca atmósferas y fragancias ennobleciendo las superficies donde se aplica.
SANDSTONE: la belleza de los matices y de la textura de la arenilla, roca sedimentaria compuesta de minerales, da nombre a este tono medio y natural, muy contemporáneo.
GREIGE: la proporción ideal para un equilibrio neutro y atemporal. Una mezcla entre gris y beige.
LINEN: el lino, tejido ancestral que nos trae a la memoria notas decorativas a lo largo de generaciones… Un blanco crema ligeramente amarillo que transmite sensaciones de luminosidad, frescura y bienestar.
---
RED REVELATION:
Los tonos rojos de esta segunda gama cromática hablan de emociones y sensaciones, con tonos y aromas dulces y agradables. Es la femeneidad expresada en la naturaleza: flores, corales, un atardecer rosado.
LOS 10 TONOS:
CAMEO PINK: el camafeo está de vuelta… Chic, femenino e irresistible.
CORAL VELVET: no es completamente rosa ni tampoco naranja… este tono especial de coral tiene un toque suntuoso y la elegancia del terciopelo.
NUDE: un tono de piel perfecto que apetece tocar a primera vista.
OLD COGNAC: este color despierta el calor en los espacios circundantes y evoca las notas aromáticas de un cognac envejecido de forma excepcional.
ROYAL GRAPE: el beneficio y el glamour de una uva real en las paredes… Un color castaño rojizo oscuro esencial para espacios con clase y buen gusto.
NEW BLUSH: un rubor pastel, ultraligero, con un toque especial de rosa y anaranjado.
VICTORIAN ROSE: irrefutablemente inglés, este rosa convive sin convencionalismos con el tono de la hora del té en cada rincón en el que se aplica.
BOUQUET: este color tiene un efecto asombroso y emocionante, como un bouquet de rosas floreciendo con esplendor en el corazón de la casa.
INTERLUDE: este color con matices frutales de verano es, ante todo, un interludio, un pequeño momento cromático que puede crear la diferencia en la decoración.
BURGUNDY: un tono de vino opulento y actual, inspirado en el color rojo castaño oscuro, típico del vino francés de Borgoña que le da nombre.
---
BLUE REVELATION:
El cielo despejado, el agua turquesa y cristalina… inspiran la Blue Revelation, diez nuevos tonos que sirven como vías de escape para contrarrestar el estrés de la vida moderna.
LOS 10 TONOS:
NUAGES: es un tono azul nube para soñadores, neutro y, sobre todo, atemporal, ideal para cualquier espacio.
INTO THE BLUE: es el azul del inmenso cielo que nos lleva más allá, hasta el infinito… Sin límites, éste es el azul del mar, la paz y el aire.
MARE NOSTRUM: expresión del latín que, a través de este color, transmite la historia, la cultura y el patrimonio de un mar que es de todos… un azul único, el color del Mar Mediterráneo.
TWLIGHT: tono violáceo inspirado en matices con los que se pinta el cielo en un momento especial del crepúsculo… Al final del día y en la penumbra de la noche.
ABYSS BLUE: un azul oscuro casi negro, como extraído de las profundidades abismales y misteriosas del mar… Es sofisticación y elegancia en estado puro.
SEASCAPE #E700: representación cromática del azul que nadie se cansa de admirar y que a todos enternece… el azul del mar y del paisaje marino.
BLEU CANARD: del francés, "azul pato". Un color trendy e histórico, intermedio entre el azul y el verde, que tiene su origen en el color típico de las plumas de algunos patos.
PETROL BLUE: el azul petróleo, rico, profundo y oscuro, una oscilación constante entre azul y verde.
SEA CLAY: un color natural, inspirado en la antigua arcilla del mar. Un tono gris verdoso que llena los espacios de una manera equilibrada.
BLUE MOUNTAINS: inspirado en el azul grisáceo, difuso y sutil del paisaje de la región montañosa de Australia, Patrimonio Mundial de la Unesco, este azul deja su marca en todos los espacios.
---
GREEN REVELATION:
Con sus diferentes matices e intensidades, la naturaleza llena de vida los espacios con la revelación del verde. Con toda su fuerza y naturalidad exuberante, el color de las plantas, los bosques y la esencia de la vida nos aportará esperanza y plenitud.
LOS 10 TONOS:
CARIBBEAN: un verde fresco, acuático y con aires tropicales que evoca al mar Caribe y a sus paisajes paradisíacos.
VERDIGRIS: nombre dado al pigmento de color verde azulado resultante de la oxidación del cobre. Actualmente, este tono histórico se presenta como el color más de moda del momento.
SUMPTUOUS GREEN: un verde suntuoso con matices preciosos de esmeralda que nos transporta a través de frondosos bosques… Así es este tono rico, noble y profundo.
CELADON: delicado y sofisticado, el color Celadon está inspirado en los matices de un verde claro grisáceo característico de la porcelana china que tiene el mismo nombre.
LÍQUEN: organismo formado por un hongo y una alga. El verde líquen es también el nombre del color utilizado en la decoración y la moda para designar tonos verdes claros grisáceos.
TAIGA: el bosque de coníferas, que inspira a este verde abeto oscuro, nos conduce a la atmósfera del Norte.
KHAKI VERT: la palabra deriva del khak persa que significa polvo o color tierra. Utilizado por los ejércitos para camuflarse, este color caqui verde es ahora un tono esencial en la moda.
VERT CHARTREUSE: un verde amarillo inspirado en el Chartreuse, famoso licor francés cuya fabricación sigue siendo un secreto. Se dice que en su composición hay más 130 hierbas: lavanda, salvia, tomillo…
PETRICHOR: un tono de tierra dorado, inspirado en la palabra inglesa que define el aroma sutil de las primeras lluvias después de un largo período de tiempo caluroso y seco…
MUSTARD: el nombre de este color se utiliza en la moda y la decoración. Un amarillo sombreado que, aplicado en su justa medida, es una solución atrevida y elegante.
---
VERDIGRIS: COLOR OF THE SEASON:
El 2017 viene marcado por el Verdigris, nombre dado al pigmento de color verde azulado resultante de la oxidación del cobre. Un color elegante y sofisticado, contemporáneo y clásico, equilibrado e atemporal que se adapta a todo tipo de decoración. Con una fuerte relación con la naturaleza, las plantas, el agua y los matices del cielo, se convierte en el color de moda del próximo año.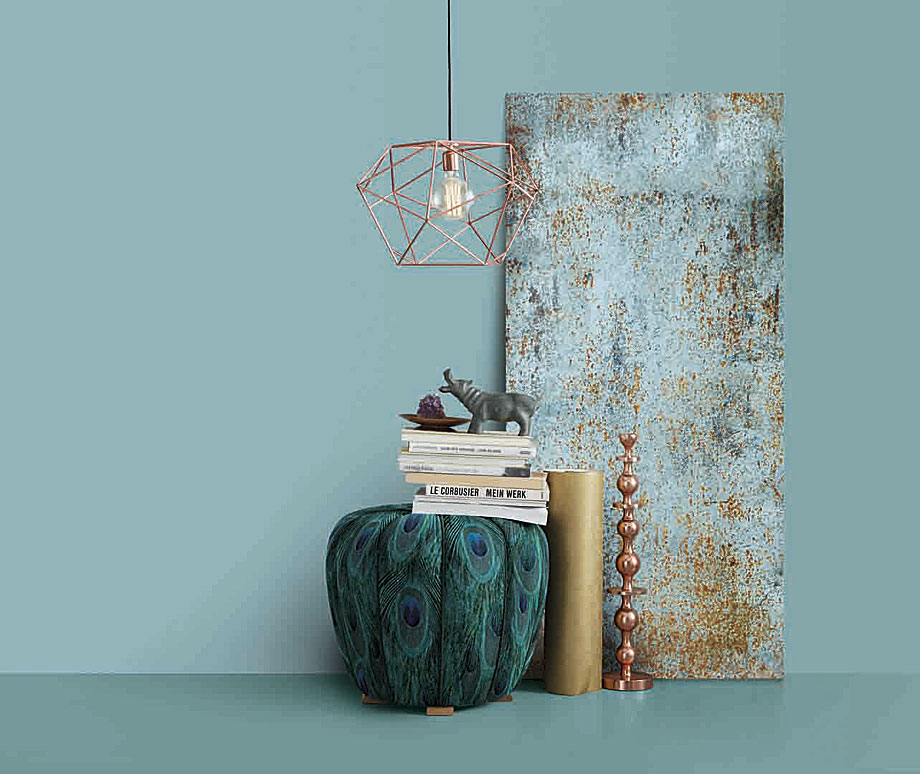 ---
SOBRE CIN VALENTINE:
En CIN Valentine somos expertos en pinturas y estamos comprometidos con la calidad y el respeto por el Medio Ambiente. Formamos parte de CIN, grupo especializado en pinturas, líder en la Península Ibérica y uno de los más dinámicos del mundo. Desde nuestra fundación en 1946 nuestro objetivo siempre ha sido aportar soluciones en un mundo de color para proteger y decorar pintando.
Concentramos nuestras operaciones en dos canales diferentes de actividad: la decoración-arquitectura y la industria-protección. Nos dirigimos a particulares, arquitectos, profesionales del sector, empresas e industria; a los que asesoramos en todas sus necesidades antes, durante y después del proceso. Para ello contamos con un equipo de profesionales expertos gracias al que nuestros clientes, puntos de servicio Valentine Decocenter y distribuidores siempre están respaldados con el mejor servicio y soluciones.
En 2009, resultado de nuestra vocación innovadora, hemos inaugurado nuestras nuevas instalaciones de 25.000 metros cuadrados en Montcada i Reixac (Barcelona), convirtiéndose así en una de las fábricas tecnológicamente más punteras de Europa. Aquí se encuentra nuestra planta productiva, el almacén automatizado, el laboratorio de ensayos y el centro de I+D+i (Investigación, Desarrollo e Innovación), así como nuestros equipos de asistencia técnica, ingeniería, colorimetría y atención al cliente.
---
Información e imágenes facilitadas por CIN Valentine
You might also like