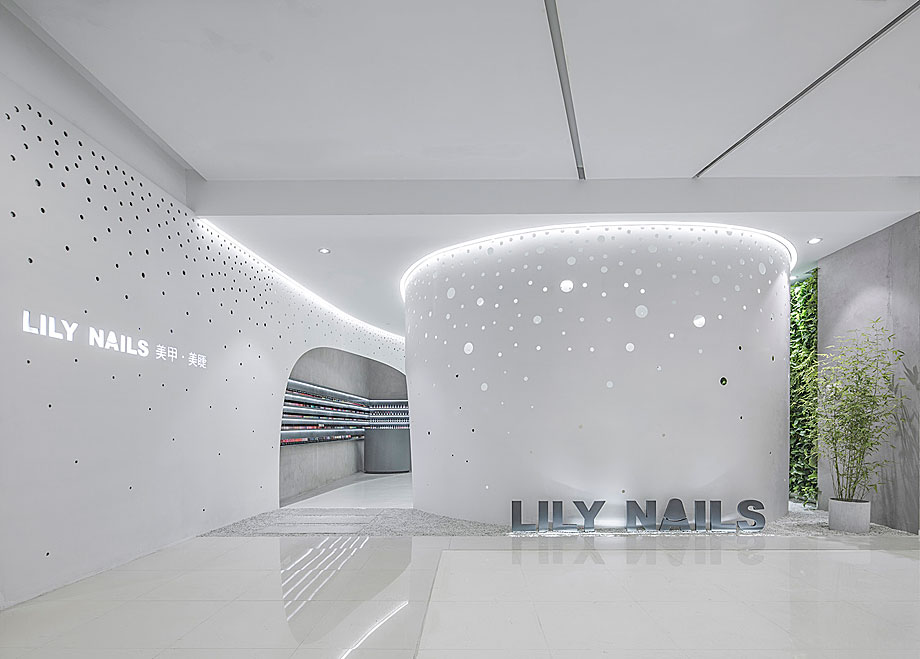 LILY NAILS:
Lily Nails es una firma de salones de manicura que posee numerosos establecimientos en las ciudades chinas de Beijing y Shangai. Para satisfacer las necesidades de mejora y actualización de la firma, se encargó a Archstudio, fundado en 2010 por el arquitecto Han Wen-Qiang, el diseño interior de su nueva tienda insignia situada en el centro comercial Yau Tang, en Beijing.
Para la nueva tienda, un espacio rectangular con una superficie de 66 m2, se buscó crear un ambiente relajado y acogedor donde "los clientes pudieran sentirse como en un jardín". Con tal fin y para distanciarse de la estética empleada en este tipo de establecimientos, Han Wen-Quiang y su equipo optaron por una gran forma helicoidal que determina el carácter del espacio estética y funcionalmente.
Esta pieza, que recorre el interior del salón desde el pasillo del centro comercial hasta el centro de la tienda, está realizada con chapa de acero perforada pintada de blanco, el mismo color utilizado en el suelo y el techo. De esta manera, se ha creado un espacio suave y curvo dentro del local rectangular original que, en contraste, se ha pintado con pintura cementosa gris. Por otra parte, los vacíos que se crean de forma natural entre el elemento helicoidal y las paredes originales se han aprovechado para ubicar el mostrador con la pared de exhibición del producto, la zona de tocador, la sala para el personal y el gran jardín vertical, que llena el espacio de vitalidad.
Además, la pieza helicoidal no sólo ayuda a distribuir el espacio y funciona como una gran pieza decorativa sino que, junto a la película de luz LED, contribuye crea una luz interior suave y bien distribuida.
---
LAS IMÁGENES:
---
FICHA TÉCNICA:
Proyecto:

Lily Nails – Nail and Eyelash Salon (Yau Tang Store).

Ubicación:

4019B, 4F, Phase 1 of U TownMall, 2 Sanfeng Beili, Chaoyang District (Beijing / China).

Completado:

2016.

Diseño interior:

Archstudio (Han Wen-Qiang).

Equipo de diseño:

Han Wen-Qiang, Song Hui-Zhong y Huang Ta.

Superficie:

66 m2.

Diseño:

enero-marzo 2016.

Construcción:

abril-junio 2016.

Principales materiales:

placa de acero perforada, pintura de cemento y jardín vertical.

Fotografías:

Jin Weiqi.
---
PLANIMETRÍA: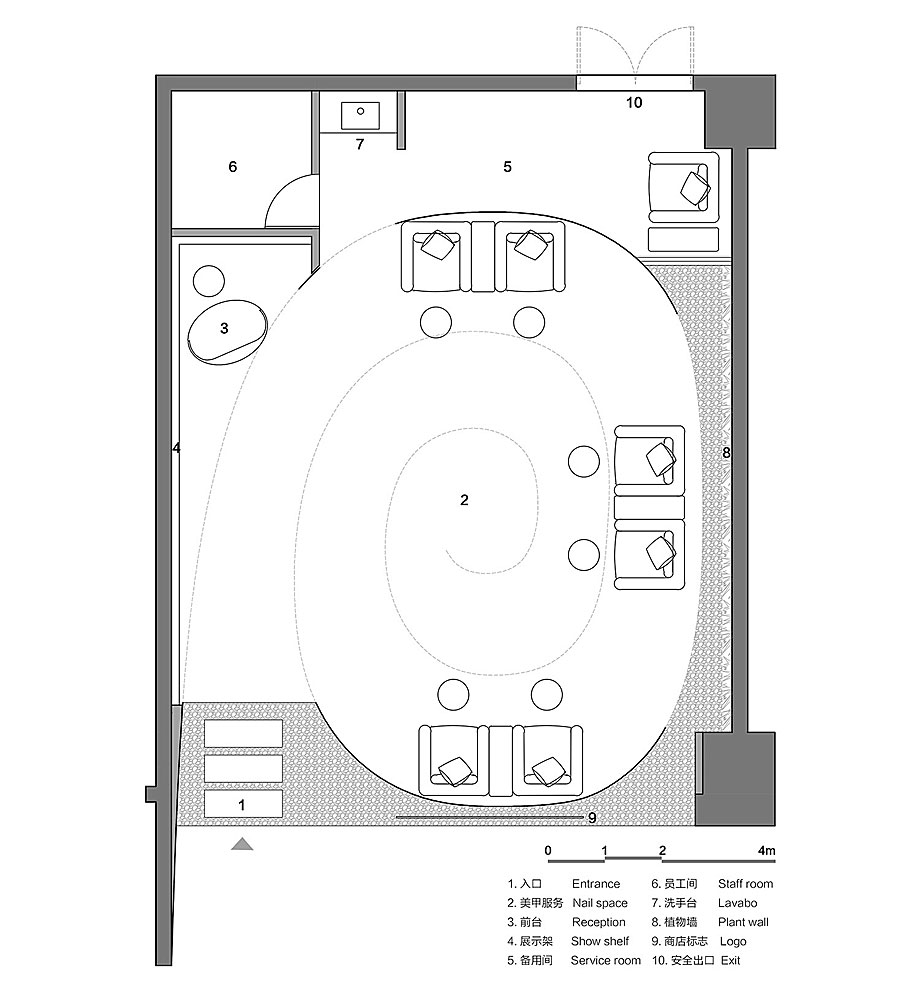 Planta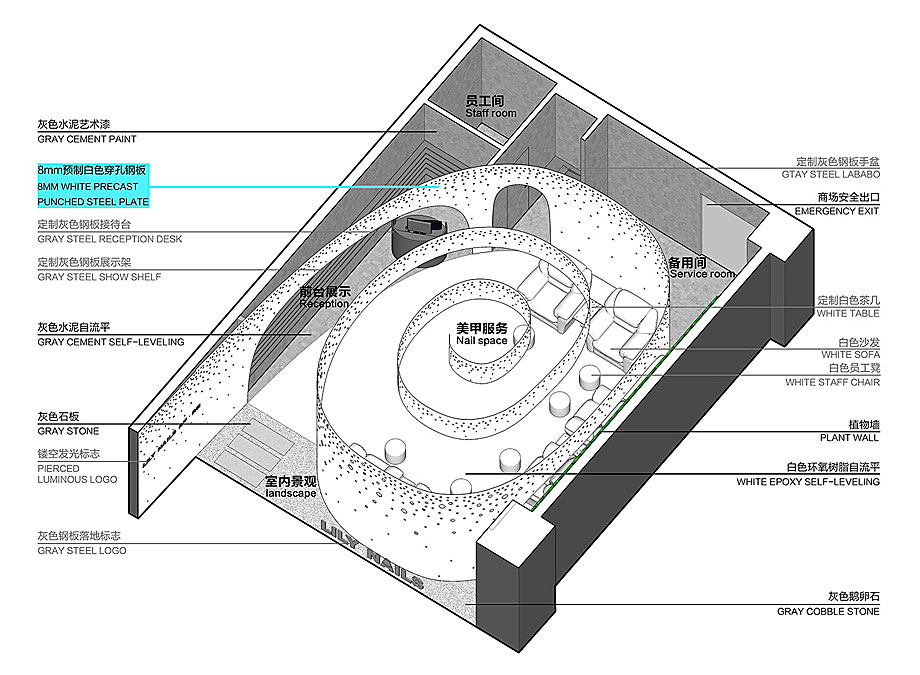 Vista axonométrica y materiales
---
MAQUETA DE LA ESTRUCTURA: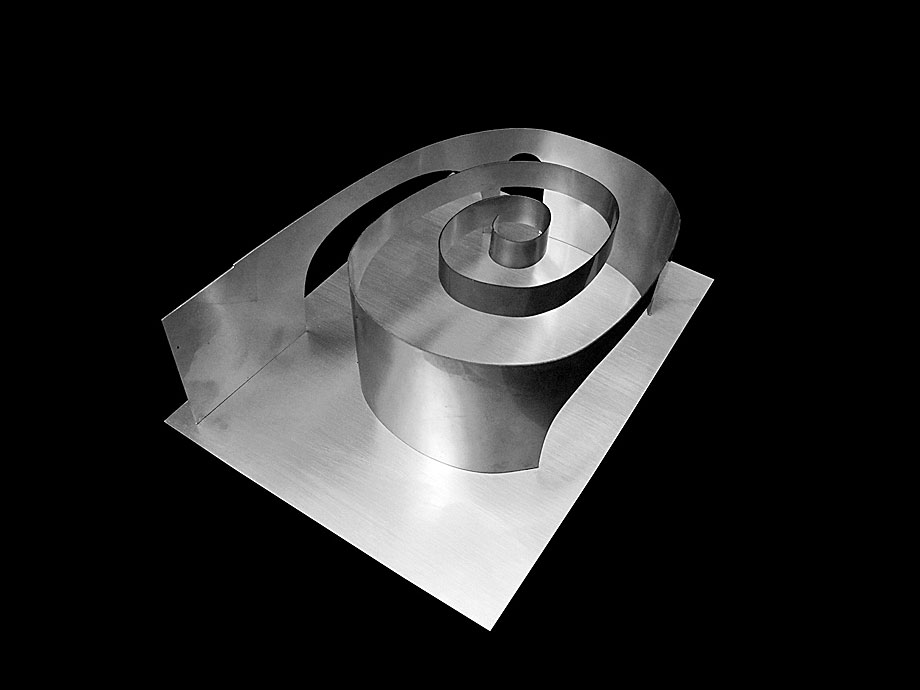 ---
SOBRE ARCHSTUDIO: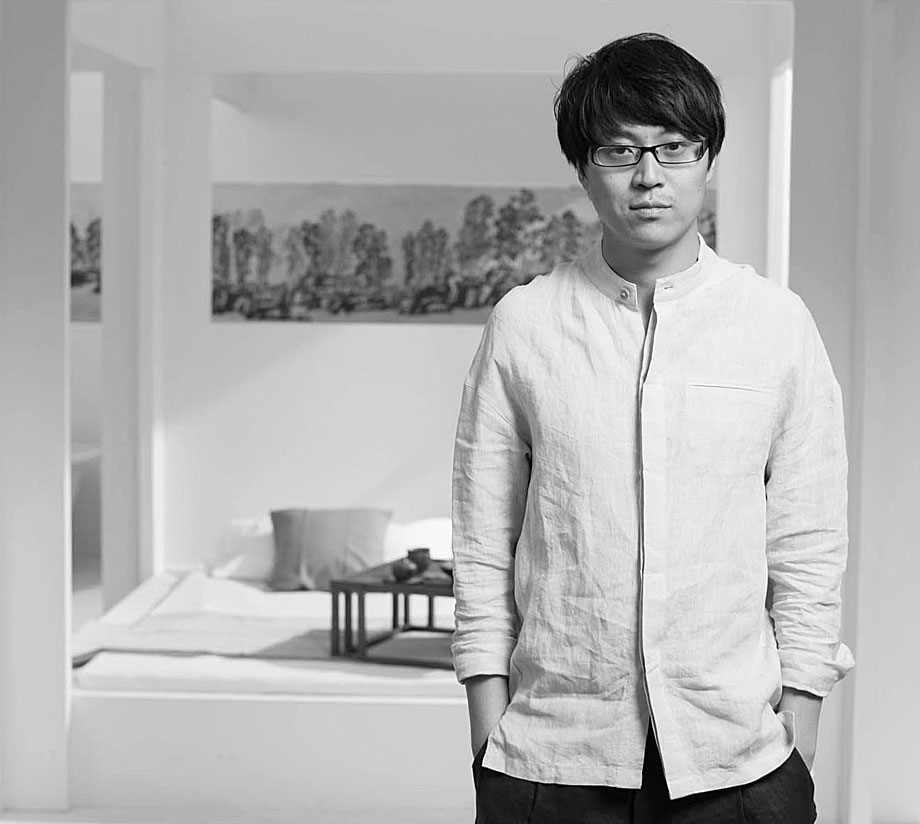 Han Wen-Qiang nació en Dalian (Liaoning /China) y se graduó en la Escuela de Arquitectura de CAFA (Academia Central de Bellas Artes de China), donde ha estado enseñando desde su graduación.
En 2010, fundó Archstudio y cinco años después fue elegido uno de los diez mejores estudios internacionales de 2015 por la reconocida revista americana Architectural Record. Sus principales trabajos incluyes reformas de viviendas, espacios comerciales, espacios culturales y salas de exposición.
Los trabajos de Archstudio han sido reconocidos con varios galardones como el Premio a la Rehabilitación del Año de los premios LEAF (Leading European Architecture Forum), el 12th Hospitality Design Award, en la categoría "Arquitectura + Reforma" o el primer premio Taiwan Interior Design Award. Además, muchos de sus proyectos han sido ampliamente publicados por revistas nacionales e internacionales y medios online.

---
Información e imágenes facilitadas por el estudio
You might also like