Tras la exposición dedicada a Philippe Starck en el Centre Pompidou de París en 2003, el Centre Pompidou de Málaga acoge hasta el próximo 17 de septiembre "Starck, dibujos secretos. 4.000 croquis desvelados". Esta exposición temporal nos transporta al corazón del proceso creativo de uno de los más respetados diseñadores contemporáneos y utiliza para este enriquecedor viaje miles de dibujos, croquis, investigaciones y una selecta representación de sus diseños, que convierten a los espectadores en actores.
Más de 10.000 proyectos forman parte del universo creativo de este diseñador industrial francés reconocido internacionalmente por la funcionalidad y estética de sus diseños. Desde la constitución de su estudio Ubik en 1979, Philippe Starck se ha preocupado de dar al mundo objetos que estuviesen al servicio de las personas. Para el padre del famoso exprimidor Juicy Salif (1988), el objeto tiene que ser "justo" y "prestar servicio", pero este servicio ha de ser tanto funcional como emocional. Además, Starck fue uno de los primeros en reivindicar una conciencia ecológica de la creación a través de proyectos de arquitectura y de objetos fabricados con materiales reciclados.
La exposición, que ofrece el Centre Pompidou Málaga, es una gran oportunidad para conocer la obra de este diseñador-artista-interiorista… a través de todo tipo de objetos, desde los más famosos a los más cotidianos, provenientes de las colecciones del Centre Pompidou y de otros prestamistas, entre ellos el propio Starck. En ella, pueden verse una treintena de productos, representivos del genio creativo del diseñador, como la silla de policarbonato La Marie (1996) que para Starck es la quinta esencia de la búsqueda de lo mejor con "menos material, menos presencia y menos coste"; la lámpara de plástico inyectado Miss Sissi (1988), que marcó el inicio de un trabajo que culminó con la creación de Louis Ghost (2000), su "silla fantasma" también presente en la muestra; el taburete W.W. (1988), diseñado tras una conversación con el famoso cineasta alemán Wim Wenders y del que Vitra sacó al mercado unos pocos ejemplares en 1992; el futurista teléfono Alo (1994), fabricado en aluminio moldeado que cuenta con una carcasa de polímero que vibra y produce calor, además carece de pantalla, pero es capaz de proyectar hologramas para dar vida a los mensajes y vídeos.
Otros diseños que forman parte de "Starck, dibujos secretos. 4.000 croquis desvelados" son el sillón Oscar Bon (2002), un sillón monobloque, bocetado en colaboración con la NASA, que llevó cuatro años de investigación; las lámparas de sobremesa Gun (2003), la de mesita de noche Gun (2002) y de pie Lounge Gun M16 (2003), una atípica colección, donde "el dorado que recubre las armas representa la colusión del dinero y la guerra. Table Gun simboliza el Este, Bedside Gun Europa y Lounge Gun el Oeste. La pantalla negra representa la muerte y las cruces que se observan en su interior son para recordarnos las muertes causadas por la violencia", explicó en su momento Starck; y el mencionado exprimidor Juicy Salif (1988), fabricado en aluminio inyectado y pulido, que es uno de los primeros proyectos del diseñador para la empresa Alessi.
La lista continúa con el coche eléctrico V+ (2010), la bicicleta eléctrica Starckbike (2012), las sandalias Ipanema with Starck (2013), 100 % reciclables y fabricadas en un 30 % con plástico reciclado, responden a una exigencia moral. Con la editorial TOG AllcreatorsTOGether, de la que Starck es director artístico, crea la silla Misa Joy (2012), con un respaldo compuesto por bandas elastoméricas intercambiables, cuya simplicidad responde a una personalización participativa. Starck involucra a todos los sentidos tanto en los objetos tecnológicos más innovadores como en las griferías Axor Starck V, que permiten visualizar los movimientos del agua, o incluso a través de la colección del perfume Peau (2014) que explora lo intangible e inmaterial. Todo un lujo creativo que puede verse hasta el 17 de septiembre en el Centro Pompidou de Málaga.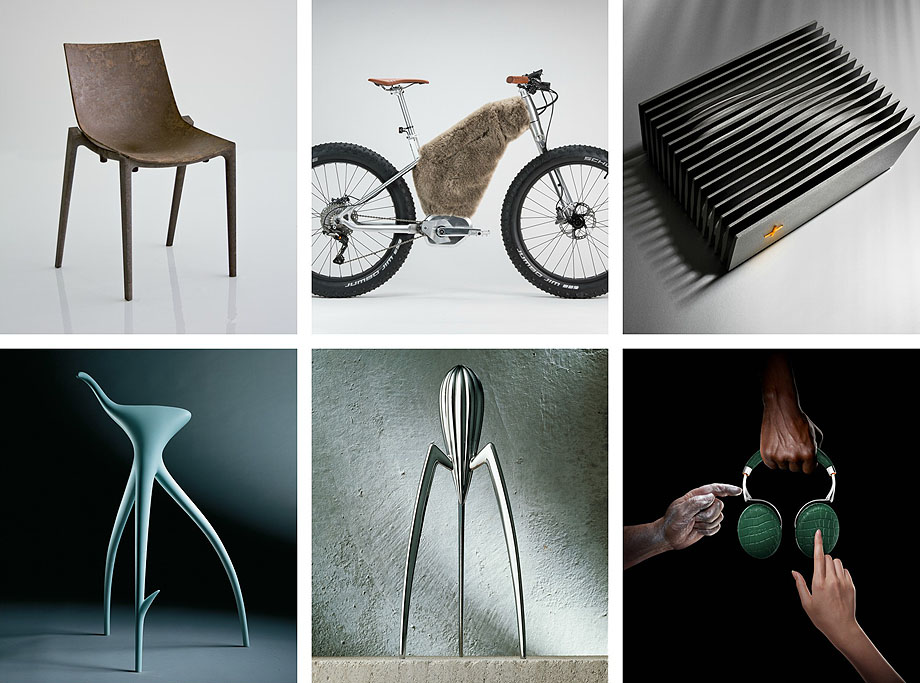 ---
"STARCK, DIBUJOS SECRETOS. 4000 CROQUIS DESVELADOS":
Centre Pompidou de Málaga.
Pasaje Dr. Carrillo Casaux (Muelle Uno).
Puerto de Málaga.
29016 Málaga (España).
Horarios: de 9.30 a 20.30 horas todos los días (salvo los martes).
T. 951 926 200.
---
ASÍ SE MONTÓ LA EXPOSICIÓN:
---
SOBRE PHILIPPE STARCK:
Nacido en París, en 1949, Philippe Starck es uno de los diseñadores más prolíficos del mundo y su creatividad ha dado lugar a todo tipo de productos y espacios. Starck se formó en la Escuela de Nissim di Camondo, en la capital francesa y, en 1976, fundó  su primera empresa de diseño industrial "Starck Product", que más tarde fue rebautizada como Ubik.
Inventor, creador, arquitecto, diseñador, director artístico, Philippe Starck comenzó a ser conocido por el público en general a principios de la década de los 80. Una puerta que se abrió cuando el presidente François Mitterrand eligió su proyecto para decorar las residencias privadas en el Palacio del Elíseo. Al año siguiente, su fama se extendió internacionalmente gracias al éxito de Café Costes, una reinvención de los códigos del clásico café parisino.
En 1989, empezó a diseñar edificios en Japón con Nani Nani, un impresionante edificio antropomórfico cubierto con un material vivo que evoluciona con el tiempo. Después vinieron la torre de control del aeropuerto de Burdeos (1997), la boutique de Gaultier, en París (2002), numerosos restaurantes y hoteles. En el campo de la restauración figuran los restaurantes Teatriz (1988) y Ramses, en Madrid (2007), el de la Maison Bacarat, The Cristal Room Baccarat, en París (2004) o Lan, en Beijing (2007). Sus hoteles se encuentran en las principales ciudades del mundo:  Clift, en San Francisco (2001), Faena en Buenos Aires (2005), Fasano, en Río de Janeiro (2007),  Royal Monceau, en París (2010). Uno de sus grandes proyectos en nuestro país ha sido la reforma de La Alhóndiga de Bilbao (2010), un antiguo almacén de vinos y aceites convertido en centro cultural y de ocio.
Como diseñador industrial, Starck ha colaborado con los mayores fabricantes de diseño del mundo. Es autor, por citar una mínima parte de sus productos, de la famosa silla Ghost (Kartell, 2002), de colecciones para el baño (Duravit, Hansgrohe, Hoesch, Axor), la línea Privé para Cassina (2007),  del conocidísimo exprimidor Juicy Salif, para Alessi (1988), del Optical Mouse, para Microsoft (2004)… además de la moto 6,5 para Aprilia, zapatillas inteligentes para Puma, ropa interior tecnológica, gafas basadas en las articulaciones del cuerpo humano, relojes para la firma Fósil, altavoces, discos duros externos, televisores e, incluso, mega-yates.
Todo este trabajo se ha visto recompensado por innumerables premios y apariciones en la prensa de todo el mundo que no cesan. Como dijo el propio Philippe Starck: "Mi padre era ingeniero aeronáutico. Para mí era un deber inventar."
---
Información facilitada por el Centre Pompidou de Málaga y en la web del diseñador. Imágenes facilitadas por el Centro Pompidou de Málaga
You might also like