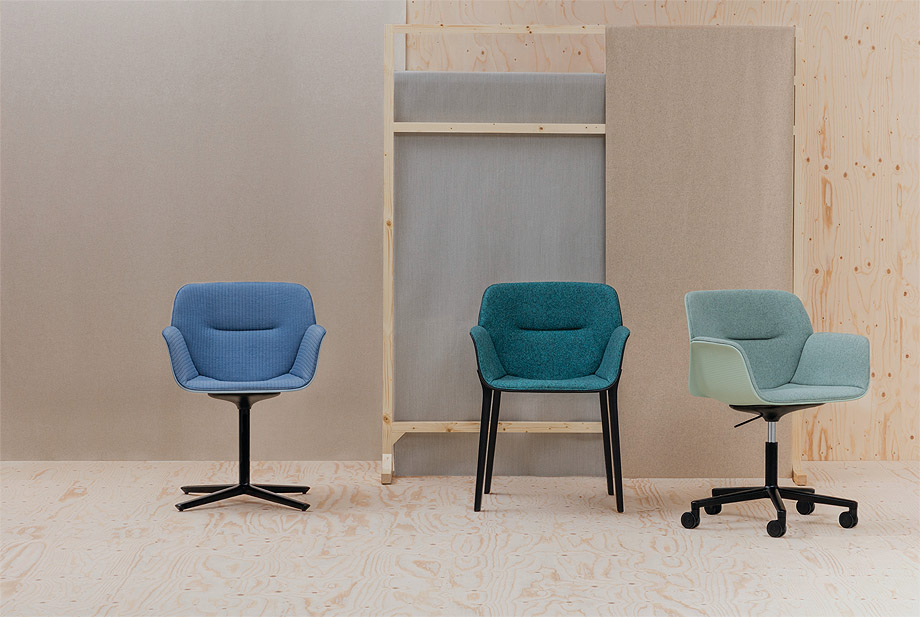 NUEZ:
Después de diseñar la singular familia de asientos Nub, la arquitecta Patricia Urquiola ha vuelto a colaborar con la firma Andreu World en el diseño de la nueva colección Nuez. Una versátil propuesta que oculta, tras su cálida y sencilla apariencia, el reto de conseguir que dos materiales como el termopolímero y el textil dialoguen de forma armónica y funcional, partiendo de la forma de una hoja de papel doblada.
La colección se compone de sillas con la carcasa de termopolímero disponible en diez diferentes colores, mientras el interior se presenta en este mismo material o tapizado con opciones de cojín fijo de siento y respaldo o cojín de asiento. De esta manera la frialdad del material técnico queda equilibrado por la calidez del material textil.
También la base ofrece distintas versiones: cuatro patas de madera, cuatro aspas de aluminio, cinco ruedas o cantiléver. Este amplio abanico de opciones hacen de Nuez una pieza que puede integrarse en diferentes tipos de espacios: corporativos como salas de espera o reunión, oficinas domésticas o comedores.
El pasado mes de junio, la colección Nuez fue presentada con gran éxito -junto a otras novedades de la empresa valenciana- en la feria NeoCon en Chicago, una de las ferias profesionales más importantes del mobiliario y del hábitat de Estados Unidos. En este marco, recibió un premio HiP, en la categoría de Best Hospitality: Seating, los galardones concedidos por la influyente revista estadounidense Interior Design.
Paralelamente, la nueva familia de asientos fue presentada en el showroom que Andreu World tiene en la ciudad norteamericana, donde Patricia Urquiola explicó que Nuez parte de "la idea de crear un asiento que se pliega como si fuera una hoja de papel. La carcasa de termoplástico inyectado se expresa como una superficie flexible que abraza el cuerpo al sentarse."
---
LAS IMÁGENES:
---
SOBRE PATRICIA URQUIOLA: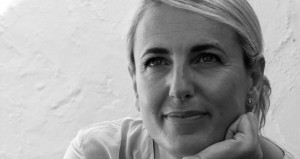 La arquitecta y diseñadora Patricia Urquiola (Asturias, 1961) es, sin duda, uno de los nombres españoles más internacionales en el campo del diseño. Afincada en Milán (Italia) desde hace varios años, se graduó en la Escuela Politécnica de esta ciudad, en 1989, con una tesis tutelada por Achille Castiglioni. En 1991, empezó a trabajar para la empresa de mobiliario De Padova, bajo la supervisión de Vico Magistretti.
De 1996 a 2000, llegó a ser coordinadora de diseño de Lissoni Associati, para un año después abrir su propio estudio en Milán. Desde su despacho realiza proyectos no sólo en el campo del diseño industrial sino también exposiciones, arquitectura y dirección creativa.
Entre sus proyectos figuran el Hotel Mandarín Oriental (Barcelona), W Retreat & Spa Vieques (Puerto Rico), una villa en Udine (Italia), la escenografía de la ópera "La coronación de Popea", de Monteverdi, showrooms e instalaciones para Hermès, Gianvito Rossi, Flos, Moroso, H&M y el concepto general de Pitti Immagine Firenze. Entre la larga lista de firmas del hábitat con las que ha colaborado se encuentran, entre otras, De Padova, Moroso, Molteni, B&B Italia, Kettal, Laufen y GANDIABLASCO.
---
SOBRE ANDREU WORLD:
Andreu World es una empresa familiar de mobiliario para interior y exterior fundada, en 1955, gracias a la inquietud de Francisco Andreu Martí. Creada como un pequeño taller de ebanistería en Alaquàs, una localidad muy próxima a Valencia (España), actualmente, reúne a un equipo de profesionales altamente cualificado con una clara vocación internacional a partir de una premisa muy clara: diseño y calidad. Esta premisa va ligada a la categoría de los profesionales que firman sus diseños: Patricia Urquiola, Piergiorgio Cazzaniga, Joan Lao, Mario Bellini, Lievore Altherr Molina, Josep Lluscà, Javier Mariscal y Nancy Robins, entre otros.
Hoy en día, Andreu World dedica un 60% de su producción a la exportación y su red comercial abarca los cinco continentes. Países como Nueva Zelanda, Emiratos Árabes Unidos, Singapur, Japón, México, Argentina y EE.UU. son sólo algunos ejemplos en los que la marca está presente.
Además, la firma dispone de un showroom de más de 2.000 m2 en Valencia, donde están ubicadas sus oficinas centrales, y de tres centros de producción: dos localizados en la misma provincia de Valencia y el tercero en Navarra. Además, cuenta con espacios expositivos en otras ciudades como Chicago, Nueva York, Pune, New Delhi o San Francisco, así como las oficinas de la delegación americana en el emblemático edificio Merchandise Mart.
La madera proviene de sus bosques, controlados mediante un protocolo de custodia que incluye la plantación, la tala, el secado –durante más de un año desde la tala, para evitar que la madera se quiebre en el futuro– y todas las fases de manipulado. Este proceso cuenta con la certificación FSC® (Forest Stewardship Council) que garantiza madera con origen en bosques reforestados y controlados.
Entre los numerosos premios recibidos a lo largo de su trayectoria figuran: Red Dot Design Award 2013, Best of Year Honoree 2012, ADI Design Index 2012, Best of Neocon 2012, Red Dot Design Award 2012 y Best of NeoCon People choice 2011 o el Premio Nacional de Diseño 2007.
---
Información e imágenes facilitadas por la empresa
You might also like