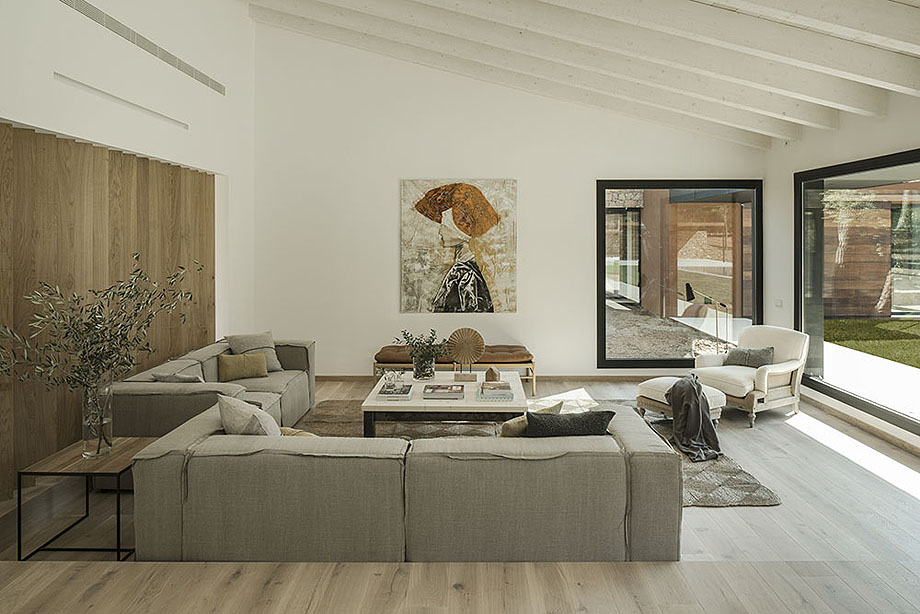 OXYGEN:
"Oxygen" es el nombre de uno de los últimos proyectos de la interiorista Susanna Cots, una casa conectada con la naturaleza, siguiendo los principios del slow design. La vivienda, ubicada en la popular comarca del Empordà, en la provincia de Girona, está vestida con cálidos tonos y una distribución que vuelca la casa al exterior tanto en las zonas comunes como en las privadas.
Explica la interiorista que "todas las estancias se han proyectado como cubos unidos unos a otros por la naturaleza a través de pasillos de cristal que nos hacen sentir que paseamos por el bosque". Estos cubos se distribuyen en varias zonas bien diferenciadas: el garaje, adyacente a la edificación; la sala de estar, el comedor y la cocina, con vistas a la piscina; cuatro dormitorios con baño propio; y, por último, una suite. Inundadas por la luz mediterránea, las estancias están pensadas para disfrutar de las vistas a la terraza-jardín y prolongarse hacia el exterior a través de las amplias superficies acristaladas.
En esta sucesión ordenada de cubos, la cocina es un claro reflejo de la filosofía slow design de la diseñadora de interiores. La combinación del color blanco y la madera de roble crea un escenario atemporal, que culmina en el techo abuhardillado con roble decapado y la equilibrada cadencia que proporcionan las vigas. El espacio se conecta con el resto de la casa a través de unas cristaleras con estructura negra, que personalizan el espacio.
El siguiente cubo se encuentra en el centro de la vivienda, dividido en dos zonas por una mampara de lamas de madera giradas que permiten visualizar lo que ocurre a ambos lados: la entrada a la residencia, presidida por una escultura y un pequeño vestíbulo, y la sala de estar, concebida como un acogedor salón y espacio para la comunicación, sin la presencia de la televisión.
Ubicado en el ala este de la casa, la suite principal constituye otro pabellón. Este dormitorio principal está conectado por un vértice de cristal con un patio interior. Este espacio al aire libre "forma parte del eje natural de toda la vivienda, compuesto por un pequeño ecosistema de olivos y encinas que la rodean por los cuatro costados".
Dentro de la misma zona de noche, pero formando otra unidad, se encuentran cuatro dormitorios con baño propio cada uno de ellos. Todos han sido diseñados siguiendo la misma filosofía basada en el deseo de conectar con la naturaleza. Las cuatro habitaciones están orientadas al exterior, a través de amplias superficies acristaladas, al mismo tiempo que están conectadas con el interior mediante pasillos de cristal.
Concluye Susanna Cots que "la naturaleza de la vivienda merece un apartado especial por como se ha integrado visualmente en el interior de la vivienda mediante la apertura de pequeños patios exteriores entre pabellones."
---
LAS IMÁGENES:
---
FICHA TÉCNICA:
Proyecto:

Oxygen.

Ubicación:

Empordà (Girona / España).

Completado:

2017.

Diseño interior:

Susanna Cots Interior Design.

Superficie:

600 m².

Cocina:

Bulthaup.

Mobiliario:

Dareels (sofás, sillones negros, sillas de comedor, alfombras, mobiliario exterior y cama suite). Decosingular (mesa de centro, poufs piscina, atrezzo, alfombras pasillo, tocador y silla suite). Crearte (Chester verde, sillón sala de estar, sillón recibidor). 555project (mesa comedor y sillón esparto exterior). Sillones suite y banco de piel de la sala de estar de Carl Hansen & Son. Taburetes de cocina de HAY.

Textil:

Teixidors (atrezzo).
Iluminación: Deltalight (general), Vibia (cocina), Artemide (mesa del comedor), Decosingular (porche exterior, lámparas de esparto).

Cuadros sala de estar, comedor, cocina, suite y escultura de la galería:

L'Arcada.

Platos cocina:

Sempere Barcelona.

Mecanismos:

Jung.
Fotografías: Mauricio Fuertes.
---
PLANIMETRÍA: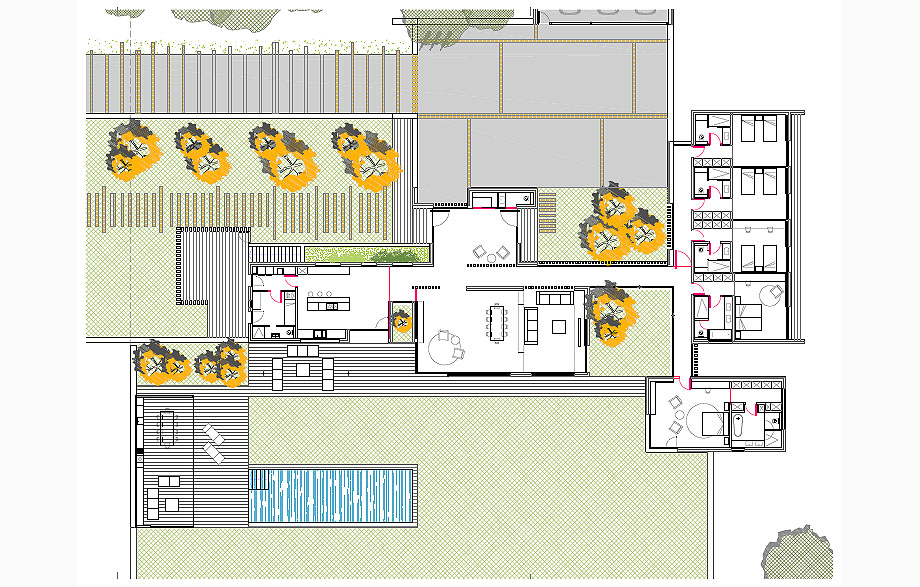 Planta
---
SOBRE SUSANNA COTS: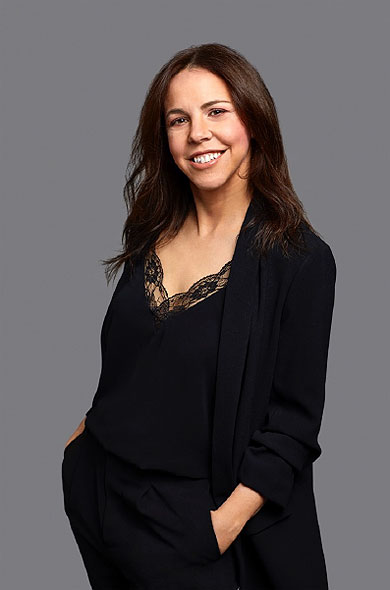 La interiorista Susanna Cots (Solsona, 1977) acaba sus estudios de Proyectista de Edificios y Obras, en 1998, y empieza los estudios de Diseño de Interiores, en Barcelona. Durante su formación académica trabaja en diferentes estudios de arquitectura y empresas relacionadas con el mundo del diseño para complementar su formación. En el año 2003, realiza un Máster en Escaparatismo, en Madrid, y un año después, uno Diseño de Interiores para la producción audiovisual, en Barcelona. Después de varios años de experiencia, en el 2001 funda su propio estudio de diseño Susanna Cots Estudi de Disseny.
En estos ya más de quince años de carrera profesional, la interiorista ha diseñado espacios de todo tipo y como ella misma dice "todo aquello que sea susceptible de ser diseñado". El trabajo de Susanna Cots converge en un punto intermedio entre funcionalidad y estética, atemporalidad y comodidad. Su búsqueda incesante a través del blanco, las líneas estilizadas y el orden visual consiguen que sus proyectos transmitan una personalidad cada vez más consolidada.
Sus proyectos han sido reconocido en publicaciones de ámbito nacional como "Diseño Interior", "Casa Viva", "Mi Casa", "La Vanguardia" o "El País", entre otros. Ha participado en diferentes concursos y premios a nivel nacional e internacional como el ICFF New York (International Contemporary Furniture Fair), los Premios FAD de Barcelona, Porcelanosa Interiores, los Andrew Martin's Interior Design Awards de Londres y los SBID Awards, de The Society of British Interior Design, donde quedó finalista en dos categorías. Recientemente, ha ganado el premio Mejor Interiorista del Año, concedido por los Luxury Lifestyle Awards. Su trabajo está presente en diferentes universidades del país, es Miembro Honorífico de The Society of British Interior Design y del Colegio de Decoradores de Colombia. En 2014, Susanna Cots abrió su primer estudio internacional en Hong Kong.
---
Información e imágenes facilitadas por la interiorista
You might also like