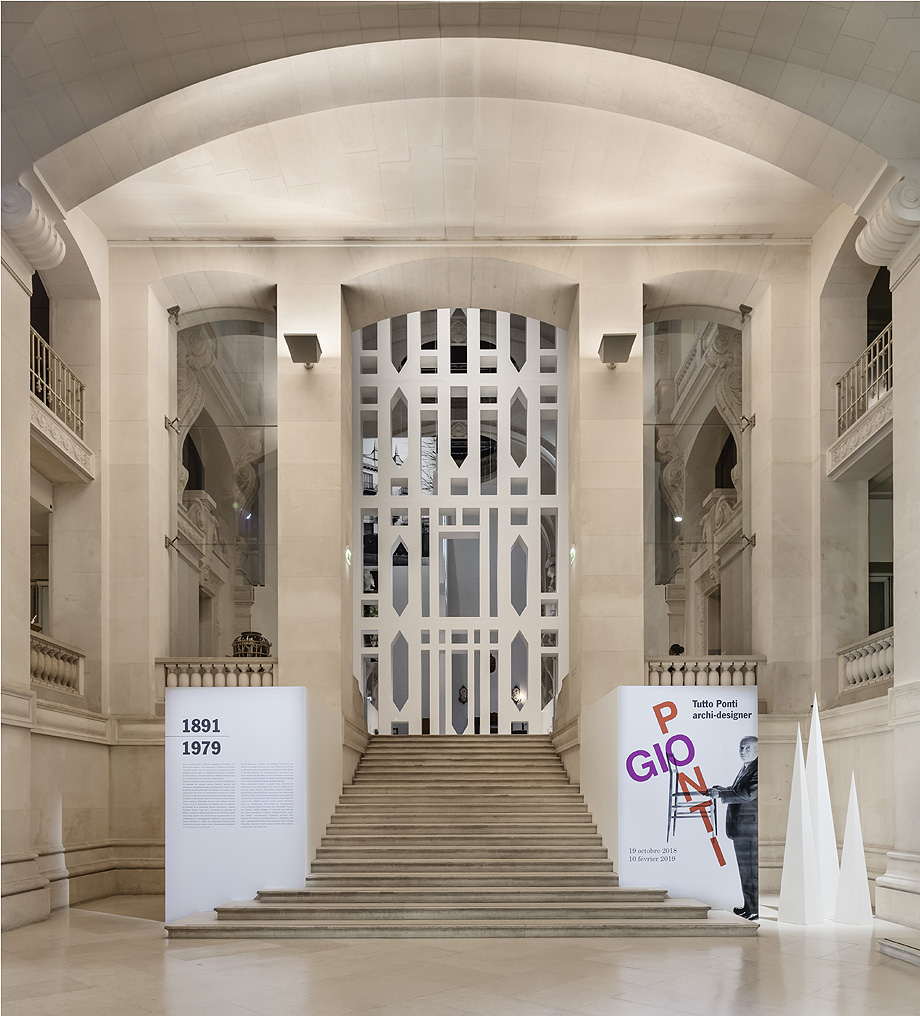 GIO PONTI Y OLIVARI:
La ciudad de París acoge dos exposiciones que tienen como protagonistas a dos exponentes del made in Italy: el arquitecto y diseñador Gio Ponti y el fabricante de manillas Olivari. Para esta firma, Ponti diseñó las manijas Lama y Lama L (1954), Cono (1954), Anello (1954) y E42 (1937), éstas tres últimas fuera ya de producción.
"Tutto Ponti, Gio Ponti archi-designer" es el título de la gran retrospectiva dedicada a la figura de Gio Ponti (1891-1979), que puede verse en el Museo de las Artes Decorativas de la capital parisina hasta el próximo 5 de mayo. La muestra ha sido comisariada por Olivier Gabet, director del museo, Dominique Forest, comisario jefe del Departamento de Moderno y Contemporáneo, Sophie Bouilhet-Dumas, del estudio Bouilhet-Dumas, y Salvatore Licitra, director de Gio Ponti Archives, y diseñada por Wilmotte & Associés.
Con diseño de Jean-Michel Wilmotte.
Admirador de Gio Ponti durante décadas, Jean-Michel Wilmotte invita al visitante a descubrir la carrera del arquitectos y 400 de sus obras en una escenografía articulada en torno a tres secuencias, que favorecen la inmersión en el universo Ponti. Aprovechando al máximo la altura del edificio, así como los podios de la nave y la reconstrucción parcial de la catedral de Taranto, Wilmotte juega con las transparencias, la luz y la resonancia entre las obras, para favorecer la aproximación a la figura como arquitecto, diseñador y ecléctico creador de Ponti.
En este escenario, la muestra recorre la amplia trayectoria del maestro del diseño y la arquitectura del siglo XX, cuyas obras fueron el máximo exponente del made in Italy tras la II Guerra Mundial, desde 1921 hasta 1978, destacando muchos aspectos de su trabajo, desde la arquitectura hasta el diseño industrial, desde el mobiliario hasta la iluminación, desde la creación de revistas hasta sus incursiones en los campos del vidrio, la cerámica y la orfebrería, evidenciando de esta manera su espíritu de hombre renacentista.
Espíritu renacentista.
Prolífico creador, tan interesado en la producción industrial como artesanal, Ponti construyó edificios en Venezuela, Estados Unidos, Oriente Medio e, incluso, Hong Kong. Fundó las revistas Domus y Estilo, diseñó cubiertos, vajillas, muebles, como la silla 699, conocida como Superleggera. Su casa en Milán (1956-1957), la Torre Pirelli (1956-1961), frente a la Estación Central de Milán, y la Villa Planchart (1953-1957), diseñada para un matrimonio de la alta sociedad caraqueña a las afueras de Caracasa, están consideradas sus tres grandes obras arquitectónicas.
Como editora de sus diseños más icónicos, Molteni&C tiene un papel destacado no sólo como mecenas de la muestra sino también al prestar algunas piezas originales diseñadas por Ponti provenientes de la colección del Museo Molteni. Desde 2012 y gracias a un acuerdo con sus herederos, la firma italiana está llevando a cabo reediciones de algunas de las piezas de mobiliario del arquitecto, creadas como piezas únicas o ediciones limitadas, dentro de la colección Heritage de Molteni&C que, actualmente, incluye 14 muebles con 21 variantes.
---
LAS IMÁGENES:
Fotografías (a excepción de las dos últimas): Luc Boegly
---
OLIVARI, 100 YEARS OF HANDLES:
Por otra parte y hasta el 10 de febrero, el showroom de Ballauff (21 Place des Vosges), distribuidor  de Olivari en Francia ubicado en el corazón de París, acoge la exposición itinerante "Olivari, 100 years of handles". Esta muestra permite entender la especial relación entre Olivari y el mundo del diseño, destacando el extraordinario vínculo entre la compañía y algunos diseñadores internacionales con los magníficos logros nacidos de estas uniones.
En una primera parte, la exposición destaca las manetas realizadas desde los años 30 hasta los 70, nacidas de la colaboración con arquitectos para conseguir una finalización redonda de sus edificios. En ella, pueden verse diseños de Marcello Piacentini, Angelo Mangiarotti, Ignazio Gardella, Studio BBPR, Marcello Nizzoli, Sergio Asti, Franco Albini y Franca Helg, Luigi Caccia Dominioni, Vico Magistretti, Magnaghi y Terzaghi, y Joe Colombo. Hay también, tres de las manetas diseñadas por Gio Ponti: Lama, Cono y Anello, mostrándose los prototipos originales.
La segunda parte acoge las manillas, realizadas desde los años 70, hasta nuestros días, creadas por los más destacados diseñadores y arquitectos internacionales como Rem Koolhaas, Zaha Hadid, Ben Van Berkel, Jean Nouvel, Dominique Perrault, Toyo Ito, Steven Holl, Daniel Libeskind, Piero Lissoni, Rodolfo Dordoni, Patricia Urquiola y Vincent Van Duysen.
---
SOBRE GIO PONTI: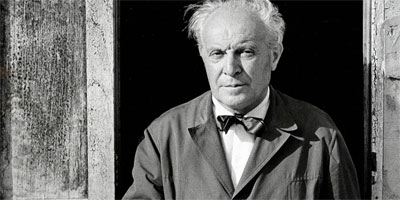 Giovanni Ponti (Milán 1891 – 1979) es uno de los arquitectos italianos más importantes del siglo XX cuyo legado se mantiene en plena vigencia. Dotado de gran vitalidad e imaginación, también diseñó mobiliario, accesorios, maquinaria, lámparas, textiles, cerámica, objetos de vidrio, objetos para la mesa, exposiciones y producciones teatrales.
Gio Ponti se graduó en Arquitectura en el Regio Istituto Tecnico Superiore di Milano (actual Politécnico de Milán) y, en 1921, abrió un estudio con Mino Fiocchi y Emilio Lancia. Dos años más tarde, debutó como proyectista, participando en la Bienal de Artes Decorativas de Monza. Además, fue fundador de la Asociación de Diseño Industrial (ADI), dirigió la Trienal de Milán, fundó la prestigiosa revista "Domus", que dirigió hasta su muerte, y la revista Estilo. Desde 1936 a 1961, fue profesor en la Facultad de Arquitectura del Politécnico de Milán.
A las grandes obras de arquitectura que llevan su firma inconfundible (Villa Planchart, Torre Pirelli, el barrio Harar, edificio RAS) se suma una amplia producción en el sector de la decoración, como atestiguan también sus tres viviendas milanesas, completamente decoradas "a lo Ponti": la de via Randaccio (1925), Casa Laporte (1926) en via Brin y la última, en 1957, en via Dezza. Gio Ponti, promotor del diseño industrial italiano, propone la producción en serie en la decoración de interiores en cuanto solución sofisticada, económica, democrática y moderna.
GIO PONTI EN INTERIORES MINIMALISTAS
---
SOBRE OLIVARI:
Olivari es una empresa italiana líder en la producción y comercialización de manillas y accesorios para puertas y ventanas "made in Italy". Desde 1911, cuando Battista Olivari funda la compañía en Borgomanero, Olivari ha estado fabricando manillas en sus propias instalaciones, donde se lleva a cabo todo el proceso de producción.
Comenzando con barras de latón, las manillas son forjadas, fresadas, pulidas, con un recubrimiento de cromo y selladas con láser. Actualmente, el proceso de fabricación está altamente automatizado y es respetuoso con el medio ambiente. Además, se han introducido los acabados Bicromo y SuperFinish.
A lo largo de su historia, la compañía se ha esforzado siempre por conseguir la máxima calidad, contando con la creatividad de los mejores diseñadores y arquitectos que han contribuido con sus productos al catálogo de la firma. Entre ellos se encuentran Joe Colombo, Toyo Ito, Jean Nouvel, Daniel Libeskind, Patricia Urquiola, Massimo Iosa Ghini, Ferdinand Alexander Porsche, Andrea Branzi, Gio Ponti, Richard Sapper, Piero Lissoni, Giorgetto Giugiaro, Alessandro Mendini, Rodolfo Dordoni, James Irvine, Piero Lissoni, Patricia Urquiola, Shigeru Ban, Steven Holl y Dominique Perrault.
Olivari ha conseguido las certificaciones ISO 9001 and ISO 14001 y si bien utiliza la tecnología más avanzada, Olivari preserva toda la sabiduría artesanal que ha acumulado en 100 años de historia.
OLIVARI EN INTERIORES MINIMALISTAS
---
Información e imágenes facilitadas por la firma
You might also like