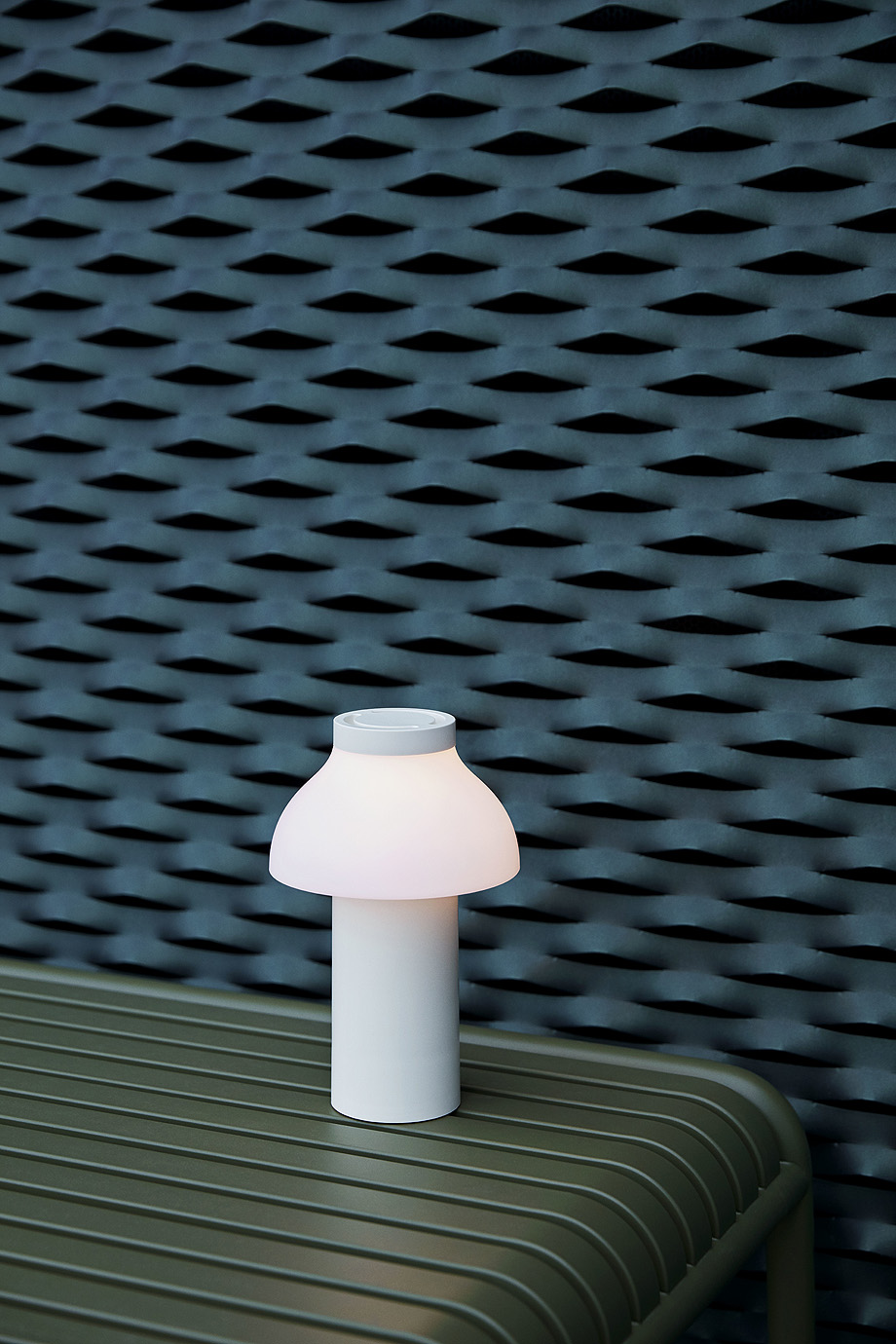 PC PORTÁTIL:
La pequeña lámpara portátil PC (14 x h 22 cm), diseñada por Pierre Charpin, forma parte de las novedades de la firma danesa HAY y, al igual que su predecesora PC Task Light, oculta su parte más técnica dentro de una base rematada por una pantalla en forma de tulipán. La lámpara, que puede usarse en interiores y exteriores, funciona con una batería recargable que ofrece hasta 10 horas de autonomía y está fabricada en ABS moldeado por inyección con un acabado mate, resistente al agua y a los arañazos.
La fuente de luz está oculta tras un difusor translúcido de policarbonato, con opciones de luz directa y de ambiente, dependiendo del uso que se le quiera dar. Esta fuente de luz LED recargable, incluida en la luminaria, tiene una vida útil estimada de 25.000 horas.
El nuevo diseño de Charpin se fabrica en tres colores neutros (blanco crema, verde oliva y negro) y es ideal para iluminar la mesa de una cafetería, un rincón de la sala de estar, ofreciendo el efecto suave de una vela, una estantería, un estante del baño o un escritorio, traspasando con facilidad las fronteras establecidad entre los ámbitos privados y públicos. Como es habitual en las actuales lámparas portátiles, dispone de un cable USB para cargar la batería a través de una salida USB estándar.
Pierre Charpin: el deseo de ofrecer objetos sensuales.
Formado como artista, Pierre Charpin se ha dedicado al diseño de mobiliario y otros productos desde principios de los años noventa. Su enfoque del diseño está fuertemente influenciado por su formación artística. La investigación de Pierre de la forma y el color caracteriza su trabajo y puede verse tanto en productos de edición limitada como en productos industriales como la lámpara para PC.
El uso de un vocabulario simple y formas elementales es un aspecto constante en su trabajo, así como el deseo de ofrecer objetos sensuales. "A menudo hablo de sensualidad en el diseño. Yo quería que esta lámpara fuera más sensual que técnica para hacer el objeto menos demostrativo y más fácil de usar. Mientras HAY desarrollaba su primera colección de iluminación, trabajamos en el proyecto de la luminaria PC con el deseo común de ofrecer un producto sofisticado y asequible", explica el diseñador.
Diseño sin fronteras.
Añade que "HAY ofrece un diseño que se adapta tanto al hogar como al lugar de trabajo y, como diseñador, quiero diseñar objetos que puedan traspasar fácilmente la frontera existente entre el hogar, la oficina, el espacio público, el exterior y el interior. La lámpara PC es un buen ejemplo de esta visión de diseño ilimitado. Lo que me interesaba era ver la lámpara como una presencia, como una parte del paisaje doméstico. Quería que el objeto fuera legible como un todo: en francés, diría como una 'silueta'. El color juega un papel muy importante a la hora de expresar esto ya que usar un solo color ayuda a unificar los diferentes elementos y materiales."
---
LAS IMÁGENES:
---
SOBRE PIERRE CHARPIN: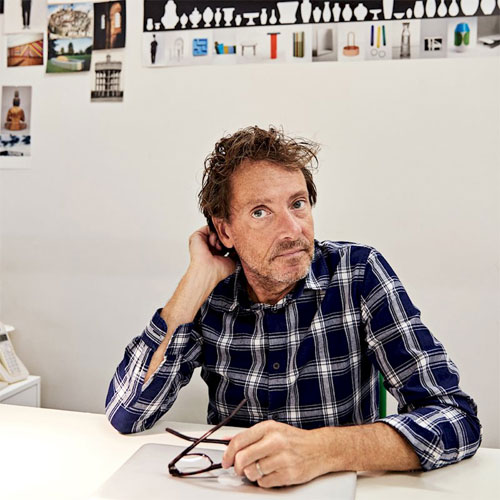 El diseñador, artista plástico y escenógrafo Pierre Charpin (Francia, 1962) se graduó en la École Nationale Supérieure d'Art de Bourges en 1984. En la actualidad vive y trabaja en Ivry-sur-Seine, cerca de París. Desde principios de los años 90, se ha dedicado al diseño de mobiliario y de objetos, creando diferentes piezas para Alessi, Arita 16/16, Ceramiche Piemme,  Design Gallery Milano, Hay, Hermès, Japan Creative, Ligne Roset, la Manufacture Nationale de Sèvres, Post Design, Tayou& co, Tectona, Venini. En 2017, fue nombrado Diseñador del Año en la feria Maison & Objet.
Asimismo, Charpin ha sido director creativo de exposiciones como "Les sixties, mode d'emploi" (Museum of Fashion and Textile, Paris 2002), "Mobiboom" (Museo de las Artes Decorativas, París, 2010), "Quali Cose Siamo" (Tercera edición de la Trienal de Diseño de Milán, 2010) y "Windows project for Hermes" (Madison Avenue store /New York, 2018)..
Sus diseños forman parte de muchas colecciones privadas y de las siguientes públicas: Fondo Nacional de Arte Contemporáneo (París/La Défense), Museo Nacional de Arte Moderno-Centro de creación industrial (París), Museo de las Artes Decorativas (París) o el Museo de Arte de Indianápolis (Estados Unidos).
En paralelo a su trabajo como diseñador, ha dado clases de diseño en la École supérieure d'Art et de Design de Reims (1998-2008) y, desde 2006, es profesor en el Departamento de diseño industrial de la ECAL-Universidad de Arte y Diseño en Lausana.
---
SOBRE HAY:
Fundada en Copenhague (Dinamarca), en 2002, HAY es una compañía de diseño dedicada a la creación de mobiliario moderno combinado con una sofisticada manufactura industrial. Sus fundadores son el matrimonio formado por Mette y Rolf Hay, una pareja que toma su inspiración de temas como la arquitectura, la moda y el arte, dando lugar a piezas con un diseño sencillo, funcional y estético.
Rolf comenzó su carrera de diseño trabajando para diferentes empresas de diseño en Dinamarca, lo que le sirvió para ser autodidacta en cuanto a diseño y desarrollo. Por su parte, los padres de Mette dirigían una tienda de diseño. Además de fundar HAY, crearon, en 2014, HAY Mini Market, una pop-up store de accesorios.
HAY EN INTERIORES MINIMALISTAS
---
Información en las webs de la firma y del diseñador. Imágenes en la web de HAY

You might also like