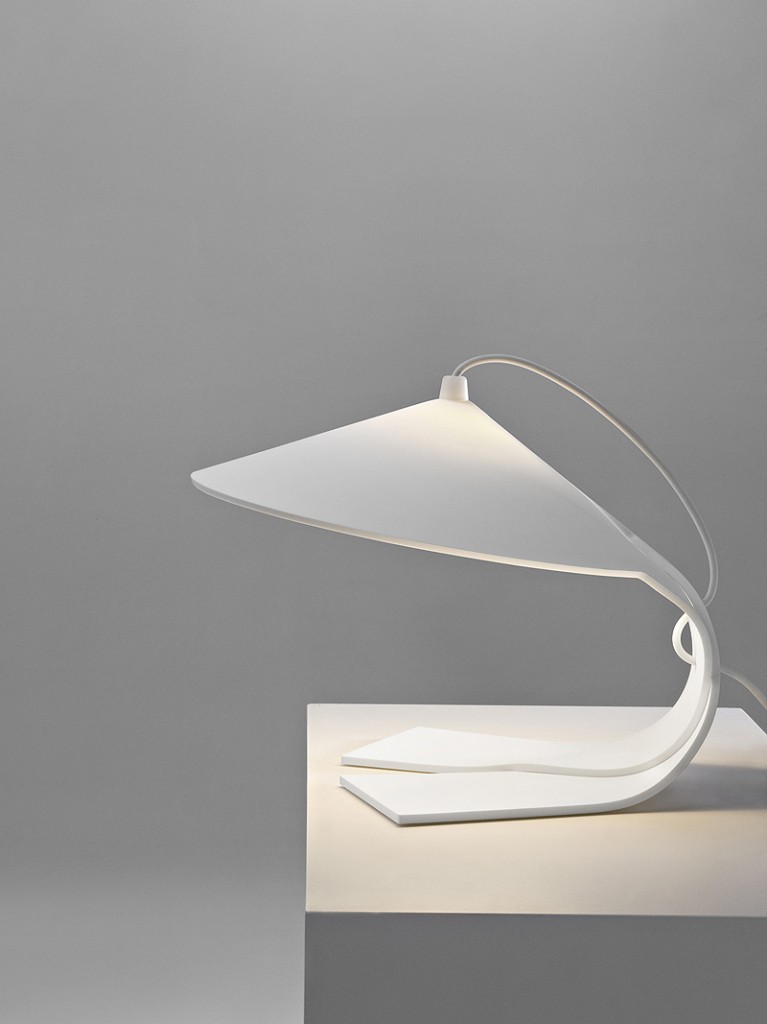 Prandina, reconocida firma italiana especializada en iluminación de diseño, presentó hace unos meses sus nuevas colecciones. Las últimas propuestas van del preciosismo asiático de la lámpara Hanoi, de Federico Churba, al minimalismo de la Paraph, diseñada por Robert and Serge Cornelissen. Entre ambos extremos, otras interesantes piezas.
Hanoi, by Federico Churba
Una lámpara de mesa fabricada en acrílico termoformado, inspirada en la figura de un hombre vietnamita con su tradicional sombrero, que surge del delicado plegado de una hoja de PMMA (polimetilmetacrilato). Hanoi proporciona una luz cálida y apacible, y está disponible en dos tamaños: 50,5 d x 35,5 h cm / 35 d x 27 h cm.
Paraph, by Serge and Robert Cornelissen
Estilizada lámpara de pie y de mesa para ambientes en los que se necesite luz directa. Paraph consiste en una estructura curvada de aluminio, pintada en color negro mate, con un sistema integrado de cabeza rotatoria con una fuente LED.
La Belle, by Filippo Protasoni
La luminaria de suspensión de Protasoni incorpora su propia fuente de luz con una forma similar a la de un recipiente de cristal con una tapa. De la interacción entre los dos elementos -el tambor opalino y el difusor superior en plexiglás transparente o coloreado (gris, rojo, esmerilado blanco opal)- surge La Belle: una lámpara de líneas suaves y colores contemporáneos para un efecto de agradable luz difusa. El difusor inferior es de polietileno blanco.
Más información sobre Filippo Protasoni en www.filippoprotasoni.it
Loft, by Admiraal Captein
Loft es una colección de luminarias de luz difusa disponible en las versión de suspensión, pie y sobremesa de diferentes tamaños y colores. Su pantalla de tela esconde una estructura en metacrilato que, gracias a la fuente de luz, crea un juego de luces y sombras.
Más información sobre Admiraal Captein en la web de
Prandi

na
Una lámpara de techo y pared que combina las cualidades estéticas del difusor externo en vidrio soplado y la eficiencia luminosa del elemento difusor interno en polietileno sin discontinuidad formal. Emite luz directa, indirecta y difusa.
Prandina
es una firma italiana de iluminación para interiores, que opera en el sector desde el año 1982. Sus proyectos, desarrollados con diseñadores emergentes y consolidados del panorama italiano e internacional, responden a criterios de funcionalidad, simplicidad y durabilidad. Sus piezas capturan lo mejor de la tradición del cristal de murano y del moderno diseño italiano.
Con unas exportaciones que superan el 80% de su facturación, Prandina está presente en Europa, Norteamérica, Sudamérica, Oriente Medio y Asia. Desde 2005, pertenece a la ADI (Asociación por el Diseño Industrial).
Información e imágenes facilitadas por Prandina
You might also like