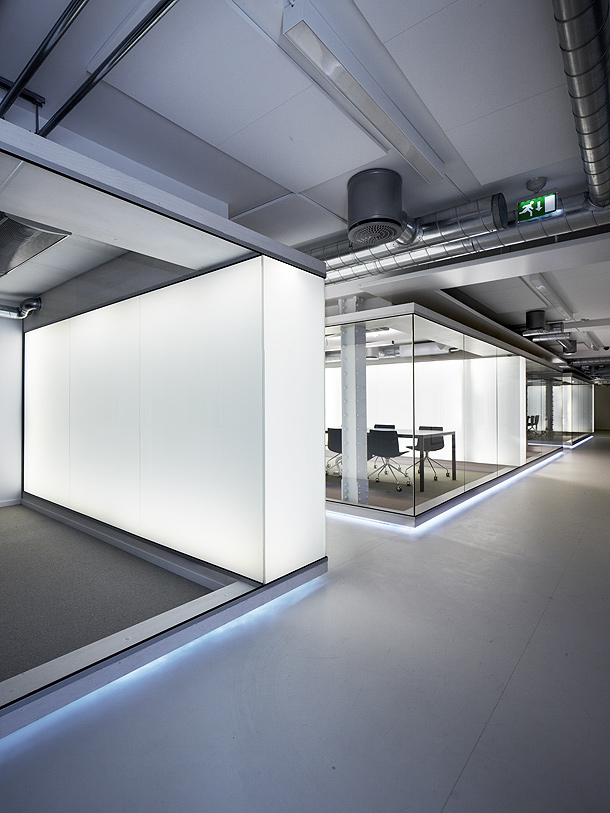 La empresa de consultoría Netlife Research, con sede en Oslo, encargó al estudio de arquitectura Eriksen Skajaa, cuyo estudio se encuentra en la misma ciudad noruega, la tarea de rediseñar sus oficinas y crear nuevos espacios para la reflexión y la creatividad. El encuentro con una serie de espacios profundos, oscuros y con una altura reducida llevó a los arquitectos a basar su proyecto en el concepto de ligereza.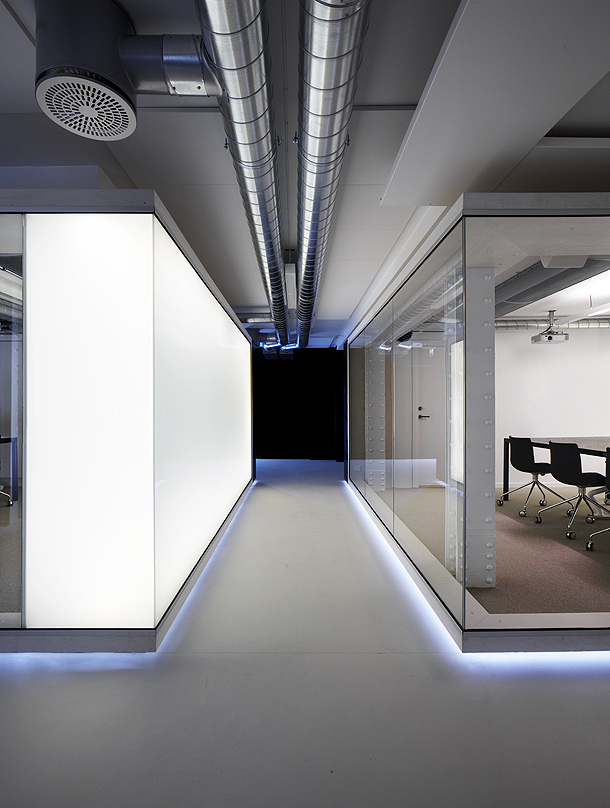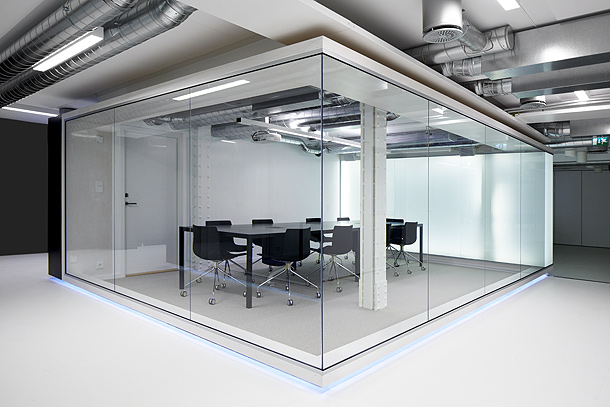 Para materializar esta idea, se decantaron por suelos blancos de caucho natural y techos también de este color, así como por amplios muros de cristal y «cajas de luz» para separar las diferentes salas de reunión. Estos volúmenes parecen flotar gracias a una estrecha banda de luz artificial, que destaca el punto de encuentro entre el suelo y las paredes.  En constraste con estas áreas iluminadas, el vestíbulo en negro ofrece una sensación de solidez y profundidad en el interior.
Las zonas destinadas a mejorar los métodos creativos de trabajo se resolvieron diseñando cuatro diferentes «jardines»: el jardín del monasterio,  el parque, el jardín de la cocina y la tala de los bosques. Diferentes espacios donde poder relajarse y reflexionar.
La creación del monasterio y su jardín respondió a la petición de tener un espacio con tres habitaciones que amortiguase el ruido propio de una oficina. La división de estas estancias se basa en los restos de los muros de ladrillo existentes, mientras que las otras paredes son de chapa de abedul pigmentadas en blanco que forman una caja cerrada, separada ligeramente del suelo y del techo. Algunas de las ventanas ubicadas en el perímetro se utilizan para poner las plantas del jardín del monasterio, mientras que otras son ventanas con un amplio alféizar para mantener el contacto visual con la oficina exterior. Una de las hornacinas exteriores es sólo un banco para sentarse y leer o relajarse.
Ficha técnica:
Proyecto:

Netlife Research and The Monastery.

Localización:

Oslo (Noruega).

Completado:

2011.

Arquitectos:

Eriksen Skajaa Architects.

Equipo:

Arild Eriksen y Joakim Skajaa.

Superficie:

1.000 m2.

Cliente:

Netlife Research.

Fotografías:

Ivan Brodey (www.ivanbrodey.com).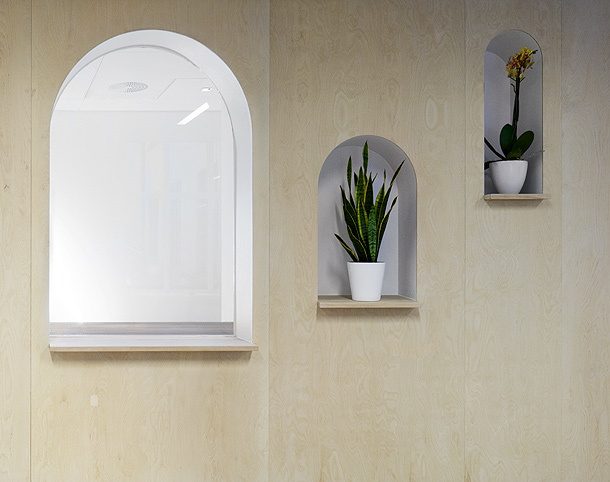 Sobre Eriksen Skajaa Architects:
Eriksen Skajaa Architects es la suma del trabajo de dos arquitectos noruegos: Arild Eriksen (Bergen, 1973) y Joakim Skajaa (Kristiansand, 1978). Ambos trabajaron en otros estudios antes de fundar el suyo propio. El primero con Griff Arkitektur, Kristin Jarmund Architects y Lund Hagem, y el segundo con  Saunders and Wilhelmsen Architects, Boyarsky Murphy Architects, Marco Casagrande, Sami Rintala y  MMW Architects. Paralelamente, Eriksen tiene un pequeño sello de grabación (Sound Fiction) y un blog sobre fotografía, mientras que Joakim Skajaa ha sido profesor y crítico en la AHO (Escuela de Arquitectura de Oslo), desde 2006.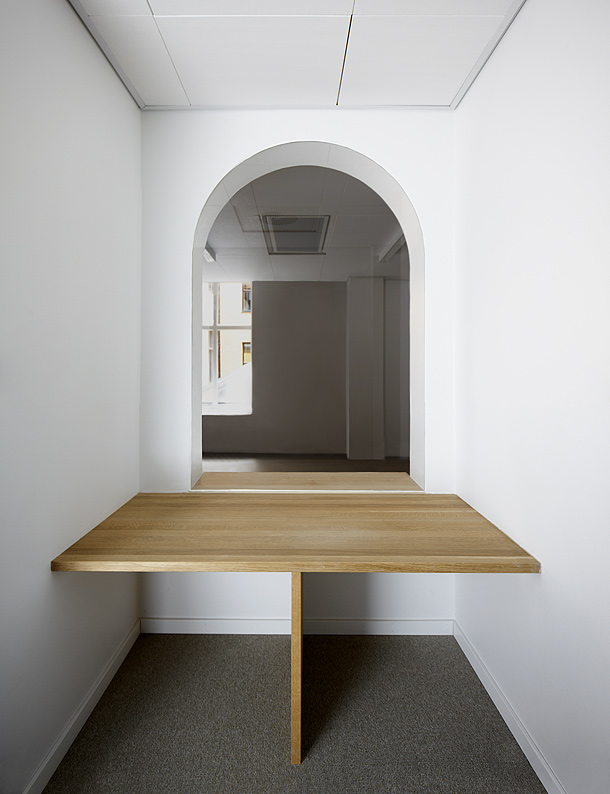 Planimetría: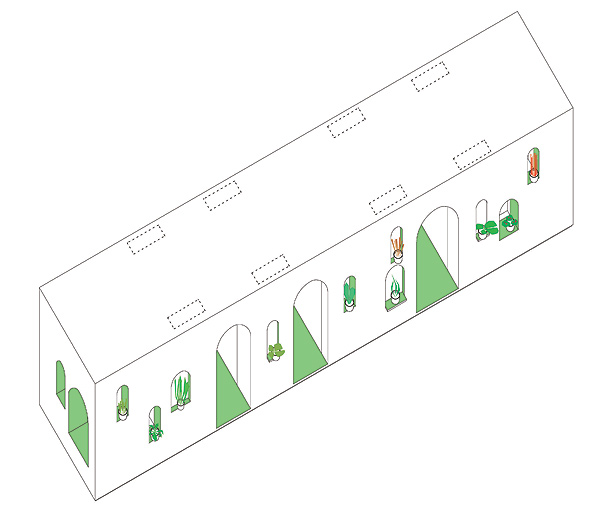 Información e imágenes facilitadas por Eriksen Skajaa Architects