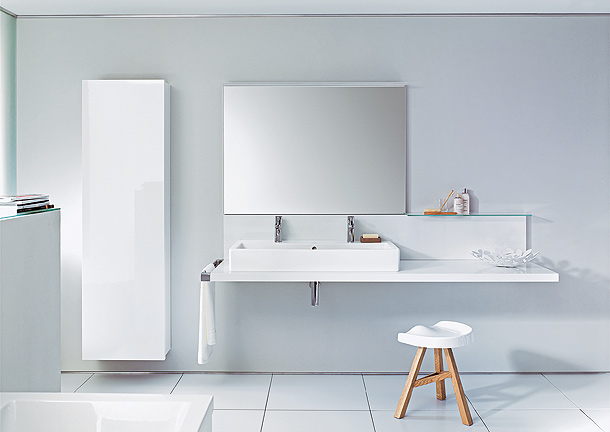 La firma Duravit exhibió durante el pasado Salón Internacional del Baño, celebrado en Milán paralelamente al Salón Internacional del Mueble, una completa selección de sus productos entre los que también figuraban sus nuevos diseños. Entre estos últimos, pudo verse la colección Delos, firmada por el estudio EOOS que, refuerza de esta manera la colaboración que el estudio de diseño austriaco y Duravit iniciarion a principios de la década de los años 90.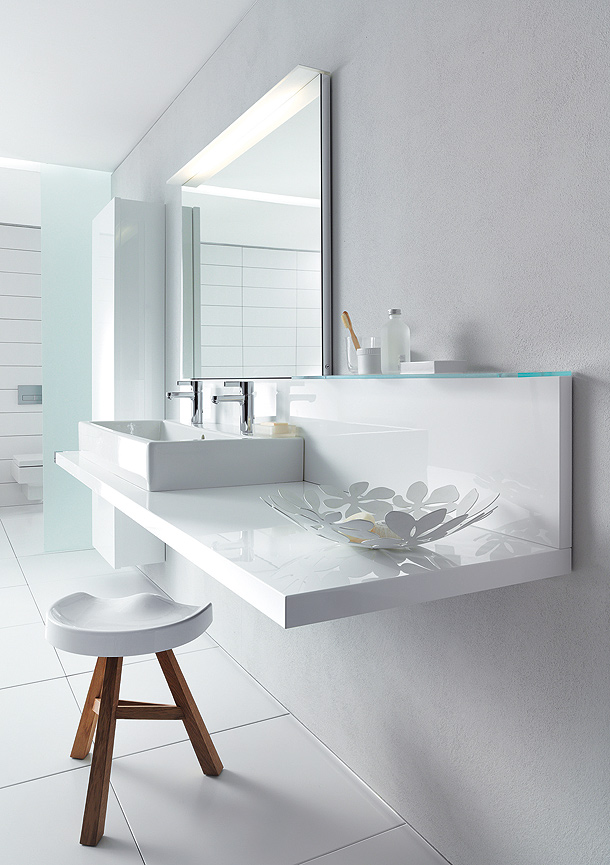 Martin Bergmann, Gernot Bohmann y Harald Gründl, los tres integrantes de EOOS,  son los autores de este programa compuesto por encimeras, armarios y complementos que, a través de un diseño reducido y liviano, aporta un agradable ambiente al cuarto de baño.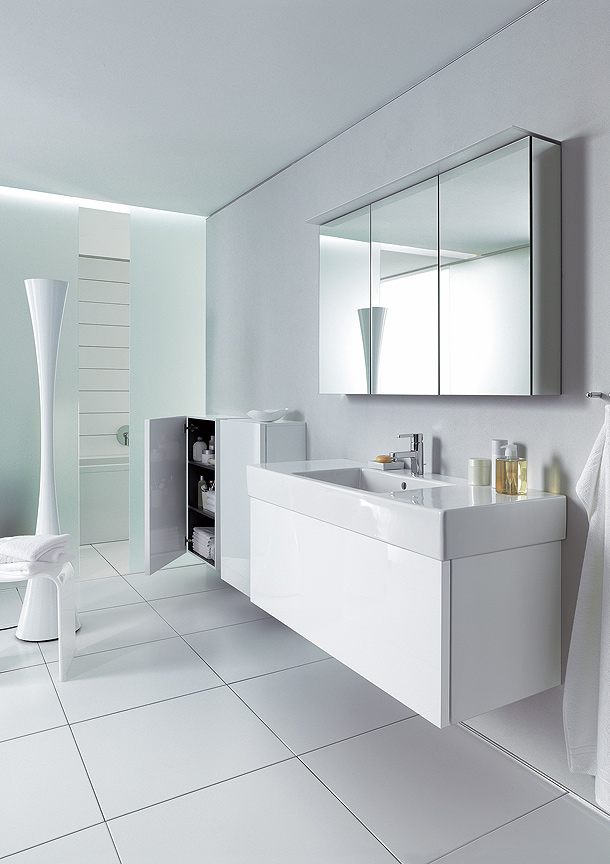 La encimera Delos se fija a la pared gracias a un sistema de sujeción no visible, de forma que ningún elemento superfluo interfiere en su diseño rectilíneo y ligero. Además,  ambos lados de la encimera pueden estar equipados con toalleros que continúan el contorno de la pieza.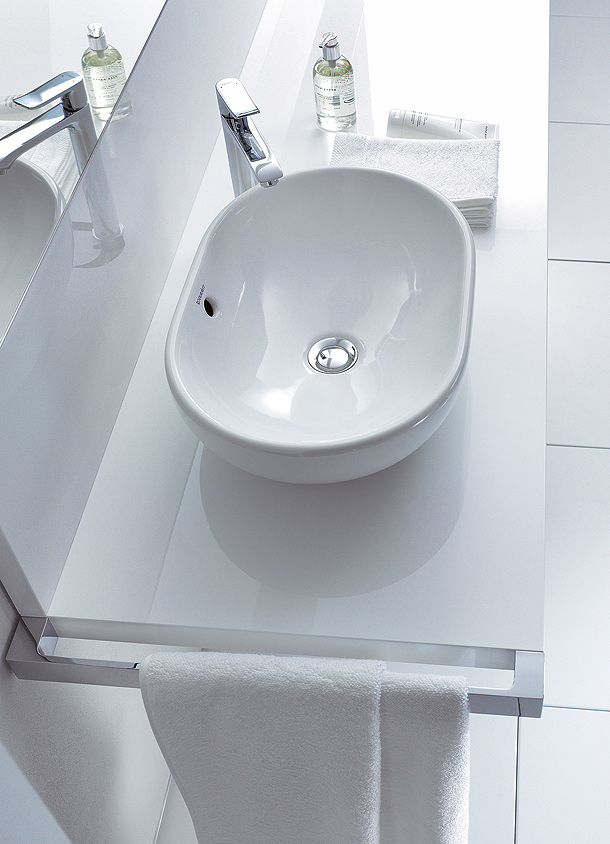 Elegantes y formalmente tan reducidos como las encimeras son los armarios Delos, cuyas puertas sobresalen un poco por los lados para que puedan abrirse sin necesidad de incluir tiradores. De esta manera, el diseño frontal se mantiene más limpio. En el caso de los elementos con cajones, estos pueden abrirse cómodamente con una leve presión y cerrarlos de la misma forma.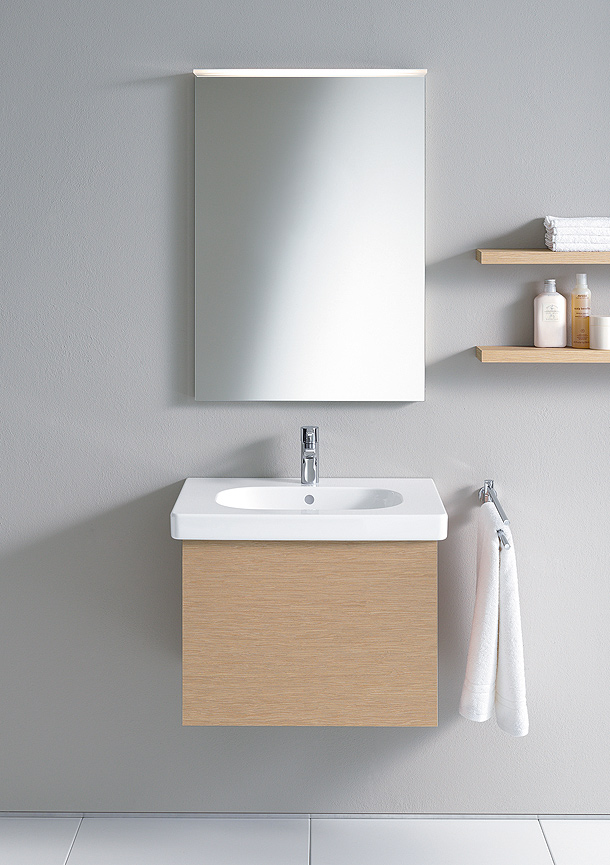 El interior de los armarios está equipado con resistentes estanterías de cristal, reforzadas por delante y por detrás con un perfil de aluminio, que ofrecen mucho espacio para los utensilios del baño. Para sostenerlas se utiliza un sistema de soporte especial que, conjuntamente con el acabado interior en negro diamante, resulta casi invisible. Para los cajones, y de cara a conseguir el máximo orden posible, hay disponible opcionalmente un sistema de interiores en nogal americano o en arce.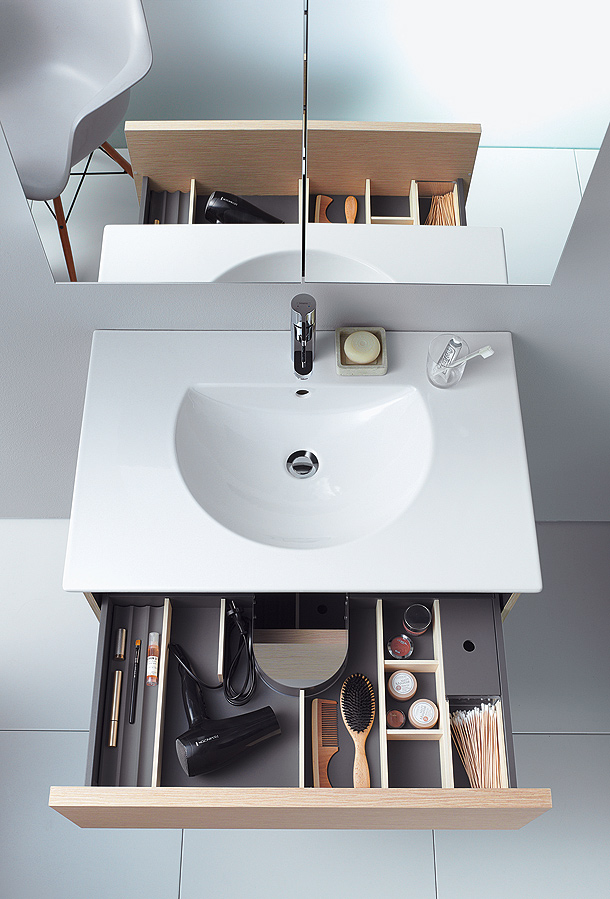 Los muebles de baño de la colección Delos están disponibles en madera (nogal oscuro y roble claro) y en un fresco blanco brillante. Además, con el nuevo aspecto de madera cepillada los acabados resaltan las características naturales de la madera y proporcionan una agradable estética.  Pueden complementarse con los modelos de cerámica  Darling New, D-Code y Vero.
Este nuevo programa de Duravit también dispone de complementos como repisas de cristal sin el habitual canto verde y espejos, cuyos laterales también están acabados con espejo y donde está integrado un sensor-interruptor. EOOS describe este recubrimiento completo con espejo como "la transición de la materialidad a la magia". A esto contribuye el innovador y fino techo de luz en el cual no se puede distinguir una fuente de luz concreta.  Sin embargo, la luz LED indirecta -que no deslumbra- proporciona una iluminación óptima de la zona de la cara. Gracias a la eficiencia y la longevidad de las luces LED, Duravit tiene en cuenta los aspectos de sostenibilidad más importantes a parte de las elevadas exigencias de diseño.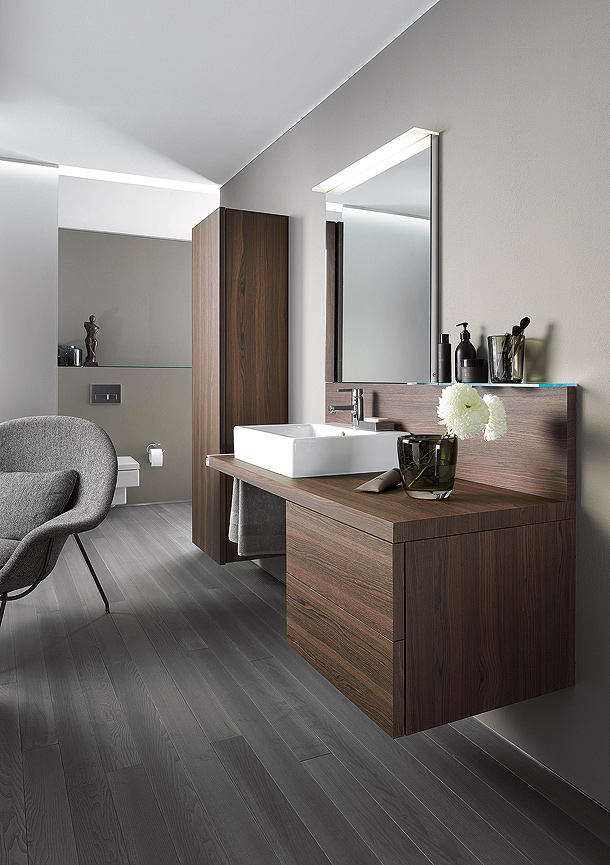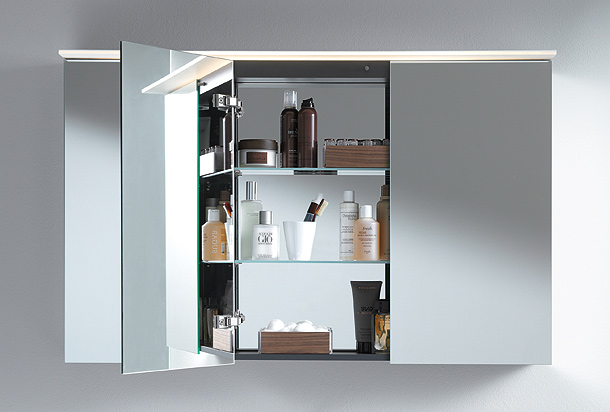 Sobre EOOS: 
El trío de diseñadores austriacos EOOS, compuesto por Martin Bergmann (Lienz/Este del Tirol), Gernot Bohmann (1968, Krieglach/Styria) y Harald Gründl (1967, Viena), fundó en 1995 su propio estudio de diseño después de estudiar en la Universidad de Artes Aplicadas de la capital austriaca.  Para ellos, el diseño es «una disciplina poética y un servicio cultural para la sociedad».
EOOS opera en el sector del diseño de mobiliario y de producto así como el diseño de tiendas. A lo largo de su carrera han trabajado para importantes firmas como Adidas, Alessi, Arman Cosmetics, Dedon, Duravit, MatteoGrassi, Moroso, Red Bull o Zumtobel. Sus trabajos le han reportado más de 50 premios, entre otros, el Compasso d'Oro (2004), el Design Week Award (2005), el IF Design Award (2007) y el Red Dot Design Award: Best of the Best (2007).  En 2008, la revista Elle Deco consideró su sistema de cocina móvil b2 para Bulthaup el mejor del año en la categoría Cocina.
Lee más sobre EOOS en Interiores Minimalistas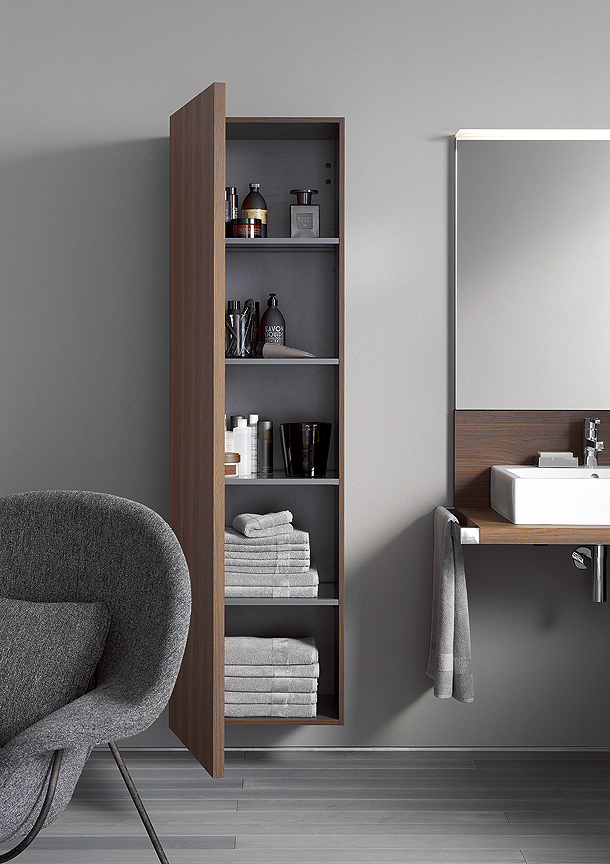 Sobre Duravit:
Duravit
es una de las empresas punteras del mundo del baño de diseño de alta gama, que ofrece cerámica sanitaria, muebles, bañeras, wellness y accesorios. Sus orígenes se remontan a 1817, cuando Georg Friederich Horn construyó en Hornberg (Selva Negra) una fábrica de gres que dedicaba a la fabricación de vajillas. La trayectoria de la empresa cambió a partir de 1950 cuando se inició la fabricación de porcelana. En 1960, el nombre de Duravit se abría camino en el mundo sanitario.
En la actualidad, dispone de diez centros productores y más de 5.000 empleados. Philippe Starck (Starck 1, Starck 2 o Starck 3), Norman Foster (Foster), Sieger Design (2on floor, Darling, D-Code o Happy-D), Phoenix Design (Caro y PuraVida) y Christian Werner (Ketho), entre otros, figuran entre sus diseñadores.
Lee más sobre Duravit en Interiores Minimalistas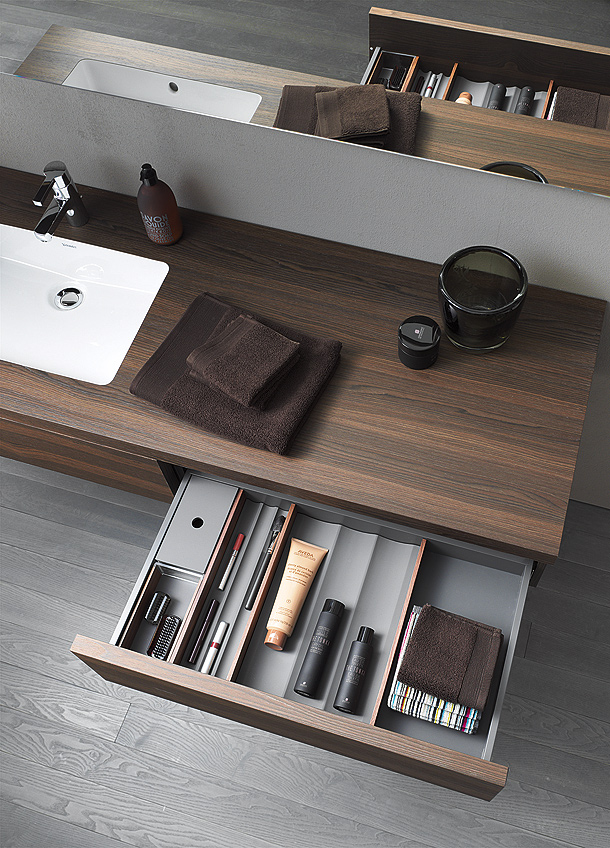 Información e imágenes facilitadas por Duravit
You might also like