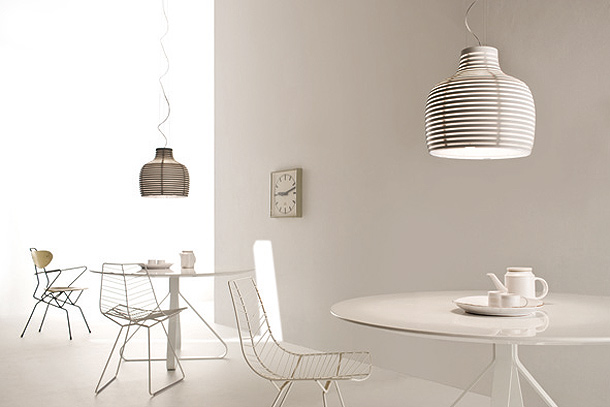 La lámpara de mesa Behive, diseñada por Werner Aisslinger para Foscarini, ya dispone de una versión suspendida, que figura entre las novedades de la firma italiana para este año. Conocido el gran interés de Aisslinger por los nuevos materiales y tecnologías, Behive conjuga unos orígenes inspirados en la naturaleza (su nombre en inglés deriva de «colmena») con la investigación tecnológica.
La forma de la lámpara es el resultado de la superposición de una serie de anillos que aumentan en tamaño. Aparentemente simple y regular, estos elementos son el resultado de un complejo proceso de ingeniería y de  la investigación de nuevos materiales por la que Foscarini también es conocida.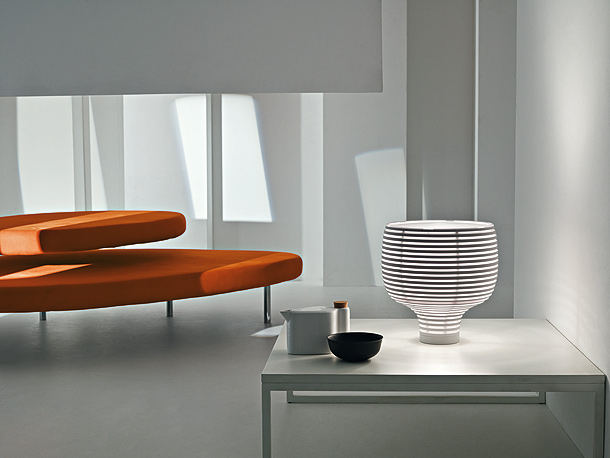 A la luminosidad cálida y suave que comparte con su hermana pequeña, esta versión de suspensión añade una luz directa hacia abajo.  De esta forma, la luz blanca asume un doble valor: destaca la peculiaridad gráfica de los anillos y focaliza la iluminación sobre una zona contreta. Para que los componentes técnicos queden fuera de la vista, la luminaria dispone de un escudo difusor, situado en su interior, que también interviene en la iluminación directa.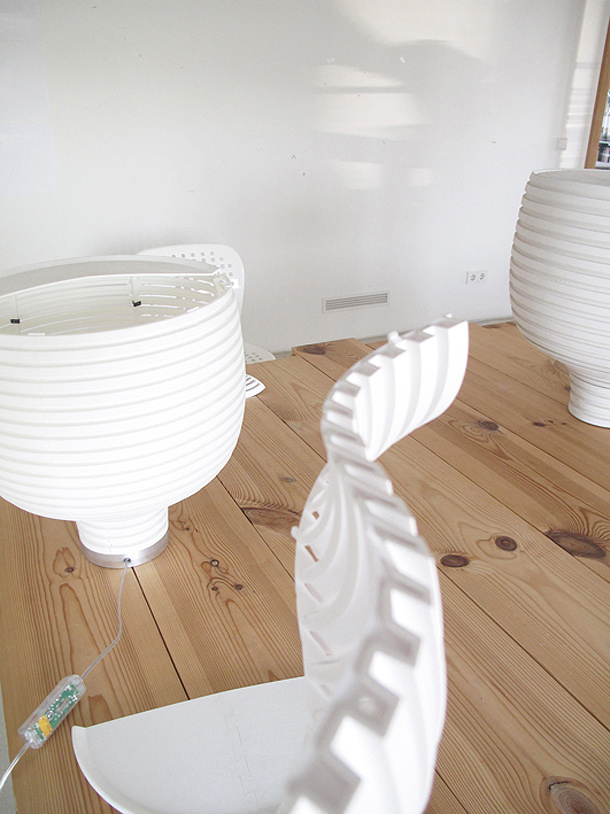 Información técnica:
Lámpara de suspensión.

Material:

ABS – policarbonato.

Tamaño:

ø 39  (altura máx. 200 cm).

Bombillas:

1 x 150W (halógena) / 1 x 25W  (fluorescente).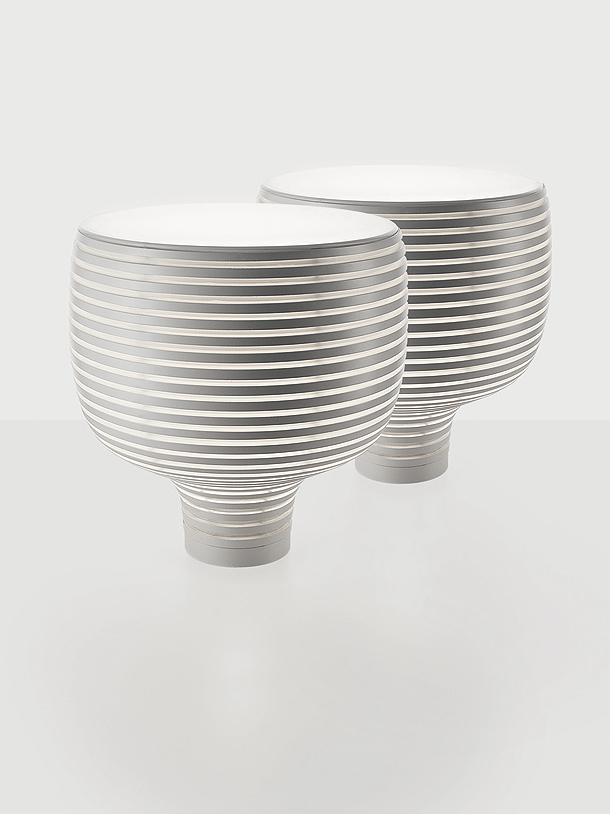 Sobre Werner Aisslinger:
Los trabajos del diseñador Werner Aisslinger, nacido en 1964, se han caracterizado por su interés en la investigación que ha llevado a los campos del diseño industrial y la arquitectura.  Le gusta el uso de las últimas tecnologías y ha contribuido a introducir nuevos materiales y técnicas en el mundo del diseño de producto como la colección Soft Cell para Zanotta, realizada en «tecnogel»,  o la silla Juli para Capellini que fue la primera pieza de mobiliario en utilizar un nuevo tipo de espuma llamada «espuma integral de poliuretano».
Su trabajo ha sido recompensado con diversos premios -desde el Compasso d'Oro hasta el Design Prize of the Federal Republic of Germany, el Red Dot Award o el FX Award en Gran Bretaña-. Su conocido proyecto Loftcube se ha convertido en una de las casas modulares transportables sobre la que más se ha discutido en los últimos años.
Su obra se exhibe en las colecciones permanentes de museos internacionales como el Museo de Arte Moderno (MoMA) y el Metropolitan Museum de Nueva York, el French Fonds National d'Art Contemporain, el Museum Neue Sammlung de Múnich, y el Vitra Design Museum en Weil am Rhein (Alemania).
Werner Aisslinger, que vive y trabaja en Berlín, ha diseñado muebles para firmas como Cappellini, Zanotta, Magis, Porro y Vitra. Además, trabaja en el diseño de productos y proyectos arquitectónicos con marcas como Interlübke, Mercedes-Benz, Adidas, Berlín-IC, Polo Marc'o, Saphire Bombay, FSB, Thonet, Flötotto, Berker, Hugo Boss…
Lee más sobre Werner Aisslinger en Interiores Minimalistas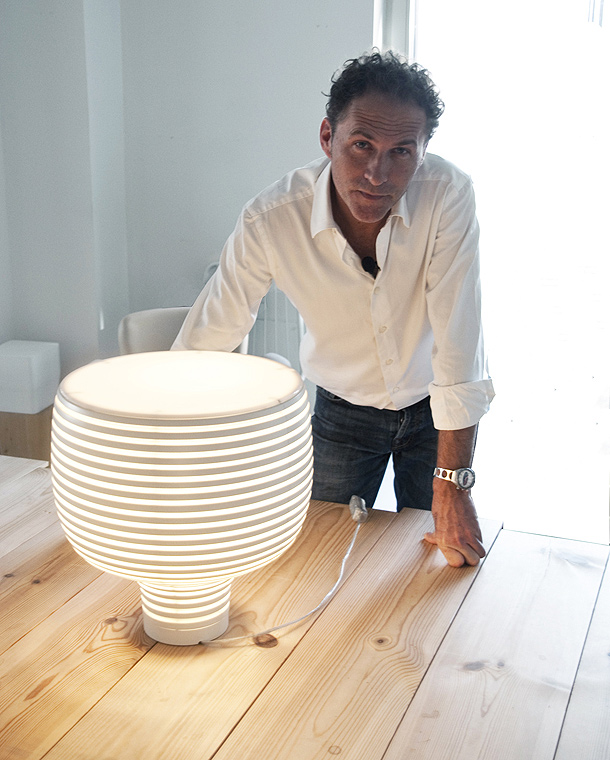 Sobre Foscarini:
Foscarini es una de las firmas de referencia en el sector de la iluminación decorativa y su catálogo incluye las firmas de algunos de los mejores diseñadores del panorama internacional (Marc Sadler, Lievore Associados, Tom Dixon, Nendo y Patricia Urquiola, entre otros).  En el año 2009, inició un proyecto conjunto con la firma de moda Diesel. A lo largo de su trayectoria ha desarrollado una sólida red de distribución más de 2.500 puntos de venta multimarca en 50 países. 
Lee más sobre Foscarini en Interiores Minimalistas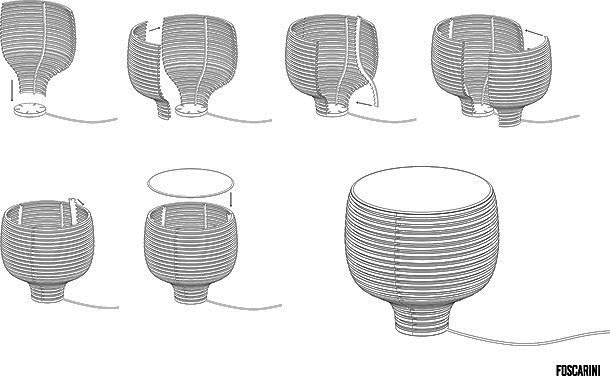 Información facilitada por Foscarini y en la web de Werner Aisslenger. Imágenes facilitadas por Foscarini
You might also like