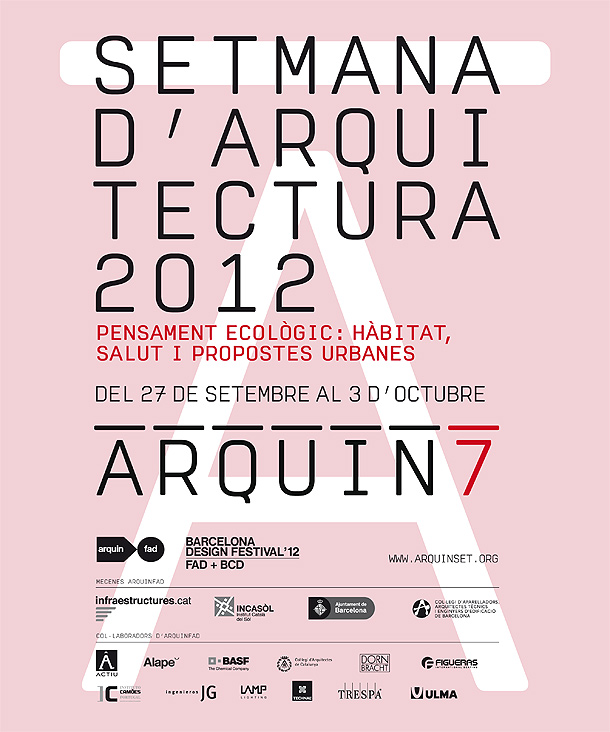 Bajo el título "Pensamiento ecológico: hábitat, salud y propuestas urbanas",  Arquinset – Semana de Arquitectura vuelve a Barcelona con un programa de actividades entorno a la arquitectura y la salud. Entre el 27 de septiembre y el 3 de octubre, se desarrollarán conferencias, visitas guiadas, un cinefórum, tertulias y un simposio, entre otras actividades, que volverán a reunir, un año más, a arquitectos y público interesado en la arquitectura.
Programa de actividades:
Jueves 27 de septiembre:
18.30: Conferencia inaugural: «Diseñando hábitats más saludables». En el FAD.
20.00: Mesa redonda: «Propuestas urbanas, más allá de la sostenibilidad». En el FAD.
21.30: Fiesta de inauguración en el showroom de Trespa.
Viernes 28 de septiembre:
18.00: Cine forum: «Eames. The architect and the painter» (2011). Auditorio del FAD.
20.00: Diálogo sobre Economía verde. En el FAD.
Sábado 29 de septiembre:
10.00-14.00: Visita guiada a edificios rehabilitados con criterios de salud: Casa Granell (Girona, 122), René + que Electrodomésticos (Pg. Lluís Companys, 13) y Vivienda en Alt de Sant Pere. Organiza: Associació BaM Bioarquitectura Mediterrània (www.bamconf.org).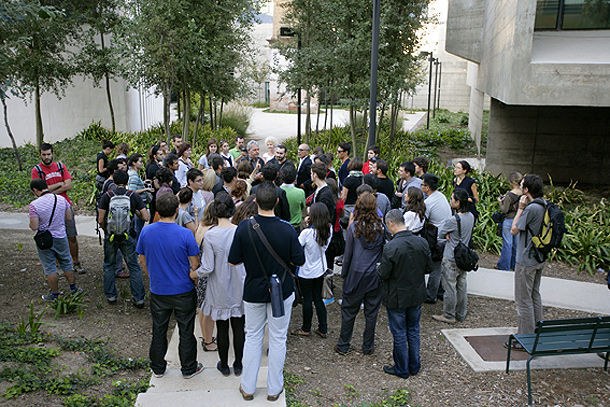 Fotografía: Xavier Padrós
Lunes 1 de octubre:
16.00: Visita guiada al [email protected]: Parque del Campus Audiovisual, Central Districlima, Sede Bassat-Ogilvy, Comissió Mercat de Telecomunicacions, Can Tiana – IL3. Institut de Formació Contínua Universitat de Barcelona, Viviendas (Tánger, 52-54), edificio Sedatex, Sede de T-Systems, Consell Audiovisual de Catalunya, Viviendas (Sancho d'Àvila, 136-144), edificio Media Tic, viviendas (Roc Boronat, 104), Museu Fundació Vila Casas – Jardins Can Framis y Parc Central del Poblenou.
19.00: Tertulia 30+30: «Feng shui». Showroom de Figueras.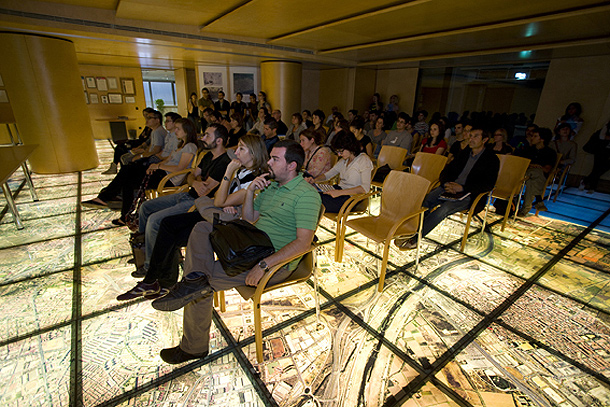 Fotografía: Xavier Padrós
Martes 2 de octubre:
10.00: Simposio «Hábitat y salud». Mesa 1: «Edificio y salud». Mesa 2 (12.00): «Climatización pasiva y activa en el clima mediterráneo». Mesa 3 (17.00): «Materiales y salud». Mesa 4 (19.00): «El espacio y salud: radiaciones». En el FAD.
Miércoles 3 de octubre:
18.00: Presentación de las bases de los XXV Premios Habitácola: «El lugar del poder» e intervención de los ganadores de la edición 2011-2012. En el FAD.
19.00: Presentación de «eXSperiències. Jóvenes arquitectos y pequeños espacios». Sala Fórum del FAD.
20.30: Pecha Kucha: «Formfollowsenergy». Auditorio del FAD. 
Todo el programa detallado en la web de Arquinset
Información e imagen facilitada por Arquin-FAD
You might also like