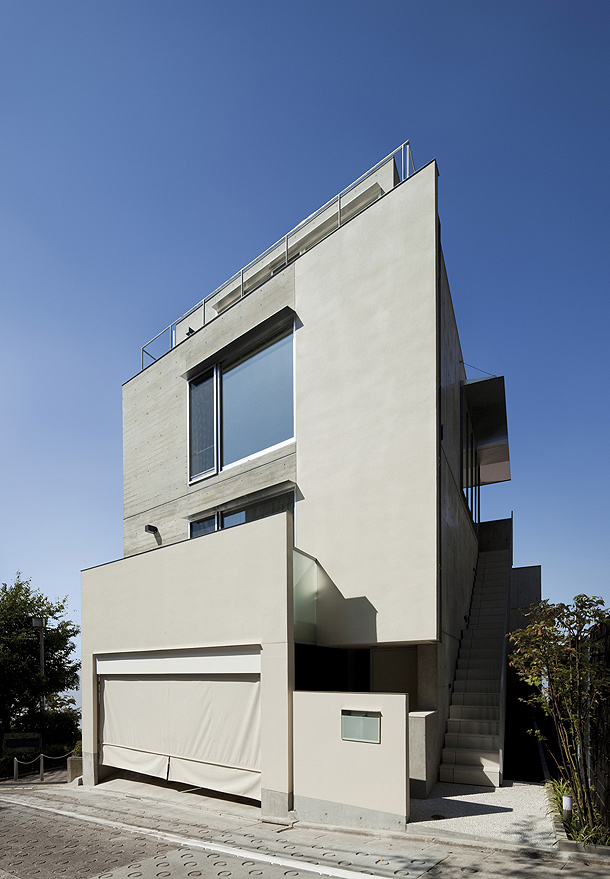 El principal objetivo que se planteó a la hora de realizar esta vivienda unifamiliar fue conseguir una casa armoniosa y el responsable de hacerlo realidad fue el estudio japonés YJP Architecture, que trabajó en colaboración con el despacho Toyoda and Associates. La llamada Residencia Mita está situada en el centro de la ciudad de Tokio, en una calle en pendiente que conecta con dos mundos opuestos: por una parte, con una ajetreada arteria comercial y, por otra, con una tranquila zona residencial.
Otros de los retos que se plantearon fueron integrar una vivienda unifamiliar en una calle de grandes edificios residenciales y, al mismo tiempo, asegurar un ambiente confortable y espacioso en el terreno sobre el que se levanta: una pequeña parcela de poco más de 100 m2.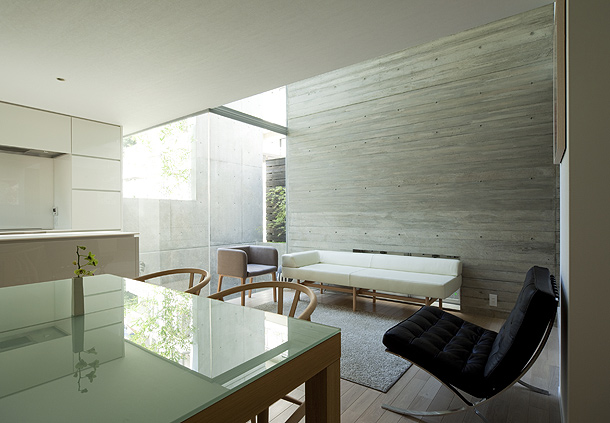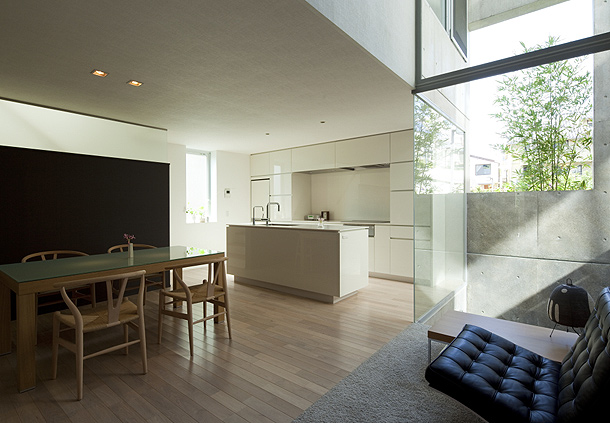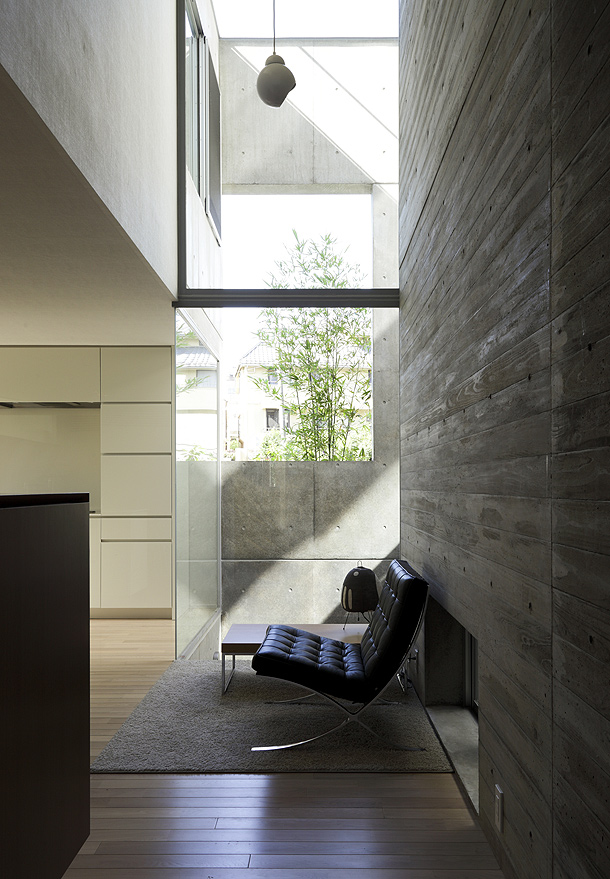 Para cumplir con el primero de ellos, se consideraron cuidadosamente la escala, los materiales y los colores, de forma que la vivienda fue diseñada para armonizar con los edificios colindantes mientras se ajustaba a la estricta reglamentación de la zona. Para cumplir con el segundo, se prestó una especial atención a los detalles, lo que dio como resultado un hogar sutil y de alta calidad residencial.
Además, para aprovechar al máximo la parcela, en lugar de levantar una vivienda pensando en una única familia, se proyectó para que pudieran vivir en ella hasta tres familias sin tener que sacrificar la calidad de vida (por ejemplo, dos de sus plantas disponen de cocina, comedor y sala de estar). Los arquitectos también diseñaron las plantas de forma flexible, lo que hace que puedan adaptarse a las necesidades específicas y los espacios libres han sido creados para permitir suficiente luz natural, ventilación y abertura.
La forma básica del edificio deriva de la típica «casa-tienda» que se puede ver en Tokio.  En este diseño, los arquitectos del proyecto han integrado elementos tradicionales japoneses como las noren, unas cortinillas que se suelen poner a la entrada de las tiendas o los restaurantes para protegerse del sol y del polvo, y los paneles shoji, las tradicionales puertas japonesas que sirven para separar las estancias.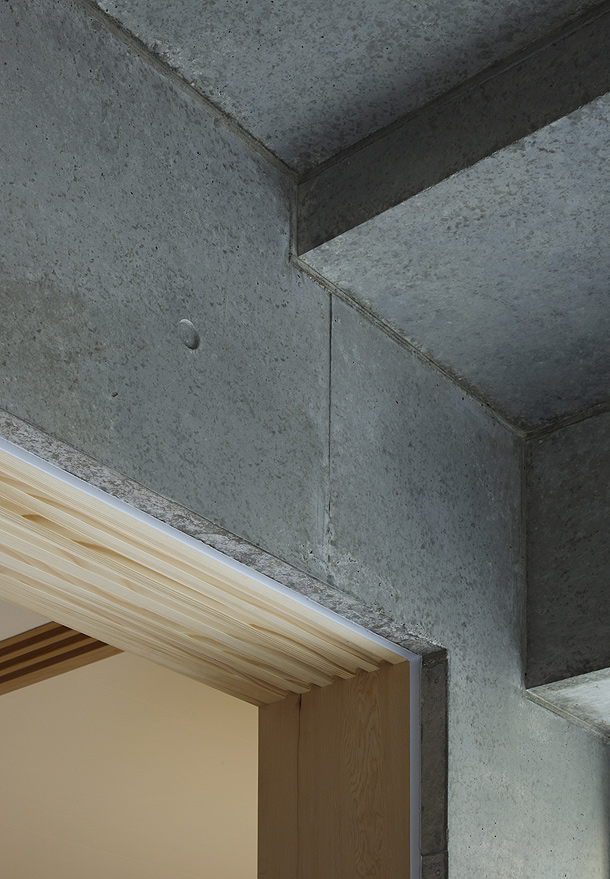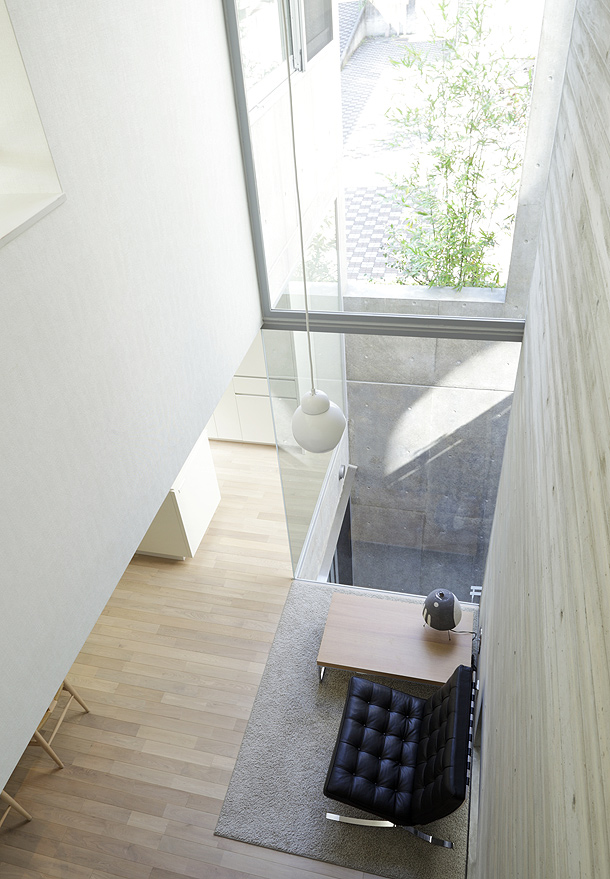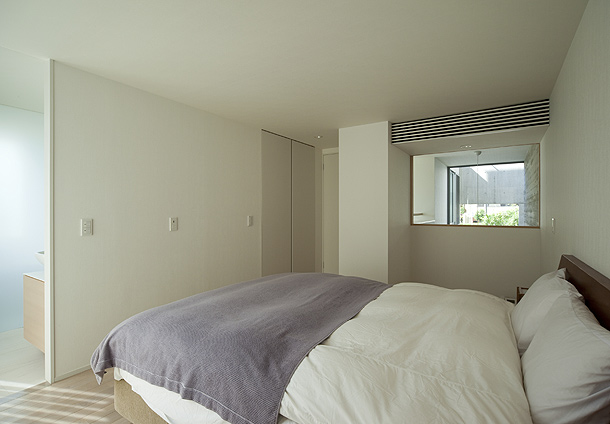 El interior de la casa expresa una gran simplicidad y las suaves texturas y los tonos neutros contribuyen a generar una cálida atmósfera que aumenta la comodidad de vivir en un hogar de estas características. En el salón-comedor, la pared de hormigón visto se ha texturizado con un acabado de listones de madera dispuestos horizontalmente para suavizar la rigidez y la frialdad de este material. En este mismo espacio, las ventanas de doble altura dejan pasar abundante luz natural y proporcionan una sensación de amplitud, que se respira en todo el espacio.
Ficha técnica:
Proyecto:

Residencia Mita.

Localización:

Tokio (Japón).

Arquitectos:

YJP Architecture en colaboración con Toyoda and Associates.

Superficie parcela:

1162.

Superficie construida:

650.

Total superficie:

2530.

Completado:

agosto 2009.

Construcción:

estructura de hormigón (cuatro plantas + sótano).

Fotografías:

45g Photography (www.45g.jp)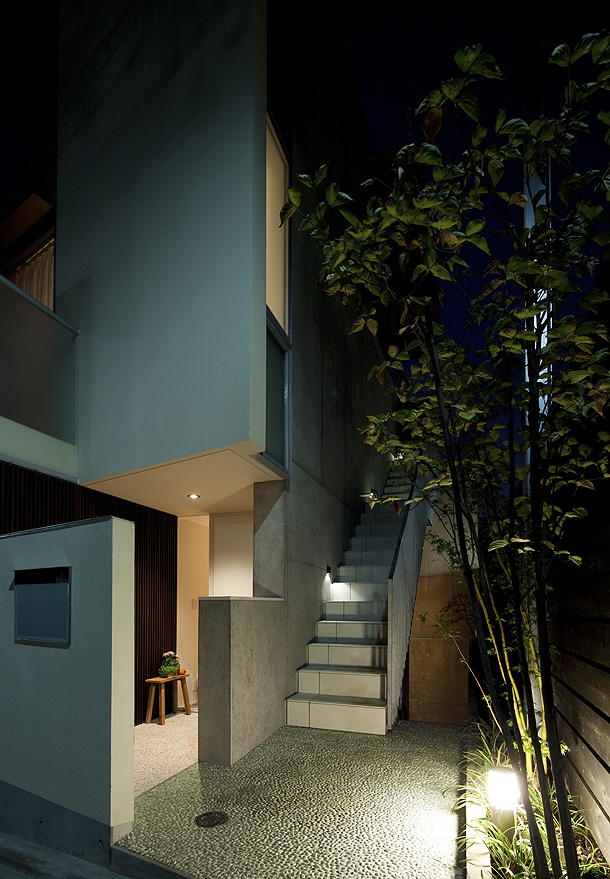 Sobre YJP Architecture:
YJP Architecture es un estudio fundado por el arquitecto Vincent Yueh, en 2007.  Con anterioridad había trabajado en  Kengo Kuma & Associates y Farewell Mills Gatsch Architects.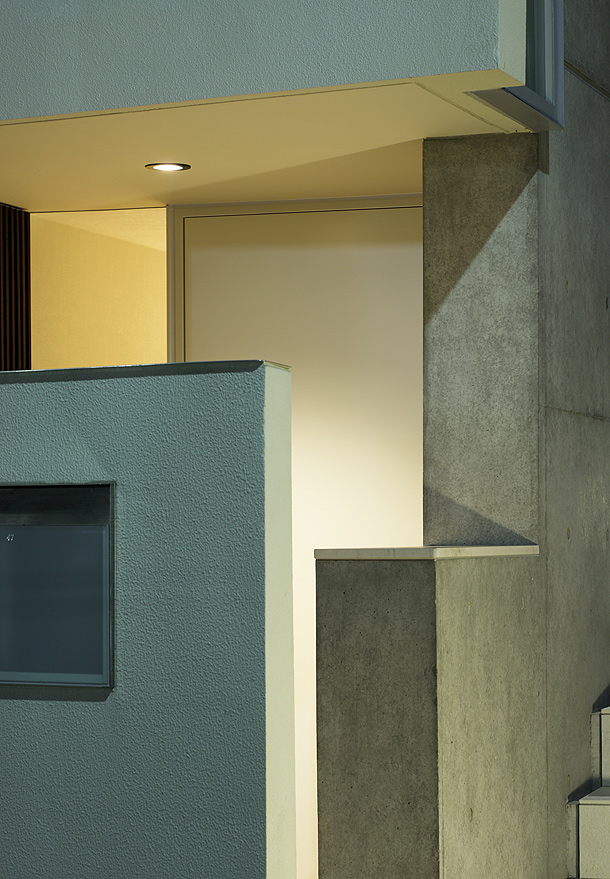 Planimetría:

Ubicación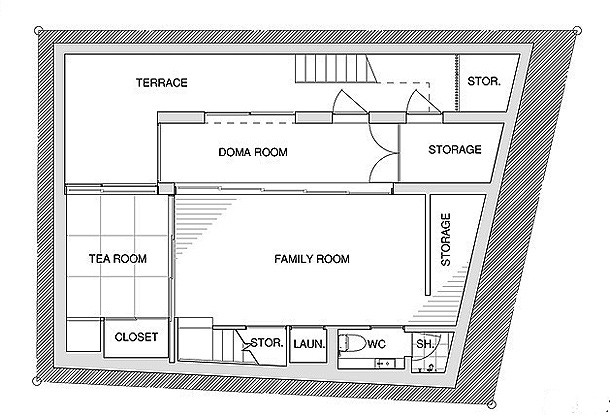 Planta sótano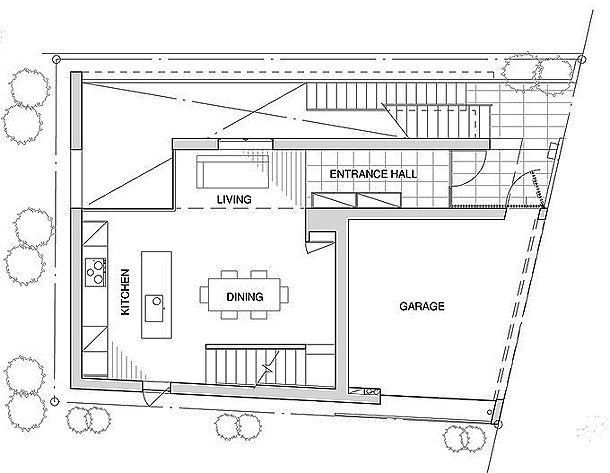 Planta primera
Segunda planta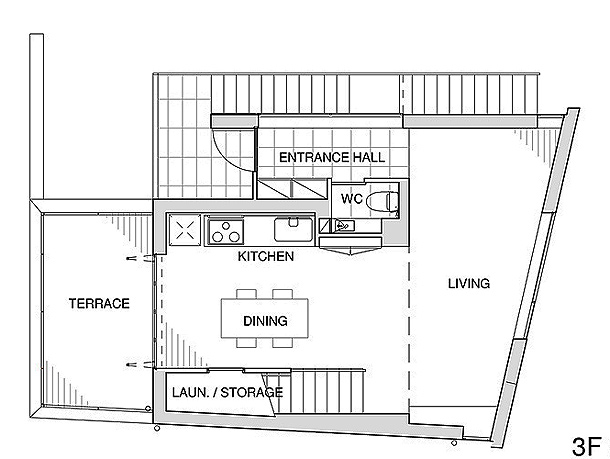 Tercera planta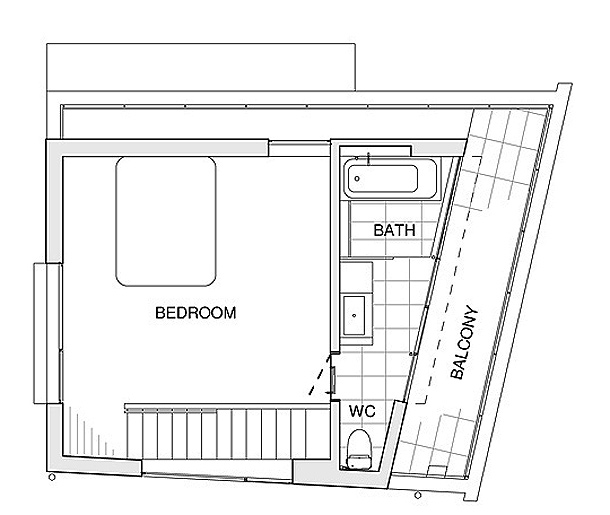 Cuarta planta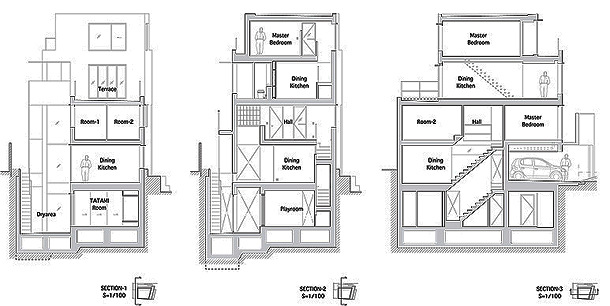 Secciones
Información e imágenes facilitadas por YJP Architecture