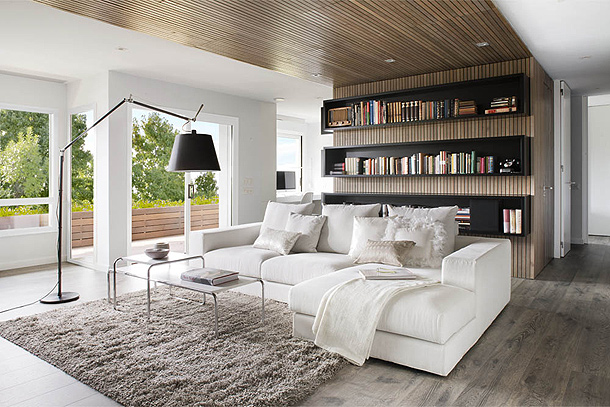 El último trabajo de la interiorista Susanna Cots es esta vivienda en Barcelona, cuyo interior es atravesado por una elegante piel de madera que lo recorre transversalmente. Este laminado de madera lacada  recorre vertical y horizontalmente todo el piso, creando un paisaje emocional y cálido que da paso a espacios dentro espacios.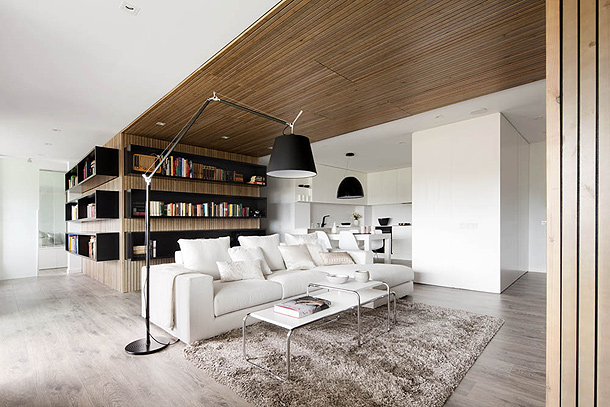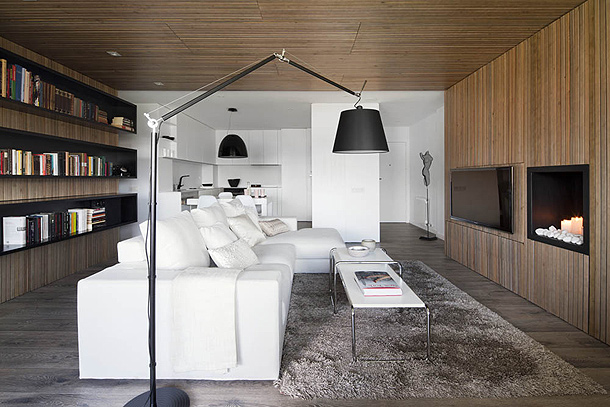 La piel nace en el núcleo central de la vivienda, donde la madera reviste el techo del comedor y se transforma en el mueble que aloja una chimenea de bioetanol junto al televisor.  Justo enfrente, el revestimiento se utiliza como fondo del juego de estanterías voladas, donde se exhiben los libros de los propietarios del piso: dos profesionales liberales amantes de la lectura.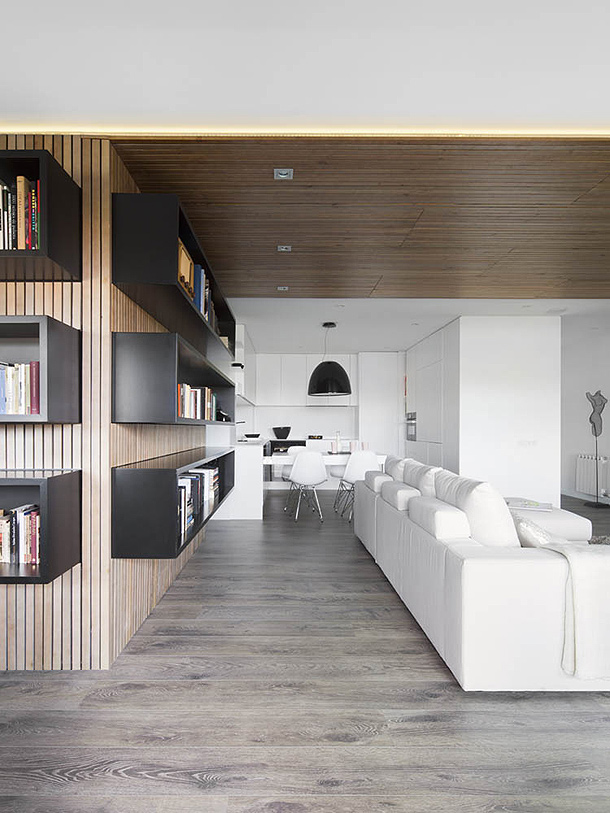 El revestimiento transcurre en paralelo a la cocina cuyo mobiliario lacado en blanco ha sido diseñado por Susanna Cots sobre Silestone blanco. Una puerta-panel, camuflada bajo la misma estética que los muebles de esta estancia, conduce a un lavadero exterior.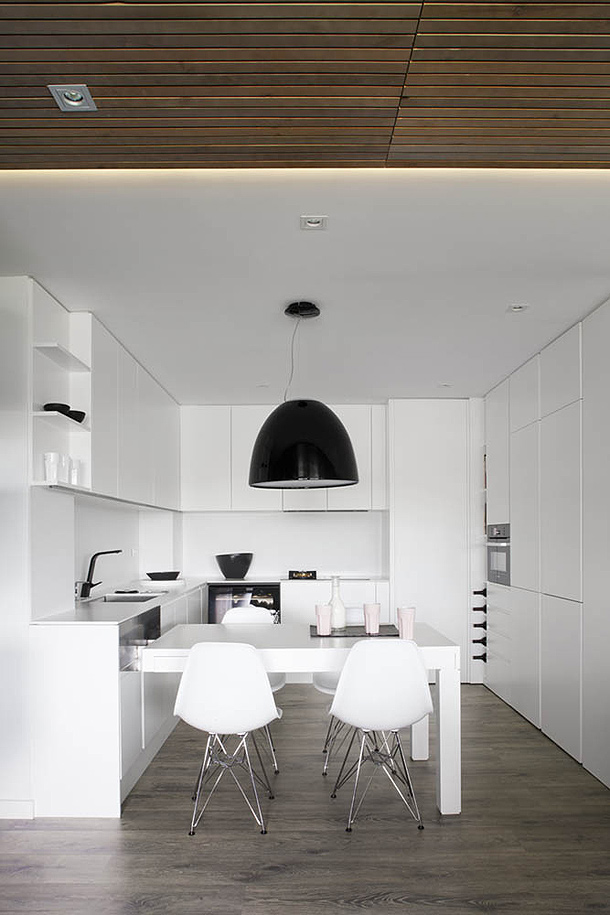 El envoltorio continúa en el techo que delimita la sala de estar y abraza la zona de aguas tanto externa como internamente, consiguiendo que esta piel se ilumine sugerentemente dentro de los baños con luz natural. La zona cálida continúa hasta la suite, donde delimita la zona de la cama y acaba convirtiéndose en el cabezal.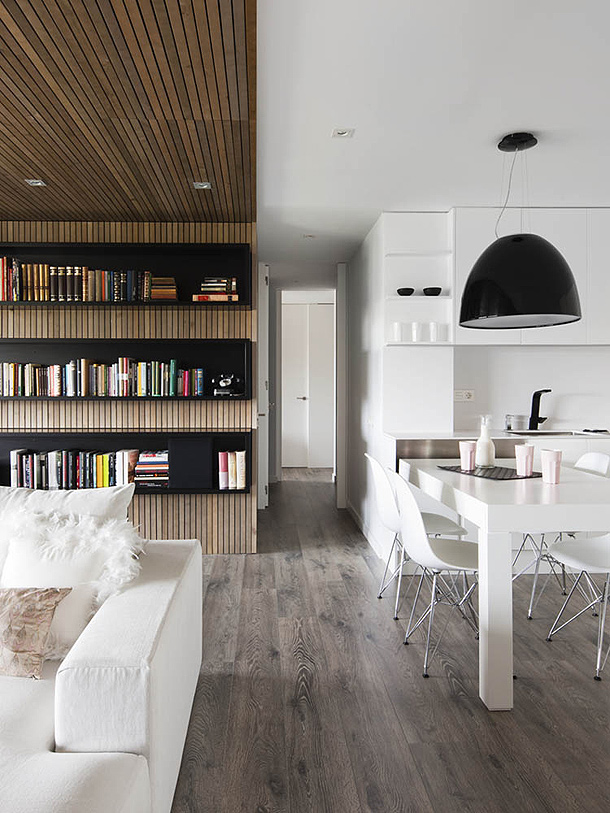 El resto del espacio ha sido proyectado en blanco, el color que define la filosofía de la interiorista catalana, mientras se añadían pinceladas en negro con las estanterías y lámparas decorativas, entre otros detalles.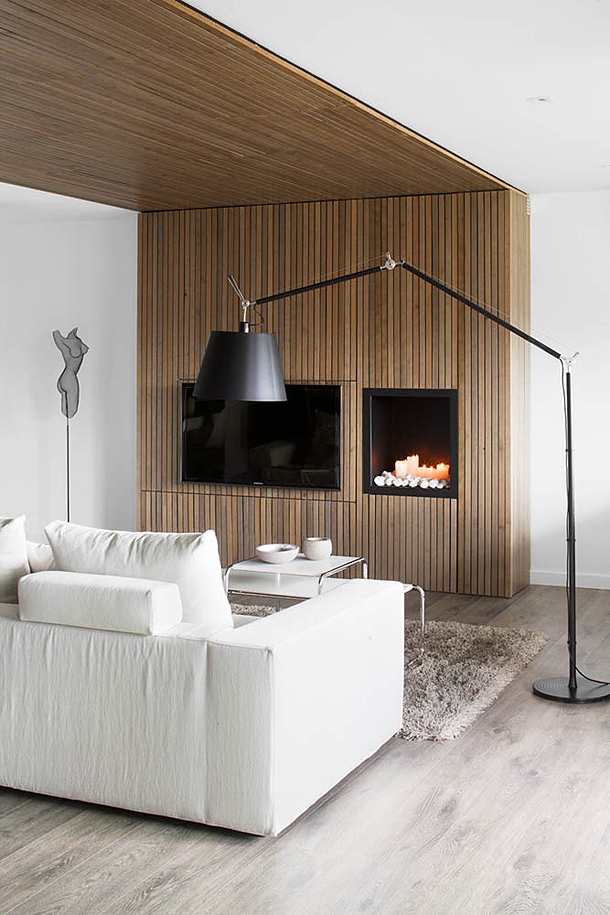 En una casa, donde la lectura forma parte imprescindible del día a día, el estudio está integrado en la sala de estar, creando un rincón muy luminoso de cara a la terraza.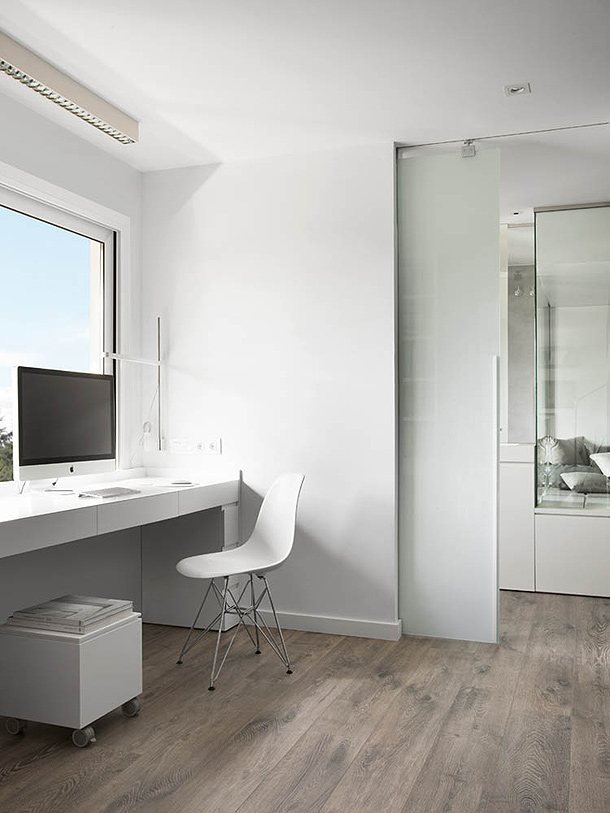 A la suite se ha incorporado una zona de aguas «para que fluya la calma y el descanso». La bañera, situada junto a la cama, se ha diseñado con un sistema de puertas que permite convertirla en un banco donde relajarse. Se ha querido enfatizar la ducha -proyectándola doblemente- e inundándola de luz natural.
Este espacio se ha completado con un sillón de piel de los propietarios con el que se ha conseguido crear un ecléctico espacio de fuerte personalidad.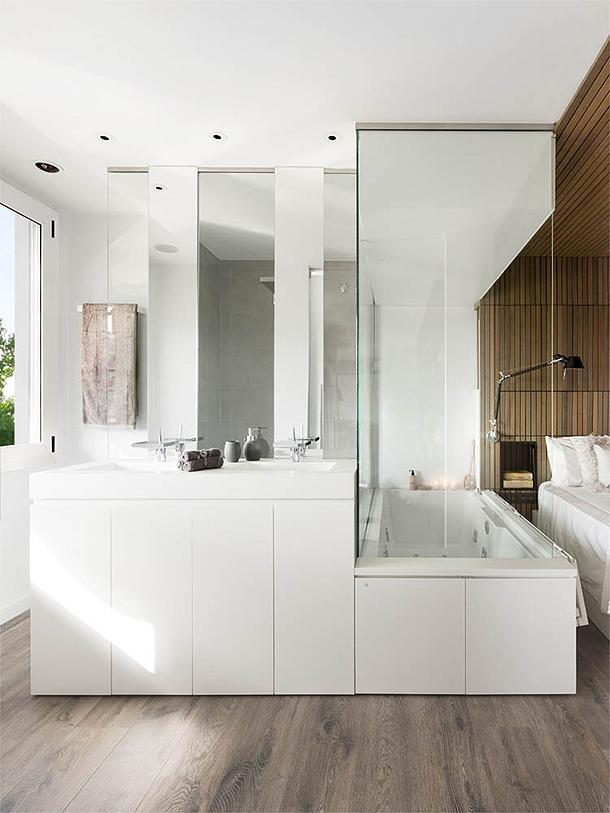 A la terraza se la ha otorgado un protagonismo similar al resto del interiorismo. A nivel visual, se ha proyectado como un elemento de «atrezzo», a través de un paisajismo minimalista. Un huerto urbano ayuda a conectar con el interior tanto desde un punto de vista del diseño como desde un punto de vista emocional, un lujo en plena ciudad. 
Ficha técnica:
Proyecto:

Expresión Transversal.

Localización:

Barcelona (España).

Diseño interior:

Susanna Cots Estudi de Disseny.

Año:

2012.

Mobiliario:

diseñado a medida por Susanna Cots.

Iluminación:

Artemide.

Electrodomésticos:

Bosch, excepto la campana extractora (Pando).

Grifo de cocina:

Teka.

Mobiliario de cocina:

diseñado a medida por Susanna Cots.

Grifería baño:

Hansgrohe.

Madera laminado general:

madera de pino con una pátina de laca de color tierra.

Tarima terraza:

madera de ipe.

Fotografías:

Mauricio Fuertes (www.mauriciofuertes.com).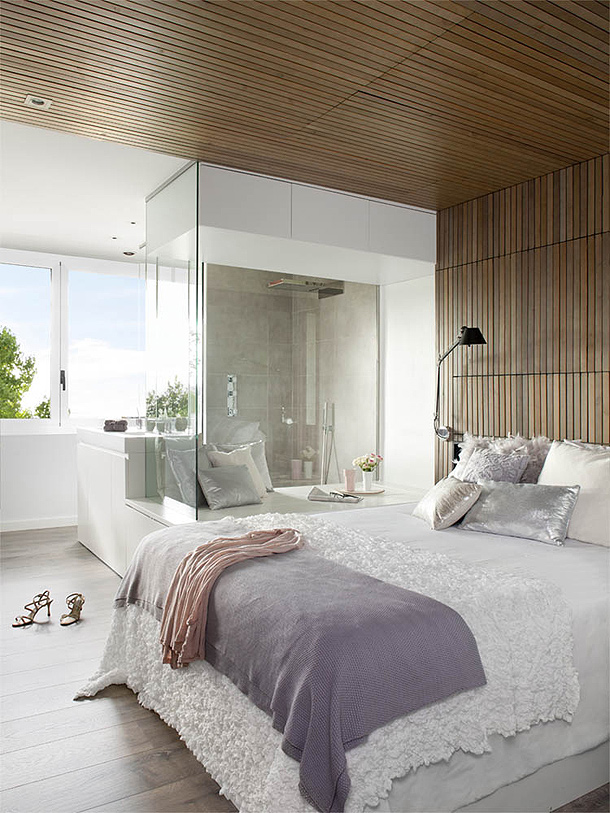 Sobre Susanna Cots Estudi de Disseny:
La interiorista  
Susanna Cots
(Solsona, 1977) acaba sus estudios de Proyectista de Edificios y Obras, en 1998, y empieza los estudios de Diseño de Interiores, en Barcelona. Durante su formación académica trabaja en diferentes estudios de arquitectura y empresas relacionadas con el mundo del diseño para complementar su formación. El año 2003, realiza un Máster en Escaparatismo, en Madrid, y un año después, uno Diseño de Interiores para la producción audiovisual, en Barcelona. Después de varios años de experiencia, en el 2001 funda su propio estudio de diseño Susanna Cots Estudi de Disseny.
En estos ya diez años de carrera profesional, la interiorista ha diseñado espacios de todo tipo y como ella misma dice "todo aquello que sea susceptible de ser diseñado". El trabajo de Susanna Cots converge en un punto intermedio entre funcionalidad y estética, atemporalidad y comodidad. Su búsqueda incesante a través del blanco, las líneas estilizadas y el orden visual consiguen que sus proyectos transmitan una personalidad cada vez más consolidada.
Sus proyectos han sido reconocido en publicaciones de ámbito nacional como "Diseño Interior", "Casa Viva", "Mi Casa", "La Vanguardia" o "El País", entre otros. Además, ha participado en diferentes concursos y premios a nivel nacional e internacional como el ICFF New York (International Contemporary Furniture Fair), los Premios FAD de Barcelona, Porcelanosa Interiores, los Andrew Martin's Interior Design Awards de Londres y los SBID Awards, de The Society of British Interior Design, donde quedó finalista en dos categorías. 
Lee más sobre Susanna Cots en Interiores Minimalistas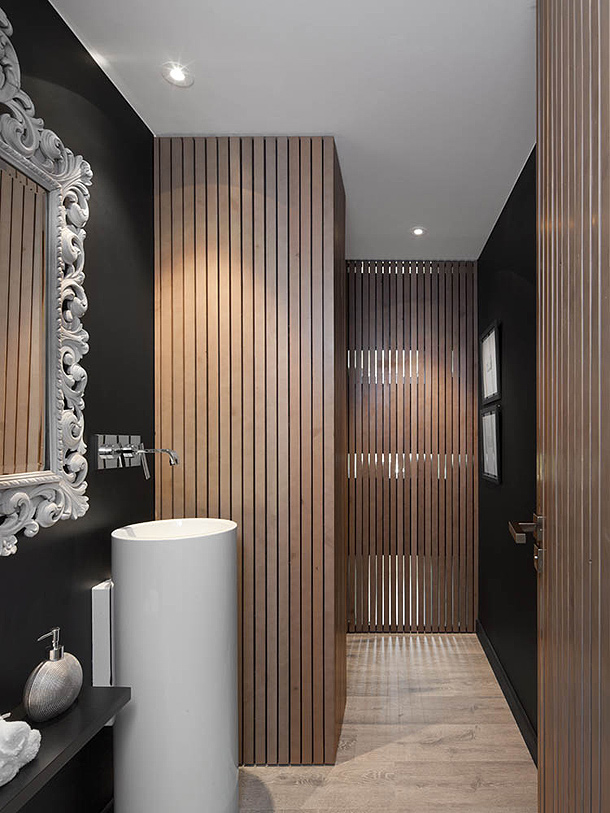 Planimetría: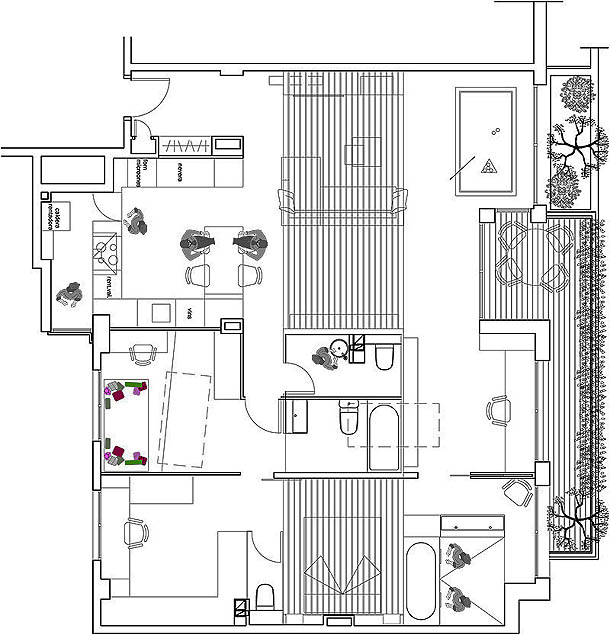 Información e imágenes Susanna Cots Estudi de Disseny
You might also like