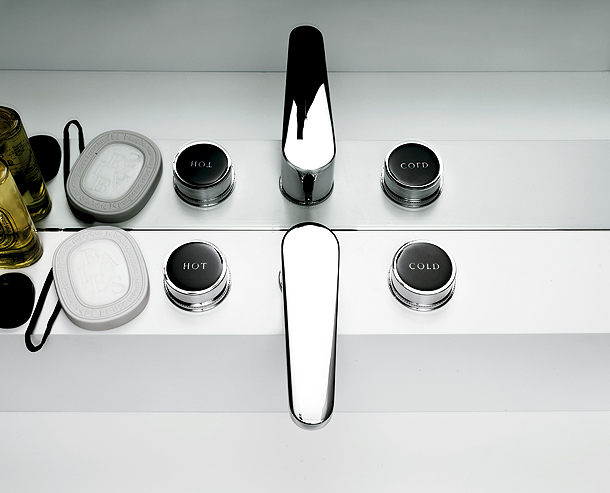 Matteo Thun y Antonio Rodríguez son los autores de esta grifería con la que han conseguido ofrecer una nueva lectura de las griferías clásicas de dos mandos. "Lo clásico versus lo contemporáneo" es el espíritu de Savoy, una colección concebida principalmente para espacios públicos y hostelería.
A la hora de diseñarla, Thun y Rodríguez pensaron en un «producto sumamente versátil, binomio de estilo clásico y contemporáneo. Una colección que se adaptara perfectamente al estilo de un hotel tradicional, orientada al presente, en elegante equilibrio». Caracterizada por formas primarias y sencillas, uno de los puntos fuertes de  Savoy es su versatilidad y capacidad de personalización: combinando colores, acabados y logotipos se pueden obtener muchísimas variantes.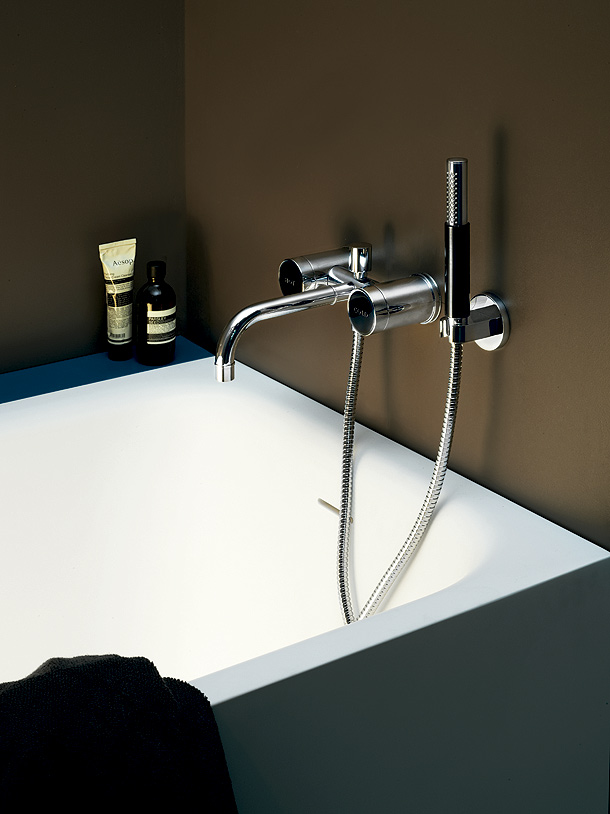 Así, un sinfín de acabados y soluciones decorativas para las manetas y los pequeños florones permiten ofrecer propuestas estéticamente muy diferenciadas: orientadas al diseño minimalista, con acabado blanco o negro mate; clásicas pero originales, en cromo combinado con la superficie superior en burdeos, azul ultramarino y/o verde botella; refinadas y elegantes, totalmente en cromo y/o platino.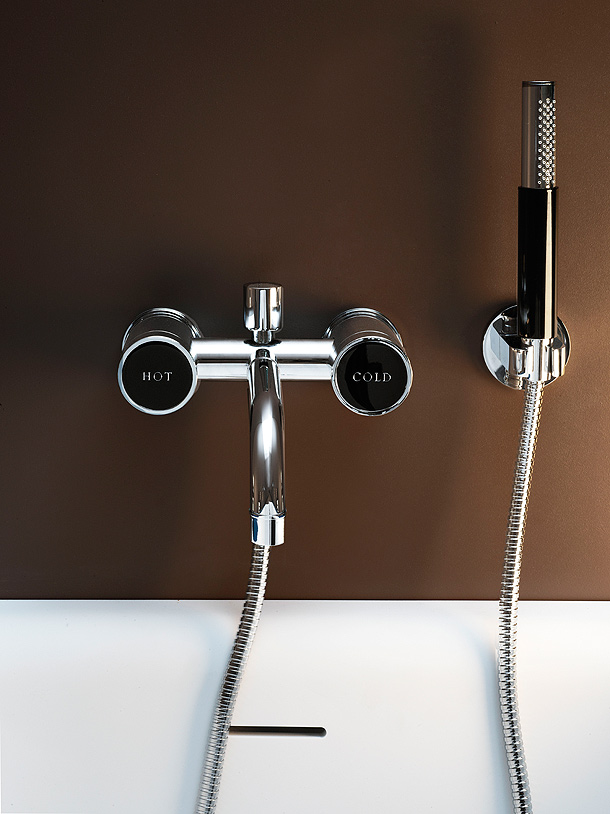 La maneta cilíndrica se presenta pintada, lacada y cromada mientras que el florón de la base puede ser liso o trabajado. Además, la superficie puede personalizarse con logotipos (como el de una cadena de hoteles, etc.), con las tradicionales iniciales H (hot) y C (cold) y/o con inscripciones creadas especialmente para el cliente.
La colección la componen una completa gama de griferías: batería para lavabo de tres agujeros, batería exterior para baño-ducha, baño-ducha «free standing», termostática para ducha de empotrar con dos llaves de paso, batería de lavabo de empotrar, batería exterior de ducha, monobloc para bidé, batería para bidé de empotrar con caño de encimera. Savoy se completa con accesorios como perchas, portarrollos y toalleros.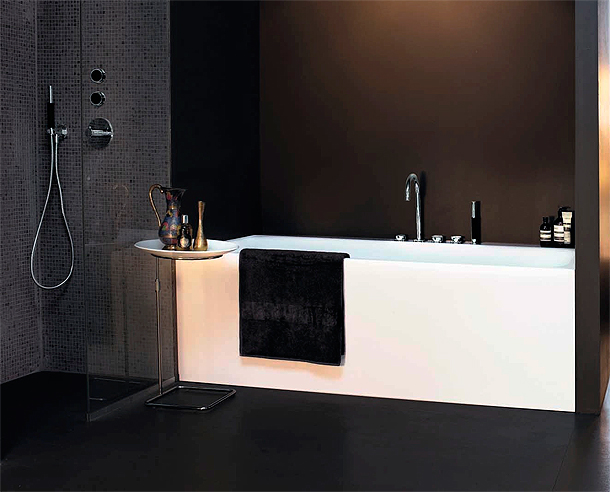 Sobre Matteo Thun y Antonio Rodríguez:
Matteo Thun (Bolzano, 1952) se formó en Austria y en Italia como arquitecto. En 1978, se instaló en Milán y, en 1981, creó el grupo Memphis junto a Ettore Sottsass. Tres años más tarde, fundó su propio despacho Studio Matteo Thun en Milán (hoy Matteo Thun & Partners ) y trabajó como director creativo de Swatch (1990-1993).
Entre sus obras más conocidas figuran el Side Hotel en Hamburg (Hotel of the Year, en 2001), el hotel de alta montaña Vigilius en el norte de Italia (Wallpaper Design Award, en 2004) o el Radisson SAS de Frankfurt (premio mejor hotel del año del Worldwide Hospitality Award, en 2005). Matteo Thun es miembro del RIBA, la Royal Association of British Architects. Thun, conocido principalmente como arquitecto e interiorista, ha sido galardonado con el Compasso d'Oro Award en tres ocasiones.
El español Antonio, director de Diseño de Producto en Matteo Thun & Partners, se formó como arquitecto y diseñador industrial en Valencia y Milán, donde se trasladó a vivir en 1990. Allí fue profesor del Instituto Europeo di Design de 2000 a 2005 y se unió al despacho de Matteo Thun también en el año 2000. Fue nombrado socio en 2003.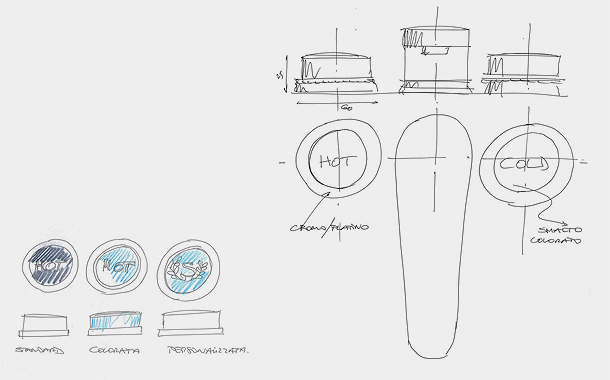 Sobre Zucchetti.Kos:
La firma Kos, con sede en Pordedone, inició su actividad en el año 1998 como empresa fabricante de bañeras de hidromasaje y cabinas de ducha multifunción. Desde el año 2001, la empresa acompaña una comprobada competencia técnica en el sector con el diseño y la experiencia estratégica de Ludovica+Roberto Palomba. Ambos diseñan para la empresa toda la colección de productos y se ocupan también de la dirección artística.  En 2007, Kos entra en el grupo Zucchetti: dos marcas destacadas en el panorama internacional del diseño para el ambiente del baño.
La historia de Zucchetti, empresa especializada en griferías, se inició en el lejano 1929 con la fundación de una pequeña fundición en Valduggia (Vercelli) por deseo de Alfredo Zucchetti y que, actualmente con la constitución del grupo Zucchetti.Kos, guiado por la tercera generación (Elena, Carlo, y los primos Marco y Paolo Zucchett) dispone de cuatro fábricas de producción, una unidad de distribución, 400 empleados y dos millones de artículos fabricados cada año.
Lee más sobre Zucchetti.Kos en IM
Sobre Gunni & Trentino:
Gunni & Trentino es una prestigiosa empresa española, especializada en decoración de gama alta. Dispone de ocho categorías de productos: Cocinas, Baños, Pavimentos y Revestimientos, Armarios y Puertas, Mobiliario de Hogar, Iluminación, Mobiliario de Oficina, y Menaje. En cada una de ellas cuentan con las mejores marcas nacionales e internacionales del sector, así como con colecciones propias.
Con más de 40 años de experiencia, actualmente dispone de dos áreas principales de negocio: Retail, con 12 showrooms repartidos entre Barcelona, Bilbao, Madrid, Marbella y Valencia, y Contract, división que se encarga de grandes proyectos como hoteles o cadenas de franquicias.
Lee más sobre Gunni & Trentino en IM
Información e imágenes facilitadas por Gunni & Trentino y en la web de Zucchetti.Kos
You might also like