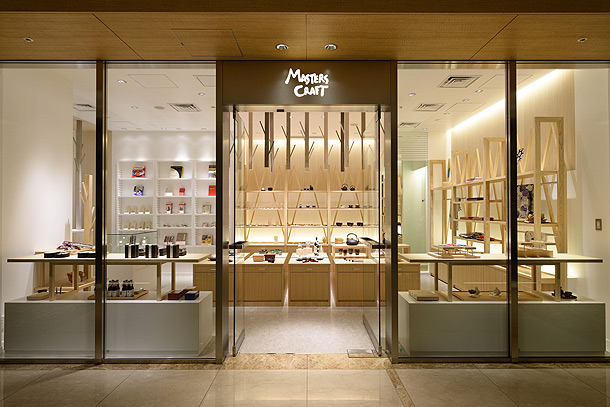 Antes de empezar a diseñar la nueva tienda de la firma Masters Craft en el Palace Hotel Tokyo,  completamente renovado en 2012, Akemi Katsuno y Takashi Yagi del estudio Love the Life visitaron la sede central de esta empresa de objetos de cerámica en la ciudad de Mizunami. Allí, la visión de un paisaje de montañas y ríos les sirvió como punto de partida para el nuevo proyecto.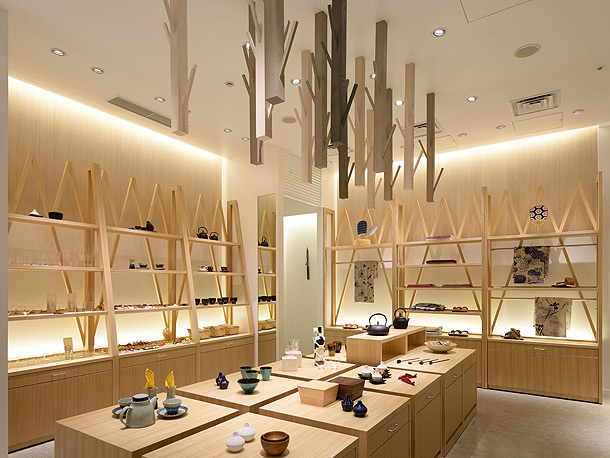 Los arquitectos diseñaron las estanterías retroiluminadas que cubren las dos paredes de la parte posterior de la tienda con un patrón que simboliza los bosques y las montañas de la región de Tono. Esta concepción del local, no sólo ha servido para crear un espacio cálido y luminoso, sino que ha resuelto también uno de sus principales inconvenientes: mientras el hotel disfruta de espectaculares vistas a la ciudad y al parque Wadakura Funsui Kohen -al estar situado enfrente-, la tienda se encuentra ubicada en el sótano.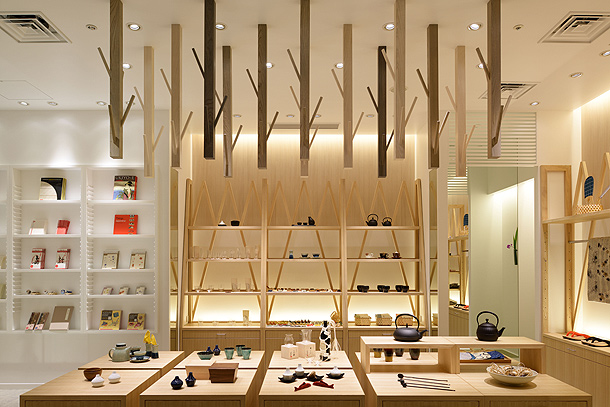 En su deseo de seguir reflejando la naturaleza inspiradora, en el centro del techo se fijaron 14 tótems de madera rectangulares en diferentes tonos de acabado, semejantes a pequeños árboles sin hojas,  con el fin de enfatizar la altura y la profundidad del establecimiento. Este motivo también se ha utilizado en el mostrador de la caja y en una pequeña estantería que se encuentra cercana a él.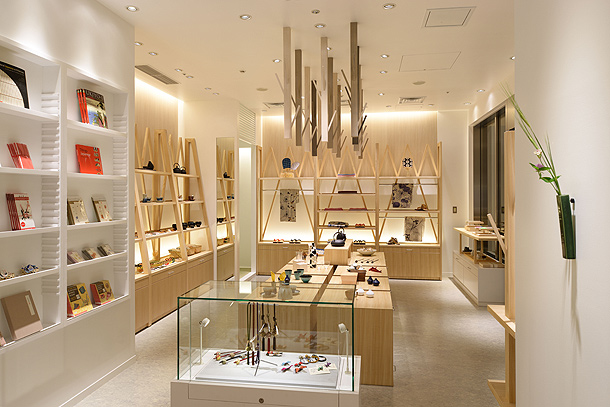 Además, de las «estanterías-montaña», el resto de la tienda se ha equipado central y perimetralmente con un mobiliario más tradicional realizado en madera acabada al aceite y madera lacada en blanco. Bajo los tótems y para no sobrecargar el espacio, se han dispuesto una serie de diez expositores bajos que sirven a la vez de almacenaje.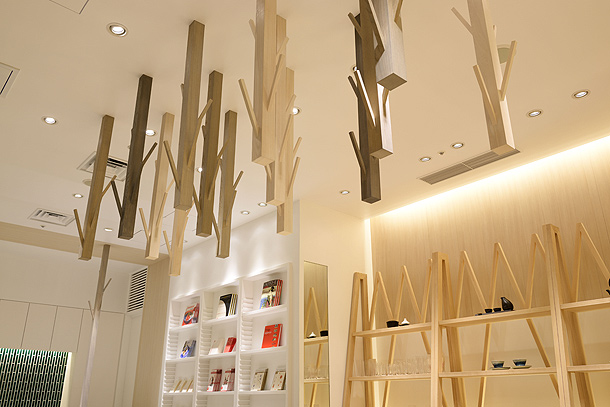 Frente al aparador, se han dispuesto unas piezas de mobiliario, también bajas para no entorpecer la visión del interior, que combinan unos volúmenes rectangulares y, sobre ellos, un ligero estante. Una librería alta, lacada blanca, ocupa una de las paredes justo al lado del cajero.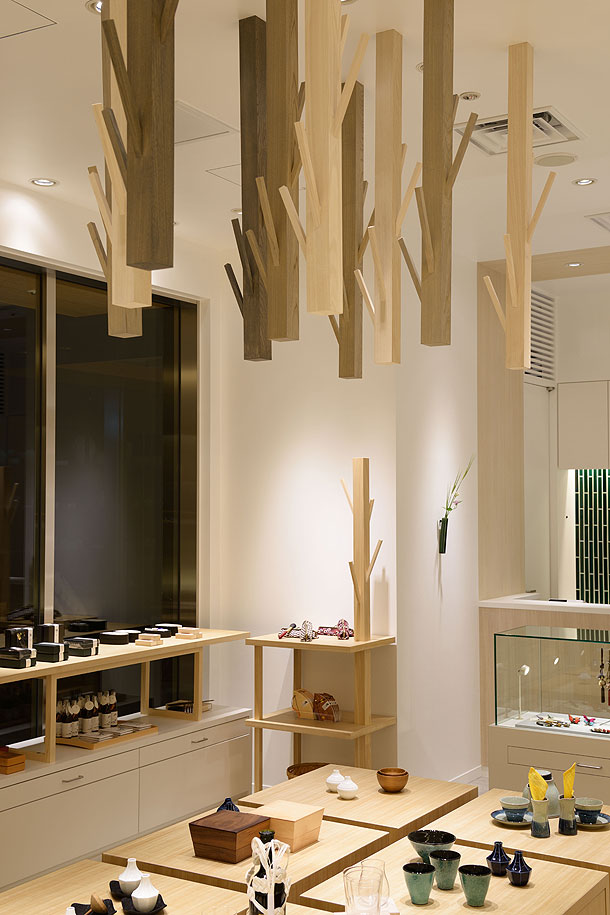 Detrás de él, azulejos vidriados en forma de tiras, que representan el origen como fabricante de cerámicas de Masters Craft,  cubren la pared y dan un color vivo y profundo al interior.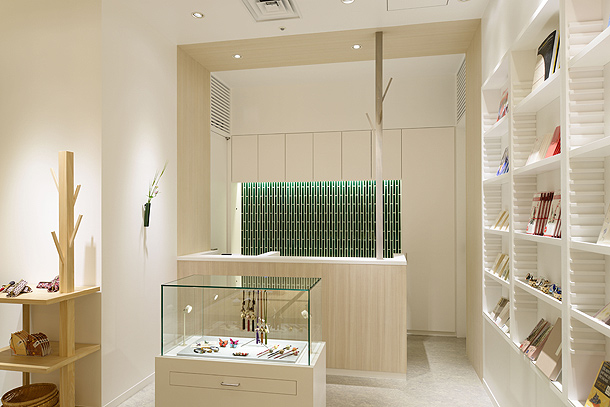 Ficha técnica:
Proyecto:

Masters Craft en el Palace Hotel Tokyo (tienda de objetos de arte japonés).

Localización:

  Chiyoda-ku (Tokio / Japón).

Finalización: 

mayo 2012.

Arquitecto:

Akemi Katsuno y Takashi Yagi (Love the Life).

Superficie:

45 m2.

Constructor:

Ayaka Kanno (Ikahata).

Propietario y operador:

Hisatoshi Goshima y Chisato Shimizu (Masters Craft).

Fotografías:

Shinichi Sato (www.satoshinichi.com)
Materiales y acabados:
Suelo:

linóleo.

Paredes:

yeso + pintura de emulsión acrílica, revestimiento cerámico.

Techos:

yeso + pintura de emulsión acrílica.

Mobiliario:

  madera de Castor Aralia acabada al aceite, tablero de melamina, madera lacada.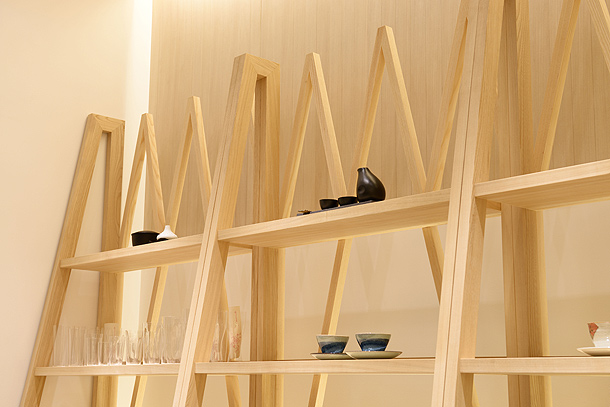 El concepto: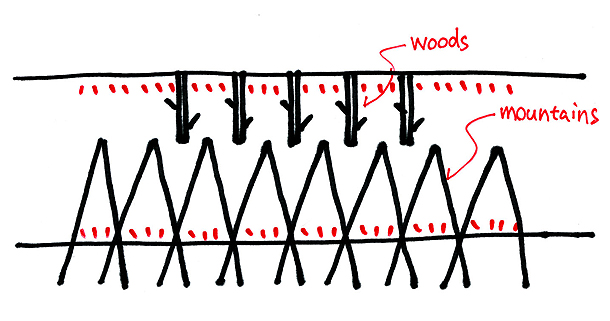 Planimetría: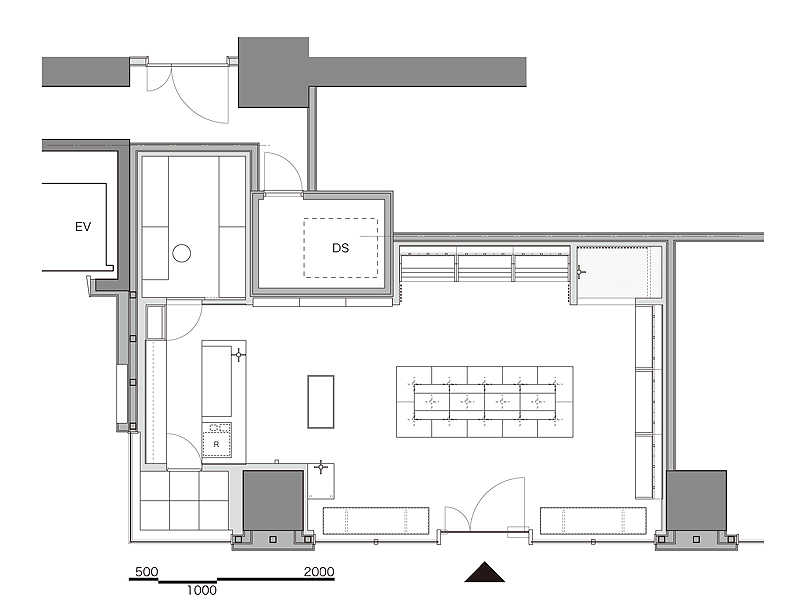 Planta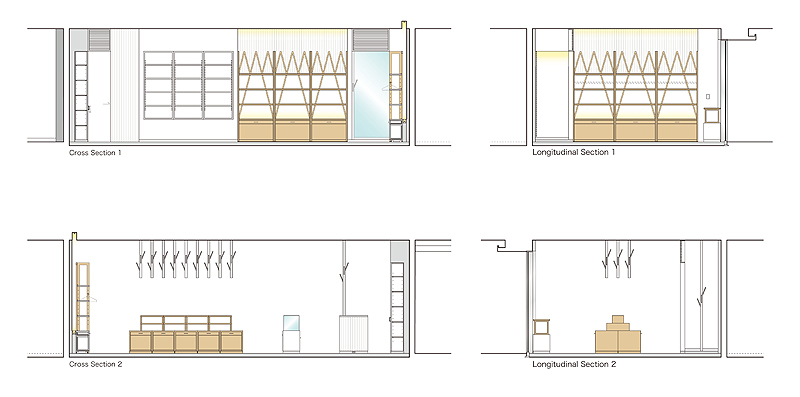 Sección
Sobre Love the Life:
Love the Life es un estudio japonés de arquitectura y diseño interior fundado por Akemi Katsuno (Kobe, 1969) y Takashi Yagi (Shikoku, 1968) en Tokio, en 1997. Con una filosofía de trabajo basada en «Arte para la vida. La vida como arte», ha desarrollado sus proyectos en el sector residencial, comercial y de restauración.
Información e imágenes facilitadas por Love the Life