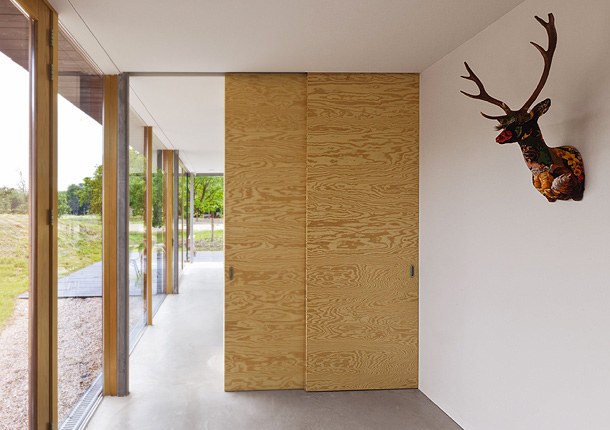 «Un hogar sostenible que sigue un diseño minimalista y muestra el mismo respeto por el hombre y la naturaleza». Con estas palabras describe el estudio de arquitectura interior  i29 I interior architects el que, por ahora, es su último proyecto residencial: la Casa 09. La vivienda está situada muy cerca de Bloemendaal, una de las zonas costeras más visitadas de Holanda, en el borde de las impresionantes dunas de Kennemer y ha sido diseñada por el estudio Paul de Ruiter architects.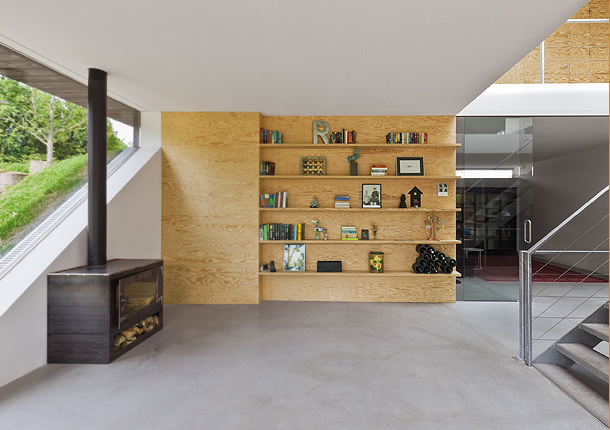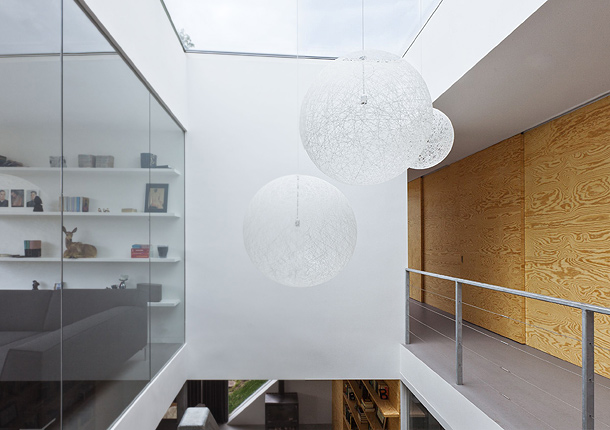 Jaspar Jansen y Jeroen Dellensen trabajaron los interiores de esta villa, que disfruta de una exclusiva zona residencial con una fauna y una flora exhuberantes, proyectada por el arquitecto Paul Ruiter. El resultado es un espacio claro, amplio con una controlada paleta cromática que consigue una equilibrada homogeneidad  y una atmósfera de calma. La aproximación minimalista a los materiales y a los detalles de la construcción, llevada a cabo por los dos equipos de trabajo, es un valor fundamental del diseño interior y del exterior.
Las grandes superficies de cristal y el patio permiten la máxima entrada de luz natural y proporcionan a los habitantes la sensación de que la casa y el paisaje circundante son uno solo. En esta línea y con el fin de atraer aún más a la naturaleza al interior de la vivienda, todas las funciones interiores están hechas de materiales naturales.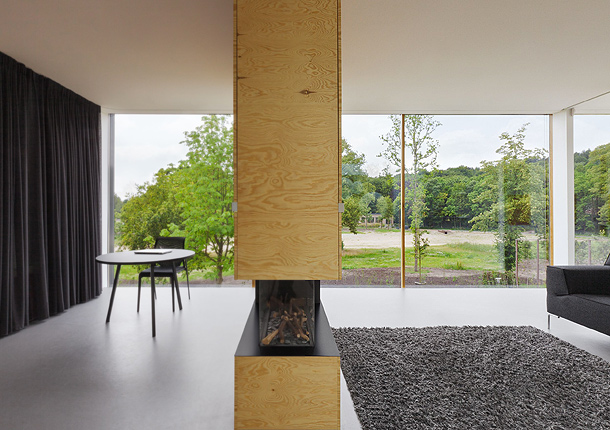 En la Casa 09 -o Villa Bloemendaal- se crearon amplias superficies de madera a través de toda las estancias para conectar las diferentes áreas. Armarios empotrados, paredes, puertas correderas, camas e incluso una chimenea han sido fabricados en un mismo material. Paneles de madera de pino -normalmente un material básico- han sido utilizados aquí como un acabado de gama alta con estudiados detalles.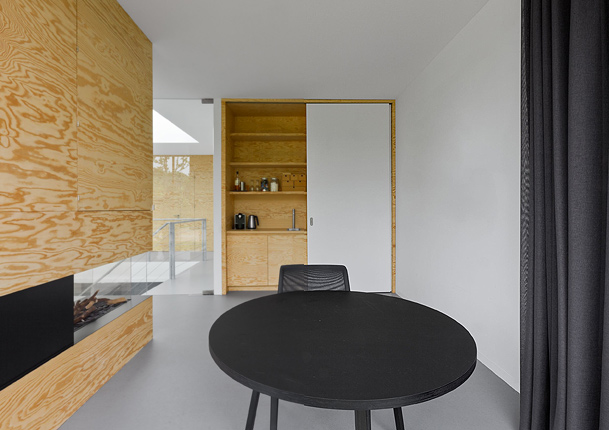 El proyecto también prestó una especial atención al tema energético.  Se diseñó una estructura compacta y eficiente con un excelente aislamiento. La energía de la que se dispone se utiliza de forma eficaz, hay almacenamiento de energía geotérmica, una bomba de calor y colectores solares en el techo, que está cubierto de musgo. En la construcción sólo se han utilizado materiales naturales: por ejemplo, el acabado de la fachada del primer piso está hecho con madera sostenible. Las partes móviles son de roble francés.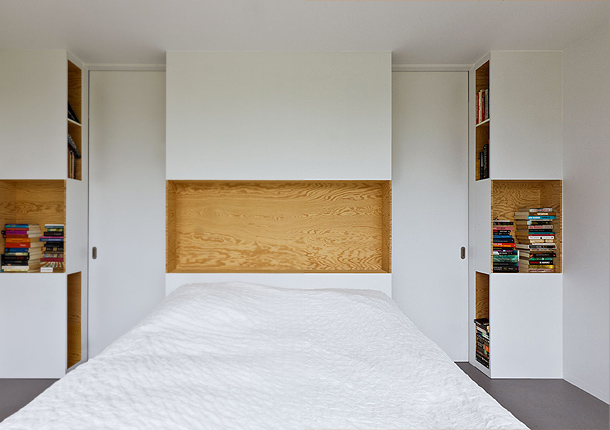 Además, todos los elementos interiores, como las paredes, los armarios de las habitaciones de los niños y la chimenea se hacen de madera contrachapada. La utilizada en la entrada y el garaje tiene un origen especial: procede de un antiguo barco que se encontró en una empresa de demolición de North Brabant y que fue comprada para utilizar en la construcción.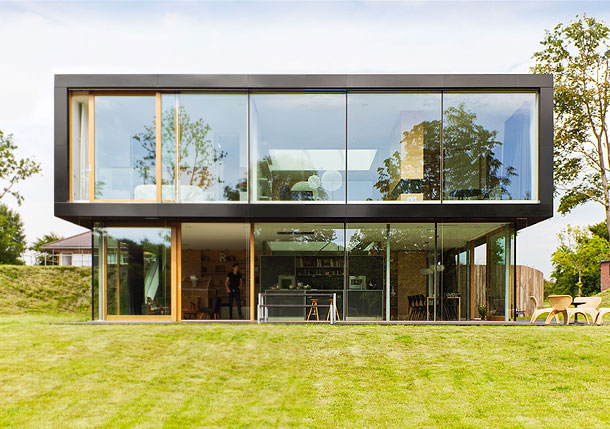 Ficha técnica:
Proyecto:

Home 09.

Localización:

Bloemendaal (Holanda).

Año:

2013.

Arquitectos:

Paul de Ruiter architects.

A

rquitectos de interiores:

i29 I interior architects.

Contratista:

Scholz Groep – IJmuiden.

Carpintería:

Kastwerk.

Materiales:

paneles de madera de pino, acero, suelo de hormigón, paramentos de cristal, linóleo, madera pintada.

Superficie:

489 m2.

Fotografías:

i29 I interior architects.
Planimetría:
Sobre i29 I interior architects:
i29 I interior architects
  es un joven estudio con sede en Ámsterdam, fundado por Jaspar Jansen (1970) y Jeroen Dellensen (1972), cuyo nombre proviene de la dirección donde se ubica el despacho. Sus trabajos, tanto en el ámbito privado como en el público, se basan en la complicidad con el espacio, dando salida a su creatividad a través de racionales diseños no exentos de sorpresas, buscando siempre los planteamientos más esenciales. A lo largo de su trayectoria han recibido varios premios como The Great Indoors Awards 2009, por una oficina realizada con materiales reciclados, o los Dutch Design Awards (DDA) 2005, por el diseño interior de una escuela. Sus proyectos se han publicado en revistas y libros nacionales e internacionales.
i29 l interior architects en IM
Sobre Paul de Ruiter architects:
Paul de Ruiter architects es un estudio holandés, fundado en 1994 por Paul de Ruiter. Antes de crear su propio despacho, de Ruiter estudió en la Technical University of Delft y, dos años después de terminar sus estudios, inició su investigación sobre edificios eficientes energéticamente. Desde el inicio, el estudio ha estado interesado en investigar para diseñar edificios y ciudades en los que las personas se sintieran cómodas y seguras, sin perjudicar al medioambiente o la viabilidad económica.
Además de sus actividades como arquitecto, Paul de Ruiter trabaja en una tesis doctoral sobre fachadas climáticas activas, da conferencias, escribe artículos para revistas profesionales y enseña en las Universidades Técnicas Holandesas. Paul de Ruiter está comprometido con varias instituciones que tienen como objetivo hacer una sociedad sostenible.
Información facilitada por i29 l interior architects y en la web de Paul de Ruiter. Imágenes facilitadas por i29

You might also like