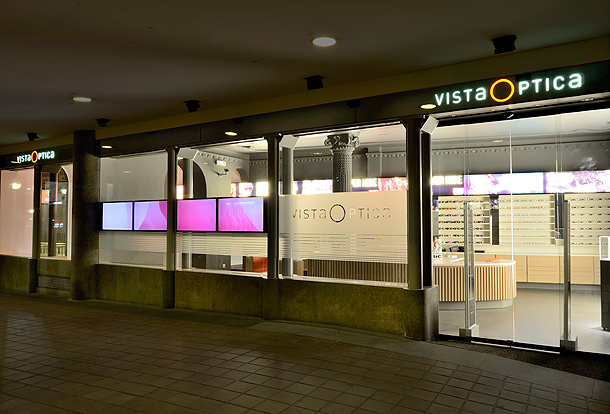 El proyecto:
A veces un mal local y un buen cliente pueden convertirse en los mejores aliados. Éste es el caso del proyecto realizado por el interiorista Jordi Ginabreda para Vista Óptica, donde el punto de partida era un espacio con dos plantas físicamente antagónicas y la obligación de incorporar al nuevo espacio una serie de elementos catalogados como elementos de forja en la fachada y estucos y molduras en el interior.
Originalmente, las dos plantas del establecimiento presentaban aspectos muy diferentes: mientras el nivel superior de 60 m2 gozaba de una situación e iluminación envidiables, el sótano era poco más que un pasillo de 30 m de largo y unos 2,5 m de ancho que jamás había visto la luz del sol.
El programa funcional requería, además de las áreas de exposición y venta de gafas, de una zona específica para atender al público infantil, mostradores para la atención personalizada a los clientes, un espacio expositivo para ropa y complementos asociados a las firmas expuestas, y un gabinete de optometría.
Para desarrollar este programa fue necesario el aprovechamiento de las dos plantas y, por tanto, que el oscuro sótano dejara de serlo. El elemento que lo ha logrado ha sido un «rayo luz» que ha articulado todo el proyecto desde el exterior hasta el punto más recóndito del oscuro sótano, estableciendo un diálogo entre los dos niveles.
En la planta superior, a la que se accede desde el epicentro comercial de Olot, se han mantenido los elementos catalogados, incoporándolos a un proyecto moderno y sobrio. En ella, se encuentra el gran mostrador, diseñado a medida por el interiorista, que incorpora en su interior bancos y tableros que permiten una atención personalizada.
El pavimento continuo, las paredes y techos unifican un espacio eminentemente oscuro. En la zona de exposición, tiras de LEDs recorren la pared como haces de luz que dirigen a los clientes hacia el fondo del local, donde se encuentra el ascensor para permitir el acceso a personas con movilidad reducida. Aquí, el rayo de luz toma forma, rebota en las diferentes superficies especulares y se refleja hacia la planta inferior.
El renovado sótano se ha convertido en la otra cara de la moneda, dividido en diferentes niveles conectados por rampas que fragmentan el espacio y rompen la percepción de encontrarse en un túnel estrecho y alargado. El uso del blanco, de espejos, las superficies retroiluminadas y el techo lacado con su leve capacidad reflectante ha servido para crear un caja luminosa.
El rayo de luz llega de la planta superior convertido en una barandilla que acompaña las rampas y desniveles, recorre longitudinalmente el espacio y llega hasta el último rincón de la óptica, el gabinete de optometría. Dos mundos opuestos ligados por un rayo de luz.
Las imágenes:
Ficha técnica:
Proyecto: 

Vista Óptica.

Localización:

Olot (Girona / España).

Año:

2013.

Diseño:

Jordi Ginabreda.

Colaboradores: 

Rumi Kurabayashi.

Superficie:

200 m.

Iluminación general:

tira de LED indirecto cálido y LED encastado a techo de iGuzzini.

Iluminación decorativa:

lámpara Flos aplique pared  modelo 265 blanco.

Mobiliario:

diseño de Jordi Ginabreda en madera de roble tratada y blanqueada.

Sillas:

Eames Plastic de Vitra, mini Panton en zona infanti.

Pavimento:

pavimiento continuo de mortero compacto realizado por Pavindus.

Falso techo planta sótano:

pladur lacado blanco brillante realizado por Brillauto.

Pantallas:

Samsung screen y pantalla ED, contenidos realizados por ADmira Digital Signage.

Fotografías: 

Albert Serra.
Planimetría: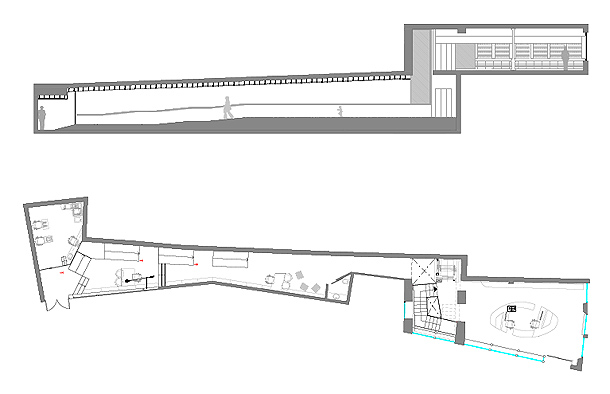 Sobre Jordi Ginabreda:
Jordi Ginabreda ( LaValld'en Bas, 1981) estudia interiorismo en BAU Centro Universitario de Diseño de Barcelona y completa su formación en la Buckinghamshire New University de Londres, realizando un bachelor of Arts of Landscape Design en 2003.  Antes de establecer su propio estudio en el distrito barcelonés del [email protected], en el año 2008, trabajó en reconocidos estudios de arquitectura y diseño interior como Sandra Tarruella & Isabel López interioristas; RCR arquitectes; Pilar Líbano, o Jaime Beriestain.
Información e imágenes facilitadas por Jordi Ginabreda Interiorisme
You might also like