Carlos Puerto, Jesús Olavarría y Sara Deblas (Equipo Nómada) son los co-autores de la colección Posados, una serie formada por cuatro piezas de mobiliario que fueron concebidas por sus autores para cumplir las necesidades reales de diferentes encargos de interior y/o expositivos.
El bargueño contemporáneo Bargas, el sillón Versa, la mesa Flecta, la mesilla Fuga y los miembros de Equipo Nómada se dieron a conocer en el pasado salón nude. La plataforma para diseñadores emergentes de Feria Hábitat Valencia sirvió para presentar a este joven estudio-taller fundado, hace sólo dos años, por Sara Deblas y mostrar esta cálida familia, natural y con sabor mediterráneo, donde se hermanan artesanía e industria a través de las formas y los materiales nobles.
Es precisamente este carácter artesanal, cada uno de los muebles son fabricados bajo pedido, lo que permite que puedan adaptarse a las necesidades del cliente, pudiendo variar el tipo de maderas nobles, los acabados y medidas.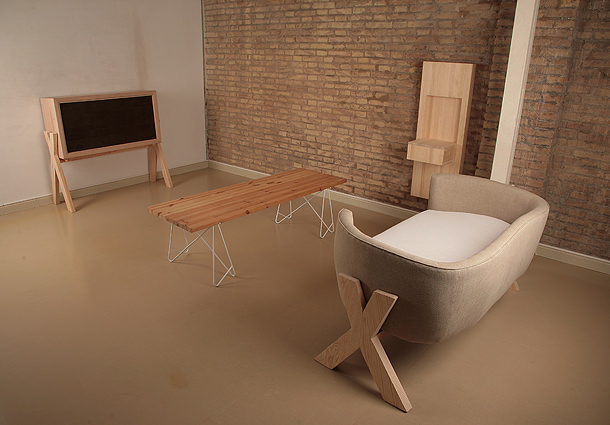 La colección Posados:
Bargas, por Jesús Olavarría Aranda
Este moderno bargueño surge de las conversaciones con la Carpintería Andueza, una familia de ebanistas-carpinteros que trabaja desde 1972 en Segorbe (Castellón), con gran experiencia en el diseño y la fabricación de esta histórica pieza. La familia Andueza pidió a Equipo Nómada su colaboración para darle un aire más contemporáneo a la característica arca con múltiples cajoncitos de origen toledano.
En esta versión del siglo XXI, el bargueño reaparece limpio de reminiscencias históricas y dotado de la practicidad que el paso del tiempo no ha borrado. Bargas busca explorar el contraste de color y textura que provoca la combinación de sus maderas nobles: el wengué de color oscuro intenso y poro abierto, y el haya clara y sin poro. Los materiales utilizados no son fruto de la casualidad, su elección tiene la intención de reforzar la renovación de estas piezas generalmente de línea clásica.
Trabajado y construido mediante técnicas artesanales de toda la vida, como las juntas a inglete mediante encolado a junta llana en su cuerpo principal de haya maciza, cajones de haya maciza y frentes en wengué ensamblados con lazos en cola de milano y todo él posado sobre las X en pino macizo machihembrado.
El respeto por las propiedades de los materiales empleados se consigue dando a la madera un acabado encerado mate con poro abierto, confiriéndole a la pieza un toque natural, sin artificios, lo que ahonda en el equilibrio que caracteriza a este bargueño.
Flecta, por Carlos Puerto Costa
Flecta es una mesa auxiliar, formada por un sobre de madera de pino alistonado y dos caballetes de varilla de acero curvada. La idea para desarrollar la mesa surge de la imagen más básica de mesa: un tablero de madera sobre dos apoyos. Buscando la simplicidad formal de los caballetes, se trabajó el acero de modo artesanal. Curvando y uniendo la varilla a modo de tirantes, hasta encontrar una estructura ligera y de gran capacidad portante.
Desde el principio se buscó que la fabricación y el ensamblaje de las piezas fueran lo más sencillos posible. Por eso, cada caballete está formado por dos varillas idénticas, que al enfrentarse forman la estructura. La unión con el sobre se realiza encajando la varilla superior dentro de un rail fresado bajo el tablero.
En definitiva, puede decirse que  el diseño surge de la función, un tablero sobre dos estructuras ligeras pero que permitan soportar peso.
Fuga, por Jesús Olavarría Aranda
Fuga nace del diseño de un cabecero de cama de una vivienda privada. Este cabecero, que funcionaba a modo de extensión del pavimento del dormitorio sobre la pared, generaba una fuente de luz indirecta que iluminaba la estancia escapando de su cuerpo. «Esto nos hizo pensar -explica Olavarría- que las mesillas que debíamos incorporarle debían generar la misma sensación».
La mesilla surge tras el encuentro con diferentes situaciones que llevan a pensar que puede tener otras funciones. De esta manera, puede ser una mesilla auxiliar pero también una mesita de noche o un elemento modular…
Explica su diseñador que, durante su paso por nude, muchos de los asistentes intentaron desplazar el módulo del cajón pensando que éste se abatiría hasta encajar en el hueco… Lo que demuestra -de alguna manera- que «consiguió transmitir la sensación que buscábamos, como si ese volumen hubiera intentado escapar -fugarse- de su cuerpo».
Versa, por Sara Deblas Martínez
Versa es un sofá biplaza para el espacio doméstico pero también para salas de espera y zonas de tránsito. Su estructura apuesta por la desnudez de la madera y la capacidad de realzar de manera limpia los distintos objetos que sobre ella se posen, otorgándoles un mayor protagonismo.
Su concepción partió de la conexión diaria con los oficios de esqueletaje y tapicería mediante los cuales el equipo investiga constantemente nuevas formas y soluciones textiles. El cuerpo superior del sofá es un armazón de pino macizo, tapizado de fibras naturales 100% lino que replantea curvas análogas al nido o al concepto uterino, buscando el recogimiento del cuerpo y ofreciendo una imagen levitada o posada sobre la estructura portante.
Ésta es una pieza en constante evolución, fruto de un encargo expositivo y cuya misión es abrazar a los distintos muebles desde abajo, dotándoles de una peculiar ligereza. Concebida en pino macizo y acabado natural, presta una imagen cálida y luminosa a todo el conjunto.
_______________________________________________________________________________________
Sobre Equipo Nómada:
Equipo Nómada, nace de la mano de la interiorista y diseñadora industrial Sara Deblas, en 2012, y lo hace bajo el concepto de taller ambulante, geográfica y disciplinarmente flexible, donde sus proyectos  e ideas giran en torno al arte y al oficio, al amor y a la técnica.

Trabajar con las manos en armonía con la razón es el leimotiv de este joven colectivo pero forjado en la vieja escuela donde la praxis cotidiana prima sobre la retórica y donde la forma sigue a la emoción... diseñar se aprende diseñando y esta filosofía la plasman cada uno de sus miembros mediante un bagaje propio y a la vez contagioso.

_______________________________________________________________________________________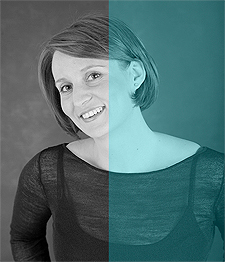 Sara Deblas, interiorista y diseñadora industrial:
Tras un premio a la mejor puesta en escena por una obra de Lorca, decide dedicarse al diseño. Sus primeros encargos como profesional independiente se centran en la arquitectura efímera, cuidando la comunicación gráfica como el eje vertebral del proyecto.
En sus colaboraciones con otras entidades figuran: la gestión cultural de artistas y patrocinadores, proyectos urbanos y paisajistas, diseño y fabricación de mobiliario por control numérico y la edición de su primer catálogo impreso.
En sus estancias en Oporto, París y Milán dirige su curiosidad hacia el arte y el mundo textil, del que surgen sus últimas creaciones que tomarán forma en Equipo Nómada, taller que funda en 2012 y cuyo carácter sinérgico atrae a nuevos talentos.
En 2013, es Premio Nacional de Diseño Interior «Valencia Crea».
_______________________________________________________________________________________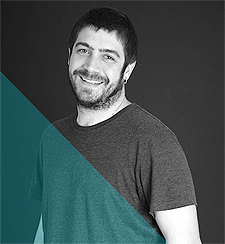 Jesús Olavarría, diseñador de interiores:
Termina sus estudios de Diseño de Interiores en la EASD de Valencia, en 2012, y completa su formación con diversos cursos, destacando su paso por Central Saint Martins, College of Art and Design, University of the Arts de Londres.
Tras su paso por el sector privado del diseño, planificación y construcción de complejos lúdicos y turísticos internacionales que compagina con la realización de distintos proyectos individuales y colectivos, desde el hábitat al contract, pasando por distintos montajes efímeros, inicia una nueva etapa creando su propio estudio.
Sus inquietudes creativas transcienden de la arquitectura interior al diseño de producto. Con un enfoque parcialmente artesanal, le preocupa el detalle, el lenguaje propio de los materiales y el acercamiento del diseño global al objeto cotidiano, aportando así una visión multidisciplinar del diseño.
_______________________________________________________________________________________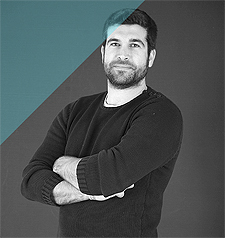 Carlos Puerto, diseñador y arquitecto:
Su trayectoria profesional arranca como diseñador industrial en el año 2004, profesión que compagina con estudios de arquitectura, adquiriendo así una perspectiva multidisciplinar que se refleja en su trabajo.
Tras vivir diferentes experiencias académicas (Varsovia) y profesionales (Sao Paulo), se instala de nuevo en Valencia, donde colabora con diferentes empresas y estudios locales.
De carácter alegre y optimista, le gusta que en sus proyectos queden reflejados la sencillez y el respeto por los materiales que le transmite su origen mediterráneo.
_______________________________________________________________________________________
Información e imágenes facilitadas por Equipo Nómada
You might also like