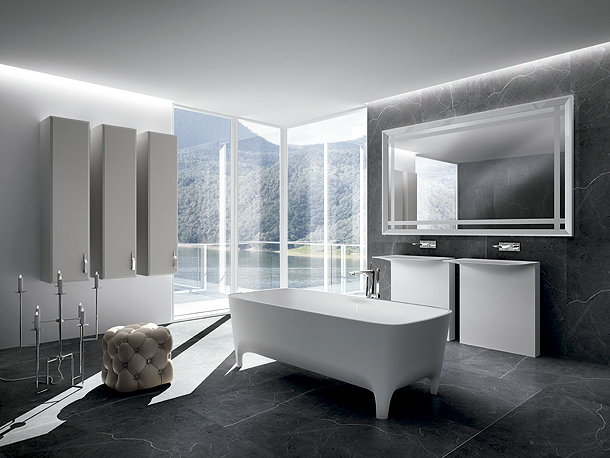 Autoritratti es la nueva propuesta del arquitecto Carlo Colombo para la firma Teuco, donde las formas clásicas se reinterpretan bajo el prisma de la contemporaneidad en las dos colecciones que la componen: Accademia e I Bordi. Autoritratti fue presentada la semana pasada en el showroom de Tono Bagno, distribuidor en exclusiva para Barcelona de esta nueva línea de diseño.
La colección también sirve para dar a conocer una nueva etapa de la empresa italiana, fundada en 1972, donde a los elementos básicos como griferías, mamparas, duchas, bañeras o sanitarios se une, a partir de ahora, una amplia gama de productos y complementos decorativos de lujo como butacas, armarios, lámparas y alfombras  firmados por Colombo, con el deseo de ofrecer un ambiente de baño cada vez más completo y altamente personalizado.
Dos de las piezas más destacadas de Accademia e I Bordi son sus bañeras: dos elegantes muestras de diseño neutro y esencial, vestido con materiales naturales tan apreciados como el mármol de Carrara o el ónix, pero también con un material de última generación exclusivo de Teuco, Duralight®.
_______________________________________________________________________________________
Bañera Accademia:
Una pieza minimalista, inspirada en el equilibrio y la elegancia del estilo neoclásico, capaz de integrarse, gracias a sus líneas puras y limpias, en ambientes clásicos o modernos. Puede fabricarse en el exclusivo mármol de Carrara, Stone Grey y también en Duralight®.
Éste último es un innovador material con base acrílica cuyas características permiten su utilización en ambientes húmedos como el baño: es altamente maleable, compacto, no poroso, sin juntas, agradable al tacto, higiénico, fácil de limpiar,  no es tóxico, presenta acabados mates y brillantes, y su color no se altera con la luz natural ni con la artificial, es  resistente a las manchas, arañazos y al moho, y las pequeñas ralladuras se reparan con una esponja abrasiva.
La bañera de Duralight® cuenta con tres ediciones limitadas: Pop, con un llamativo motivo gráfico a rayas, que fue premiada con el Red Dot Best of the Best 2014; Oro, con acabados de pan de oro de 24 quilates; y Decori, adornada con motivos florales y geométricos realizados por maestros grabadores. Completa la oferta Colore con lacados brillantes u opacos en rojo cereza, negro y la versión total white.
_______________________________________________________________________________________
Bañera I Bordi:
La colección I Bordi es un espacio envolvente cuyos detalles se inscriben naturalmente en la materia de la que se componen desde los mármoles de Carrara y Stone Grey hasta el modernísimo Duralight®, que se funden perfectamente con los ambientes más modernos.
La bañera es un bello y elegante producto, tanto en la versión Duralight®, así como en el mármol y las versiones de piedra gris. Está disponible tanto en versión exenta como encastrada, y en ambas ofrece una elegancia primitiva y atemporal.
_______________________________________________________________________________________
Sobre Carlo Colombo: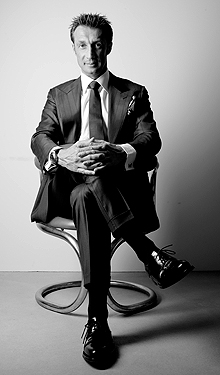 Carlo Colombo (Italia, 1967) está considerado uno de los más destacados arquitectos y diseñadores italianos. En 1993, se licenció en Arquitectura por la Universidad Politécnica de Milán, pero en 1991 ya había contactado con Giulio Cappellini para quien diseñó su primera pieza en 1992: la cama Kyoto.
A partir de entonces, el trabajo de Colombo como diseñador fluyó en cientos de proyectos en colaboración con las principales firmas del sector: antoniolupi, Arflex, Artemide, Cappellini, De Padova, Fluo, iGuzzini, Levi's, Flexform, Moroso, Poliform, Poltrona Frau, Teuco, Varenna, Zanotta. En 2004, fue nombrado Diseñador del Año.
Entre 2005 y 2011, recibió cuatro veces el Premio Internacional de Diseño que otorga la revista Elle Décor. En 2009, fue uno de los ganadores de un Good Design Award. En 2012, fue galardonado con un red dot por el sistema Hydroline de la bañera Outline de Teuco y, en 2013, fue galardonado con  el Interior Innovation Award por el Consejo Alemán de Diseño en imm Cologne.
Además, del diseño de producto y de mobiliario,  Colombo también se ocupa de promoción y marketing para empresas, realiza trabajos de diseño gráfico, organiza exposiciones y es consultor y director de arte. Actualmente, su estudio trabaja en proyectos de interiorismo y arquitectura a gran escala en todo el mundo.
_______________________________________________________________________________________
Sobre Tono Bagno:
Tono Bagno es una empresa familiar, fundada en 1979. Cuenta con dos tiendas en Barcelona donde se ofrece una completa y extensa gama de productos de diseño contemporáneo y clásico, nacionales y de importación, así como todo tipo de materiales, servicios, información, completas bases de datos y asesoramiento personalizado por profesionales.
_______________________________________________________________________________________
Sobre Teuco:
Teuco es una firma italiana, líder en equipamientos para baños de diseño y reconocido prestigio. Sus propuestas abarcan principalmente elementos pensados para el relax y la experiencia sensorial. Su trascendente papel en el mundo del hidromasaje con la creación de patentes pioneras y sus exclusivas bañeras, hidromasajes, minipiscinas y platos de ducha protagonizan un catálogo marcado por la innovación en diseño y tecnología para el baño.
Fundada en 1972, la empresa adquiere una gran visibilidad cuando el MoMA expone su Ducha Redonda en metacrilato de colores. El paso del tiempo y los avances en el baño y la ducha llevaron a la introducción de la electrónica en el primer baño turco en cabina (1980).
Después llegarían la patente Hydrosonic®, en 1995, que unió por primera vez el hidromasaje a los beneficios de las ondas sonoras de alta frecuencia y Evolution, la ducha completamente de cristal diseñada por Fabio Lenci (2001). En 2010, tras el éxito de la colección de baño Wilmotte, Teuco decide crear un «look de autor» con nombres como los de Angeletti-Ruzza, Carlo Colombo, Massimo Iosa Ghini, Govanna Talocci y J. M. Wilmotte, entre otros.
_______________________________________________________________________________________
Información e imágenes facilitadas por Teuco
You might also like